The Importance of Outdoor Living Spaces for San Diego Homes
San Diegans are blessed with fantastic year-round weather that allows for weekend hikes, days at the beach and enjoying other outdoor activities any month of the year. The sun, sand and warm weather are the main draws for many of us who choose to call San Diego home, so it's no surprise that homeowners in this area put such a strong emphasis on outdoor living.
Whether around town, at the beach or visiting one of our many local attractions, most of us like to be outside as much as possible, and there is no reason for this to end when we get home. Most detached homes in San Diego have some sort of outdoor living area, although many of these spaces consist of little more than a patio and lawn installed in the backyard. This is a great start and does allow for some enjoyment of the property outside of the home, but having just these features puts some serious limits on how much a homeowner can use their yard as additional living space.
Attached homes, condominiums and apartment complexes generally also have some sort of outdoor common areas, which often include a swimming pool, barbecue areas or a playground, but landlords and homeowners associations can significantly increase interest in their properties if they choose to include more outdoor amenities.
While this post focuses primarily on backyard improvements that can increase the homeowner's enjoyment of their yard and the value of their home, any of the project ideas listed below can also be added to rental properties to increase their curb appeal and make them more attractive to potential renters.
What's Considered an Outdoor Living Space?
With beautiful weather year-round, an outdoor living space in Southern California is an essential extension of your home. Below are the most popular outdoor living features in Southern California:
Paver patios or courtyards

Artificial Grass 

Gazebos or pergolas 

Outdoor kitchens and BBQs

Fireplaces and fire pits

Playgrounds

Pools and pool patio areas

Water features 

Raised gardens and greenhouses
How Much Does An Outdoor Living Space Cost?
The average cost of an outdoor living project in San Diego is about $8,000. However, a good rule of thumb is to spend about 10% of the total value of your home on an outdoor living space. The cost of a project can vary greatly, depending on the type of features you use and the square footage of your space. For example, a swimming pool can cost upwards of $20,000. 
Reasons To Add An Outdoor Living Area To Your San Diego Home
The purpose of outdoor living spaces is to extend the usable square footage of your home in a manner that allows you to more fully enjoy your property and makes your backyard serve a more functional purpose for you and your family.
In some cases, this may be very specific, such as budding baseball players in need of a backyard batting cage or golf enthusiasts who want to practice putting on their own putting green.
Boost Your Home's Value
In other cases, the spaces you create might be used for more general purposes or to enhance your home's appeal when it comes time to show it off to potential buyers.San Diego buyers look for backyard amenities and outdoor spaces for living and entertaining when deciding which home will best meet their needs.
Depending on the improvements you make, creating outdoor rooms and areas can significantly increase the value of your home, which is an important factor to consider if you plan to sell sometime in the future.
Attractive exterior spaces can also add visual appeal to a lackluster home and can help smaller homes compete better once they are put on the market.
Outdoor living space additions can increase your home value by an average of 20%!
Add To Your Living Space
Since improving your outdoor areas is often much less expensive than adding interior space to your home, this is a great way to expand your home's living space with functional outdoor rooms, particularly if you are looking for improvements that can be made on a budget.
The backyard is one of the most overlooked areas when it comes to home improvement opportunities.
Considering how important an attractive, usable yard is in San Diego, more of us should be looking out our back doors the next time we are looking for a weekend DIY project or a space to renovate to update and expand our functional living space.
Enhance Your Lifestyle
Keep in mind that part of the point of living in San Diego is to enjoy the abundance of sunny days and warm weather. In addition to extending the living space of your home, outdoor spaces can provide you with a space to do what you love.
Installing a pool or adding a water feature is a great way for homeowners with children to entertain their little ones. Adding a putting green to the backyard is every golf-lover's dream. Installing an outdoor kitchen is a great addition for those who enjoy hosting large gatherings. Or maybe you want to install a gazebo over your patio to create a quaint place to relax and unwind! Whichever features you're looking to add, and whatever lifestyle you enjoy–there's an option for everyone.
Outdoor Livings Spaces: Home Improvement Project Ideas
Here are some of the top backyard improvement projects to consider when adding usable outdoor living spaces to your home.
Paver Patios, Courtyards and Decks

If your home does not already have a patio, this should be the first project on your list when considering possible backyard improvements. A beautiful patio or deck provides a space where you can grill with your family, read a book, enjoy your morning coffee or entertain guests under the stars.
This versatile outdoor space is a must for any backyard and is the perfect place to start when designing your landscaping. It can also increase the value of your property and may lead to a significant increase in value, depending on the design you choose and the materials used.
For example, an elaborate paving stone patio with sitting walls, a built-in grill, outdoor kitchen or fireplace will provide a stunning improvement to your backyard that will immediately increase your home's appeal to buyers or provide a comfortable space for your family to enjoy.
If your budget will not allow you to bring in a professional to design and install a patio or deck, a simple patio is still an option, since most somewhat-handy homeowners can take on a basic patio as a DIY project.
If you plan to make other improvements to your backyard, be sure to consider this when you are designing your patio, deck or courtyard in order to ensure a cohesive look and the best use of your space.
Artificial Grass 

For homeowners with children or pets, lawns or grassy areas are not a must. Unfortunately, the dry, arid climate of Southern California is not conducive to a naturally grassy yard.
The amount of maintenance and water required to keep a conventional lawn green and lush is turning many Southern Californians off and encouraging them to look into lawn alternatives or artificial grass.
This is particularly true for dog lovers who do not like the brown spots that pretty much cannot be avoided in any natural lawn used as a pet restroom or homeowners who need an option that can stand up to traffic.
These are just a few of the reasons for the growing popularity of synthetic turf, which is the perfect choice for any homeowner who wants grassy areas in their yard without the maintenance and water required for natural grass.
Gazebos, Pergolas and Shade Structures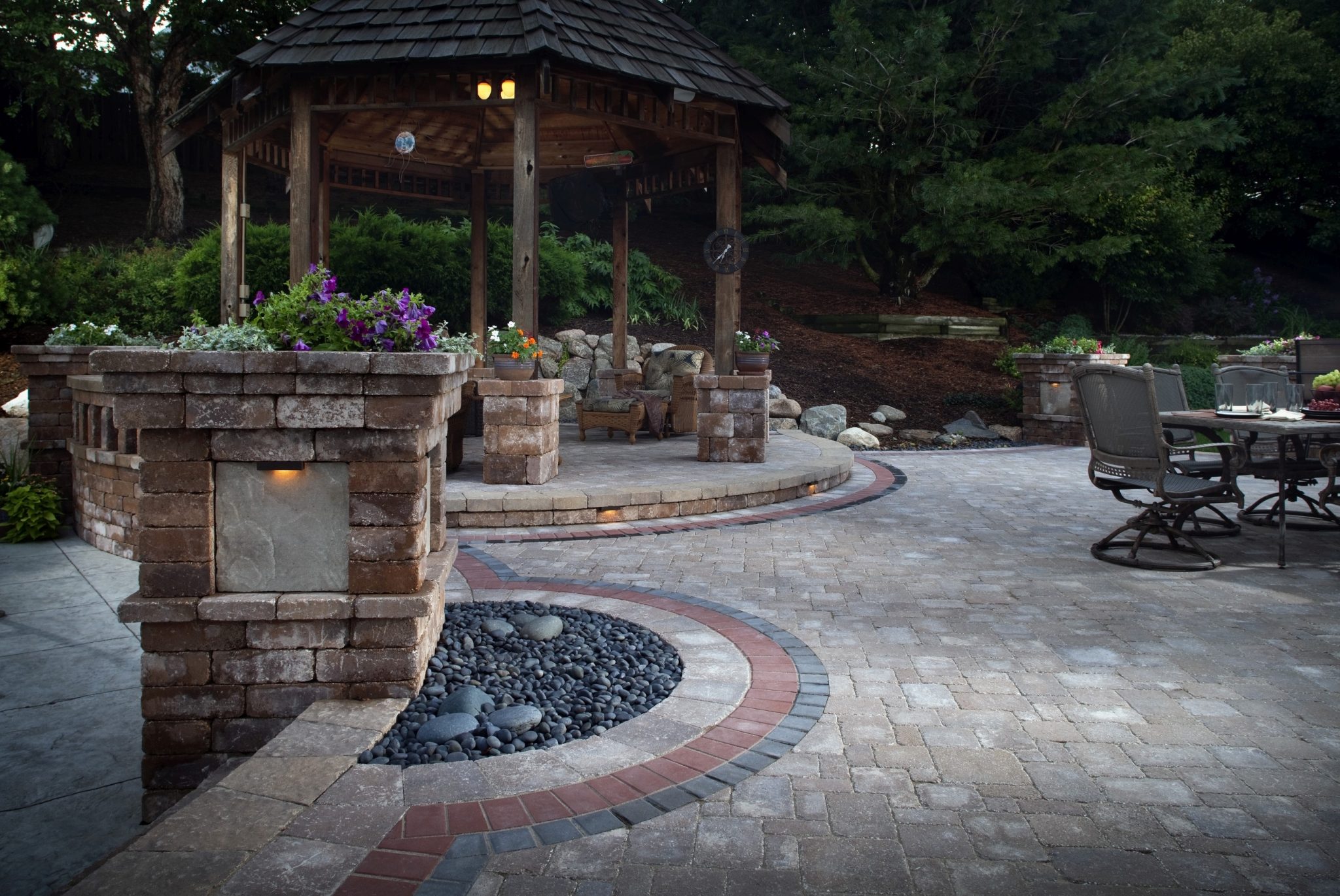 Once you have installed a must-have patio and decided whether or not you need grassy areas in your yard, the next step is ensuring proper protection from sun and rain.
A covered patio is always a good idea, particularly if you plan to put your patio to use as an outdoor dining room, kitchen or regular hangout. In San Diego, there's no reason not to extend your living space to the outdoors. 
However, a patio is not the only place you can create shade and add visual interest to your yard.
Other seating areas, dog runs and playgrounds should all have some sort of shade structure or cover providing protection from the sun, which can also make these areas usable in rainy weather.
Gazebos and pergolas are perfect choices for those who want to create shaded areas in the most attractive way possible.
Either of these options can immediately transform your backyard into a more appealing paradise.
Outdoor Kitchens, Outdoor Bars and Built-In Barbecues

These options are for homeowners who want to take their outdoor living spaces to the next level and provide some truly functional features to their backyard.
Any of these amenities immediately expand your home's living space with usable square footage that can increase your home's value and will definitely increase the enjoyment you get from your yard.
If you plan to do much outdoor entertaining, you should – at minimum – consider installing a built-in barbecue, which adds a level of luxury that cannot be reached with a portable grill on wheels.
Of course, an outdoor kitchen is an even better option for personal enjoyment and home value, if your budget will allow for this type of project.
If you are planning on including an outdoor kitchen in your landscape design, an outdoor bar is an easy addition that you should explore with your landscape designer.
Outdoor Fireplaces and Fire Pits

If you have spent much time looking at real estate or home improvement ideas online, you have probably noticed that fire pits are quickly becoming an expected, must-have feature in Southern California homes.
This is definitely a feature that San Diego buyers look for in single-family homes, but even homeowners who never plan to sell will get years of enjoyment from a fire pit.
Fire pits, whether put together from a DIY kit or professionally designed with elegant paving stones, are an easy feature to add to your yard and do not require much space, so this is one amenity you should definitely consider when making improvements to your backyard.
An outdoor fireplace is a more expensive option, but it is also a more upscale choice that really adds to a patio and instantly upgrades a regular seating area to a luxury outdoor living space.
Playgrounds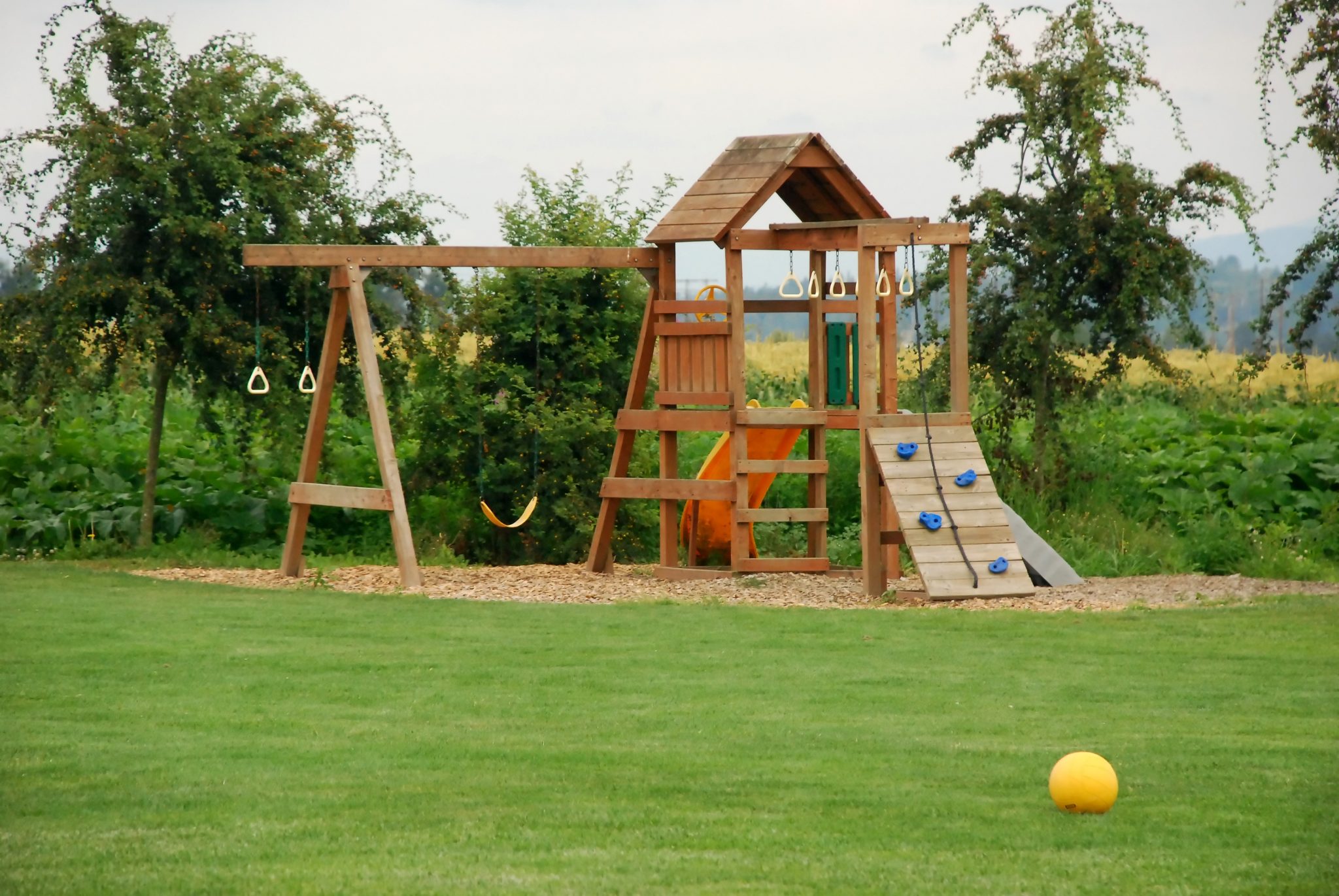 Playgrounds are not a necessity in every backyard, but parents, grandparents and favorite aunts might want to consider including one in their landscape design.
If you do include a playground in your yard improvements, be sure to choose a groundcover option that will reduce tripping hazards, can stand up to traffic and will provide a softer place to fall when roughhousing.
Artificial grass with our cushiony Durafill is a great option for playgrounds.
Pools and Pool Patios

Buyers looking at higher-end San Diego homes generally expect a swimming pool in the backyard, so this is one improvement you should seriously consider if you own a luxury home that does not have a pool.
With the beach so easily accessible from most of San Diego County, some homeowners do not consider a pool a necessity, but this is a great addition for any homeowner who wants an easy option for low-impact exercise or for parents who do not want to have to take the kids to the beach every time they want to swim.
Of course, this is not an inexpensive backyard improvement, so this may not be an option for everyone.
An above-ground pool is a less expensive option that may meet your family's needs, and adding a pool deck around it can add to its visual appeal.
If you have an existing pool without a pool deck or with an older concrete patio around it, you may want to consider upgrading your pool area with a paving stone pool deck that will provide a slip-resistant surface and instant elegance to your backyard.
Water Features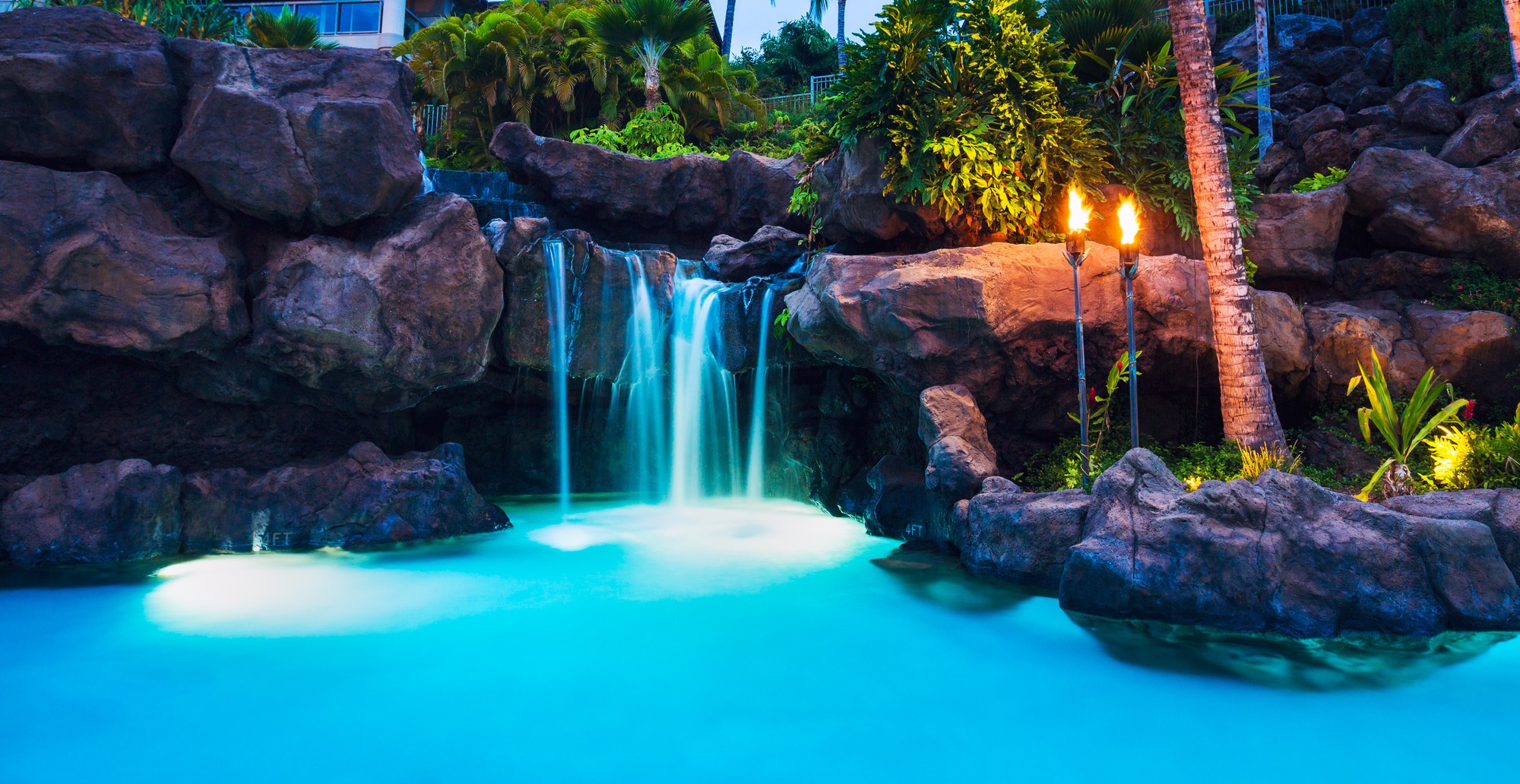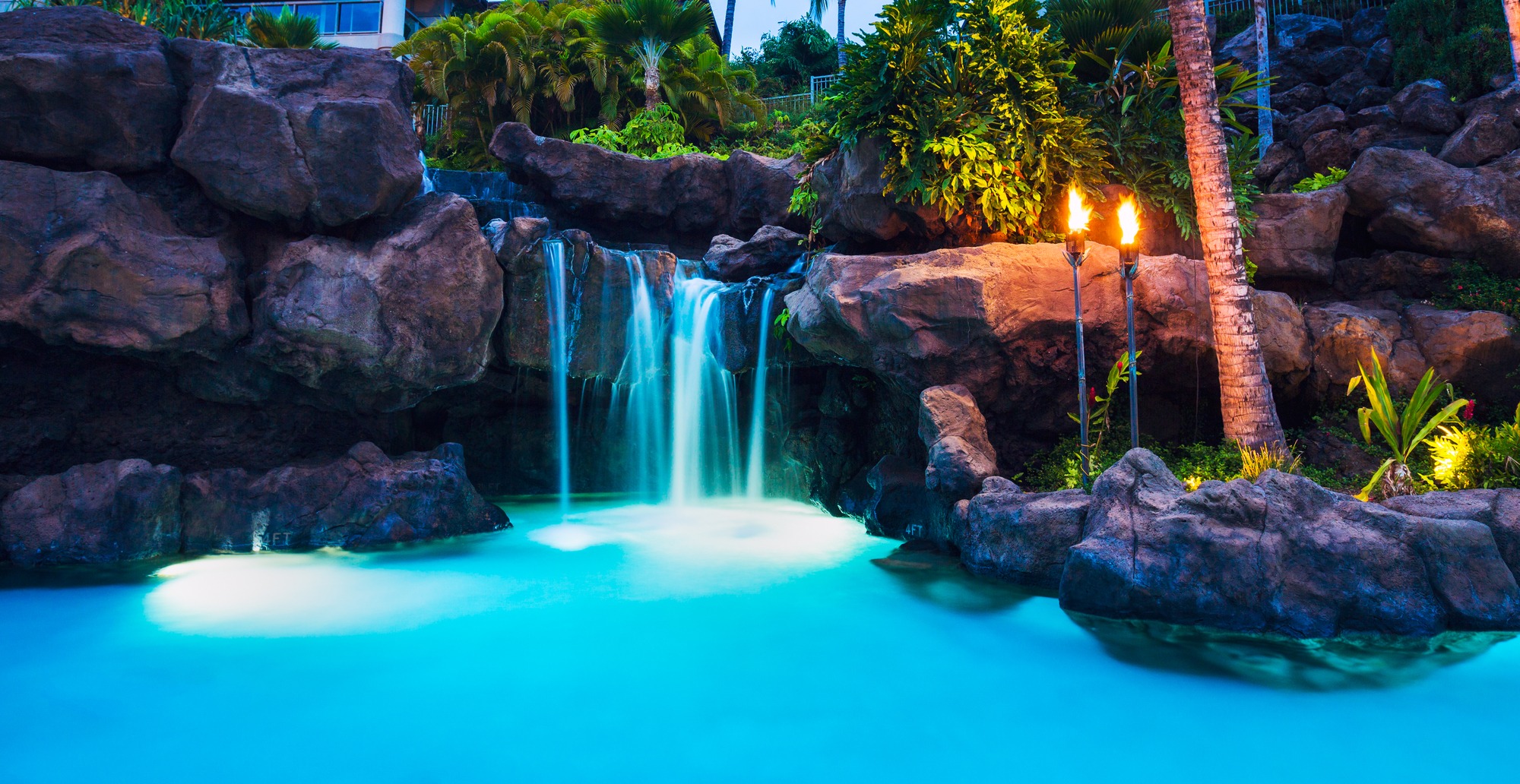 A swimming pool is not the only option for adding the element of water to your landscape design.
Waterfalls, water fountains, ponds and other water features are less expensive than installing a swimming pool and add a relaxing, beautiful element to your backyard.
Greenhouses, Raised Garden Beds and Themed Gardens

The move towards yards with smaller lawns, artificial grass lawns or no lawns at all has made more room in backyards for flower beds and themed gardens.
Raised garden beds are a great choice for those who want to include a vegetable garden in their landscape design and generally have a cleaner, more appealing look than conventional row gardens.
If you like to start your plants early or grow exotic flowers that need special care, you also might want to consider adding a greenhouse.
Whether you plan to exercise your green thumb by doing your own gardening or prefer letting the professionals handle your yard maintenance, themed gardens are a great way to express your personality, truly personalize your outdoor spaces or add instant visual appeal to your yard.
There are plenty of options from which to choose, including night gardens that seem to glow under the moonlight, shade gardens that perform well where other plants refuse to grow, water-saving native gardens, a backyard beach complete with sand or a simple white garden.
The Importance of Outdoor Living Spaces in San Diego
Entertaining and living outdoors is part of the reason to live here, so it is no surprise that attractive, functional outdoor living areas are incredibly important in San Diego homes.
From simple additions – like fire pits – to more luxury options – like outdoor kitchens – backyard improvements are the perfect way to expand your home's usable space and more fully enjoy your home.
Whether it is to enhance your own enjoyment of your home or to better position your home to sell, outdoor living spaces are an absolute necessity in Southern California. If you are looking to maximize your space and use your yard to its full potential, adding outdoor spaces for living and entertaining should be at the top of your home improvement project list.
Think you might need a hand? Browse our recent landscape design and outdoor living projects on our inspiration page or reach out to us to get started on a project!
Original Published Date: November 1, 2019
Refresh Date: October 26, 2021