Landscape Design in La Mesa, CA
Install-It-Direct is a La Mesa landscaping company specializing in landscape design and installation. Our team is here to assist you in designing the outdoor living spaces of your dreams, helping you bring those designs to fruition with our professional installers. We can even help you years after the installation if you need your pavers cleaned and sealed or need your artificial turf cleaned or repaired.
Nestled in the foothills just nine miles from Downtown San Diego, La Mesa is known for its walkable, tree-lined streets, suburban character, and easy access to both city amenities and outdoor activities. Residents and visitors have access to hiking at Mount Helix, biking and fishing at Lake Murray, picnicking at Jackson Park, or heading just about 10 miles west to hit the beach. With so much to do so close by, it makes sense that homeowners here need a landscape contractor who can design and install low-maintenance landscaping that allows you to spend less time taking care of it and more time enjoying it.
Our team is here to help you achieve that goal and can assist you in designing and installing an outdoor kitchen, water features, fire features, patios and decks, landscape lighting, synthetic turf, retaining walls, and any other landscaping feature you might need.
What Locations Does Install-It-Direct Serve?
Install-It-Direct offers landscape design services throughout the La Mesa area, including Fletcher Hills, Rolando Village, San Carlos, Lake Murray, College East, Sweetwater Groves, City Center/Mid-City, Mount Helix, Calavo Gardens, Cowles Mountain, University, and Rolando Park.
We also provide landscaping services in San Diego County, including Cardiff by the Sea, Bonita, Encinitas, Del Mar, Chula Vista, Rancho Santa Fe, Escondido, La Jolla, Lakeside, Carlsbad, Poway, Solana Beach, San Marcos, Santee, Scripps Ranch, Oceanside, and Vista.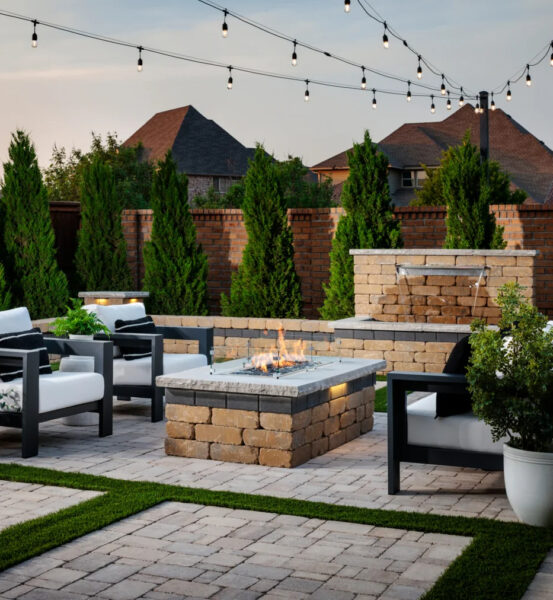 Transform Your Landscape in La Mesa
Whether you are starting from scratch or remodeling your current landscape design, all landscaping projects start with your list of must-haves and wishes. This might include water features, inviting outdoor entertaining spaces, grass alternatives for an expansive lawn area, a putting green or sports court, an outdoor kitchen, or the perfect fire pit to gather around with friends.
Once you have an idea of what you are hoping to include, it is time to enlist the help of a professional who will work with you to turn your dream into a functional, safe reality by considering not just your timeline and budget but also other important factors, like the architectural style of your home, the size of the space, safety issues, and the terrain of your property. They can also make suggestions on how to improve upon your ideas by adding features you might not have considered, such as privacy fencing, a dog run, or a fire feature.
What Services Does Install-It-Direct Provide?
Where in La Mesa Can I Get Inspiration for My Landscape Project?
Start by checking out the garden design ideas other homeowners in your area have used in their own front yards. If you are not finding enough inspiration in your neighborhood or surrounding neighborhoods, explore the spots listed on our Top 5 Landscape Designs in San Diego.

Why Should I Hire a La Mesa-based Landscape Designer?
Local Knowledge
Landscaping designers in La Mesa have local experience and knowledge that will help make your landscaping project a success. They will know local regulations that could affect your design or the installation process and will know which features will work best in this area, such as native plants, grasses that will thrive here with minimal lawn care, and which hardscapes might be best for the terrain.
Coastal Influence Understanding.
Coastal and near-coastal conditions, such as salt spray, fog, and wind, can influence landscape design decisions. Working with local professionals who understand these influences can help make your project a success.
Hillside and Canyon Experience
La Mesa is also known as the Jewel of the Hills, which is quite the clue about the terrain you might expect to find here. Set among the rolling hills common throughout San Diego County, La Mesa is home to beautiful, varied topography, including hills, valleys, canyons, and slopes. Because of this, it is imperative that you work with a designer who knows how to design for this varied terrain. Your design might need to include swales, retaining walls, erosion control, or creative ground covers that can beautifully cover sloping landscapes, such as artificial grass.
Access to Local Resources
Working with a local designer for your design and landscape construction will help ensure your project is delivered on time and on budget, since they will have better access to local resources, including contractors, subcontractors, and vendors.
Does Install-It-Direct Landscape with Plants, Succulents, or Gravel?
Install-It-Direct has years of experience designing and installing drought-resistant, low-maintenance landscaping, which often includes succulents, artificial grass, gravel, native plants, and pavers.
What Landscape Design Styles Are Common in La Mesa?
East County San Diego homeowners want beautiful, functional landscapes that require minimal maintenance and can withstand a hot, drought-prone climate. To achieve this, residents here often choose drought-tolerant native plants, artificial turf for lawn areas and putting greens, and pavers for driveways and patios. Because folks here enjoy an outdoor lifestyle and spend time in their outdoor living spaces with their families and for entertaining, fire features and outdoor kitchens are also popular features to include in landscape design here.

Does Install-It-Direct Design for Earthquakes, Wildfires, or Mudslides?
Yes, our team at Install-It-Direct is well-versed in designing and installing landscapes for areas at risk from earthquakes, wildfires, and mudslides. Most homes in San Diego County are at risk for at least one of these natural disasters, so, if your home is among them, we can help you determine how best to reduce that risk with your landscape design. For example, this might include grading, retaining walls, and other erosion control options to reduce the risk of mudslides. If wildfires are of more concern to you, we can discuss how to create a defensible space around your home with hardscapes and fire-resistant plants. For earthquake-prone areas, we can suggest hardscapes that can better withstand movement.
What Does the Process of Hiring Install-It-Direct Entail?
Hiring Install-It-Direct for your custom landscape design is simple. It starts with you contacting our team for a free estimate. We then meet up with you for an on-site assessment, create a 3D rendering of your project, and then discuss your budget, timeline, and any questions you might have before the installation process begins.
FAQ
How much does it cost to consult a landscape designer?
The cost of consulting a professional designer for your landscaping needs depends on where you live, the size of your project, the features on your must-have list, and the finishes you want to include. To get an initial idea of the cost of your project, you can visit our pricing page or give us a call for a free estimate.
What is the difference between a landscaper and a landscape designer?
Professional landscaping designers specialize in providing exterior designs to enhance your home's curb appeal, create functional outdoor living spaces, address safety issues, and put together an overall plan for your property. They consider your budget, timeline, must-haves, and ideas, and then create a design that incorporates these considerations. They then create a 3D rendering, go over the process with you, and act as a project manager for the installation.
Landscapers will sometimes provide some basic landscape construction services, such as installing walkways or sod, but they most often take care of lawn care, weeding, yard cleanup, pruning, refreshing mulch, and maintaining sprinkler systems and landscape lighting.
How much do landscapers charge per hour in La Mesa?
You can expect to pay between $25 and $50 per person per hour for landscape maintenance in La Mesa.
How much should I budget for a landscape project?
If your neighborhood has a homeowner's association, check with them to see if there is a requirement for how much you need to spend on your landscaping. When there are bylaws that address this, it is usually required to spend a percentage of the value of your home on landscape design and installation. If you do not have an association overseeing your neighborhood, the general rule of thumb is to budget about 10% of the value of your home for your landscaping.
Reach out to Install-It-Direct for landscape design in La Mesa
We would love to talk to you about your next landscaping project. If you would like to learn more about the services we provide or are ready to receive a free estimate, contact us at (858) 925-3000 or [email protected].