Top 5 Landscape Designs in San Diego
Searching online for the perfect landscape design can only get you so far. Sometimes, you just need to see how plants look together or need to compare different types of ground covers in person. If you are looking for ideas and inspiration close to home, visit these top five spots for landscape design in San Diego.
1. The Water Conservation Garden
The Water Conservation Garden is located on the Cuyamaca College campus in El Cajon. Docent-led tours are available at no cost at 10:00am on the first Saturday of each month. Taking advantage of this tour is a great way to learn about the plants and landscape design in each of the themed gardens and other exhibits helpful to backyard gardeners, such as the Compost Exhibit, Soil Erosion Exhibit, and the Veggie Garden.
If you cannot make the tour, you can always meander through the gardens on your own or you can sign up for one of their garden workshops to learn more about plants or sustainable gardening practices. As the name implies, this grouping of themed gardens is designed to conserve water and to show others how you can have a beautiful garden and save water at the same time.
The setup here is particularly helpful for homeowners looking for inspiration and ideas for their own landscape design. For example, if you are looking for options to replace your natural grass lawn, there is an exhibit dedicated just to groundcover options that you can compare and consider side by side. If you are looking to create a water-saving landscape that includes a small area of natural grass, there is also a turf exhibit where you can compare different grass options and make the best choice for your yard.
If your landscape design includes a vegetable garden, be sure to stop by the Water-Wise Victory Garden to learn more about saving water through efficient irrigation systems or how to improve the soil in your garden.
The Water Conservation Garden also offers online programs and consultations for irrigation and landscape design.
Admission is $8.00 for adults and $4.00 for children between three and seventeen years old. Seniors, students, and members of the military get in for $5.00. The garden is only open from 9:00am to 2:00pm, so be sure to arrive early in order to have time to explore.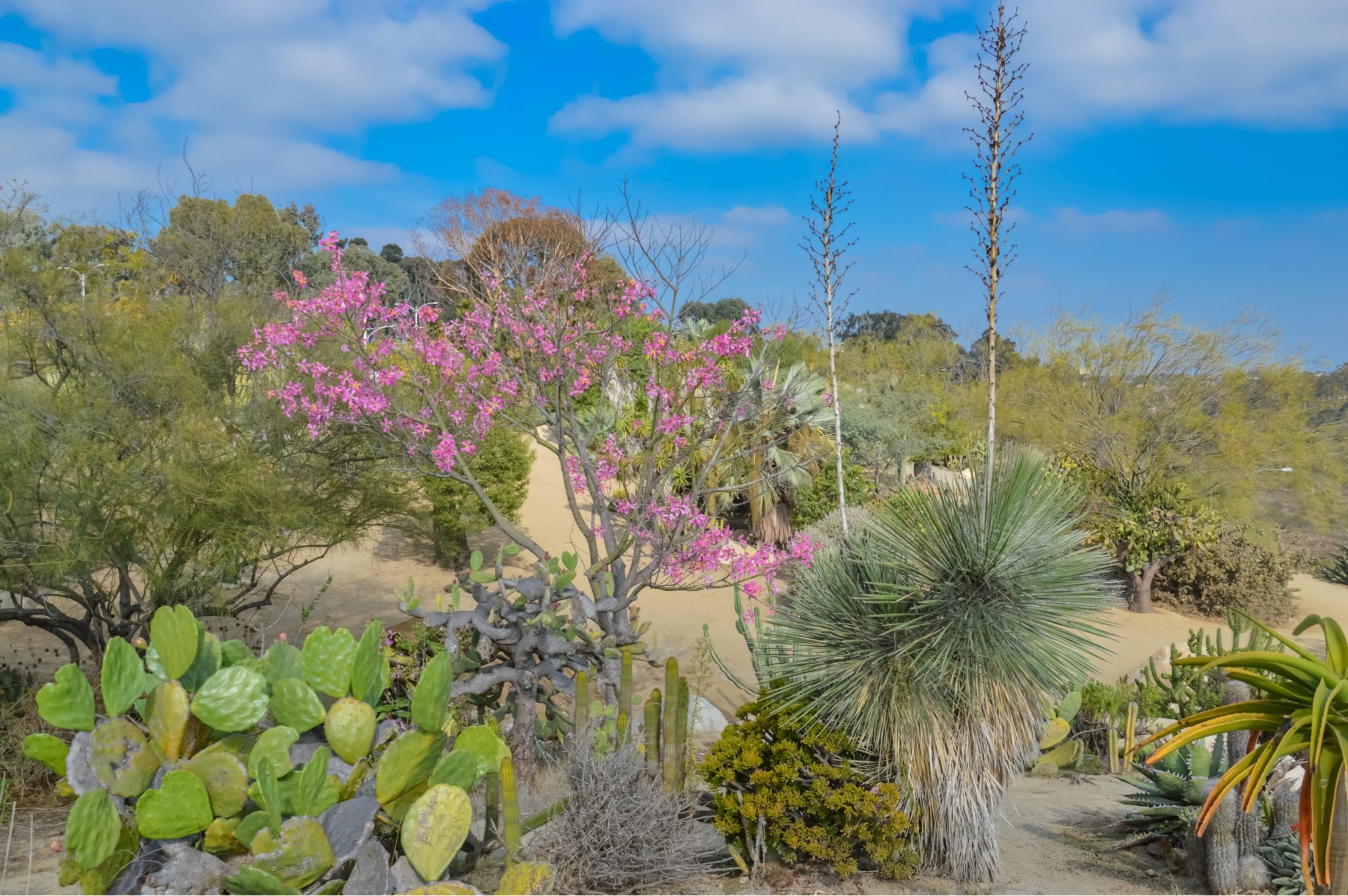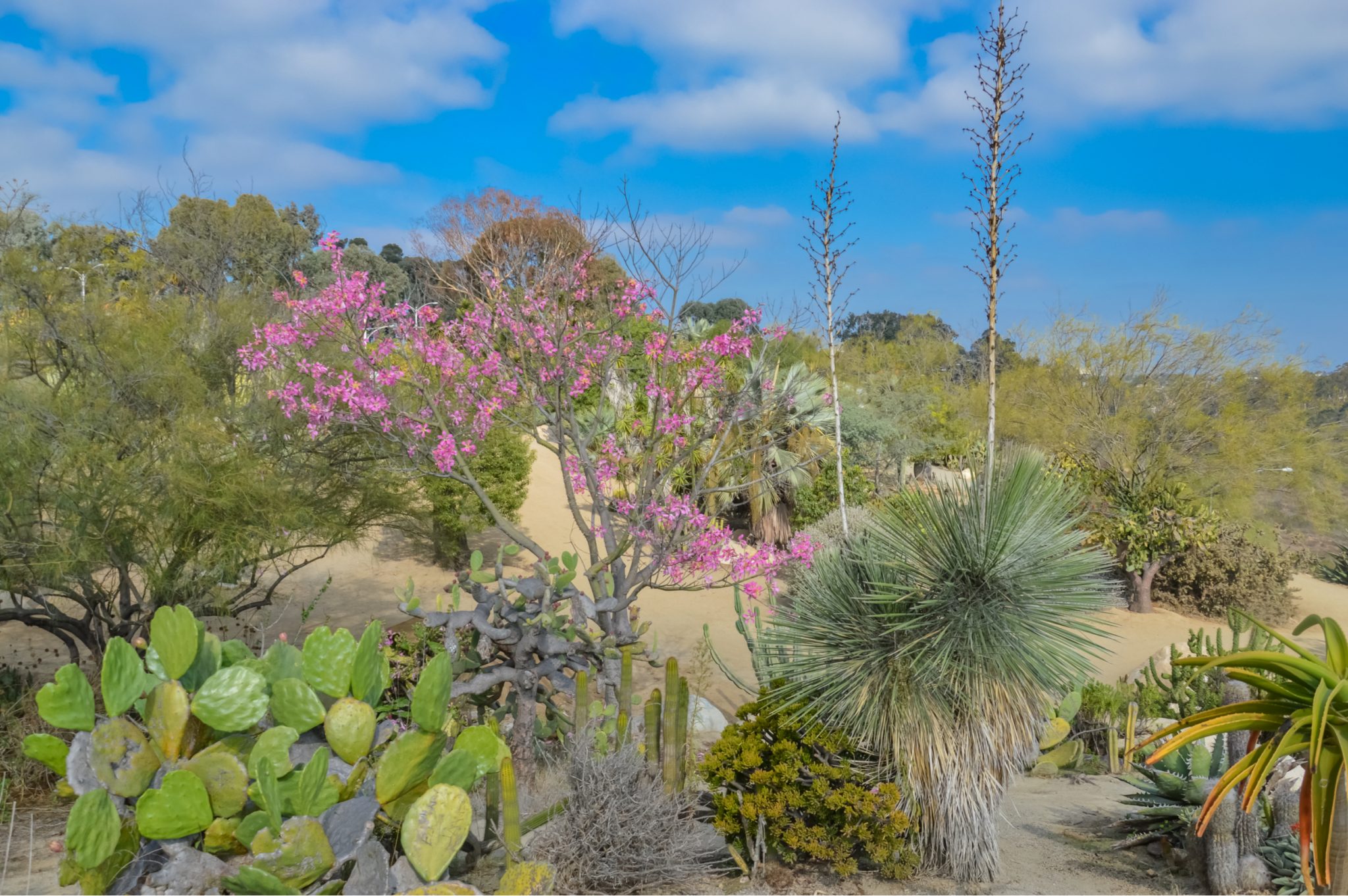 2. Desert Garden and 1935 (Old) Cactus Garden at Balboa Park
The Desert Garden and the 1935 (Old) Cactus Garden at Balboa Park are separate gardens, but we are grouping them here because they are both small gardens that you can easily visit in one afternoon on your next visit to the park.
While the Desert Garden is just 2.5 acres, it is home to more than 1,300 succulents and drought-resistant plants. The plants here and in the 1935 (Old) Cactus Garden are not all native to California, but they are all water-saving options that can thrive in this area. So, if you are considering succulents or drought-tolerant plants for your landscape design, you should definitely plan a visit to Balboa Park to visit these two gardens (and the California Native Plant Garden).
Admission is free and both of these gardens are open every day.
3. California Native Plant Garden
The California Native Plant Garden is a small demonstration garden located in Balboa Park and designed to inspire local residents to include native plants in their home gardens. While this garden is small, there are at least 100 plant species on display that can be used in a residential setting. This means that it is filled with ideas for landscape design San Diego homeowners should consider.
Native plants require less water and maintenance than non-native options; therefore, anyone concerned about saving water or spending less time on yard work should consider including native plants in their landscape design. That is what puts this little garden in downtown San Diego on the list for the top five landscape designs you should visit for inspiration. Admission is free and the garden is open every day, so you can stop by for some inspiration any time.
Keep in mind that even if you do not create a design that only includes California natives, you can create one or more watering zones with native plants to save water and money.

4. San Diego Botanic Garden
The San Diego Botanic Garden in Encinitas is a good stop for anyone looking for ideas and inspirations. This large collection of themed gardens has something for everyone, making it a great resource for just about any type of landscape design San Diego homeowners are considering.
There is Palm Canyon to help you decide which palm trees would work for you, the Herb Garden for folks interested in growing their own herbs or planting an edible landscape, and several water-saving gardens with plants from around the world, such as the African Garden, Australian Garden, Mexican Garden, Canary Islands Garden, Central America Garden, and California Gardenscapes Garden.
In our wildfire-prone area, it is also worth taking a walk through the Landscape for Fire Safety demonstration garden where you can learn how to design and maintain a fire-resistant landscape and discover fire-resistant plants you might want to consider for your garden.
While you are there, be sure to take a break from researching landscape design options to enjoy the Bird and Butterfly Garden, Hamilton Children's Garden, and the Native Plants and Native People Trail.
Admission is $18.00 for adults, $10.00 for children between three and seventeen years old, and $12.00 for seniors and active-duty members of the military. Go here for current hours and guidelines for visitors.
5. Marston House Garden
The Marston House Garden in Balboa Park is unlike anything you will see at the gardens mentioned above. While most of the gardens on this list focus on creating a beautiful landscape with water conservation in mind, the Marston House Garden is a stunning example of a formal English garden complete with manicured flowerbeds, a tea house, and a pergola.
There are not a lot of formal English gardens in San Diego, so if you are considering this style for your landscape design, this is perhaps the best example you will find in this area. To get inspired by trees planted as early as 1906 and hundreds of blooming plants in a formal, well-manicured setting, visit the 4.5-acre grounds of the Marston House.
Admission is free and the gardens are open every day.