Landscape Design in Lakeside, CA
The area that is now Lakeside was purchased by the El Cajon Valley Land Company and named for its location around Lindo Lake in 1886. This East County town is well known for its semi-rural setting, equestrian community, rodeo grounds, and outdoor activities. Outdoor recreation in Lakeside includes miles of hiking and riding trails, the trailhead from which climbers ascend El Cajon Mountain, River Park alongside the San Diego River, the original lake where the town got its name, and three stocked lakes for fishing. At two of the lakes, locals and visitors can also enjoy water sports like skiing and tubing.
There are plenty of folks who enjoy living a quieter, simpler life in Lakeside while commuting to other parts of San Diego for work. This is also an area where residents tend to lead active lifestyles. With the influence of these two factors, it makes sense that landscape design in Lakeside often prioritizes exceptional outdoor living areas and functional yards with low-maintenance features.
Install-It-Direct is a local landscape design company that specializes in designing attractive patios, lawns, and other outdoor living spaces that meet your family's needs while allowing you to spend more time enjoying your yard and less time taking care of it. If you are looking for a local company that understands Lakeside's geography and climate and can help you design a yard that fits your lifestyle and budget, we are here to help.
What Locations Does Install-It-Direct Serve?
Install-It-Direct provides landscape design and installation services in all parts of Lakeside, including Barona, Trevi Hills, Flinn Springs, Johnstown, Lakeside South, Eucalyptus Hills, Winter Gardens North, Winters Gardens East, Town Center, Canton Hills, and Riverview Farms.
We also offer landscape design in San Diego County, including Bonita, Cardiff by the Sea, Carlsbad, Chula Vista, Del Mar, El Cajon, Encinitas, Escondido, La Jolla, La Mesa, Oceanside, Poway, Rancho Santa Fe, San Marcos, Santee, Scripps Ranch, Solana Beach, and Vista.
Let Professionals Design Your Landscape in Lakeside
Folks who make Lakeside their home are often outdoor enthusiasts who prioritize spending time with family and friends while enjoying recreational activities. This means that low-maintenance landscaping and functional outdoor living areas are key.
The design specialists at Install-It-Direct will work with you to create outdoor spaces that meet your needs and are within your budget. If you are a golfer with limited space, we can help you determine the best way to include a putting green in your design. If your kids love soccer, we can recommend the best artificial grass for your backyard lawn. We can also include paver patios and fire features for entertaining, an outdoor kitchen for weekend cookouts, or the perfect dog run for your furry family members.
We can also suggest features to improve fire resistance or erosion control and help you determine how best to match your home's architectural style, use the available space, and reconcile your budget with your wish list.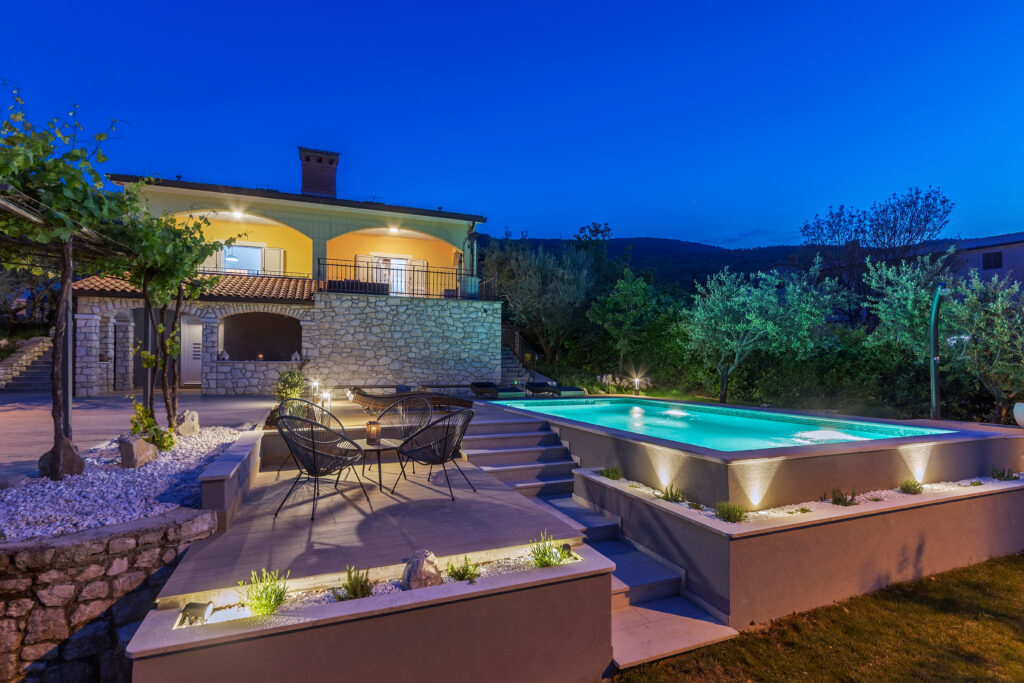 What Services Does Install-It-Direct Provide?
Where in Lakeside Can I Get Inspiration for My Landscape Project?
You can start by looking at the parks in Lakeside, but you will also want to get inspired by visiting one of the spots on our list of Top 5 Landscape Designs in San Diego.
Why Should I Hire a Lakeside-based Landscape Designer?
Local Knowledge
Lakeside landscape designers will be more familiar with Lakeside's specific geography, climate, and regulations.
Coastal Influence Understanding
While Lakeside might be about 30 miles from the coast, the climate in some areas is a mix of coastal and inland valley, which means it is still important to find a designer who understands coastal climate conditions.
Hillside and Canyon Experience
Lakeside's topography presents specific challenges for landscape design, making it important to find a landscape architect who is familiar with the area.
Access to Local Resources
Local designers have relationships with local contractors and vendors, which allows them to more easily source plants and materials that work well for Lakeside landscapes.
Does Install-It-Direct Landscape with Plants, Succulents, or Gravel?
Yes, we often use succulents, native plants, and a variety of ground covers to best meet the needs and budgets of our clients.

What Landscape Design Styles Are Common in Lakeside?
Lakeside landscaping generally focuses on creating low-maintenance, drought-resistant, and fire-resistant landscapes that include inviting outdoor living areas and options for outdoor recreation.
Does Install-It-Direct Design for Earthquakes, Wildfires, or Mudslides?
Yes, we can work with you on landscape design specific to the needs of your property to make it better prepared for natural disasters. Examples of this would be choosing fire-resistant plants in fire-prone areas or suggesting hardscapes that can better withstand an earthquake.
What Does the Process of Hiring Install-It-Direct Entail?
The process begins when you contact us for a free estimate. After this, we will come to your home for an on-site assessment, create a 3D rendering of your project, discuss your budget and timeline, and make sure to answer any questions you may have.
What Questions Should I Ask Install-It-Direct?
Before starting a project with any contractor, be sure to ask these questions:
Are your contractors licensed, bonded, and insured?
Do you have worker's comp and general liability insurance?
Are you licensed with the Contractors State License Board (CSLB)?
Do you have the correct licenses for the type of services I am requesting?
How long have you been in business and providing the type of services I need?
Do you have a list of completed projects in the area that I can look at in person?
FAQ
How much does landscape design cost?
Landscape design costs vary greatly depending on the size of the project, the materials used, and the location of the project. Visit our pricing page to get a better understanding of landscape design prices.
What is the difference between a landscaper and a landscape designer?
Landscape designers design functional spaces that are personalized to fit their client's needs. Landscapers generally care for these spaces after they are installed with services like pruning and mowing. Landscapers will also sometimes install patios or sod.
How much do landscapers charge per hour in Lakeside?
You can expect to pay $25 to $50 per hour per person for yard maintenance services.
How much should I budget for a landscape project?
A general rule of thumb for landscaping projects is that you should budget about 10% of the value of your home for designing and installing landscaping.
Reach Out to Install-It-Direct for Landscape Design in Lakeside
Install-It-Direct offers landscape design and installation services that will help you create a beautiful, functional yard. To learn more about our services or to get a free estimate, contact us today!