How to Go Plant-Free in Your Landscape Design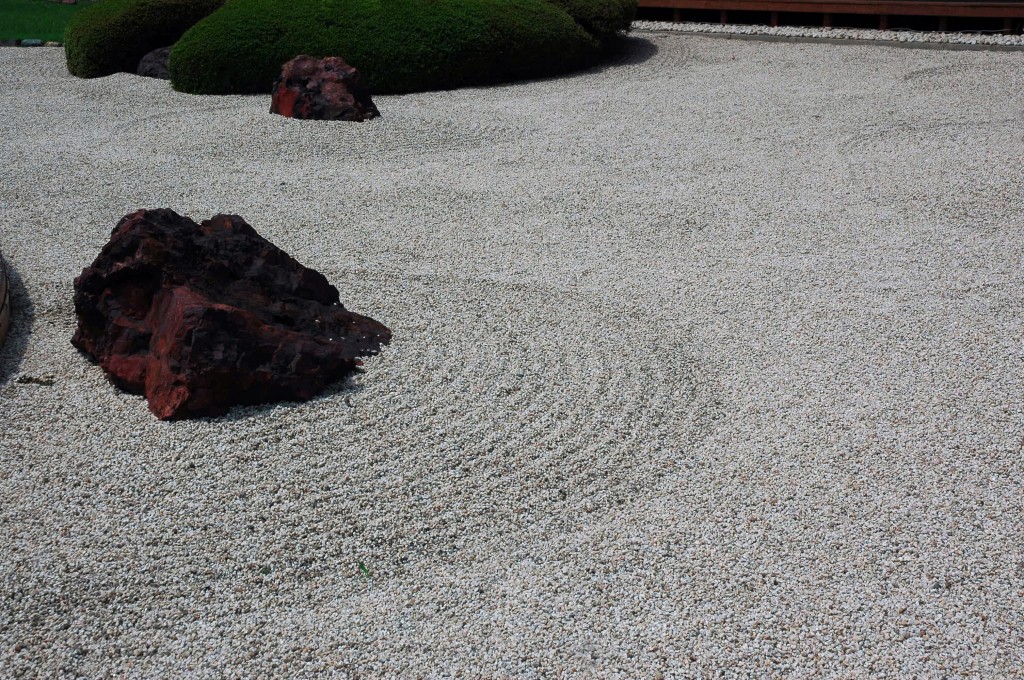 Colorful flowerbeds, vegetable gardens and expansive lawns are common sights in backyards, but they aren't for everyone.
Some people prefer lower-maintenance landscaping options that will allow them to spend more time enjoying their yards and less time taking care of them.
This might include xeriscaping with native plants, installing large patio areas for outdoor entertaining, sticking to an easy-care container garden or planting low-water, evergreen perennials that look great with little care.
For some, even this is too much greenery.
If you have severe allergies, strong feelings about dirt or a seriously black thumb, you may prefer a backyard that is completely free of plants, flowers and other greenery.
While it might seem nearly impossible to have cozy, inviting outdoor spaces without a bit of shrubbery or pretty petals to soften things up, it is entirely possible to create a relaxing, beautiful backyard retreat that is free of flowery things.
Plus, you don't have to sacrifice style or end up with a stark, sterile sea of concrete either.
You can have some fantastic, low-maintenance outdoor living and entertaining spaces that your neighbors will envy and your guests will enjoy even if there isn't a flower in sight.
Here are 10 low-maintenance, plant-free backyard landscaping ideas and tips to consider when designing your private oasis.

1. Choose your hardscape carefully.
When planning a plant-free yard, hardscape features become even more important.
Your patio or deck will likely be a focal point in your landscaping and will provide the foundation on which you design the rest of your yard.
If you are working within a budget, it might be tempting to go for lower-cost options, like concrete, but many homeowners regret skimping on their hardscape once it is installed and doesn't look quite as inviting or appealing as they had hoped.
Your outdoor living areas are an incredibly important part of your yard, and the hardscape options you choose set the tone for the overall look of your landscaping.
If you choose to have large concrete slabs in your plant-free yard, you might appreciate the upfront savings, but you also might regret your decision down the line – particularly once the concrete begins to age and crack.
Even if you are on a budget, a larger portion of your landscaping dollars should be dedicated to your patios and walkways, since these features are especially important.
Incorporating more attractive options like travertine, granite, slate, marble or paving stones is sure to pay off in the long run – both in the enjoyment you and your guests experience and in the overall value of your home.
Paving stones, in particular, immediately enhance your yard's visual appeal and can increase your home's value.
They also offer the perfect foundation from which to design your plant-free yard and provide beautiful, slip-resistant spaces for outdoor living and outdoor entertaining.
If higher-end options are not in your budget right now and you are looking for lower-cost choices, you might want to consider gravel, rather than settling for concrete.
Entertaining spaces and walkways with gravel as a ground cover can be attractive and inviting, particularly if you bring in bright colors with the patio cushions and keep the gravel raked and smooth.
One of the advantages of using gravel is that it can provide an attractive, temporary fix for your landscaping needs while helping you stay within your budget and not requiring removal by jackhammer a few years down the road when your budget might allow for paving stones or another hardscape option.
2. Choose non-living ground covers for texture, color and visual appeal.
Just because you don't want a bunch of plants in your yard, that doesn't mean that you want a bunch of patches of bare dirt.
In areas where you do not have patios or walkways, add visual interest, color and texture by incorporating a variety of non-living, low-maintenance ground covers.
Options include:
— Sand
— Tumbled Glass
— Drainage Rock
— Beach Pebbles
— Mulch
— Wood Chips
— Bark
— Rubber Mulch or Mats (for play areas or outdoor gyms)
Most of these options require very little care, such as occasional raking or mixing in new material every once in a while to keep it looking fresh.
Ground covers are a great way to cover dirt, reduce weed growth, and bring in a variety of textures and colors to enhance your yard's visual appeal.
Most of these ground covers come in red, brown, gray and black hues, which provides more options for finding the perfect choice for your landscape design.

3. Use landscaping fabric.
Landscaping fabric, also known as weed fabric, is a must-have product for anyone using ground covers or creating a plant-free yard.
After all, weeds are plants, so if you are planning an outdoor entertaining area that is free of greenery, you certainly do not want weeds coming to the party.
This is an affordable investment that will not add much expense to your budget or time to your project, and it is well worth this upfront effort to significantly cut down on maintenance requirements moving forward.
4. Bring in a water feature.
Plants are just one element you can bring into your landscaping design; there are many other options.
Water is another popular landscaping element that enhances visual appeal, can provide a focal point for your yard and provides the soothing sound of running water for a more inviting outdoor living area.
A swimming pool is a great option for Southern California homes, and it is an option that can take up a sizable chunk of your yard, which can provide some relief when it comes to designing backyard landscaping.
If a pool is not in your budget or not a feature you are interested in including, you can also bring in the element of water with a waterfall, fountain or pond.
To better incorporate your water feature into your plant-free yard, surround it with a patio large enough for a seating area.
This provides a relaxing place to mingle with guests or enjoy an afternoon with a good book.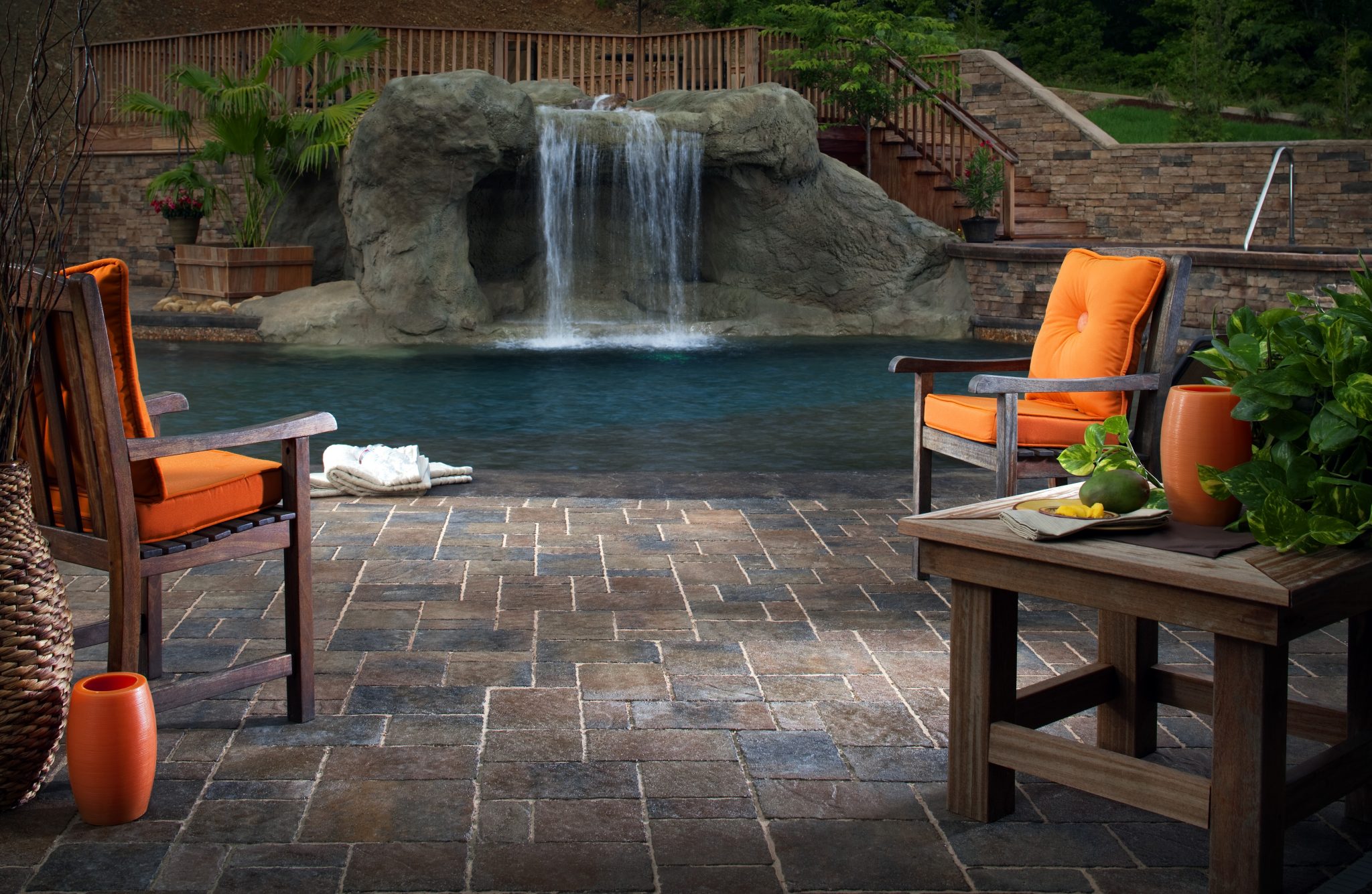 5. Avoid clutter.
When some homeowners commit to plant-free landscaping, they seem to feel compelled to fill the space with other objects to distract from the fact that their yard has no greenery.
A row of statues along your walkway, an abundance of fence art or a collection of garden gnomes is not going to make your yard more inviting; it is just going to make it look more cluttered and take away from the overall appeal.
Landscaping without plants allows for entertaining areas that are not cluttered with hanging planters, container gardens or overflowing flowerbeds, so fight the urge to fill the space with inanimate objects in an effort to make up for not having plants in your yard.
While greenery is expected, and your yard can feel a little bare without it, good landscape design will provide you with a welcoming space that will not feel lacking.
Commit to having clutter-free outdoor living areas for you, your family and your guests to enjoy.
6. Include functional features.
If you are not going to have the stereotypical large lawn in your backyard, you can free up lots of space for more functional features that will better meet your needs.
This might include a fire pit surrounded by gravel or a paving stone patio, an outdoor kitchen, a patio fireplace, a playground or just more room for a larger deck for entertaining.
Part of creating plant-free outdoor living spaces where you won't miss the plants is making sure you include these functional features in the design.
For example, if you have a gorgeous, river rock fireplace on your patio, an outdoor movie theater or a travertine wall with a waterfall flowing into a pond, do you really think anyone will notice that there aren't any flowerbeds along your fence?
7. Bring in color and textures.
Hardscape and ground covers provide lots of opportunities to bring color and texture to your landscape design, but you can enhance this further with your finishing touches.
Patio cushions and colorful outdoor rugs are easy, affordable additions that add color, texture and style to your outdoor living spaces.
You can also add vibrant color to your landscape design with ethnic art pieces or other global goods, such as Talavera stools, birdbaths or accent tables.

8. Light it up.
Landscape lighting provides necessary illumination for patios and walkways, helps create the mood for evening gatherings and is a great way to emphasize your interesting landscaping features.
When you choose to landscape without plants, other elements increase in importance; lighting is one of those elements that can add visual interest to your yard without adding features that require a lot of maintenance.
For those who want a low-maintenance, low-cost backyard, solar lighting is a great option.
When you choose solar-powered landscape lighting, you do not have to run wires or rely on electricity.
You can simply stick them in the ground and let them soak up the rays of the sun during the day to provide plenty of light for evening entertaining.
9. Consider artificial grass.
If your reason for not wanting to include plants in your landscape design is based on allergies, a desire to conserve water or the desire for a low-maintenance backyard, then you should consider installing artificial grass.
Synthetic turf is a great alternative to natural grass lawns and allows you to have the benefits of grass without the headaches.
With fake grass, you can have a lush, green lawn for you, your kids, your pets and your guests to enjoy without ever having to weed, aerate, water, fertilize, edge or mow.
Considering that Southern Californians seem to often find ourselves in a state of drought, water-saving landscape options like artificial turf are an ideal way to enjoy guilt-free greenery.

10. Remember that it does not have to be all or nothing.
Just because you have decided that a low-maintenance yard without gardens or flowerbeds is right for you, that does not mean that you cannot have any type of flora in your landscape design.
Low-maintenance, low-water ornamental grasses, container gardens or native plants can add plenty of color and visual interest to your yard without adding hours to your weekly home maintenance routine.
You can easily place a few accent plants around a patio or install a rock garden with a few plants that thrive with little care.
Wildflowers are another great option for folks who want flowers but do not want to increase their chore list.
Native wildflowers that are known to thrive in your area take little effort to plant, do not require pesticides or fertilizers, and do not require as much water as other options.
They are perfectly happy to do their thing with little help, which makes them a great choice for homeowners who want to let their backyard express its wild side with little effort on their part.
If you do choose to include a little container garden, a few fruit trees or some flowers in your landscape design, be sure to also include automatic irrigation, which will help you save time and water.
Some homeowners are not going to be happy with the end result if there isn't at least a little green thrown in there, so you might want to consider a few strategically placed plants or trees to cover your bases.
Plant-Free Landscaping: Final Thoughts
Forgoing flowerbeds and a large, natural grass lawn may be a challenge for some, but the money, water and time you can save when you opt for low-maintenance landscaping is a pretty good tradeoff for those who are not overly concerned with filling their yard with greenery.
If you don't have a green thumb, have allergies, or simply do not want to spend hours taking care of your yard – or thousands of dollars each year paying someone else to do it for you – a plant-free outdoor living space might be the best option for you.
Photo Credits (in order of appearance): morgueFile, kconnors; morgueFile, click; morgueFile, beglib; morgueFile, beglib; morgueFile, GaborfromHungary; morgueFile, wallir.