Outdoor Kitchen Cost: The Ultimate Pricing Guide
Outdoor Kitchen Cost Price Guide
Thanks to the pleasant climate, Southern California homeowners are in the fortunate position to be able to expand the living space of their homes by creating outdoor rooms. In areas like San Diego, where outdoor living and entertaining is possible throughout the year, functional exterior spaces continue to grow in popularity and are a feature that most buyers have now come to expect.
One of the most popular ways to expand your entertaining options or increase your home's exterior appeal is to install an outdoor kitchen. Backyard kitchens are becoming increasingly common in mid-range and high-end homes, and this is one home improvement project that you should consider to increase your enjoyment of your home and increase your home's value.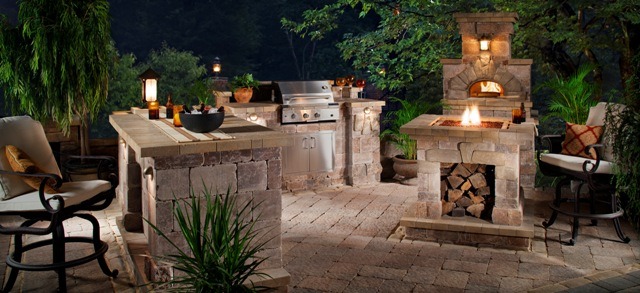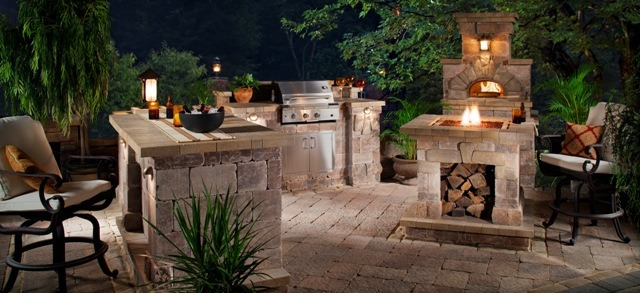 A backyard or outdoor kitchen is an outdoor area designed for food preparation, which may provide the basics for cooking outdoors in a recreational manner or may be a luxury kitchen setup that rivals high-end indoor kitchens in upscale homes.
Some patio kitchens include a grill, burners, smoker, sink, refrigerator, cabinets and workspace, while others simply have a grill and a sink, or a grill and a small refrigerator.
While you can call your outdoor cooking area a kitchen even if you only have a built-in grill and a small space for food preparation, a Realtor will likely want to see at least three kitchen features in place before he or she would feel comfortable adding an outdoor kitchen to the listing information for your home.
You will also need more than a built-in barbecue grill and counter space if your interest in installing an outdoor kitchen includes the desire to increase the value of your home.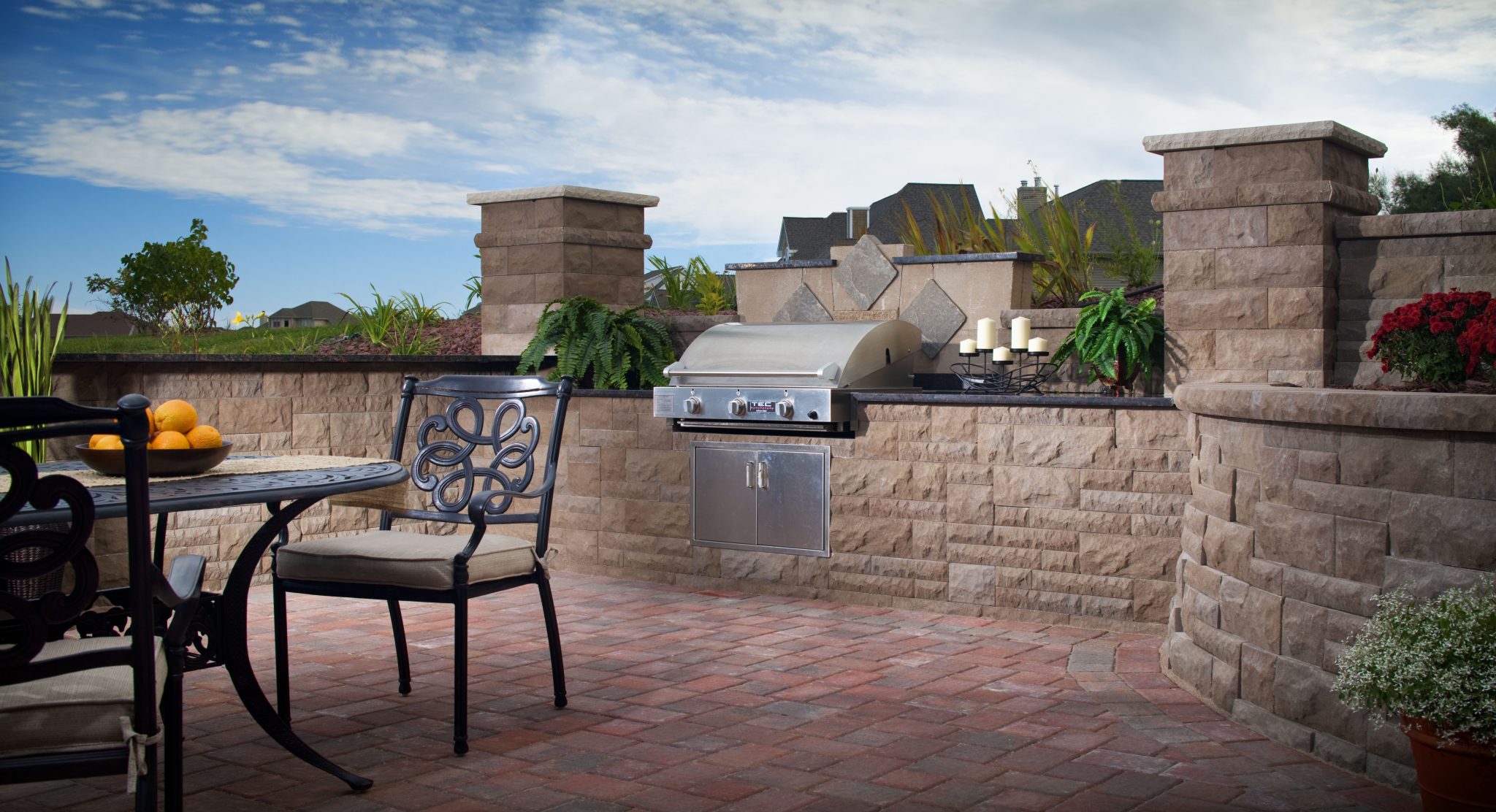 While it is difficult to estimate exactly how much a backyard kitchen will increase the value of your home – partially due to the many factors that come into play when determining home value – most homeowners can expect to see a positive return on their investment.
How much of a return you see will depend on the features you include, the materials you use, and how well the space is designed.
A do-it-yourself weekend kitchen installation with materials from your local home improvement store is obviously not going to bring the same return as a professionally designed outdoor entertaining space with high-end appliances and upscale materials.
However, a DIY patio kitchen with a few simple features might be all you need to significantly increase your enjoyment of your home and your ability to better use your property's exterior spaces.
It isn't all about increasing your home's value, particularly if you are not looking to sell or borrow against your equity, but an outdoor kitchen can provide you with a better outdoor living space for you to enjoy as well as a way to obtain a better price if you choose to sell.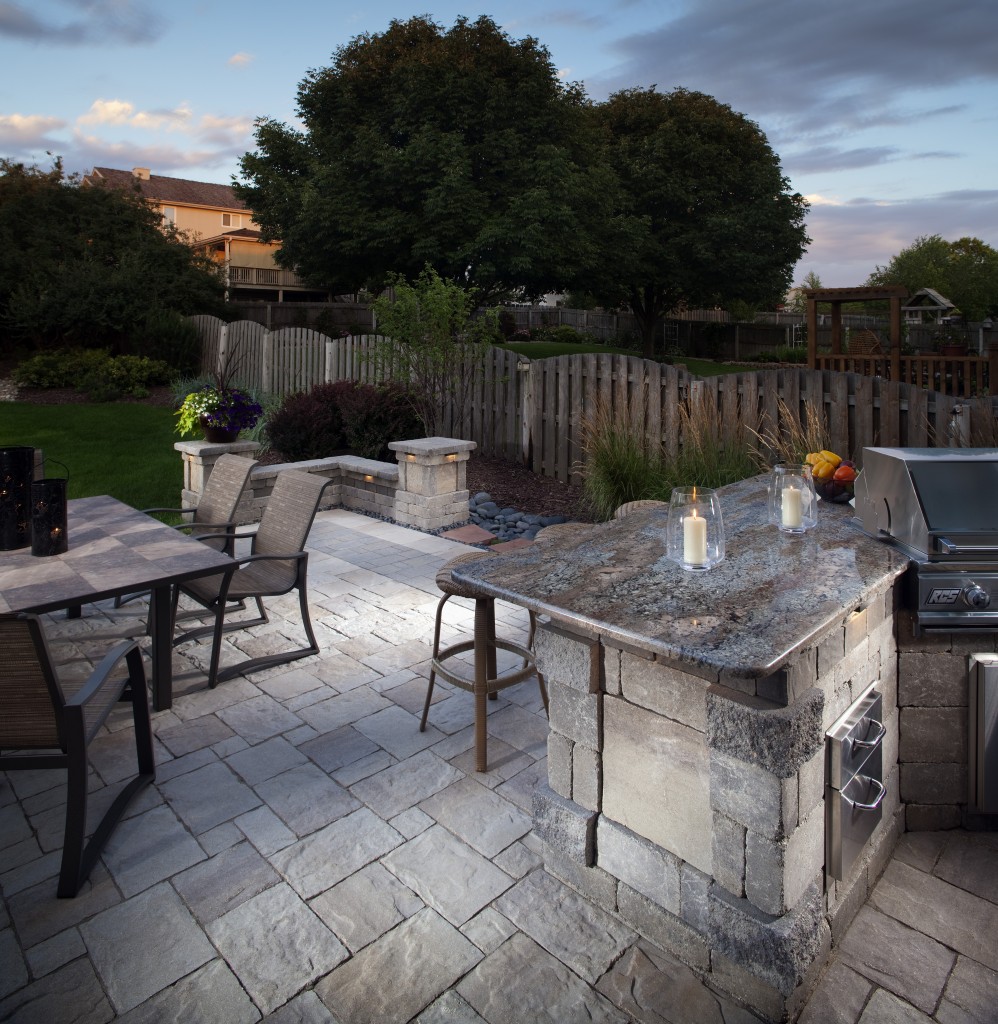 A patio kitchen can be a relatively affordable home improvement or a big-budget project.
Whether or not it is worth the investment depends on how well it will improve your ability to more fully enjoy your home or increase your asking price when placing your home on the market.
If you love to grill and entertain outdoors, then spending a few thousand dollars to create a functional space for food preparation is a worthwhile investment that you, your family and your guests will enjoy for years to come.
If you rarely spend time in your backyard, then you might be better served by just investing in a good grill for the infrequent occasions when you want to have a few friends over for a barbecue, rather than investing in additional features that you will rarely use.
If you are looking to increase your home's value, a well-designed outdoor space that an appraiser could look at as a second kitchen could provide a return on your investment that is well over the initial cost of installation.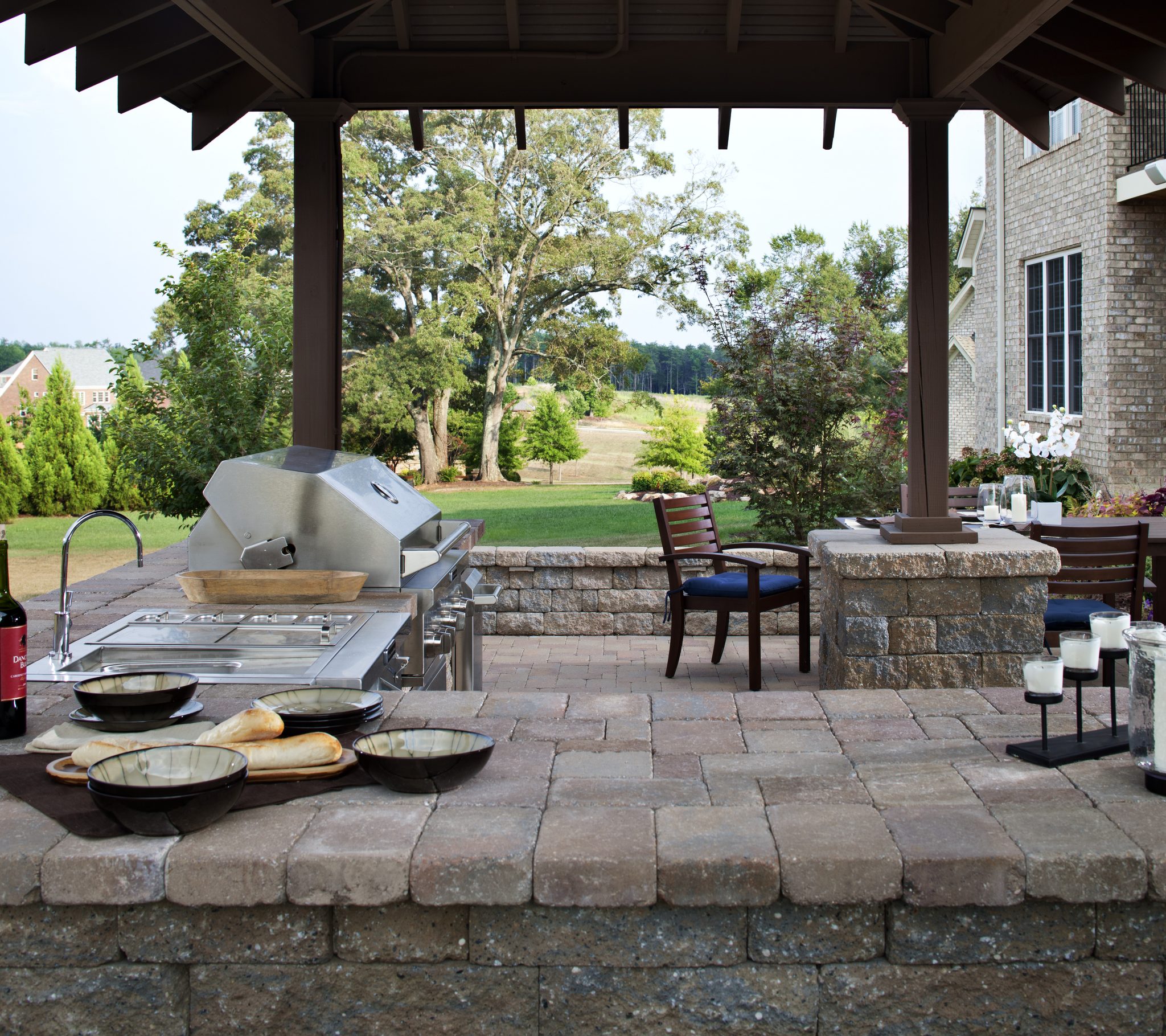 There are three factors that will have the most significant impact on the cost of your kitchen:
Labor
Appliances
Materials
| Description | Labor | Cost |
| --- | --- | --- |
| Basic outdoor kitchen with low cost appliances and few features | Homeowner Completed | Starting at $1,000 with existing patio |
| Moderate design with a good grill and few features | Professional | Up to $20,000 with professional installation of patio |
| Fully functioning outdoor kitchen with high-end appliances and luxury features | Professional | Up to $50,000 with professional installation of patio |
If you feel confident in your ability to make this a do-it-yourself project, you can save significantly on labor costs; however, this may mean leaving out desired features, such as running water, or appliances that require electricity or gas.
Of course, you can also choose to do most of the work yourself, but hire professionals for parts you are not comfortable completing, such as installing the patio, running electricity to the site or installing the required water and waste lines for a sink.
A basic outdoor kitchen with few features and labor that is completed mostly by the homeowner can cost less than $1,000 to complete.

A moderate outdoor kitchen design with a good grill and a few features can cost between $3,000 and $20,000, depending on many factors, such as whether or not you have an existing patio to use, the types of appliances you include and how far away your outdoor kitchen is from the nearest water and electrical source.

If you want to create a fully functioning, head-turning, luxury outdoor kitchen with high-end appliances, a grill master's dream barbecue grill, a professionally installed patio and luxury materials, you can expect to spend a minimum of $50,000 and could easily spend much more than that to complete a top-quality outdoor cooking destination.



Material choice is a major factor in the cost of your kitchen, how well your kitchen will hold up to the elements and the type of return you can hope for from your investment.
Some people are tempted to recreate the look of their indoor kitchen outside using similar materials, which can be a good idea in terms of aesthetics but can lead to disappointment in terms of how well these popular indoor materials perform outdoors.
For example, wood cabinets may look lovely in an indoor kitchen, but are not a good choice for exterior spaces where they may be exposed to direct sunlight, rain or a dog that might think they provide the perfect place to lift his leg.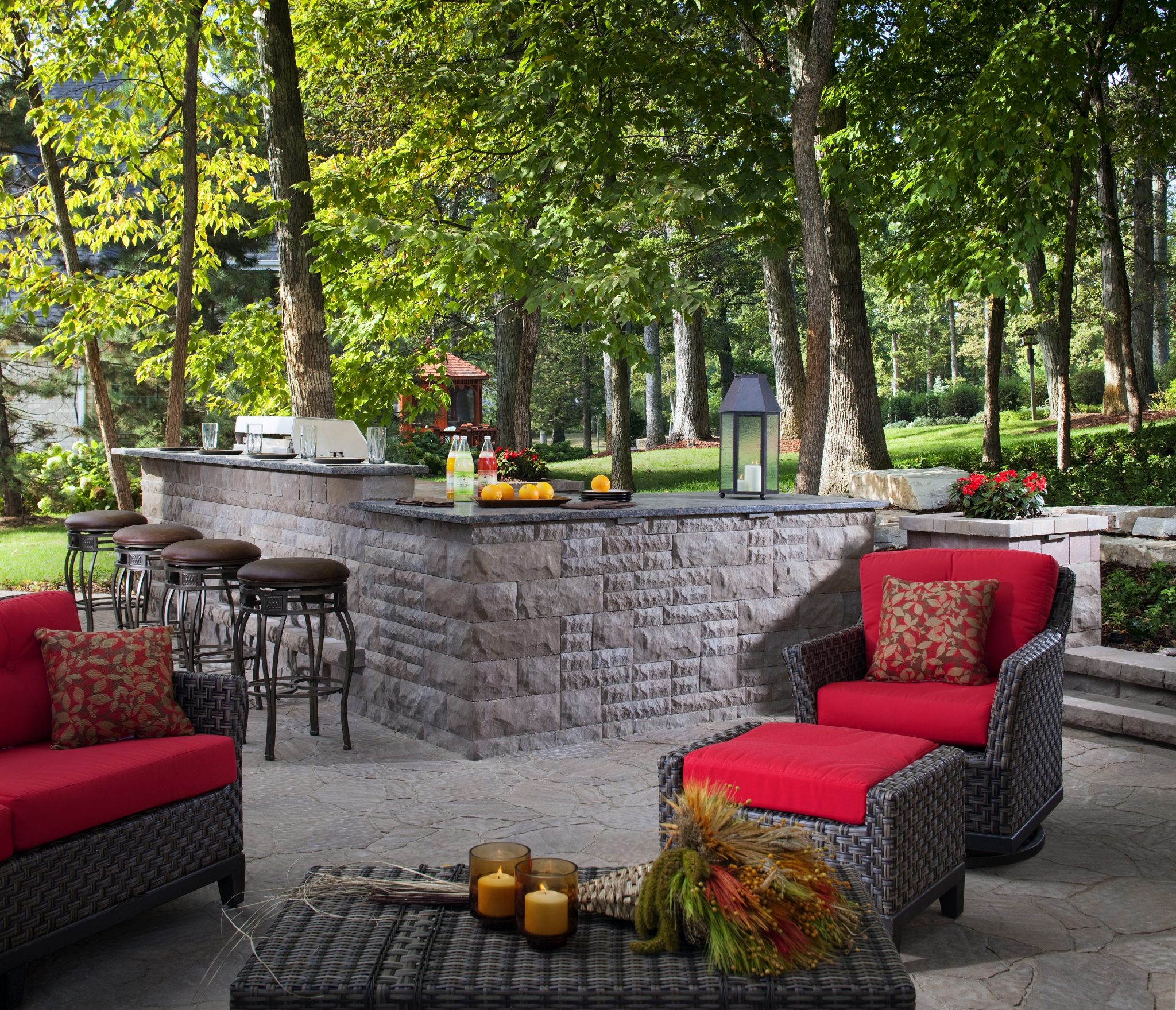 Every backyard kitchen design starts with a good foundation. If you have an existing patio, you may be able to use it as is or make a few small adjustments to make it usable for this project. If you do not have a current patio, you will need to install one, but should do so after you have planned for gas, water, sewer and electrical lines that may need to be installed for your outdoor kitchen.
If patio installation will be part of your kitchen project, be sure to design the patio along with the kitchen to make sure it will be the appropriate size and that you will not have to make changes once the patio is installed.
Concrete might be a popular, affordable option for patios, but it is not a good idea for an outdoor kitchen. Over time, concrete ages, cracks and can easily become stained, and repaired areas rarely come close to matching the concrete that was originally installed.
Tile floors are another popular option for outdoor living spaces in Southern California homes, and can be satisfactorily used for this purpose. However, tiles can crack or break, and ceramic tiles, in particular, can retain moisture and crack if you live in an area where the temperature drops below freezing at night.
Pavers, which are quickly becoming the material of choice for patios, driveways and walkways, provide a slip-resistant surface that is durable and attractive, while also being easy to replace on the rare occasion that damage occurs.
Pavers fit together in a zipper-like fashion, which makes it easy to remove one or more damaged pavers and replace them without taking away from the look of the patio, which makes them a great choice for outdoor living spaces that will be experience heavy use and lots of traffic.

The current trend in kitchen countertops, particularly in higher-end homes, leans towards the use of granite, limestone or travertine for food-prep surfaces. The problem with taking some of these materials outside is that they may not perform the same when constantly in the elements.
For example, the resin in granite countertops can be negatively affected by direct sunlight, and beautiful limestone countertops are pretty porous and require a bit more babying than you might want to deal with in your recreational outdoor kitchen.
Travertine, however, is a durable, viable option for homeowners with a budget that allows for this luxury option.
Tile is another option that many homeowners choose, which can work well – as long you do not live in an area where repeated freezing and thawing occurs.
A more common, more affordable choice for outdoor countertops is stainless steel, which is a low-maintenance option that is easy to clean and holds up well to the elements. While stainless steel can get hot in direct sunlight, if your patio kitchen is sheltered, this shouldn't be an issue.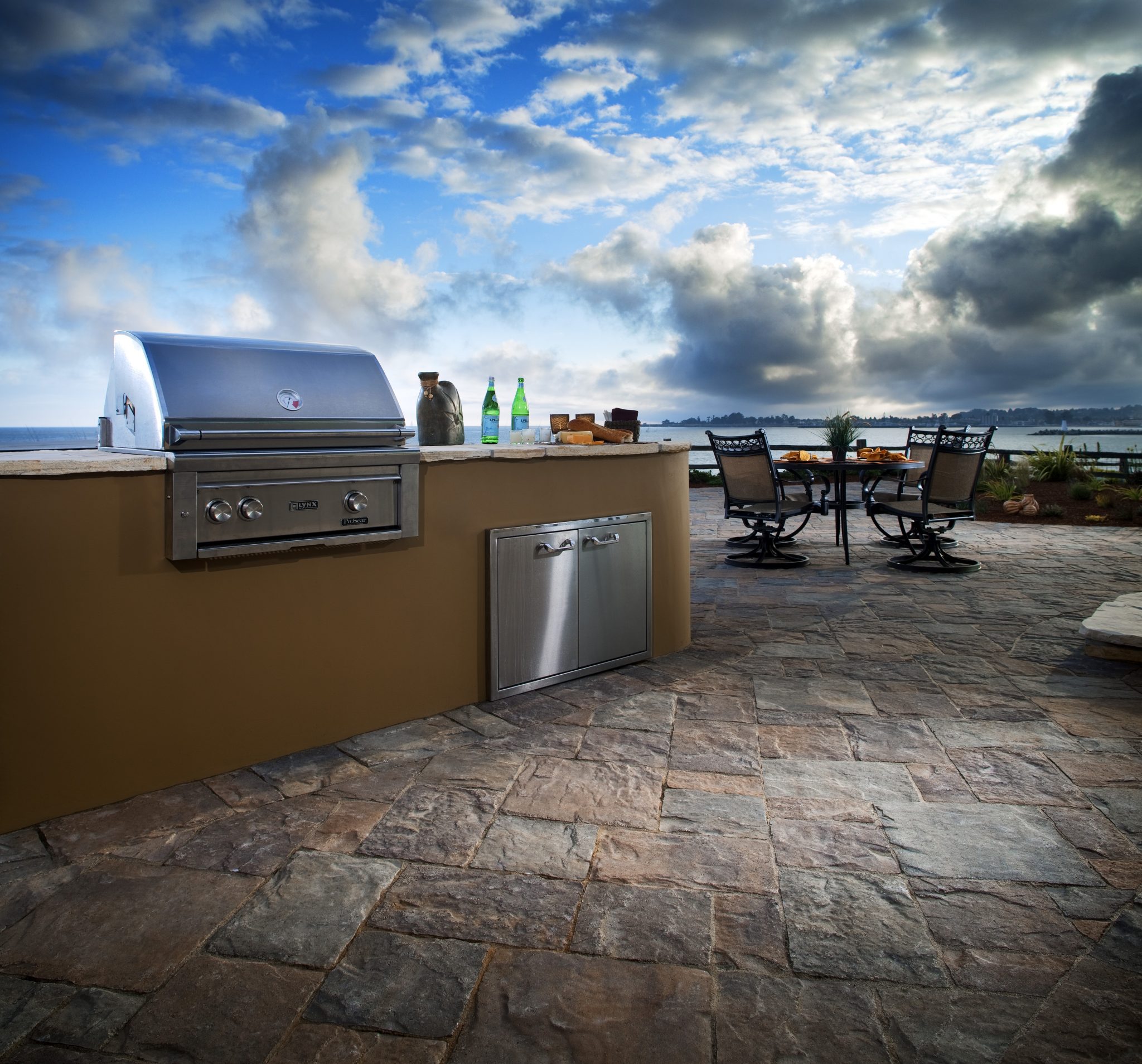 Here are nine ways to rethink or scale back your patio kitchen design to help you stay in budget:
1. Locate your outdoor cooking area near your indoor kitchen. This way, you can just use your indoor refrigerator or sink and avoid the need to install these features outdoors.
2. Choose a location near the utilities you will need to lower the cost of hooking into water, gas or electricity sources.
3. Choose more affordable appliances that will still meet your needs but might not come with a fancy name brand.
4. Install your kitchen on an existing patio, which can save on patio installation costs, but may still require the removal and reinstallation of patio materials in order to hook up utilities.
5. Only run cold water to your outdoor sink, and use your indoor kitchen's sink when you need hot water.
6. Seek out salvaged materials and gently used appliances.
7. Skip the extra burners and just stick with a good grill.
8. Buy a good grill, but not the best. It may be tempting to blow half of your budget on a barbecue grill, but you will regret it later if you end up with a fantastic grill but lackluster finishes on the rest of your kitchen.
9. Do some or all of the installation work yourself, or call in favors from handy friends.

If you are not working within a tight budget and want to create a truly exceptional outdoor entertaining space, consider these luxury additions for your al fresco cooking area:
Wine refrigerator
Garbage disposal
Trash compactor
Smoker
Pizza oven
Higher-end appliances
Refrigerated beer keg dispenser
Outdoor bar
Margarita machine
Warming oven
Think you're ready to create your new outdoor kitchen? Our team of design and installation experts can help. Tell us what you're looking for and receive a free outdoor kitchen quote!
Get A Free Estimate
Original Publish Date: September 4, 2013
Refreshed on November 2, 2019