Landscape Design in Bonsall
Install-It-Direct is your local landscape design and installation company helping Bonsall homeowners create the outdoor living spaces of their dreams. We offer the services you need to create functional, beautiful landscaping, including pavers for driveways and patios, artificial grass, retaining walls, outdoor kitchens, fire pits and patio fireplaces, outdoor lighting, and water features.
Bonsall is an upscale enclave of residential estates and farmland. While there are equestrian stables, golf courses, and some shopping in Bonsall, residents here also have easy access to expanded attractions and services, including the nearby beaches of Oceanside and the many hiking trails throughout North County San Diego.
We can help you create low-maintenance, low-water outdoor living spaces and yards so that you can spend more time entertaining and enjoying your outdoor living spaces and less time taking care of them.
What Locations Does Install-It-Direct Serve?
Install-It-Direct has years of experience offering landscape design and installation throughout Bonsall, including Cam Del Cielo, Fox Run, Aguacate Ranch, Toscana, Via Puerta Del Sol, The Terraces, The Havens, Chateau Bellevue, Hialeah Estates, Hidden Grove Estates, Lake Vista Estates, Las Casitas, Mount Ararat Estates, Olive Hill, San Luis Rey, Saratoga Estates, Sweet Grass Estates, and Villas Fore.
We also provide landscape design in San Diego County, including Cardiff by the Sea, Bonita, Chula Vista, Del Mar, El Cajon, Encinitas, Escondido, La Jolla, Lakeside, La Mesa, Carlsbad, Poway, Oceanside, Rancho Santa Fe, San Marcos, Santee, Scripps Ranch, Solana Beach, and Vista.
Planning your dream home landscape design in Bonsall
Our team will work closely with you to understand your wants and needs and determine which landscaping features will best fit your space and your family's lifestyle. We will then help you consider other factors that may influence your design, such as the architectural style of your home, your timeline and budget, the available space, and structural features that may be needed.
We will work with you from the initial, free consultation through the installation and can even come back years later if your artificial turf needs cleaning or repair or if your paving stones need to be cleaned and sealed.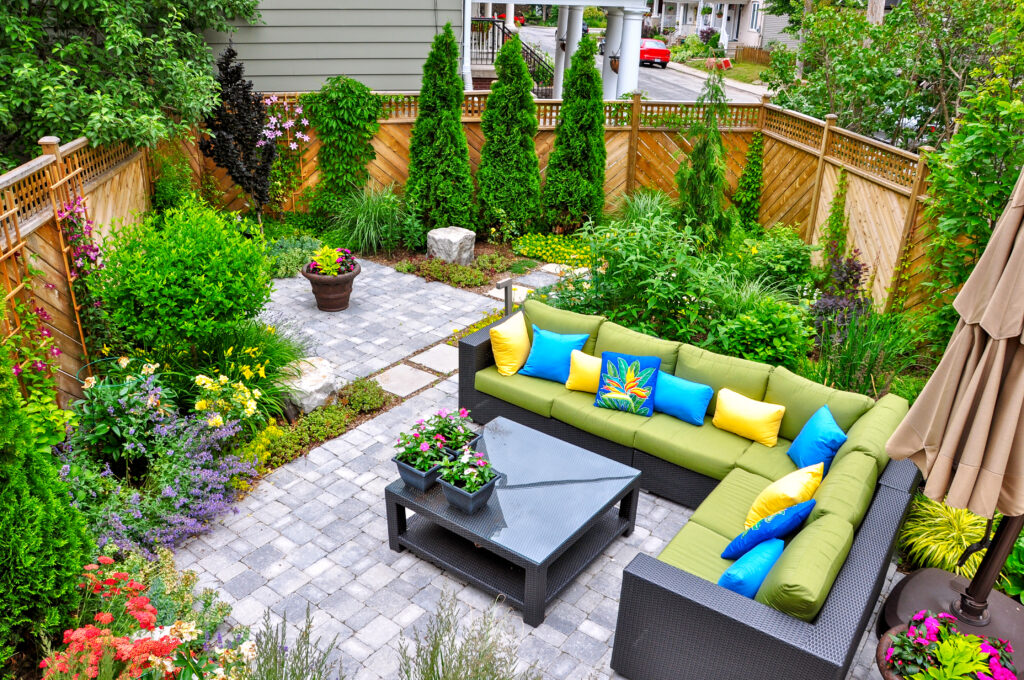 What Services Does Install-It-Direct Provide?
Our high-quality landscape design services in Bonsall include:
Where in Bonsall Can I Get Inspiration for My Landscape Project?
You will probably find some great inspiration close to home right in your own neighborhood or other neighborhoods in your area. If you would like even more inspiration, check out some of the gardens on our Top 5 Landscape Designs in San Diego.
Why Should I Hire a Bonsall-Based Landscape Designer?
Local Knowledge
Local landscape designers are more familiar with local regulations, climate, and geography, which can all affect your landscape project.
Coastal Influence Understanding
Coastal and near-coastal communities can be affected by environmental influences, like wind, fog, and salt spray. Local landscape contractors better understand these influences and are accustomed to considering them during design and installation.
Hillside and Canyon Experience
Bonsall is located in North County San Diego, which is an area with lots of canyons and rolling hills. Your best option for a successful installation in this setting is to choose local landscape companies that know which features and materials work best and how to install them effectively on uneven terrain.
Access to Local Resources
Local contractors have relationships with local vendors, subcontractors, and other contractors, which can help make your project a success.

Does Install-It-Direct Landscape with Plants, Succulents, or Gravel?
Our team focuses largely on low-maintenance, drought-resistant landscape design, which includes plants and hardscapes that work well with the local climate and terrain. This includes options like succulents, gravel, artificial grass and other grass alternatives, native plants, paving stones, and low-water groundcovers.
What Landscape Design Styles Are Common in Bonsall?
Bonsall homeowners generally choose drought-tolerant, low-maintenance outdoor living areas that allow for everyday living and entertaining in an upscale environment.
Does Install-It-Direct Design for Earthquakes, Wildfires, or Mudslides?
Yes, we are well-versed in designing landscapes that help reduce the risk of damage from natural disasters like wildfires, earthquakes, and mudslides. This includes discussing the inclusion of fire-resistant plants, creating a defensible space with hardscapes, using retaining walls or other erosion control methods, and choosing groundcovers and hardscape materials that can better withstand earthquakes.
What Does the Process of Hiring Install-It-Direct Entail?
Once you contact us via phone or email for a free estimate, the next step is for one of our professional landscape designers to meet you at your house for an on-site consultation. They will then complete a 3D rendering based on the discussion and will go over the timeline and budget with you. We will also make sure all your questions are answered and any concerns are addressed before the installation process begins.
What Questions Should I Ask Install-It-Direct?
Initial questions to ask any landscape contractor include:
Are your contractors licensed, bonded, and insured?
Do you have worker's comp and general liability insurance?
Are you licensed with the Contractors State License Board (CSLB)?
Do you have the correct licenses for the type of services I am requesting?
How long have you been in business and providing the type of services I need?
Do you have a list of completed projects in the area that I can look at in person?

FAQ
How much does it cost to consult a landscape architect?
The cost of working with a professional to design your landscaping depends on where you live, the size of your project, and the features and finishes you want to include. When you work with Install-It-Direct, the initial consultation, which includes an estimate and an on-site meeting to go over your project, is free.
What is the difference between a landscaper and a landscape designer?
Homeowners hire landscape designers to help them take their ideas and turn them into functional, inviting outdoor living spaces. This starts with discussing your must-haves, your timeline, and your budget, as well as features you would like to include if the space and budget allow. The landscape designer then takes this information and creates an overall plan for your project. They will provide a 3D rendering of the project, confirm all aspects of the project with you, and oversee the installation.
Landscapers will sometimes provide basic installation services, such as installing irrigation systems, sod, or walkways, but they are most often hired after installation is complete to provide ongoing maintenance. Landscape companies that perform maintenance usually offer services that include yard cleanup, light tree service, pruning, weeding, leaf blowing or raking, mowing, and other lawn care. They sometimes also offer maintenance and repairs for outdoor lighting, water features, and irrigation systems.
How much do landscapers charge per hour in Bonsall?
Landscape maintenance services in Bonsall generally cost about $25 to $50 per person per hour.
How much should I budget for a landscape project?
If you are planning a full remodel or installing new landscaping for the first time, it is common to budget about 10% of the value of your home. If you live in a neighborhood with a homeowner's association, the bylaws may require this (or a different percentage). If you are planning a smaller project, there are several factors that will go into the cost, so the easiest way to get an idea of how much a project might cost is to contact us for a free estimate.
Reach out to Install-It-Direct for landscape design in Bonsall
Our team is ready to help you create the outdoor living areas of your dreams with artificial turf lawns, paving stone patios, well-equipped outdoor kitchens, and fire features that create a cozy atmosphere. If you are ready to get started with a free estimate and on-site consultation, contact us today at (858) 925-3000 or [email protected].