Landscape Design in La Jolla, CA
Home to picturesque hills and diverse wildlife, La Jolla, California, is an affluent coastal community in San Diego County. The city rivals nearby Coronado in terms of attractions, offering expansive stretches of sandy beaches and rocky shores with a rugged charm. 
Other popular points of interest include unique natural settings, including La Jolla Cove, Children's Pool Beach, and Torrey Pines State Natural Reserve, as well as renowned academic institutions like the University of California, San Diego, and Scripps Research Institute. 
During the rainy season, ocean storms and flooding are occasional occurrences in the area, influencing the residential landscape design in La Jolla, CA. In addition, since the terrain slopes down towards the ocean, landscape architects tend to implement permeable paving stones and rain gardens to absorb rainwater and prevent soil erosion due to heavy rainfall. 
It's also common for landscape professionals to use elevated garden beds and plants with deep roots that can withstand strong winds and waterlogging caused by flooding. Outside of the wet season, however, the climate remains mild in La Jolla throughout most of the year.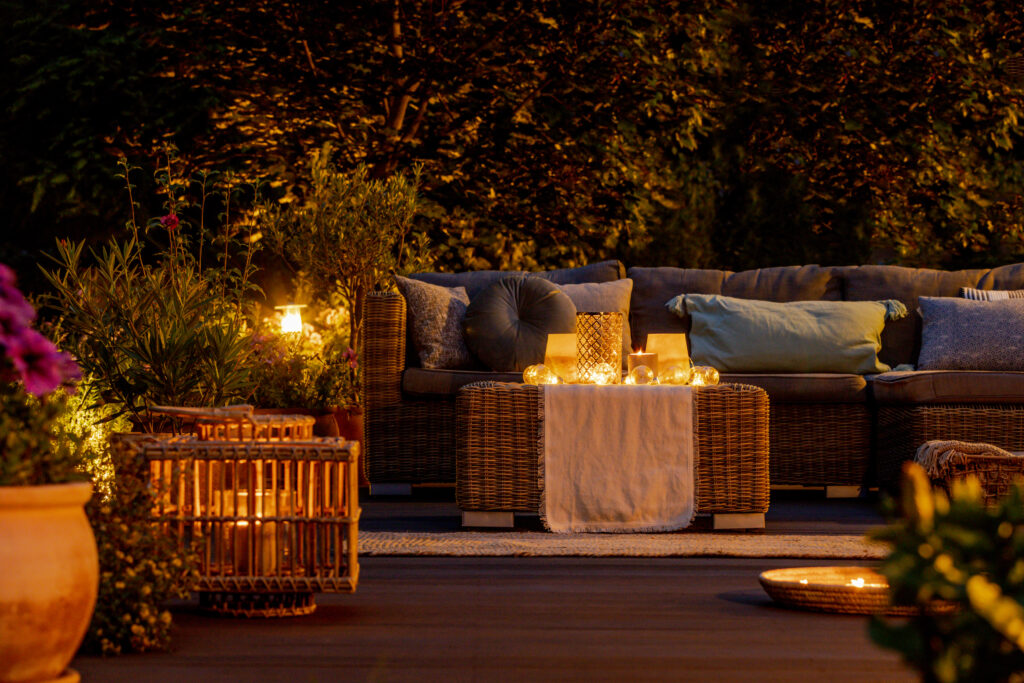 Let Professionals Design Your Landscape in La Jolla
Landscape design goes beyond mere aesthetics—in fact, it requires a number of considerations on the homeowner's part. For one, there are many costs involved in implementing and maintaining a landscaping plan. Consultation fees, materials, general contractors, and ongoing landscape maintenance services like mowing or trimming all add up in the long run. 
In addition, your house's architecture is crucial in determining what type of plantings, hardscapes, and features are complementary. Ideally, the landscaping should blend seamlessly with the property's style and layout. Not to mention, lifestyle factors can also influence your landscape design. For instance, if you have pets or small children who will be playing outside regularly, consider what types of features (e.g., turf vs. paving stones) or plantings (e.g., spiky cacti vs. soft succulents) are safe and work best for everyone using the space. Ultimately, there's more than meets the eye when designing a visually appealing yet practical outdoor living space. 
The good news is that local professional landscaping companies like Install-it-Direct consider all of these factors when doing landscape design in La Jolla, CA. With more than 20 years of experience in the industry, Install-it-Direct can cater to your unique outdoor space needs, from improving side yard landscaping to efficiently installing drought-tolerant grass alternatives, such as gravel beds and artificial turf.
What Services Does Install-It-Direct Provide?
Covering nearly all aspects of outdoor living, Install-It-Direct offers a broad selection of services to enhance the curb appeal of your home, including:
Serving La Jolla and surrounding areas, Install-It-Direct offers landscape services to Del Mar, Encinitas, Rancho Santa Fe, Carlsbad, Oceanside, Solana Beach, Vista, Poway, and other cities in San Diego County.
Why Should I Hire a Landscape Designer in La Jolla, CA?
An experienced landscape designer can create a customized plan that reflects your personal style and aesthetic requirements while also considering the unique characteristics of La Jolla's natural environment. 
Local Knowledge
With deep comprehension of the city's distinct climate, soil conditions, and environmental regulations, the best landscape designer can choose specific hardscape materials and vegetation for a curated yard and garden space that will thrive year-round.

Coastal Influence Understanding
The elevated geography of La Jolla near the ocean can lead to sudden downpours that cause local flooding. In addition, sandy soil makes it challenging for certain plants to grow and stay rooted due to water drainage issues. Skilled landscape designers produce calculated plans that neutralize these potential problems by incorporating proper grading techniques, thoughtful drainage designs, and plant varieties adapted to local conditions.
Hillside and Canyon Experience
A professional familiar with landscape design in La Jolla can devise solutions that address the unique demands of the region. For example, landscape architects and designers may incorporate retaining walls and strategically placed steps to counteract sloping landscapes. By working with the land's natural contours, these experts showcase their technical know-how while improving functionality.
Access to Local Resources
By leveraging established relationships with local nurseries, suppliers, and manufacturers, landscape designers can source high-quality materials at competitive prices. This enables them to execute complex projects seamlessly from start to finish without compromising quality or aesthetics.
What Landscape Design Styles Are Common in La Jolla?
Beautifully complementing the climate and natural surroundings, landscape design styles inspired by the Mediterranean are among the most prevalent in the city. These designs emphasize open spaces and natural stone walkways, with water features like fountains and pools as focal points within outdoor spaces. 
Another popular landscape design in La Jolla, CA features tropical-inspired gardens complete with palm trees and colorful plantings. . The greenery creates an inviting atmosphere reminiscent of a paradise hideaway. Some eco-conscious homeowners prefer desert-style garden designs that incorporate sustainable landscaping practices like xeriscaping, which involves water-efficient irrigation systems and low-maintenance, drought-tolerant plants.
What Does the Process of Hiring Install-It-Direct Entail?
Bringing your landscaping project to life with Install-It-Direct is a seamless process. After you submit a form outlining your project preferences, an Install-It-Direct team member will contact you to discuss your budget and preferred timeline. They'll also set up a free consultation with a landscape designer to assess your home. 
Following an on-site review of your property, the designer will develop a project plan that aligns with your vision. After you approve the plan, Install-It-Direct can begin landscape construction on your dream outdoor space. 

FAQ
How much does it cost to consult a landscape architect?
When it comes to landscape design in La Jolla the fee for a landscape architect varies based on a number of factors, such as the scope of work involved, the complexity and size of the project, and level of expertise required. In San Diego County, engaging an expert in landscape architecture could set you back between $44 and $62 per hour. 
What is the difference between a landscaper and a landscape designer?
A landscaper focuses on the physical labor required to construct and maintain your outdoor space. Their responsibilities may involve lawn care, tree services, and irrigation system maintenance.
In contrast, a landscape designer uses creative and technical skills to design functional outdoor spaces that integrate practical features with visual appeal. They leverage their knowledge of hardscape elements (e.g., patios, retaining walls, walkways, etc.) and softscape options (e.g., plants, mulch beds, etc.) to create cohesive designs unique to each property.
How much do landscapers charge per hour in La Jolla?
The cost of contracting a landscaper can vary depending on the project type and scope, and whether or not any special equipment is needed. Some professional landscapers may charge around $50 per hour for basic maintenance work, such as mowing and trimming small hedges and bushes. On the other hand, more involved projects like a full-scale yard remodeling job or water feature installations could entail hourly rates of $100 or more. 
How much should I budget for a landscape project?
A number of factors potentially affect how much a landscaping project costs, such as the complexity of the yard or garden design and the materials used to complete the job. Expect to save up $2,600 to $13,700 to fund your renovation. 
Reach out to Install-It-Direct for landscape design in La Jolla, CA 
Experienced Install-It-Direct landscape professionals can transform your outdoor space into a sanctuary that complements your lifestyle. Partner with the Install-It-Direct team for a wide range of landscaping projects. Our team can help you with setting up custom outdoor lighting systems, constructing an outdoor kitchen, and installing pavers or water features like a kid-friendly splash pad or fountain. 
Plus, Install-It-Direct can handle every step of the planning and execution process, from conceptualizing your dream outdoor space with 3D renderings to making it a reality with expert installation and landscaping design services. So why wait? Book your free consultation today.