Artificial Grass Cost – 2022 Installation Price Guide
One of the most frequently asked questions when considering artificial grass for your home is, "How much does artificial grass cost to install?" Knowing the answer to this will allow you to have a better understanding of your cost savings and return on investment.
To give you a better idea of what kind of costs go into the pricing of a synthetic turf installation, we have put together this guide. We cover the different materials, fees, labor, and company costs that will go into the pricing of your next fake grass project.
For the guide below, the numbers will reflect a yard that has an area of 1,000 square feet (25 feet wide by 40 feet long) to be replaced with new synthetic turf. We will also assume there is a concrete garden wall on one of the 25 ft sides. (Please Note: All figures discussed in this example are based on Southern California Pricing and will need to be adjusted based on your geographical location.)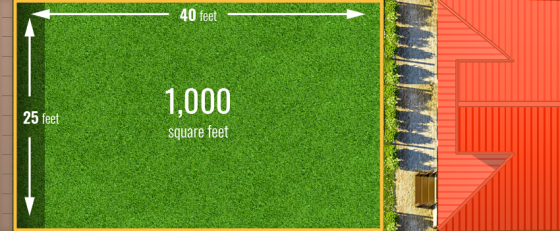 If you are interested in learning about the cost of artificial grass for your specific project, use our artificial grass cost calculator. For information about pavers to accentuate your artificial grass, learn about the cost of installing pavers.
Artificial Grass Costs
The short answer is that the cost of installing artificial grass in your home depends on a number of factors. Pricing by square foot should start around $11 for a quality installation. Beware of any price below that since there will be shortcuts taken.
Materials for Installing Synthetic Turf
There are a number of materials that go into a synthetic turf installation. The following are the items to expect for any project:
Fake grass
Class II road base
Weed barrier fabric
Bender board or mow strip (paver mow-strip is a good option, especially if you have pavers elsewhere on your property)
Glue, nails, seaming tape, and stakes
Artificial grass infill
Miscellaneous: drainage membrane, flag set, lawn padding, turf deodorizer, etc.
Fake Grass
There are many different styles of synthetic lawn to choose from. Whether that is pet turf, a putting green, athletic turf, or the most popular choice, landscaping turf. Landscaping turf can have thick blades, thin blades, tall blades, short blades, brown thatching (to resemble dead grass) to green thatching, and more.
Today, we will be focusing on medium to high-grade synthetic turf for the pricing guide. This is by far the most popular selection among homeowners when presented with all other options.
Note: Since you are investing in a synthetic product, that being fake grass, we recommend you highly consider installing the best quality grass out there. There is a noticeable difference between low-end turf and high-end turf, with the latter being close to resembling real grass lawns. Instead of saving a few dollars on a lawn that looks "too fake" or is too bright, impress others with a high quality artificial grass lawn.
Typically, medium to high-grade artificial grass material is priced from $1.87 to $3.73 per square foot, plus tax. This price depends on the manufacturer and style you choose.
Keep in mind that you will have to account for waste when ordering the material, due to the different sizes or shapes of projects. There is usually about 10-20% wasted artificial grass material on turf projects. Pie-shaped yards will have more waste than a rectangular yard, since the turf is rolled out like carpet and comes in 15-foot widths.
For the price guide we are going to use the medians for both artificial grass material and waste, $2.80/sq ft and 15%.
Total artificial grass material (including waste)
1,000 sq ft
+ 15% waste
1,150 square feet of fake turf
Artificial grass material cost (before taxes)
1,150 sq ft
x $2.80/sq ft
$3,220.00
Artificial grass material cost after taxes (Southern California)
$3,220.00
subtotal + 8% tax
$3,477.60
Artificial grass material cost per square foot
$3,477.60
÷ 1,000 sq ft
$3.48/sq ft

Class II Road Base
Class II road base is a material made of a mixture of crushed rocks in different sizes. This is installed as a base surface to provide stability for the artificial grass above. Pricing of class II road base will vary depending on your specific location. For our price guide, we will use one of the least expensive options, priced at $0.32/sq ft (taxes included).
Class II road base cost (taxes included)
1,000 sq ft
x $0.32/sq ft
$320.00
Weed Barrier Fabric
To prevent any sort of weeds from growing through your newly installed artificial grass lawn, weed barrier fabric should be included. Weed barrier fabric is usually sold in a roll of about 1,500 square feet and is priced at about $68.00 (taxes included). Since this price guide is for 1,000 square feet, one roll is more than enough.
| | | |
| --- | --- | --- |
| Weed barrier fabric cost (taxes included) | 1 roll x $68.00 | $68.00 |
Bender Board or Mow Strip
Bender board is important since it will separate your lawn from other areas of your landscape. Bender board or poly board is used to separate the artificial lawn from other softscape areas. A four inch tall brown poly board costs about $15.80 per roll (taxes included), which is 20 feet long. There are cheaper alternatives; however, we have found this board to stand the test of time (saving you money in the long run).
Determining the perimeter of your project to softscape edges will help you find out how many rolls to order. For the price guide, since our lawn is 25 sq ft x 40 sq ft, with a concrete garden wall (mentioned above), we would need bender board for two 40 foot sides and one 25 foot side.
| | | |
| --- | --- | --- |
| Perimeter of project to softscape edges | 25 feet + 40 feet + 40 feet | 105 feet |
| Bender board rolls | 105 feet ÷ 20 | 6 rolls (rounded up) |
| Bender board material cost | 6 rolls x $15.80/roll | $94.80 |
If you are interested in separating the synthetic turf lawn from real grass or any hardscape areas, consider a mow strip. For this price guide, we will not be covering the costs of mow strips.
Glue, Nails, Seaming Tape, and Stakes
Based on several factors, such as number of seams, perimeter length, and more, these materials will vary. For a 1,000 square foot project and one, maybe two seams, the minimum quantity of these materials will cost about $190.
| | | |
| --- | --- | --- |
| Glue, nails, seaming tape, and stakes | $190 (minimum quantity) | $190.00 |
Artificial Grass Infill
Infill comes in a number of different types. The options consist of rubber, flex sand, silica sand, or acrylic coated sand. This material is oftentimes the one that many people cut corners on, due to the high variance in pricing. Choose the highest quality infill that so you don't have to reapply the infill, saving you in the long run. Other benefits of high-quality infill include durability, eco-friendly, and non-absorption of animal urine and other external elements.
For the price guide, we will go with the most popular choice, the antimicrobial acrylic-coated sand, priced at $11 per 55 pound bag. The typical artificial grass project uses 1-2 pounds of infill per square foot.
| | | |
| --- | --- | --- |
| Artificial grass infill pounds per square foot | 55 pounds ÷ 1.5 pounds | 36.66 pounds per square foot |
| Artificial grass infill bags | 1,000 sq ft ÷ 36.66 | 28 bags (rounded up) |
| Artificial grass infill cost | $11 x 28 bags | $308.00 |
Miscellaneous
Miscellaneous items include turf urine odor remover, drainage membrane, lawn padding, flag sets, golf cups, and more. For this guide, we are going to assume there are no extras involved.
Materials Total
| | |
| --- | --- |
| Artificial grass material cost after taxes (Southern California) | $3,477.60 |
| Class II road base cost (taxes included) | $320.00 |
| Weed barrier fabric cost (taxes included) | $68.00 |
| Bender board material cost | $94.80 |
| Glue, nails, seaming tape, and stakes | $190.00 |
| Artificial grass infill cost | $308.00 |
| Miscellaneous | $0.00 |
| Materials Total | $4,458.40 |
That just about covers the "very basic standard material costs " for 1,000 square feet of artificial turf.
Operation Fees
Operation fees include any sort of actions that allow the materials to be transported. This covers dump fees, fueling costs, and delivery fees.
Dump Fees
For a 1,000-square-foot lawn, we would have roughly two trips to the dump (two truckloads of grass and dirt). The approximate cost per load would come out to $248.
| | | |
| --- | --- | --- |
| Dump fees | $248.00 per load x 2 truckloads | $496.00 |
Fueling Costs
Fueling costs are a little too difficult as it all depends on the proximity to the dump and the exact materials that we are hauling away. Let's just pick a safe number for this guide and say it costs $370 in fueling fees throughout the course of the project. This shouldn't be that far off, if at all.
| | | |
| --- | --- | --- |
| Fueling costs | Estimated $370.00 | $370.00 |
Delivery Fees
The last item is the cost of delivery which will range from $370-660 per trip, all depending on the manufacturer and distance to the project. For this guide, we will use $370, so it will cost us $370 to deliver 1,150 square feet of synthetic grass.
| | | |
| --- | --- | --- |
| Delivery fees | Estimated $370.00 | $370.00 |

Operation Fees Total
| | |
| --- | --- |
| Dump fees | $496.00 |
| Fueling costs | $370.00 |
| Delivery fees | $370.00 |
| Operation Fees Total | $1,236.00 |
Labor
This is the difference maker (or the "X Factor" as Simon Cowell would say), as everything else that has been provided is the exact same across the board from one company to the next. You absolutely 100% get what you pay for in the labor department in terms of the long-term durability and integrity of your project.
There are installers who have been installing artificial grass for 6 to 12 months and there are installers who have been installing turf for more than 15 years. You might guess that the team with over 15+ years under their belt might cost a little more, and you are absolutely right! But you will come to find out that it was worth the investment.
For a solid crew, who has the experience that you should want for your installation, you would be looking at $3.13-5.06 per square foot for the labor.
Labor cost (outstanding crew with 15+ years of experience)
1,000 sq ft
x $5.06/ sq ft
$5,060.00
Labor cost (outstanding crew)
1,000 sq ft
x $3.80/ sq ft
$3,800.00
Labor cost (good crew)
1,000 sq ft
x $3.13/ sq ft
$3,130.00
Labor Total
For this guide, we will use the cost of an outstanding crew, at $3.80 per square foot. This would roughly be a team of 4-5 people and take 2-3 days to complete.
| | |
| --- | --- |
| Labor Total | $3,800.00 |
You can always go cheap here; however, the last thing you want is to be regretting that decision later down the road when your project is falling apart and the company is out of business or day laborers are nowhere to be found.
If you are looking to get your installation done right the first time and never have to think about it again, then you will want to pay the extra money to get a solid installation crew to install your project. This is definitely not an area to shave off a few dollars.
Company Overhead
Listed below are some of the overhead costs for a legitimate synthetic grass company:
Workers compensation insurance
General liability insurance
CA licensing fees
Contractors bond
Corporation fees
CSLB home improvement sales(his) license fees
Payroll expenses
Accounting fees
Business taxes
Lawyer fees
Advertising/marketing expenses
Administrative staffing fees
Auto/truck expenses
Certifications (bbb, icpi, etc.)
Office expenses (business cards, contracts/diagrams, company shirts, company phones, website, computers, credit card processing system, etc.
The overhead costs are not limited to what is described above and it is too difficult to attach an "overhead number" to each installation; however, the point is to showcase that there are quite a few costs that do add up when analyzing the anatomy of a synthetic turf deal, aside from the material and labor costs. For this guide, we will use a low overhead figure of 10%. Keep in mind that we have been erring on the low side in this entire exercise.
| | | |
| --- | --- | --- |
| Company overhead cost | $9,494.40 (cost so far) x 10% | $949.44 |
Again, there are a lot of companies out there that do not intend on using the best crews, and do not intend on operating legally, so they can and will, offer you a much more enticing "cheaper price".
Note: Install-It-Direct gets special pricing, which is less than distributor and contractor pricing and less than any other turf company gets their artificial grass materials. The reason for this is that we are the largest turf installer in all of Southern California, installing the highest volume and therefore, we receive volume pricing based on our production. With that said, the prices we are mentioning in this guide are going to be the lowest possible prices on the market and if you are using another installer, you will need to account for this and adjust prices accordingly.
| | |
| --- | --- |
| Company Overhead Total (10%) | $949.44 |

Company Overhead + Materials, Operations, and Labor
| | |
| --- | --- |
| Company Overhead + Materials, Operations, and Labor | $10,443.84 |
| Company Overhead + Materials, Operations, and Labor (per square foot) | $10.44/sq ft |
Now, anything less than $10.3/sq ft, should be "red flagged" immediately ONLY IF you are interested in getting your installation completed right the first time, which would include the highest quality materials manufactured in the USA, a highly skilled turf installation team who have been installing for years (not months), a professional synthetic turf designer, a dedicated construction manager supervising your install, and a robust company that will be around to assist you in the future should you need help.
Once all of the materials, operating expenses, labor, and company overhead is paid, then what is left over, if anything, is the company profit.
Company Profit
Knowing this information, what do you think an Artificial Turf Company should make to remain a healthy and happy company? Should they make 10%, 20%, 30%, 40%?
Please note that the money that is left over, which we have labeled "Company Profit Share," is to pay for the field supervisor, the design consultant who assisted you with your project, and the company as a whole, so they can continue to grow and thrive as a robust business. Oh yeah, and what if you have a repair that needs to be addressed during the warranty of your installation? You see…the company needs to ensure they have properly set aside a repair contingency fund for each project so that when a repair call or email comes into the office, they are prepared and ready to get your repair scheduled and most importantly fixed to your complete satisfaction. If a company is operating on fumes, which a lot of turf companies are these days, you can assume your repair call will not be a top priority whatsoever as they will have to take the money from another job to pay the crew to go out and fix the repair.
With that said, here are some figures to chew on:
| | | |
| --- | --- | --- |
| 10% Margin | $10,443.84 + 10% | $11,488.22 |
| 20% Margin | $10,443.84 + 20% | $12,532.61 |
| 30% Margin | $10,443.84+ 30% | $13,576.99 |
| 40% Margin | $10,443.84 + 40% | $14.621.38 |
| | |
| --- | --- |
| Company Profit Total | $949.44 |
Recap
| | |
| --- | --- |
| Materials | $4,458.40 |
| Operation fees | $1,236.00 |
| Labor | $3,800.00 |
| Company overhead (10%) | $949.44 |
| Company profit (10%) | $949.44 |
| ++++Grand Total | $11,393.28 |
In this guide, we have been assuming the middle to least expensive scenarios for all the components involved with determining your turf installation price, with the exception of the crew. We went with a more experienced crew — and we know a more experienced crew is always going to cost you more. We believe this is not the area to skimp on and you should always consider using the most experienced crew possible. This will be money well spent, Guaranteed!
When looking at these prices, you can get a very good idea as to what you might expect your project will cost on the medium to low end.

Medium to Low End? What Do You Mean?
There are so many factors that can come into play which will raise the price of your project (i.e. the accessibility of your install in terms of whether it is in the front yard, backyard, upstairs, downstairs or even through your house, to the type of turf you choose, drainage issues, excessive roots, how many square feet you have, whether you want turf deodorizer, a putting green, mow-strips, extra labor costs, etc.)
The Bottom Line:
The key takeaway of this guide is to really shed some light as to what a typical artificial turf project might cost. By opening the curtain and allowing you to have a sneak peak inside to see how the numbers breakdown, we hope that this provides you with the confidence you need to make the right decision on which contractor to hire for your synthetic lawn.
As you can see from the breakdown above, the only way a company could possibly offer you a lower price than what we have mapped out for you in this example is if they are:
Using a less experienced crew and pay them less than what we have outlined (about which is considered industry standard).
Using sub-par materials – Whether it be the grass, or the accessories, it is vital to make sure you are investing in the highest quality materials from a very reputable manufacturer who stands behind their products.
Not running a healthy company and neglecting to pay the overhead items listed above, which are essential for operating a legal and healthy business (this guide is assuming a CA run business).
Not paying themselves what they should, to remain in business.
The company that falls into any of these four criteria listed above will not be in business very long. A business based solely on price or cutting corners to reduce the price is simply not sustainable and often times results in a lose-lose scenario for all parties involved in the transaction.
We hope this synthetic turf installation breakdown helps with your decision-making process.
If you are interested in finding out what your artificial grass project will cost, please contact Install-It-Direct today to get your FREE Synthetic Turf Design and Estimate by clicking on the "Free Estimate" button or feel free to give us a call at 858-391-6915.
We look forward to answering all your questions and working with you to transform your home!