Landscape Design in Rancho Santa Fe
Install-It-Direct offers Rancho Santa Fe landscape design to assist homeowners and business owners in creating functional, low-maintenance landscapes that fit their needs. This includes complete remodels of gardens and outdoor living areas, new installations for paving stone patios and outdoor kitchens, installing retaining walls to support hillsides, or helping you reach your water conservation goals by replacing your natural grass lawn with native plants or synthetic turf.
Rancho Santa Fe is an upscale, near-coastal community that spans just 6.8 square miles in North County San Diego and had just 3,156 residents at the time of the 2020 census. This exclusive enclave of luxury estates is home to gated communities and golf courses and is just a short drive to tons of attractions and activities, such as the Santa Fe Valley Preserve, Del Mar Fairgrounds, San Dieguito Park, San Elijo Lagoon, and, of course, the beach.
Our team has years of experience offering North County landscape design and installation services, including patio fireplaces, water features, outdoor kitchens, paver patios, and artificial grass. We look forward to the opportunity to help you create the backyard of your dreams or to help you increase your home's curb appeal.
What Locations Does Install-It-Direct Serve?
Install-It-Direct offers landscape design services throughout the Rancho Santa Fe area, including The Covenant, Fairbanks Ranch, The Bridges at Rancho Santa Fe, Cielo, The Crosby, Del Rayo Downs, Montecito, Morgan Run, Rancho del Lago, Rancho Diegueno Estates, Ranch La Cima, Rancho Farms Estates, The River Estates, Senterra, The Summit, Hacienda Santa Fe, Del Mar Country Club, Rancho Pacifica, and Whispering Palms.
We also provide landscape design in San Diego County, including Cardiff by the Sea, Bonita, Chula Vista, Del Mar, El Cajon, Encinitas, Escondido, La Jolla, Lakeside, La Mesa, Carlsbad, Poway, Solana Beach, San Marcos, Santee, Scripps Ranch, Oceanside, and Vista.
Landscape design options for homeowners in Rancho Santa Fe
Landscape design is about more than choosing pretty plants or making sure your outdoor living areas are at least as nice as the Jones'. There are many things to consider, such as the architectural style of your home, your budget and timeline, and what you would like in your outdoor living areas versus what your property needs. For example, you may be focused on the ideal patio fireplace, but might also need a retaining wall or other structural features included as well.
That is where we come in. We can help you choose the best lawn and hardscape options, can help you design your ideal outdoor kitchen, enhance your property's privacy, or help you determine which fire feature or water feature is best for your home.
Our main goal is to make sure you have upscale outdoor living areas for entertaining, functional spaces that fit your family's needs and lifestyle, and a beautiful approach that greets you every time you come home. We will help you figure out how best to achieve this within your budget and timeline.
What Services Does Install-It-Direct Provide?
Our high-quality landscape design services in Rancho Santa Fe include:
Get a Free Estimate
Where in Rancho Santa Fe Can I Get Inspiration for My Landscape Project?
Rancho Santa Fe is an upscale community with luxury homes surrounded by lush, well-designed landscapes. You may find plenty of inspiration simply by driving or walking through your own neighborhood or other neighborhoods in the area. There are also golf courses, country clubs, and other public spaces that might be good sources of inspiration.
If you are not finding quite the right look while exploring nearby neighborhoods, head south towards San Diego to take a look at one or more of the beautiful gardenscapes on our list of the Top 5 Landscape Designs in San Diego.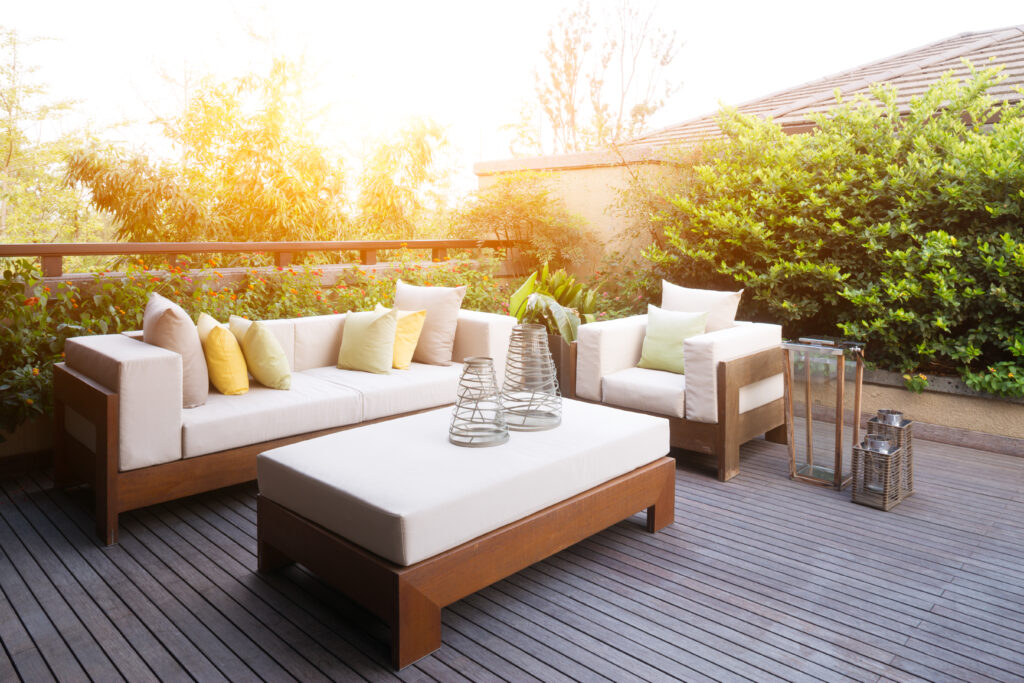 Why Should I Hire a Rancho Santa Fe-based Landscape Designer?
Local Knowledge
Choosing a local landscape designer for your front yard or backyard project is the best way to ensure that your contractor will know local laws and regulations, be familiar with the area's climate, and understand what works best for the geography where you live.
Coastal Influence Understanding.
This is another reason to hire local contractors. Rancho Santa Fe has a lovely, welcoming climate, but that does not mean that you can plant any type of plant and expect it to thrive or use any type of landscaping feature and expect it to function well for years to come. Hire only local contractors who understand how wind, fog, salt spray, and other coastal influences affect landscape design in Rancho Santa Fe.
Hillside and Canyon Experience
Aside from coastal climates, those of us who call North County San Diego home know that landscape design here often must contend with hills, slopes, canyons, and other types of uneven terrain. This can significantly impact hardscape choices. Working with a local contractor who understands these topographical considerations will help you select the best hardscapes, erosion control, and other landscaping features to achieve the look and function you want with longevity and minimal maintenance.
Access to Local Resources
Local landscape designers are more familiar with other local contractors, local vendors, and other local resources that will help ensure your project is a success.
Does Install-It-Direct Landscape with Plants, Succulents, or Gravel?
Yes, we do! Since we provide North County San Diego landscape design, we are well versed in working with plants and hardscapes that work well in this area. That often includes succulents and other native plants, as well as gravel, wood chips, and paving stones.
What Landscape Design Styles are Common in Rancho Santa Fe?
Rancho Santa Fe landscape design usually focuses on upscale outdoor living spaces that homeowners use for everyday living and entertaining guests. There is an emphasis on balancing function and style while keeping things low maintenance.
Does Install-It-Direct Design for Earthquakes, Wildfires, or Mudslides?
Homeowners everywhere must consider the potential for natural disasters when designing landscapes for their home. For those of us in Southern California, that generally means considering the possibility of earthquakes, wildfires, and mudslides. This, of course, depends on where you live and the geography around your home. For example, you may not have to worry about mudslides if you live in the city, but wildfires may be a constant concern if you live in the mountains.
We can help you better prepare for the potential of a natural disaster affecting your property with a personalized plan that considers your property's unique needs. This might include erosion control or retaining walls if mudslides are a concern or hardscapes and fire-resistant plants if wildfires are the main issue in your area.
What Does the Process of Hiring Install-It-Direct Entail?
It is easy and convenient to hire Install-It-Direct to design and install your dream landscape. After contacting us for a free estimate, we will schedule an on-site assessment. This will be followed by your landscape designer creating a 3D rendering and discussing your budget and timeline. We will then answer any questions you have before moving forward with your project.

What Questions Should I Ask Install-It-Direct?
Before you begin working with any landscaping contractor, you should ask the following questions:
Are your contractors licensed, bonded, and insured?
Do you have worker's comp and general liability insurance?
Are you licensed with the Contractors State License Board (CSLB)?
Do you have the correct licenses for the type of services I am requesting?
How long have you been in business and providing the type of services I need?
Do you have a list of completed projects in the area that I can look at in person?
FAQ
How much does it cost to consult a landscape designer?
This depends on a variety of factors, such as where you live, the landscaping features you want to use, the size of your property, and the scope of the project. You can contact us for a free estimate or visit our pricing page to get an idea of how much your landscaping project will cost.
What is the difference between a landscaper and a landscape designer?
Property owners hire landscape designers to create a landscape design that takes into consideration their ideas and needs, as well as the property's features and the project budget. They will then provide a 3D rendering and work with you to finalize the design before managing the installation of your project.
Landscapers are local contractors who sometimes do the installation of small projects, such as walkways or sod, but are usually hired to maintain the property after the landscape design and installation are complete. Their services usually include weeding, mowing, pruning, and light tree services.
How much do landscapers charge per hour in Rancho Santa Fe?
It usually costs between $25 and $50 per person per hour to hire Rancho Santa Fe landscapers.
How much should I budget for a landscape project?
If your neighborhood has a homeowner's association, the bylaws may spell out the minimum amount you are expected to pay to landscape your property. This often is a percentage of the value of your home. If you do not have a homeowner's association, or if they do not have requirements for the amount you must spend, a general rule of thumb is for your landscape design and installation budget to be about 10% of your home's value.
Reach out to Install-It-Direct for landscape design in Rancho Santa Fe
When you are ready to move forward with creating the backyard of your dreams or to increase your home's curb appeal, we are here to help you with your outdoor living design, outdoor kitchen installation, outdoor lighting plan, synthetic turf lawn, fire pit design, and more. Contact us today at (858) 925-3000 or [email protected] to learn more about our services and get a free estimate for your project.