Landscape Design in Oceanside, CA
The Install-It-Direct team offers landscape design in Oceanside, CA to help homeowners turn their outdoor living dreams into reality. From retaining walls to outdoor kitchens, our team of expert designers and installers are here to create a backyard oasis complete with landscape lighting, artificial turf, patios, and walkways made with beautiful pavers, and a fire pit where your friends and family can gather.
Oceanside offers coastal living and an outdoor lifestyle with points of interest that both locals and visitors enjoy. Just a few of these include the historic Mission San Luis Rey, Camp Pendleton, the iconic Oceanside Pier, California Surf Museum, Oceanside Museum of Art, Harbor Beach, and Oceanside Harbor.
We are proud to offer North County San Diego landscape design services in Oceanside. We're here to help homeowners and local businesses with projects that beautify their properties with low-maintenance hardscapes, native plants, water features, fire features, pavers for pools and patios, and outdoor living areas that make the most of our coastal climate.
What Locations Does Install-It-Direct Serve?
Install-It-Direct has years of experience offering landscape design and installation throughout Oceanside, including Downtown, Mid-District/Design District, South O, Inland Valley, San Luis Rey, Townsite, Townsite East, Escondido Junction, Fire Mountain, Morro Hills, Piazza D Oro, South Oceanside Park, Ocean Hills, Ivey Ranch/Rancho Del Oro, and Eastside Capistrano North.
We also provide landscape design in San Diego County, including Cardiff by the Sea, Bonita, Chula Vista, Del Mar, El Cajon, Encinitas, Escondido, La Jolla, Lakeside, La Mesa, Carlsbad, Poway, Rancho Santa Fe, San Marcos, Santee, Scripps Ranch, Solana Beach, and Vista.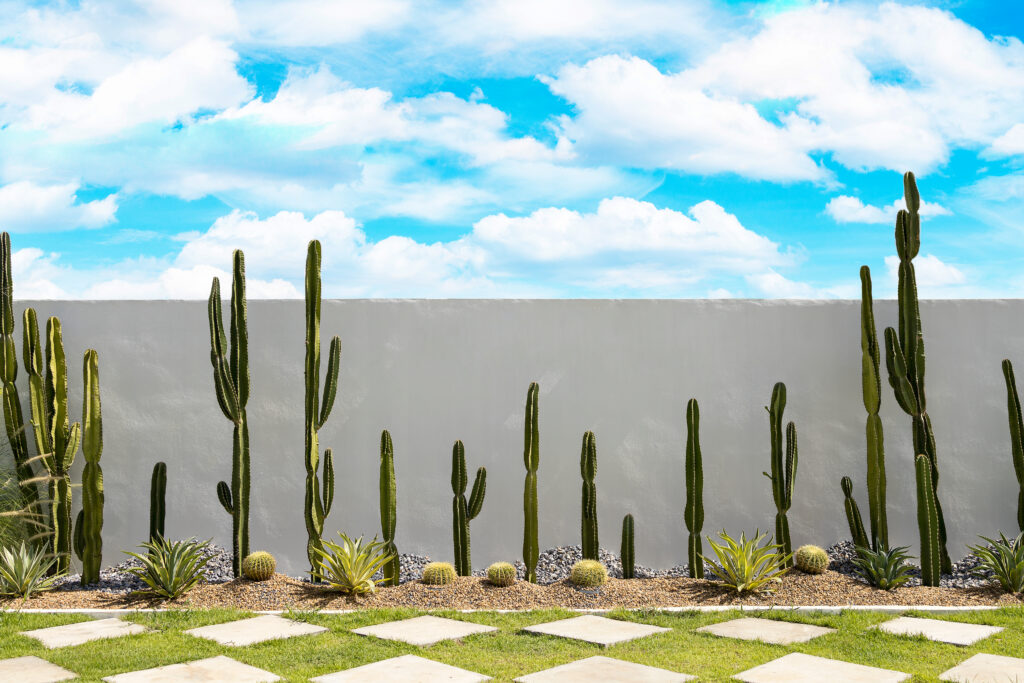 Planning Your Dream Home Landscape Design
Oceanside residents enjoy coastal living and an outdoor lifestyle with hiking, surfing, biking, and camping all close at hand. When not partaking in the outdoor offerings, you can check out the vibrant art scene, head to Oceanside Harbor for an afternoon of shopping, or take a leisurely stroll to check out some of the more than three dozen murals found around town.
With so much to see and do, there is little time for landscape maintenance like weeding, mowing, mulching, and other lawn care tasks. That is why Install-It-Direct specializes in creating low-maintenance outdoor living areas that you can spend less time maintaining and more time enjoying with your family and friends. This might include easy-care synthetic turf, paving stone patios, privacy hedges, an outdoor fireplace, native plants, or a functional patio kitchen for weekend cookouts.
We work closely with our clients to make sure we understand your needs and budget so that we can assist you in designing and installing your landscape project with a full understanding of your space, lifestyle, desired functions, and structural features your property might need, such as driveways, a retaining wall, or landscaping for erosion control.
We can assist you in determining how best to meet your family's needs while complimenting the architectural style of your home, staying within your budget, and working with you from the initial consultation through completion of the project.
What Services Does Install-It-Direct Provide?
Our high-quality landscape design services in Oceanside include:
Landscape Design
Outdoor Living Design
Artificial Grass Installation, Maintenance, and Repair
Paver Installation, Cleaning, and Sealing
Retaining Walls
Outdoor and Landscape Lighting
BBQ Islands and Outdoor Kitchens
Fire Pits and Outdoor Fireplaces
Pergolas
Water Features
Where in Oceanside Can I Get Inspiration for My Landscape Project?
One of the best ways to find local inspiration is to hop in your car and head south to check out some of the beautiful gardens listed on our Top 5 Landscape Designs in San Diego.

Why Should I Hire an Oceanside-based Landscape Designer?
Local Knowledge
Oceanside landscape designers have a better understanding of local geography and climate, as well as local regulations, including how these can affect the design and installation of your landscape project.
Coastal Influence Understanding
Oceanside and the surrounding areas require special knowledge of how living this close to the ocean can affect landscaping. Coastal influences like fog, salt spray, and wind are taken into account by landscape contractors who understand how coastal environments affect different landscaping features and elements.
Hillside and Canyon Experience
North County San Diego is home to many hills and canyons, which means landscape installation in this area requires professionals with the skills and knowledge to help you choose and install the right hardscapes and other features for slopes and uneven terrain.
Access to Local Resources
If you have ever completed a home renovation or landscape project, you know working with local contractors who have relationships with other local contractors and vendors is key to the success of any project.
Does Install-It-Direct Landscape with Plants, Succulents, or Gravel?
Yes, we will work with you to design a low-maintenance landscape that suits both your lifestyle and the local climate. This could include gravel and other hardscapes, succulents, beautiful shade plants, and other native plants.
What Are Common Landscape Design Styles in Oceanside?
Oceanside landscape design generally focuses on creating low-maintenance, upscale outdoor living spaces for everyday life and entertaining.
Does Install-It-Direct Design for Earthquakes, Wildfires, or Mudslides?
Yes, the professional landscape designer working on your project will confer with you about your concerns and can recommend how to make your home and property more resistant to natural disasters, such as retaining walls, fire-resistant plants, and hardscapes that can better withstand earthquakes.
What Does the Process of Hiring Install-It-Direct Entail?
After you call us for a free estimate for your backyard or front yard design, one of our professional designers will come to your site to discuss your project. They will then create a 3D rendering of the project, go over budget and timeline with you, and answer any questions you might have.
What Questions Should I Ask Install-It-Direct?
Before you begin working with any landscaping contractor, you should ask the following questions:
Are your contractors licensed, bonded, and insured?
Do you have worker's comp and general liability insurance?
Are you licensed with the Contractors State License Board (CSLB)?
Do you have the correct licenses for the type of services I am requesting?
How long have you been in business and providing the type of services I need?
Do you have a list of completed projects in the area that I can look at in person?
FAQ
How much does it cost to consult a landscape architect?
Professional landscape design costs vary greatly depending on your location, the size of your yard, and the materials you plan to use. To get a better idea of landscape design prices, visit our pricing page.
What is the difference between a landscaper and a landscape designer?
A landscape designer will work with you to understand your needs and budget, and then create a personalized design that includes a 3D rendering and overall project management during the installation process. Landscapers are the professionals you hire to care for your landscaping after installation, with services like mowing, weeding, pruning, and light tree service. Landscapers do sometimes install some landscaping features, such as sod, patios, or walkways.
How much do landscapers charge per hour in Oceanside?
You can expect to pay $25 to $50 per hour per person for yard maintenance services.
How much should I budget for a landscape project?
A general rule of thumb for landscaping projects is that you should budget about 10% of the value of your home for designing and installing landscaping.
Reach out to Install-It-Direct for landscape design in Oceanside
Are you ready to turn your landscape design dreams into reality? If so, we are ready to help with artificial grass installation and maintenance, landscape lighting installation, landscape and outdoor living design, and paver installation. Contact us today or give us a call at (858) 925-3000 to learn more about our services and get a free estimate for your project.