Landscape Design in El Cajon, CA
Install-It-Direct has years of experience helping El Cajon homeowners create the perfect outdoor living space, illuminate walkways and landscaping features with custom outdoor lighting design, plan new landscapes and yard renovations, and design outdoor kitchens that fit their lifestyle.
El Cajon residents enjoy an outdoor lifestyle that includes options throughout the valley, including Singing Hills Golf Resort, Mission Trails Regional Park, and Mount Helix Park. There is also the Water Conservation Garden at Cuyamaca College, the San Diego Air & Space Museum Gillespie Field Annex, Summers Past Farms, and museums that celebrate the area's rich history, such as Heritage of the Americas Museum, Sycuan Cultural Resource Center & Museum, and the Wieghorst Western Heritage Center.
With so much to do in El Cajon and the surrounding area, homeowners here need outdoor living spaces that complement an active lifestyle and require minimal maintenance to always look great and function well. That's where Install-It-Direct comes in. We are here to help you design an outdoor kitchen for weekend cookouts, a fire pit for your friends and family to gather around, or a retaining wall that will allow you to stop worrying about that hillside and start enjoying your outdoor living area more.
What Locations Does Install-It-Direct Serve?
Install-It-Direct offers landscape design services throughout the El Cajon area, including Granite Hills, Valle De Oro East, Rancho San Diego North, Calavo Gardens, Downtown El Cajon, Rancho San Diego East, Chase Avocado East, Granite Hills South, Sky Ranch, Harbison Canyon, Bostonia, Blossom Valley, Rockhaven Ranch, La Alameda, Crest, Fletcher Terrace, and Cuyamaca.
We also provide landscaping services in San Diego County, including Cardiff by the Sea, Bonita, Encinitas, Del Mar, Chula Vista, Rancho Santa Fe, Escondido, La Jolla, Lakeside, La Mesa, Carlsbad, Poway, Solana Beach, San Marcos, Santee, Scripps Ranch, Oceanside, and Vista.
Creating beautiful landscapes for homeowners in El Cajon
Every homeowner wants a beautiful landscape surrounding their home, and every landscaping company wants to deliver that. This starts with your list of ideas and must-have features. From there, you and your designer will need to take this list of landscaping needs and ideas and see how well it can fit with some determining factors, such as your budget and timeline, the terrain of your property, the amount of space you are working with, any safety issues that need to be addressed, and the architectural style of your home. Our team will help you with all the details from the overall concept and pricing down to the particulars, like the irrigation system and landscape lighting.
What Services Does Install-It-Direct Provide?
Our El Cajon landscape design services include:
Get a Free Estimate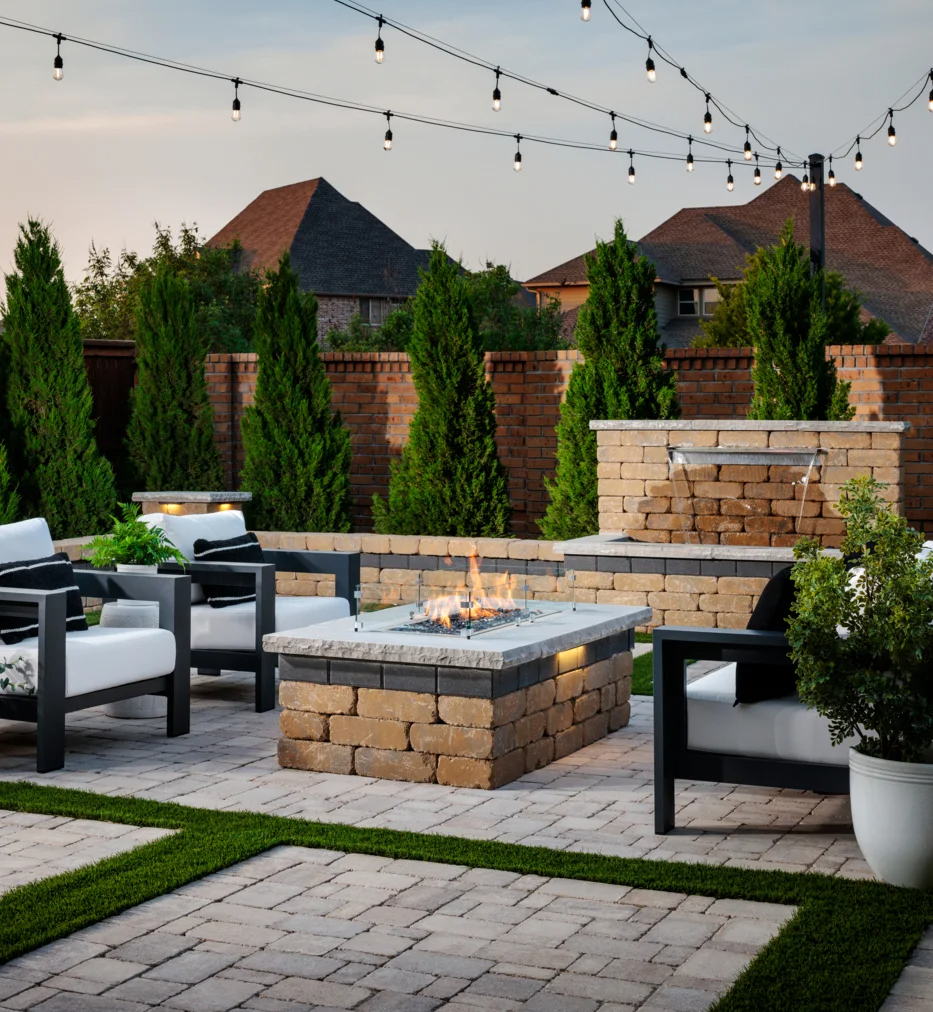 Where in EL Cajon Can I Get Inspiration for My Landscape Project?
One of the best ways to see a variety of options and get inspiration for your garden design is to check out one or more of the places listed on our Top 5 Landscape Designs in San Diego. You may also want to check out the Water Conservation Garden and Butterfly Garden at Cuyamaca College.
Why Should I Hire an El Cajon-based Landscape Designer?
Local Knowledge
Choosing an El Cajon landscape designer is the best way to ensure your designer has the knowledge and experience required to design a beautiful, functional landscape in this area. They will know which native plants work best here, which natural grass or artificial turf to choose for easy lawn care, how the local climate affects landscape features in this area, and the local regulations that might come into play during planning and installation.
Coastal Influence Understanding
If you live in an area of San Diego County that is affected by wind, salt spray, or fog, Install-It-Direct is well-versed in working with these coastal influences.
Hillside and Canyon Experience
Like much of East County San Diego, El Cajon has varying geography. This means that it is best to choose a local company that understands the area for your landscape construction project. A local landscape architect or designer will be best equipped to work with the hills, valleys, and uneven terrain common in this area. If your property has varying geographical features, you may need to discuss erosion control, retaining walls, and hardscape options that will work best for your home.
Access to Local Resources
A local landscaping company is aware of and connected to local resources, including vendors and other contractors.
Does Install-It-Direct Landscape with Plants, Succulents, or Gravel?
Yes, Install-It-Direct has years of experience offering drought-resistant landscaping design services, which means we are well-versed in working with succulents, native plants, gravel, artificial turf, paving stones, and other low-maintenance, low-water options.
What Landscape Design Styles Are Common in El Cajon?
Drought-resistant landscape design is key in El Cajon. Paving stone driveways and patios, artificial turf lawns, gardens filled with native plants and succulents, and xeriscaping are all common here. There is also an emphasis on outdoor living space design that allows homeowners to entertain and enjoy the outdoor lifestyle common throughout San Diego County.
Does Install-It-Direct Design for Earthquakes, Wildfires, or Mudslides?
California residents are no strangers to wildfires, earthquakes, and mudslides. Most of us have either been affected by at least one of these natural disasters or know someone who has. Natural events such as these are common enough to be of concern here, and it makes sense to consider them during the landscape design process.
If your home is at risk from one of these natural disasters, we can help you design a landscape to reduce this risk and help your home and property withstand such events. This might include using hardscapes to create a defensible space around your home and using fire-resistant plants in your landscape design if wildfire is a concern. If the potential for mudslides is a factor, we can talk about erosion control and retaining walls. To better prepare your home for a potential earthquake, we can talk about choosing hardscapes that can better withstand movement, such as paving stones.
What Does the Process of Hiring Install-It-Direct Entail?
The process of hiring us is easy and convenient. It starts with you contacting us for a free estimate. One of our team members will then come out to your house for an on-site assessment and create a 3D rendering of your prospective landscape design. We will then talk about your budget and timeline and make sure we have answered any questions you have before we start the installation.
What Questions Should I Ask Install-It-Direct?
Before you begin working with any landscaping contractor, you should ask the following questions:
Are your contractors licensed, bonded, and insured?
Do you have worker's comp and general liability insurance?
Are you licensed with the Contractors State License Board (CSLB)?
Do you have the correct licenses for the type of services I am requesting?
How long have you been in business and providing the type of services I need?
Do you have a list of completed projects in the area that I can look at in person?
FAQ
How much does it cost to consult a landscape designer?
How much it will cost to work with a designer depends on a handful of factors, including how big the project is, where your home is located, and the types and quantity of features you plan to include. To get an initial idea of how much your project will cost, visit our pricing page, or call us for a free estimate.
What is the difference between a landscaper and a landscape designer?
Landscape designers work with homeowners to create new designs or remodel an existing garden design to better fit their needs and lifestyle. They work with your budget and timeline, discuss your needs and ideas with you, and then create a design that fits within the criteria discussed. They provide 3D renderings before breaking ground, oversee landscape construction, and help to ensure that your project is completed on time.
Landscapers provide landscape maintenance services within their service area, which usually entails lawn care, mowing, weeding, and pruning. Some landscape maintenance companies also provide property clean up services, sprinkler system repair, or limited construction services, such as installing sod or stone pathways, light tree trimming, or cleaning and maintaining water features.
How much do landscapers charge per hour in El Cajon?
Landscape maintenance in El Cajon usually costs between $25 and $50 per person per hour.
How much should I budget for a landscape project?
Some neighborhoods in El Cajon have homeowner's associations. If you live in one of these neighborhoods, the association may dictate how much you are supposed to spend on your landscaping. This is often a percentage of your home's value. If your neighborhood does not have an association, it is common for homeowners to budget about 10% of their home's value for landscaping design and installation.
Reach out to Install-It-Direct for landscape design in El Cajon
Install-It-Direct is a local landscaping company ready to assist you in designing the front yard or backyard of your dreams. We will guide you through the design process, manage the landscape construction process, and still be around years from now if your artificial turf or pavers need cleaning or repair.
To learn more about our services or get started with a free estimate, contact us at (858) 925-3000 or [email protected].

Get a Free Estimate