Can I Increase My Home's Value with an Outdoor Kitchen?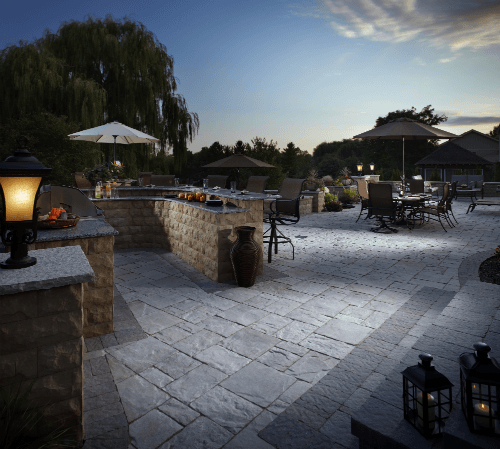 Adding outdoor living spaces is a great way to expand the usable square footage of your home without investing in costly home additions.
Exterior spaces for dining, cooking or entertaining are generally more affordable than adding interior space to your home and provides you and your family with a more comfortable, convenient way to enjoy more of your property and spend more time outside.
This is particularly beneficial if you live in an area where the weather allows for outdoor living throughout the year, but comfortable outdoor areas can be created in regions with more inclement weather as well.
Outdoor dining areas of some sort are rather common, considering that most homeowners with any type of backyard patio usually have a table and chairs for enjoying their morning coffee or gathering around for a family barbecue.
This sort of informal setup is a great start when it comes to using your outdoor space for activities that normally take place inside, but you can go much farther in creating living spaces that can truly bring your life outdoors.
Outdoor living rooms and kitchens are a growing trend, particularly in the Southwest United States where the weather permits us to comfortably spend time outdoors any month of the year.
Patio living rooms with flatscreen televisions, comfortable sofas, outdoor rugs and cocktail tables are quickly gaining in popularity, particularly in higher-end homes.
And now that many people have some type of outdoor dining setup and living room at their disposal, many homeowners are choosing to expand their outdoor livings spaces even more by adding patio kitchens that range from a few simple features to complete setups that would impress a world-class chef.
This new take on backyard landscaping can potentially add value to your home and will undoubtedly impress prospective buyers, whether you are doing a few upgrades in preparation of putting your home on the market soon or are considering selling sometime in the future.

Should I Install an Outdoor Kitchen?
Installing an outdoor kitchen in your backyard is unlike any other landscaping project you may have previously taken on.
It is far more complicated than putting in a simple patio, beautifying your yard with artificial grass or, even, building an elaborate gazebo with lighting and a speaker system.
It can also get quite expensive quite quickly if you do not spell out your budget beforehand, design with that budget in mind and adhere to it closely.
Because of this, you should take time to consider whether or not an outdoor kitchen is right for you and whether or not it will potentially increase your home's value enough to make it worth making the initial investment.
Of course, if you never plan to sell your home, the potential for added value may not be an issue.
If this is the case, then you can build your exterior kitchen with only your own needs in mind and without worrying about which features buyers would expect to see or which features might be seen as most valuable when you put your home on the market.
You can simply focus on which features you and your family will most use and enjoy, and which features you might need to optimize your outdoor entertaining options within your budget.
However, if you are planning on selling your home, or know that you may sell it at some point in the future, you might be better served to look at this home improvement project as an investment that should deliver a return when your home sells.
While it is not guaranteed that an outdoor kitchen will increase your home's value, particularly because there are many factors involved in determining the value of a property, you can be certain that it will be a distinctive feature that will impress potential buyers and ensure that they remember your home as they look at different properties.
If you might sell your home at some point, it is more important to consider which kitchen features others might expect to find, rather than just focusing on the features you think you will use most.
This can make for a higher initial cost, but may be worth it, if it can potentially help you get a higher selling price.

Overall, it is your kitchen for you, your family and your guests to enjoy.
Therefore, your primary considerations should pertain to what you would like to have access to when you want to cook outdoors.
If you really just want a nice built-in grill with extra burners and counter space, then that is what you should do.
That is the most affordable way to create an outdoor cooking space, but is not really an outdoor kitchen.
A patio kitchen – to truly be called a kitchen – really needs to have a sink, counter space, storage, a refrigerator of some sort, and a grill or other cooking surface.
This means installing plumbing, drainage and electricity.
You may not necessarily need to hook into your home's sewer line, since you can direct your sink's drain to provide irrigation for your backyard landscaping, but you will need to install plumbing to have running water for your kitchen, and electricity for your lights and refrigerator.
You will likely also want an electrical outlet that can be used for appliances, like a blender, so electricity is a must.
Running utilities to your intended kitchen space is not the only part of building a patio kitchen that can be a bit complicated; if you are not a mason, a general contractor or at least a really, really handy person, you are going to need to enlist the help professionals to ensure a satisfactory end product.
This is not unusual for home improvement projects of this size, but it is something to consider, since whether or not you can make this a DIY project will significantly affect the overall cost.
An alfresco kitchen provides you with an outdoor cooking area that will increase the enjoyment you receive from your backyard and is a great way to add usable space to your home for much less than it would cost to add on an interior room.
If your end goal is to increase the value of your home, it has the potential to do that and can certainly make your home sell faster, since this is a luxury perk that many prospective buyers will like.
If you live in an area like Southern California where outdoor living – and cooking – can happen all year, this is especially true.
How to Maximize the Return on Your Investment
An attractive, inviting, well-planned patio kitchen can potentially add value to your home, but a thrown-together outdoor cooking space can actually detract from your home's perceived value and visual appeal.
Sloppy stonework, shoddy electrical work or mismatched appliances are going to do you more harm than good when it comes time to sell your home.
So if you cannot afford to do it right, either downsize your kitchen design to something you can afford to do well, or consider just sticking to a built-in grill and make other improvements to your outdoor living area, such as covering your patio or replacing a concrete slab with paving stones.
You also should take the time and take on the cost of getting the right permits for this home improvement project.
If you work with a designer or contractor, he or she will be able to help you with this necessary process.
It may be tempting to skip the permits if you do this project yourself, but even if you get away with the initial installation without being caught, a home inspection is certainly going to be part of the process of selling your home, and a lack of permits will become an issue when this occurs.

Here are five more things you should do to maximize the return on your investment when it comes time to sell your home:
1. Complement the exterior of your home.
If you live in a Mediterranean villa, a modern kitchen with stainless steel appliances is not the way to go.
If you live in a contemporary home, a rustic kitchen will look out of place.
Use similar materials and colors to those on existing structures to make sure your kitchen truly looks like an extension of your home.
2. Decorate your outdoor living space to bring the indoors out.
You may think throw pillows do not matter, since they are going with you when you move, but you need your potential buyers to see these outdoor living spaces as additional square footage.
This means that you need to bring your interior décor out to your patio.
This does not mean that you need to use the same fabrics and throw pillows that you use inside, but it does mean that you need to make sure your colors and textures harmonize with the interior of your home.
3. Don't forget about flooring, walls and ceilings.
A beautiful outdoor kitchen is not going to add as much value to your home if it is sitting on an old concrete slab or does not have some kind of covering.
Consider installing a textured concrete, stamped concrete or paving stone patio as the foundation for your kitchen.
If you do not already have a covering for your patio, you can opt for an affordable awning or a more attractive permanent structure that will protect your patio from the elements.
This is an outdoor room and, therefore, does not need actual walls; however, patio drapes that can be closed to block the sun or provide privacy can make your kitchen feel more like a well-defined living space, which will appeal to potential buyers.

4. Consider adding fun or luxury features.
An alfresco kitchen is already a luxury perk that buyers will find appealing.
To make it even more appealing, you can go beyond the basics to add additional features, such as an outdoor fireplace, pizza oven, garbage disposal, trash compactor, sound system or a water feature.
Sure, this is a full kitchen and should be differentiated from a BBQ island, but everyone wants an awesome grill.
Get the best grill you can get within your budget, and try to get an option that has at least one impressive feature, such as the ability to use either gas or charcoal, which will help to ensure it appeals to a larger variety of potential buyers.

Final Thoughts on Installing an Outdoor Kitchen
An alfresco kitchen is a great addition to your backyard and provides a useful, comfortable outdoor living space for you and your family to enjoy.
This particular home improvement project is not necessarily an inexpensive one, but it can potentially add value to your home, and it is definitely the type of feature that will appeal to potential buyers and can help your home sell faster once you put it on the market.
If your home is in a price range where buyers expect luxury perks, such as swimming pools, fire pits, outdoor fireplaces and outdoor living spaces, a patio kitchen is a particularly good way to set your home apart from others and make it more memorable.
While this is a growing trend, it is still most common to find little more than a built-in BBQ and dining areas in most backyards, making a full kitchen a particularly distinctive home improvement project.
Whether or not you plan to sell your home now or in the future, making this addition to your backyard will provide you and your family with the perfect place to prepare family meals, entertain guests and enjoy spending more time outdoors.
As part of an overall landscaping plan that includes a dining area, additional seating areas, garden areas, and a natural or synthetic lawn, an alfresco kitchen is the perfect addition to make more of your backyard a functional, enjoyable living space.
Photo Credits (in order of appearance): stock.xchng, Swandieve; stock.xchng, oileen; stock.xchng, Bongani; stock.xchng, Ayla87; stock.xchng, amirmofidi.