How to Create & Maintain an Eco-Friendly Outdoor Living Space
Whether you are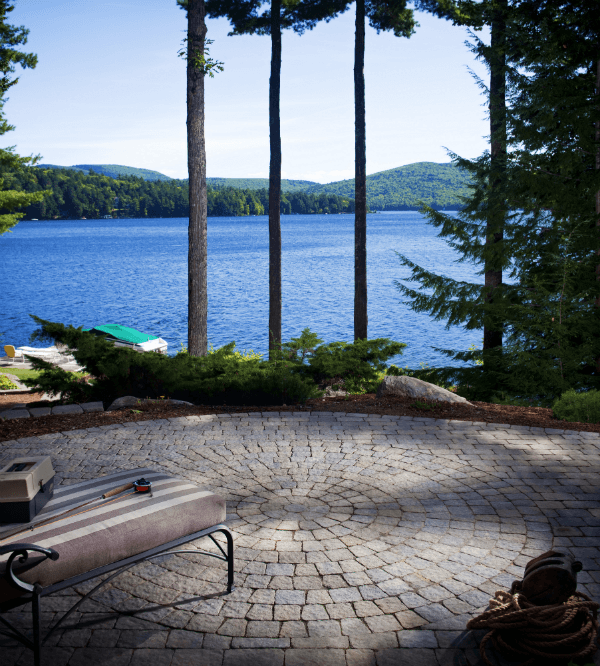 designing a completely new outdoor living space or seeking inspiration to transform your current patio into an eco-friendly backyard oasis, going green in your design is a great way to lower your home's environmental impact, save money every month and limit the toxins to which your family, guests and pets are exposed.
Simple changes, like switching to all-natural cleaning products and choosing organic pest control options are a great place to start, but you might be surprised at just how cost effective and easy it can be to take even bigger steps towards creating an earth-friendly outdoor entertaining area.
As you go through the tips and suggestions for creating and maintaining an eco-friendly outdoor living space spelled out below, you will see that there is no need to sacrifice function, visual appeal or your personal style as you take steps to go green.
Plus, you should always keep in mind that lowering your home's environmental impact does not necessarily mean you need to install a field of solar panels, rip out and replace all of your current landscape, or never again turn on your garden hose.
This is your home and your outdoor space that should provide the comfort and function your family needs to fully enjoy your property inside and out.
This means that just how green you go is completely up to you.
You can make a few basic, inexpensive changes or add a few new features, like a do-it-yourself solar oven or solar-powered lights for walkways, or you can take bigger steps – like replacing your natural grass lawn with artificial turf, installing a drip irrigation system to more effectively water borders and flowerbeds, or hiring an eco-minded designer to outfit your patio with earth-friendly furniture and décor.
Designing Your Eco Outdoor Living Area
Once you have decided that an eco outdoor space is the right choice for you, design your backyard retreat to ensure that it will lend itself well to your family's needs and hobbies.
Whether you want a simple patio with a playground and vegetable garden, or an expansive deck for entertaining and a full outdoor kitchen, now is the time to lay out a plan for your space's overall design.
The fun part might be choosing hanging lanterns and adding finishing touches, but some of the most important aspects of creating a usable space that is environmentally friendly need to be addressed long before you start collecting fabric swatches.
Now is the time to determine must-have features, like a built-in grill or electrical wiring for an outdoor television and lighting, and also the time to consider whether you want to go it alone or bring in a professional to make sure your landscape design fits your eco ideals, as well as your family's needs.
Once you have your patio design in place, you can start collecting those swatches and keeping an eye out for deals on environmentally conscious décor options.
But before you start selecting organic throw pillows or furnishings made from sustainably harvested wood, you must first establish a foundation on which to build your eco-friendly backyard oasis.
Setting the Stage for Earth-Friendly Outdoor Entertaining
The first step in creating a green outdoor space for entertaining is selecting hardscape and groundcovers that reduce your home's energy and water consumption, can save you money each month and provide the foundation for the rest of your exterior design.
One of the top priorities to keep in mind when considering your options is making sure you choose low-water selections that can immediately reduce your overall water consumption and lower your water bill.
This would include options like designing a patio, pool deck or walkways made from low-maintenance, durable paving stones that can be easily swept clean of debris.
As an added bonus, pavers provide a non-slip surface, which is perfect around a pool or water feature, and they are placed together in a way that makes it easy to replace just one or a few damaged pavers – instead of your entire patio – if damage should occur.
If saving water is on your agenda, installing artificial grass or replacing your current natural grass lawn with synthetic turf is an easy way to watch your residential water consumption plummet as you also lower your carbon footprint, since you will no longer need gas-powered lawnmowers or edge trimmers.
Other low-maintenance options that help you save water and energy include xeriscape, concrete walkways, gravel and bark.
Selecting Sustainable Patio Furniture
Once you have selected the foundation on which you will build your backyard retreat, it is time to start selecting furnishings that deliver both comfort and peace of mind.
When shopping for eco-friendly outdoor furniture, you want to look for products that are built to last and crafted from recycled or sustainable materials.
Teak and eucalyptus are two popular wood options that are offered by an array of manufacturers and bring the beauty of natural wood to your patio.
While teak furniture tends to have a higher retail price, this choice is well known for its durability and beauty, as well as its strength.
These qualities have kept teak at the top of the list when it comes to sustainably harvested wood patio furniture options, but there are less expensive options available if teak is a bit out of your budget.
When shopping for eco-conscious wood outdoor furniture, the most important thing to consider – aside from strength and durability – is independent certification showing that the wood was grown in an environmentally responsible manner and harvested sustainably. 
If wood patio furnishings are not your style, you might also consider stainless steel, aluminum or eco-friendly synthetic wicker products.
If possible, look for local companies or craftsman who make and sell eco furniture for use outdoors.
This will help you go even greener in your patio pursuits by avoiding the carbon emissions involved in shipping furniture made in far-off places to your home or local garden center.
Greener Grilling and Outdoor Cooking Options
If you plan on entertaining outdoors, you are sure to want to include a barbecue grill in your patio design, but what are green gals and guys to do when it comes to choosing an eco-friendly BBQ grill?
Grilling is an integral part of outdoor living, so whether you plan on inviting the whole neighborhood or just enjoying a weekly family BBQ, you probably also want to make sure you select a grill that is as safe as possible for your family members and friends.
Here are some examples of the best green grilling options available:
Charcoal Grill –
Charcoal is not generally considered a safe option for people and pets, or an eco-friendly grill choice; however, you do not have to use conventional, additive-laden charcoal if you purchase a charcoal grill.
Instead, you can use natural lump charcoal, which is made from natural or processed wood, and provides a nice, smoky flavor your family is sure to enjoy.
As for lighting it, you will want to skip all that chemical lighter fluid nonsense and opt for a charcoal chimney starter to get your grill going.
Corn Grill –
A corn-powered grill might sound a bit far-fetched, but using corn kernels for your outdoor cooking needs is better for you, your family and the environment.
Natural Gas –
A natural gas grill does use fuel, which makes it a bit questionable, but it is better for the environment than most grill options and gives off less smoke, which makes it safer for your family and friends.
The other nice thing about a natural gas grill is that you can turn it on and start grilling quickly, and the post-grilling cleanup is a breeze.
If you happen to run your home on green energy, you could also consider an electric grill, but electric grills ran on conventional electricity are not a great choice in regards to the amount of emissions created both during production of the grill and when using it to cook.
If you are feeling a bit crafty and really want to take a cool step towards green living, consider making your own solar oven.
Solar cookers use natural sunlight to provide the energy needed to cook food and will definitely score you points if the Eco Police ever stop by your house.
If you are not particularly handy, you can also purchase a pre-made solar oven, but making your own might be a fun family project for a summer weekend.
Earth-Friendly Outdoor Lighting
Naturally, you will need to consider your lighting needs and how you can guide people to your patio or highlight interesting landscape features with accent lighting.
Outdoor lighting is actually one of the easiest steps to make when it comes to creating a green living space, because solar-powered outdoor lights are widely available and can be purchased at nearly any garden center or home store.
Solar path lights, landscape lighting and other garden lighting options collect power from the sun during the day so they can lead the way or show off your favorite features as the sun sets and your guests arrive for an evening soiree.
If you like using candles to provide soft lighting or help create the mood, make sure you purchase all-natural options that are made from soy wax or beeswax and scented with essential oils.
Choosing Eco-Friendly Textiles
The textiles you choose are what will bring your outdoor room together and provide the finishing touches needed to create the desired environment.
Whether you are shooting for an outdoor man cave or a relaxing, spa-like retreat, it is the textures and colors of fabrics and rugs that will tie the look together and solidify the overall feel of the space.
Selecting organic fabrics for throw pillows, all-natural outdoor curtains and outdoor rugs made from sustainable materials will bring the beauty of nature into the space while also helping you avoid exposure to chemicals used in conventional production and dyeing processes.
Eco-friendly outdoor rug options include those made from natural, renewable materials, such as jute, bamboo and sisal.
Reduce, Reuse, Recycle, Repurpose
It is always better to find new uses for old things rather than purchase new goods, which require water, energy and transportation to be manufactured and delivered to their destination.
Reupholstering patio furniture cushions with eco-friendly fabrics or refinishing wood patio furniture you already own is almost always a greener choice than purchasing new products.
This option, of course, will also save you money and keep you from having to find your old furniture a new home or make a trip to the thrift store to donate it.
Before you buy new products for your outdoor entertaining space, look around your home and yard to see what is already available to you.
Could you use the rocks uncovered when you dug up the garden to build a fire pit?
Is that patio table really ready for the trash, or does it just need to be re-stained to have it looking as good as new?
Also consider hitting your local thrift stores and checking out online classified ad sites to see if there is any previously loved patio furniture that might just need a little sprucing up to be perfect for your outdoor living space.
Purchasing second-hand products is a great way to save money and is usually an eco-friendlier option.
Maintaining Your Green Outdoor Room
Here are a few tips to help you care for your eco-friendly outdoor living space by keeping up your green routine, avoiding chemicals, and using low-water and low-energy options to keep your backyard oasis looking its best:
Make recycling part of your plan.
Make sure recycling receptacles are readily available for cans and bottles, and consider banning plastic water bottles and using a water filter pitcher instead.
Choose all-natural cleaners.
There is no need for chemical-laden cleaners that will expose your family and pets to toxins that can harm their health, as well as the environment.
Opt for all-natural cleaners instead, which are readily available at almost any grocery store or garden center.
You can even make your own with simple ingredients like lemon juice and distilled white vinegar.
Keep things in good repair.
There is no point in putting out the cash for eco-friendly furnishings and grills if you will just have to replace them in a few years.
Avoid the expense and eco sin of regularly replacing your furnishings, outdoor kitchen equipment or décor by keeping it clean and properly maintained.
Put the garden hose down.
It is okay to occasionally rinse down your patio or walkways, but make it a habit to simply sweep away dirt and debris whenever possible.
Do you have any Eco-Friendly Tips to add?