How to Make a Backyard Putting Green
Installing a backyard putting green is a great way to increase your options for at-home activities, spend more time outdoors, get your kids interested in golf, or work on your short game. A backyard green is a great place to spend time with your family and friends and is a home improvement project that is sure to impress your guests next time they come over for a weekend cookout.
If you are considering installing a putting green in your backyard, one of the biggest choices you will make is whether you will use natural grass or synthetic turf. While both can make a good practice green, natural grass requires a lot of maintenance when used in this application. Aside from the normal maintenance you would expect with a grass lawn, such as watering, fertilizing, aerating, and weeding, you will also need to mow your green a few times a week to keep it at an optimal height and ready for use. It can also be difficult to keep natural grass looking good consistently, especially if you live in an area that is prone to drought or if you have dogs.
Artificial grass that looks and feels real requires much less maintenance, is always ready to be played on, and has a consistent look, feel, and play – even during times of drought or after it rains. In fact, you can work on taking strokes off your game right after it rains without any concern about tracking mud or wet blades of grass into your house afterward. The upfront cost for installing artificial grass may be higher than putting in a natural grass green, but it is well worth it when you consider your savings over the life of your green, the significantly reduced time you will spend maintaining it, and always having it ready to go when you have a little spare time without having to worry that you forgot to mow it the day before.
The next choice you need to make is whether you will hire a putting green installer or make this a DIY project. If you choose to take on the project yourself, read these pro tips for installing artificial grass first, and then use the following guide to get you started.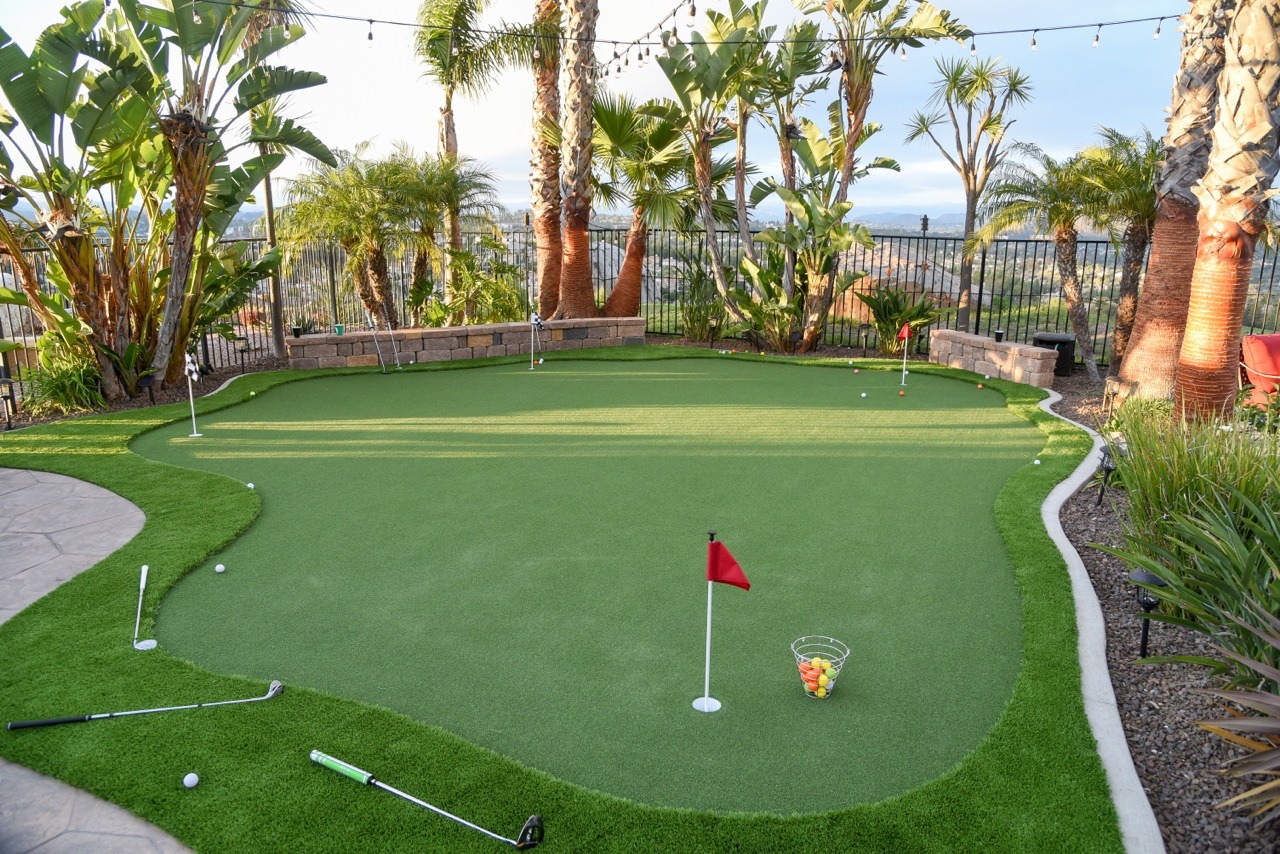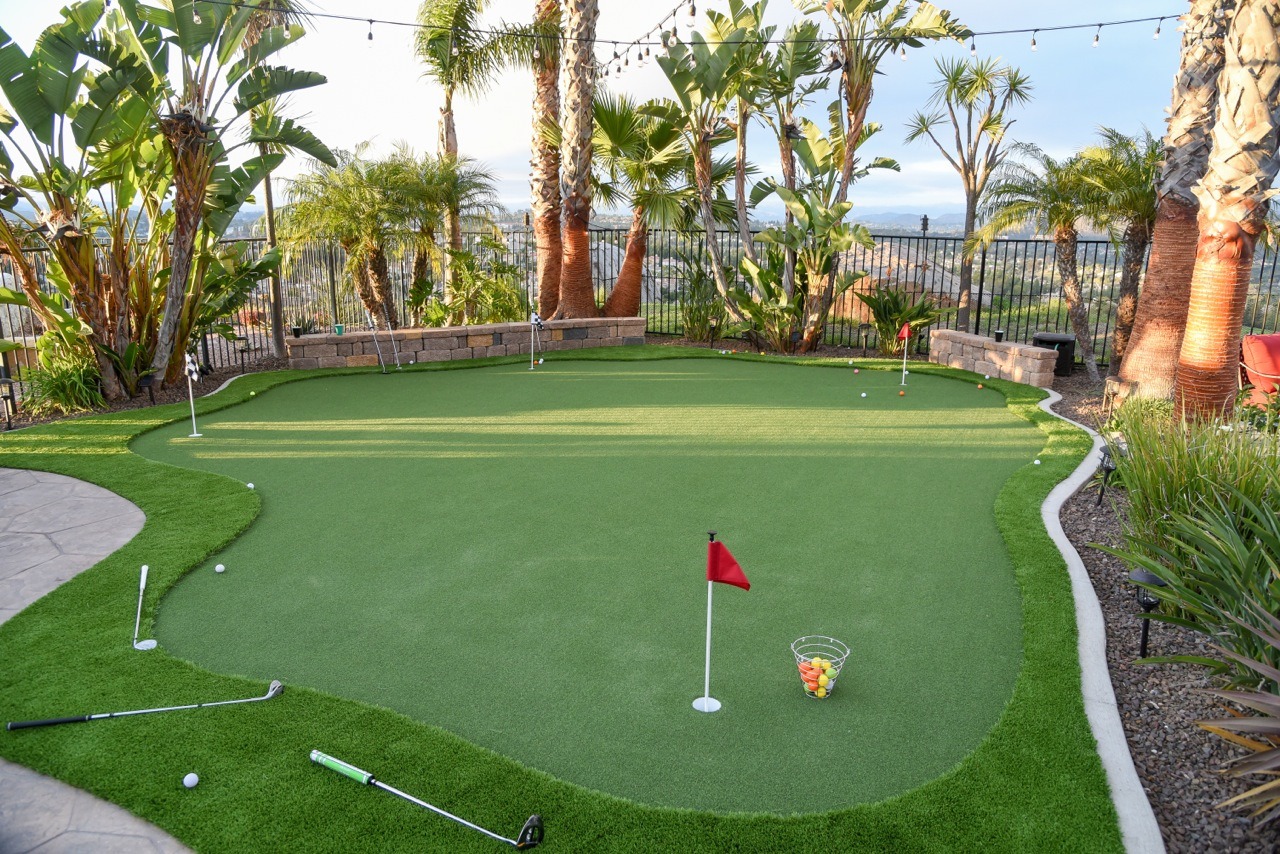 Determine the location, shape and size.
These three aspects are related, so it makes sense to consider them at the same time. The shape and size of the putting green may be determined by the location you choose, or you may need to pick a particular location in your yard to accommodate the size and shape of the green you have in mind.
Once you have determined the size and shape you think you want, lay it out on the ground with rope or twine. This will give you a better visual of how the size will work with other components of your landscaping. This will also give you the opportunity to take a few swings to make sure it will be large enough to fit your needs.
You will also want to consider anything particular about the area. For example, does the area have good drainage or will you need to correct the drainage before you install your putting green? Are there trees covering the area? This may provide shade while you are working on your game, but it could also mean sweeping leaves more often.
Once you have settled on your location, size, and shape, draw it out on paper and include where you will be placing the cups.
This is also a good time to decide if you want fringe turf around the outer edge of your backyard putting green. Some golfers like to use this area to practice chipping.
Demo the area.
Before you start digging, make sure you know the location of any underground utilities in the area. You will also need to make sure your irrigation system does not run through this area, since that will be shallow and could be damaged during demolition or excavation.
Once you are sure you will not damage any utility or irrigation lines, you will need to remove the landscaping currently in that area. Mark the ground with spray paint while you have it lined out with the rope or twine. This will make it easier to know where to remove your old lawn or other landscaping.
Excavate the area.
You will now need to dig down the area to accommodate your sub base and the depth of your cups.
If you need to adjust the grading or improve drainage, now is the time to do that.
Compact the area.
Use a hand tamper or a plate compactor to compact the ground where you excavated.
Install the weed barrier.
If you are going to use weed barrier, which is a good idea, lay it now. If you have pets that may use this area as their bathroom then you will want to skip the weed barrier for the simple reason that it will soak up the urine.
Install your border.
If you are installing a border, such as landscaping border, now is the time to do that.
Add and compact your base material.
Add at least four inches of base material, wet it slightly with a garden hose, and use a hand tamper or a plate compactor to tamp it.

Place the cups.
Once you have a smooth surface to help ensure a proper roll, refer to your drawing and mark where your cups will be placed. Use a trowel or post hole digger to make the holes, and insert the cups, and make sure they are level. Use a hand tamper to compact over and around the cups to compact the base around the cups.
Install the artificial turf.
You may need to do a little prep work before you install the synthetic turf. For example, most of the fake grass products available do not need pre-shrinking, but there are some that do. Check with the manufacturer to see if the turf product you purchased requires pre-shrinking before installation. If so, you will need to lay out the grass, saturate it with water, and leave it out to dry for 24 hours.
If your turf does not require pre-shrinking, you will still want to unroll it and lay it out while you complete the other steps to allow any wrinkles to release in the sun.
Once your turf is ready for installation, lay it out over the prepared area. Use a utility knife to trim away the extra material around the outside of the green. Depending on the size of your backyard putting green, you may need to seam together more than one piece of turf. If so, make sure each piece is facing the same direction so the blades of grass will be pointing the same way. Follow the manufacturer's instructions for seaming the pieces together.
Once it is in place, use a utility knife to cut holes for the cups, and secure the edges with landscape staples or nails.
Add the infill.
The amount of infill you add will depend on the turf product you are using, so follow the manufacturer's instructions for adding the infill to finish your project.

Maintaining Your Backyard Putting Green
Your artificial turf putting green can be used right away, so it is now time to start enjoying your new landscaping feature.
Synthetic turf putting greens require much less maintenance than natural grass greens, so this means you will be able to spend less time taking care of it and more time enjoying it. You will, however, need to do a bit of occasional maintenance to keep your green performing and looking its best.
Go here to learn how to clean and maintain artificial grass. If you have dogs that may use your green as a restroom, you will also want to keep Urine Zero on hand to make sure your putting green does not smell like your dog urine when you invite your friends over to work on their short game.