Landscape Design in Solana Beach, CA
Our team at Install-It-Direct is here to help Solana Beach homeowners bring their landscape project dreams to fruition. Whether you need to remodel your outdoor living area, shore up a hillside with a retaining wall, replace your natural grass with artificial turf, or upgrade your patio with an outdoor kitchen, we are here to help.
Solana Beach and the surrounding area offer upscale, seaside living in North County San Diego. Residents here enjoy an outdoor lifestyle with surfing at Seascape Sur, family-friendly tidepool exploration at Tide Beach Park, sunbathing at Fletcher Cove, shopping and dining on Cedros Avenue, and hitting the green at Lomas Santa Fe Executive Golf Course.
We have years of experience offering landscape design and installation services in North County San Deigo and love helping local businesses and homeowners enhance their properties with low-maintenance landscaping features, water features, paving stone patios, fire pits and patio fireplaces, and artificial grass.
What Locations Does Install-It-Direct Serve?
Install-It-Direct offers landscape design services throughout the Solana Beach area, including Solana Beach North, City Center, Solana Beach East, Montecillo/Rancho Del Mar, Fletcher Cove, Cedros Design District, Lomas Santa Fe Country Club, San Elijo Hills, and La Colonia de Eden Gardens.
We also provide landscape design in San Diego County, including Cardiff by the Sea, Bonita, Chula Vista, Del Mar, El Cajon, Encinitas, Escondido, La Jolla, Lakeside, La Mesa, Carlsbad, Poway, Rancho Santa Fe, San Marcos, Santee, Scripps Ranch, Oceanside, and Vista.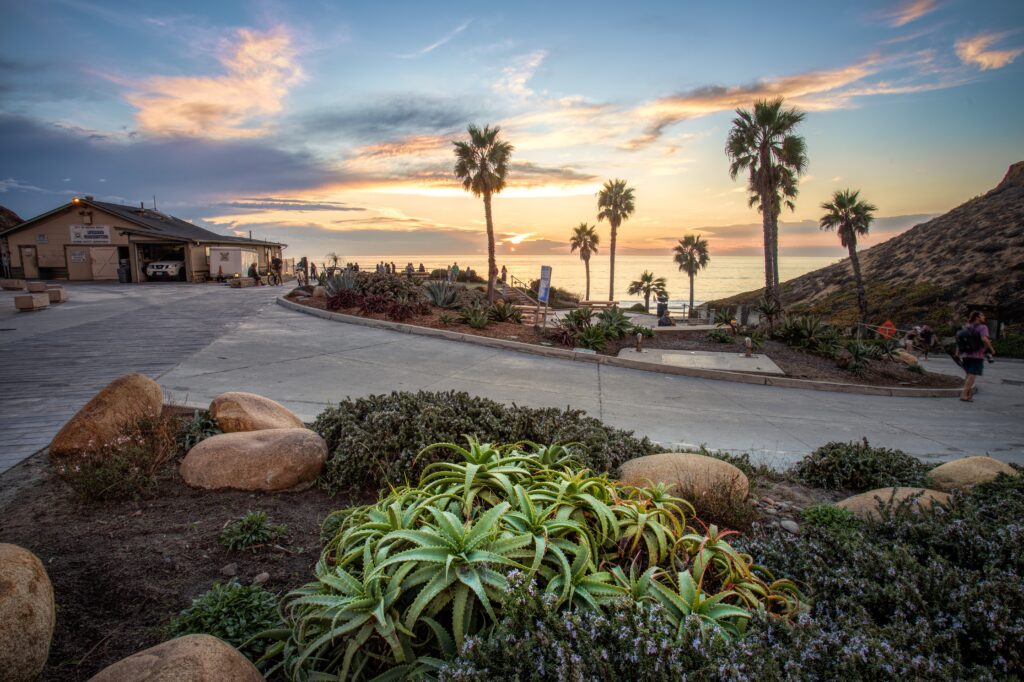 Landscape Design Options for Homeowners in Solana Beach
Our goal is for you to have beautiful, functional outdoor living areas that you can spend less time maintaining and more time enjoying. There is no reason to live in a gorgeous, seaside town like Solana Beach if it feels like you spend all your time mowing, weeding, and edging your lawn or trying to keep tropical plants alive and looking their best.
You should be spending that time surfing, hiking, playing golf, exploring the Cedros Avenue Farmers Market, and lounging in the sun on the warm sand. That is why you need us to create and install a low-maintenance landscape design that fits your lifestyle and allows you to enjoy more leisure time with your friends and family or pursuing your favorite hobbies.
We can help you decide if easy-care artificial turf is the best lawn option for you, determine the ideal outdoor kitchen design for your weekend cookouts, increase privacy, instantly improve curb appeal with a paver walkway, or figure out which type of fire feature is right for you.
Just as importantly, our design team will work closely with you to fully understand your needs, help you stay within budget, make sure your landscape design compliments your home's architectural style, and help you balance your backyard design dream with needed structural features, such as retaining walls or driveways.
What Services Does Install-It-Direct Provide?
Our high-quality landscape design services in Solana Beach include:
Where in Solana Beach Can I Get Inspiration for My Landscape Project?
For inspiration and getting a better idea of which plants thrive in this area, check out your favorite neighborhoods and make note of plants and hardscapes you like. If it would not be intrusive, you might also want to take photos to show your landscape designer to help them understand your vision.
If you are not finding exactly what you want in neighborhoods around town, you can find plenty of inspiration at the well-designed gardens on our list of the Top 5 Landscape Designs in San Diego.

Why Should I Hire a Solana Beach-based Landscape Designer?
Local Knowledge
No one is going to understand how the design and installation of your landscape project is affected by the local laws and regulations, climate, and geography of Solana Beach like a Solana Beach landscape designer will.
Coastal Influence Understanding.
Not every plant or landscape feature is appropriate for Solana Beach landscapes. Working with a local designer will help ensure that your project is a success with special consideration around the coastal influences common here, such as wind, salt spray, and fog.
Hillside and Canyon Experience
Hills, canyons, slopes, and otherwise uneven terrain are common in North County San Diego. This means that the best landscape contractor for your project is one who has the knowledge and skills required to create and install a design that takes these topographical considerations into account. This includes assisting you in choosing the best hardscapes for your outdoor living spaces and the best features for your commercial or residential landscape.
Access to Local Resources
Using local designers comes with the benefit of working with a team who is familiar with the local general contractor scene, knows local vendors, and has access to local resources that will help ensure the success of your landscape project.

Does Install-It-Direct Landscape with Plants, Succulents, or Gravel?
Yes! While we are widely known for our paver and artificial grass projects, we also work with homeow562ners to provide full design and installation services that often include native plants, drought-tolerant succulents, gravel, and other hardscapes and features.
What Landscape Design Styles are Common in Solana Beach?
Solana Beach landscape design often includes low-maintenance features and functional, higher-end outdoor living spaces where homeowners can both entertain and enjoy comfortable everyday living in homes that are oceanside or inland.
Does Install-It-Direct Design for Earthquakes, Wildfires, or Mudslides?
Yes! Our team of professional designers is accustomed to creating beautiful landscapes that address concerns that are common among California homeowners, such as mudslides, earthquakes, and wildfires. Your landscape designer will assist you in understanding the best options to address your concerns and help make your home and property better prepared for potential natural disasters in your area. This might include hardscapes that can better weather an earthquake or can create a defensible space around your home, fire-resistant plants, retaining walls, and erosion control.
What Does the Process of Hiring Install-It-Direct Entail?
Hiring us to help you with your garden design or outdoor living areas is easy. The first step is contacting us to receive your free estimate. After an on-site assessment, your designer will provide you with a 3D rendering, work with you to create your budget and timeline, and patiently and thoroughly answer any questions you have.
What Questions Should I Ask Install-It-Direct?
Before you begin working with any landscaping contractor, you should ask the following questions:
Are your contractors licensed, bonded, and insured?
Do you have worker's comp and general liability insurance?
Are you licensed with the Contractors State License Board (CSLB)?
Do you have the correct licenses for the type of services I am requesting?
How long have you been in business and providing the type of services I need?
Do you have a list of completed projects in the area that I can look at in person?

FAQ
How much does it cost to consult a landscape designer?
There are several factors that go into the cost of your project, including the size of the space, the features you plan to include, and the location of your home. To get a preliminary idea of price, visit our pricing page.
What is the difference between a landscaper and a landscape designer?
Landscape designers work closely with homeowners or commercial property owners and managers to understand their needs and concerns, and then create a design tailored to their budget and property. This includes a 3D rendering, working with you to perfect the design, and providing project management for the installation.
Landscapers may assist in installing some landscaping features, such as walkways, sod, or patios, but they most often are hired by homeowners to maintain landscaping with regularly scheduled services, such as pruning, weeding, mowing, and sometimes light tree services.
How much do landscapers charge per hour in Solana Beach?
Landscape maintenance services in Solana Beach generally cost about $25 to $50 per person per hour.
How much should I budget for a landscape project?
If you have a homeowner's association, be sure to check with them or review the rules to see if there is a minimum amount you are expected to pay for landscaping. In some cases, this will be a percentage of the value of your home. If there are no regulatory obligations, a common landscaping budget is about 10% of your home's value.
Reach out to Install-It-Direct for landscape design in Solana Beach
We are excited to work with you to turn your inspiration and ideas into your dream landscape design. With our outdoor lighting installation, outdoor living design, paver and artificial grass installation, water features, outdoor kitchens, and more, Install-It-Direct is ready to bring your dreams to fruition.
Contact us today at (858) 925-3000 or schedule a free estimate to learn more about our services and get a free estimate for your project.