Landscape Design in Poway, CA
With its easygoing, rustic atmosphere and family-oriented attractions, Poway, California, is known as "The City in the Country." This inland city is home to a wealth of small businesses and scenic recreational areas, including Blue Sky Ecological Reserve, Lake Poway, and Aubrey Park. Visitors from surrounding areas enjoy Old Poway Park, which boasts a museum, historic buildings, and unique points of interest, such as a Saturday farmers market and a heritage railroad.
Featuring hot summers and rainy winters, Poway's climate straddles the line between Mediterranean and semi-arid. In terms of residential landscape design in Poway the region's mixed climate can occasionally lead to challenges. Drought-resistant ground cover that can handle intense heat and minimal water usage is ideal in this part of San Diego County.
Due to the area's occasional winter storms, proper drainage solutions are necessary to prevent yard flooding or slope erosion during wet months. Residents can make the most of their picturesque surroundings year-round with outdoor spaces featuring hardscapes like pergolas or covered patios, providing protection from both harsh sun rays and inclement weather conditions.
Let Professionals Design Your Landscape in Poway
Remodeling a garden space, backyard, or front yard can be an exciting endeavor for homeowners. However, landscape design is not simply about creating a visually pleasing outdoor area—there's also the cost of landscaping to consider, which can be substantial based on the scope of the project. A well-designed landscape requires a substantial investment in materials, labor, and maintenance to ensure its longevity and functionality.
In addition, the existing architecture and layout of a home could affect how certain landscaping projects affect a property's curb appeal. For instance, do you have an asymmetrical house with sharp angles that could be softened by adding flowing lines of shrubs? Or maybe your home has a classic colonial look that wouldn't benefit from contemporary hardscaping. This is why it's essential to take into account the style of the house itself, as well as any existing outdoor spaces like patios or decks before implementing any design ideas.
Likewise, lifestyle plays a crucial role in landscape design decisions as well. For example, will you need space for kids or pets to play? Do you want areas for relaxation or entertaining guests? Figuring out the answers to these questions lets you manage expectations and make constructive choices in your landscape design. After all, owning an impressive outdoor living space means little if it doesn't serve its intended purpose or add value to your life.
With that in mind, when it comes to landscape design in Poway, there's no substitute for experience. Partnering with experienced and reputable landscaping professionals like Install-It-Direct can give you peace of mind that you'll end up with high-quality results every time, no matter if you're updating paver patterns on your outdated walkway or putting up privacy hedges.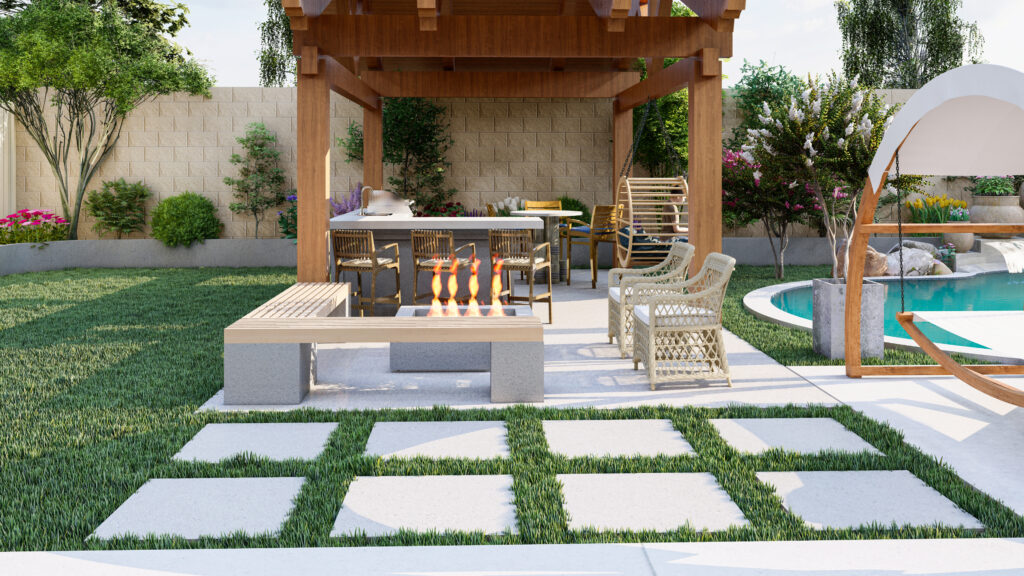 What Services Does Install-It-Direct Provide?
Whether you want a stylish garden space with water features, such as a fountain or pond, or an old-world courtyard with a wood pergola and stone retaining walls, Install-It-Direct has the tools and skills to bring your vision to life. Here are some of the services the team provides:
Dedicated to safety and quality workmanship, the company's landscape contractors are not only fully insured but licensed and bonded as well. Install-It-Direct is the trusted landscaping company of choice for not only Poway residents but surrounding areas and cities in San Diego County like San Marcos, Vista, Escondido, Carlsbad, La Jolla, Del Mar, Encinitas, La Mesa, Rancho Santa Fe, and Solana Beach.
Why Should I Hire a Landscape Designer in Poway, CA?
From selecting drought-tolerant plants that flourish in Poway's climate to designing walkways and patios with proper drainage systems, a professional landscape designer is intentional with every detail. They work closely with clients to understand their unique preferences and develop a personalized plan that fits within their budget range. And thanks to their extensive local network and knowledge, landscape designers are efficient and resourceful.
Local Knowledge
When remodeling your landscape design in Poway contracting punctual landscape architects or designers with years of experience can make all the difference. These experts understand the importance of following the city's regulations when designing outdoor spaces, ensuring that every element is not only beautiful but also compliant with local laws.
With their expertise, landscape designers can carefully select drought-resistant plants that have adapted to the area's climate, as well as design hardscapes that reduce water usage and allow for natural drainage. The result is an exceptional outdoor space that thrives in all seasons.
Coastal Influence Understanding
The city is situated less than 15 miles from the closest beach, which means that strong winds, salty air, and occasional marine layer conditions could affect residences in the area. Fortunately, seasoned landscape designers are well aware of this, leveraging their knowledge to choose enduring materials for their designs.
These professionals use plants and hardscaping materials that can withstand exposure to salt spray and strong winds without becoming damaged or deteriorating quickly. Due to this strategic approach to landscape design in Poway residents can enjoy comfortable outdoor living spaces despite the challenging coastal climate conditions.

Hillside and Canyon Experience
Working on slopes and uneven terrain requires specialized knowledge and skills that not every designer possesses. Hillsides and canyons can pose unique challenges, such as drainage issues or erosion risks, that need to be addressed during the planning phase of a landscaping project.
A qualified landscape designer who has worked in these types of environments can create functional paths, retaining walls, and other features that complement the area's natural beauty while minimizing any potential negative impacts on the environment.
Access to Local Resources
One of the primary advantages of working with a professional landscape designer is that they often have exclusive access to some of the best resources in the area. These professionals have built solid relationships with reputable businesses, from local nurseries to manufacturers. This allows them to have priority over the general public when sourcing premium hardscaping materials and healthy plants.
What Landscape Design Styles Are Common in Poway?
Mediterranean-style gardens thrive in Poway's warm summer weather with their drought-resistant perennial flowers and shrubs. Landscape design in Poway also tends to incorporate desert-style garden features like water-efficient plants, which include succulents and cacti. This choice of vegetation not only adds color and texture to a garden design but also requires less maintenance and irrigation than traditional lawns.
In general, many residents prefer low-maintenance landscapes with native plants that flourish with minimal intervention or upkeep. Some may additionally opt for eco-friendly design ideas that use drought-tolerant landscaping techniques like xeriscaping—conserving water through thoughtful plant selection tailored to a specific region's soil type.
What Does the Process of Hiring Install-It-Direct Entail?
Kicking off your landscaping project with Install-It-Direct is easy and straightforward. Simply fill out an estimate form detailing your unique requirements. Next comes scheduling—a team member will set up an appointment for a landscape designer and project manager to conduct a complimentary in-home assessment. After an on-site analysis of your home, the project manager will propose a design plan. When you have reviewed and approved the design, Install-It-Direct will commence landscape construction.
FAQ
How much does it cost to consult a landscape architect?
Pricing structures often differ among landscape architects, with some charging an hourly fee and others a fixed rate. Plus, a landscape architect's fees may vary based on the type of design services required and your project's parameters. Within the San Diego area, the hourly rate for a landscape architect ranges from roughly $44 to $62 on average.
What is the difference between a landscaper and a landscape designer?
Responsible for constructing and maintaining landscapes with physical labor, a landscaper's duties may include installing sod, mowing lawns, trimming hedges, repairing irrigation systems like sprinklers, and debris cleanup. These professionals work diligently to ensure that landscapes look neat and visually appealing throughout the year.
On the other hand, a landscape designer's role involves working closely with clients to understand their preferences, requirements, and budget constraints for a project. Using design thinking, they can create a customized plan that incorporates technical knowledge of environmental factors like soil composition, drainage patterns, stormwater management practices, as well as artistic insights about aesthetics and spatial arrangement.

How much do landscapers charge per hour in Poway?
Generally speaking, professional landscapers may charge an hourly rate that ranges from $50 on the lower end to $100 for more complex projects. The final cost will depend on several variables, including the landscaper's years of experience and expertise, as well as the services being requested.
How much should I budget for a landscape project?
The amount you should set aside for your project depends on the size of your outdoor space and the complexity of the design you have in mind. Adding specific plants, trees, or hardscapes like fire pits or outdoor kitchens can significantly increase costs.
When you partner with a reputable company specializing in landscape design in Poway such as Install-It-Direct, you can get accurate pricing estimates to proceed confidently. These landscaping service providers will work with you every step of the way, from initial consultation to final design and construction.
Reach Out to Install-It-Direct for Landscape Design in Poway, CA
With more than 20 years of experience in the landscaping industry, Install-It-Direct's commitment to excellence is unmatched. The team understands that each residential landscaping project is unique, requiring a thoughtful, personalized touch to bring out its full potential.
Between sourcing high-quality materials and efficiently installing hardscapes like retaining walls or water features, Install-It-Direct works tirelessly to ensure every detail is right. So whether you aim to enhance your front yard with modern landscape lighting or install artificial turf for a low-maintenance lawn that looks pristine year-round, the pros at Install-It-Direct have you covered.
Book your free consultation today.