Paver Patterns and Design Ideas for Your Patio
Are you in the market for a new paver patio and not quite sure what to do as far as the paver pattern, design, color? If this is you or someone you know, then we are here to help!
Before we get into the patio paver design ideas, it is important to run through the stone selection. Pavers come in various combinations of colors, styles, sizes, thicknesses, patterns, and textures. It's no wonder that the process of deciding on the exact stone might pose of few challenges.
Identify the Area That You Are Going to Be Working With
You can think of this area as the canvas that you will be painting on or the foundation that you will be building on. You can determine the area with landscape marking paint, landscape marking flags, 100 ft of measuring tape (best if it is the tape that comes in a reel), or even a garden hose will do. Having a visual of the space prior to selecting the stone, will help choose the appropriate stones for your patio.
Paver Texture Options
There are a variety of textures, which include non-tumbled (smooth), tumbled (weathered), embossed (contains dimples on the surface), tumbled & embossed, slate, and flagstone.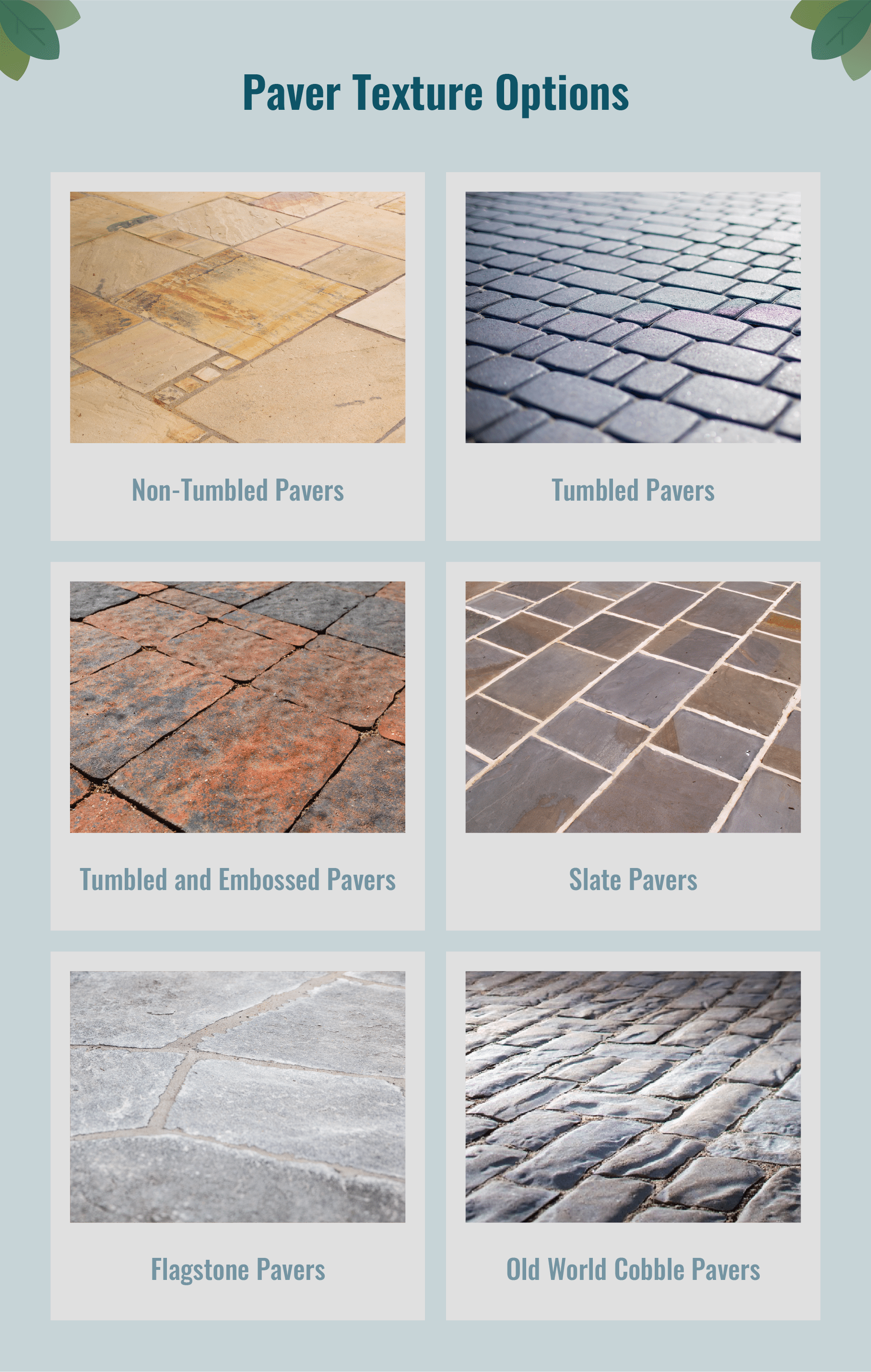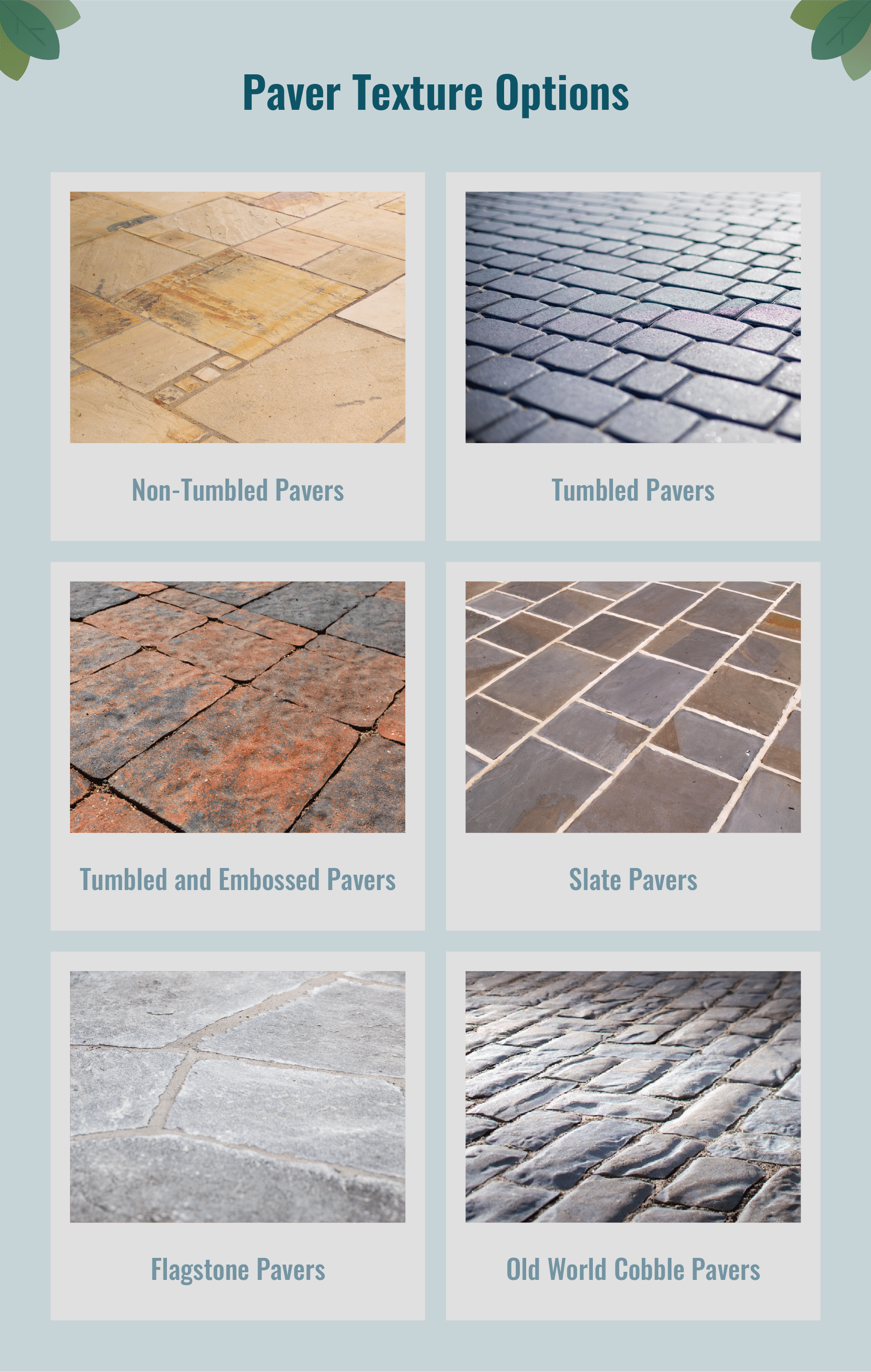 Color
The color of the pavestones is important to think of to accent the rest of the features of your outdoor living space and home. The most popular colors are the earth-tones which come in the following colors:
Sandstone,
Cream and Brown
Tan, Buff, and Brown
Grey and Charcoal
Limestone
Terracotta, Cream, and Brown
Grey, Moss, and Charcoal
Pull Color From Roof
If you want your pavers to complement your house, a good rule of thumb is to pull in the roof color and trim color to provide a nice accent.You can do this by making all of your pavers the same color, or by using it as more of a pop of color here and there.


If you are interested in making a statement, then you will want to go with a dominant color that will draw immediate attention. This can be accomplished with a contrasting color palette and/or bold solids.
Style
Paving stones can come in a variety of styles which include:
Brick
Tile
Antique Cobble
Weathered Stone
Old World Cobblestone
Slate
Flagstone
There are others, including special order molds, however, this list includes the most popular styles that are currently being installed on a regular basis.
So you have picked out the texture, style, as well as the style of pavestone. The next thing to consider is the laying pattern.
Laying Pattern
As we have seen in the previous steps, there are an overwhelming number of paving patterns that you can select. However, we will focus on the most popular for this guide. The paver patterns that are requested the most are:
Random "I"
Runner
Herringbone
Ashlar




You can think of everything thus far as selecting our canvas/paint in which we are going to construct our masterpiece… or that we have selected the area we want to build our house and poured the foundation.
Now is the time to get your Creative Juices Flowing…
We are going to go over ways to create unique laying patterns, or to continue with the analogy, to start the construction of our custom home. Let's get right into the Top 5 Paver Design Ideas for your Patio:
Paver Patio Design Idea #1 – Angles
45 Degree Laying Pattern
Angle of the field (think of the "field" as everything inside the border or perimeter). There are two different laying angles in which to lay the pavers. You can go with a 90 degree angle or a 45 degree angle off of any point you choose.
Most installs take the angle off of the point of entry of their backyard patio. You can also utilize both laying patterns in the same project.
For example, you could have your main patio area installed at a 90 degree angle, and then your raised patio area with your fire pit can be installed at a 45 degree angle. This simple idea, can really add a lot of value to your project.
Paver Patio Design Idea #2 – Pattern Inserts
Circle Paving Pattern
In terms of pattern inserts, the most popular insert is a circle kit or circle design that is inserted into the field. The other popular insert is to insert a different laying pattern into the design to draw attention or accent to another area. For instance, if you insert a different laying pattern where the patio table and chairs are going to be, or a different design inserted around the BBQ Island, Fire-Pit or Outdoor Fireplace.
Paver Patio Design Idea #3 – Borders and Banding/Ribboning
Paver Banding
You can go with no borders which we see a lot with the flagstone paver installation (by Old Castle Belgard), or most often we see the use of single, double and triple borders as well as banding used.
Depending on how large the area is, borders can add a significant accent to the project. There are various ways to lay the paver borders and the most common are Soldier, Runner or Random.
Paver Patio Design Idea #4 – Accent Colors
Accent Colors
Mixing and matching colors to accent the project can really add a nice finishing touch to the installation.
For example, if the majority of the colors in your patio are cream/brown/charcoal and then you accented the borders with a solid charcoal or even a blended charcoal, this would provide a frame for the project.
If you are interested in a more free flowing feel, then you will not want to use solid colors in the borders, and instead, you will want to maintain a consistent color scheme with both your main field and border colors.
Paver Patio Design Idea #5 – Textures
Different Textures
The most often seen texture design element is to insert a different texture into the border or to insert a completely different texture design element into the pattern.
For instance, if your main laying pattern consists of tumbled pavers, we often see a double border used, where the outside border stone in consistent with the field in that it is also tumbled, however, the inside border stone is a different color and the texture is changed to non-tumbled.
Changing the textures within a project can add a lot of depth and really set your project apart from the vanilla installations.
Paver Perfection
Our paver professionals will design and build the patio, pathway, or driveway you've always dreamed of.
View Services
The Bottom Line
Since there are so many different options to choose from, take your time with this process and have some fun. The last thing you want to do is to make a hasty decision and then regret your selection later.
If you are having a difficult time with this process, solicit the assistance of a professional designer who has been in the industry for many years.
Hope you have fun with the process and remember to come back to share your designs, ideas, and questions!
If you are interested in working with a professional installation business in San Diego, CA, we can help. We provide the best paver installation services in the city and can work with you to create your dream patio. Start now by filling out the form for a free estimate below, or contacting us!