Turfstone Pavers Guide: Driveway + Patio {PRO Tips}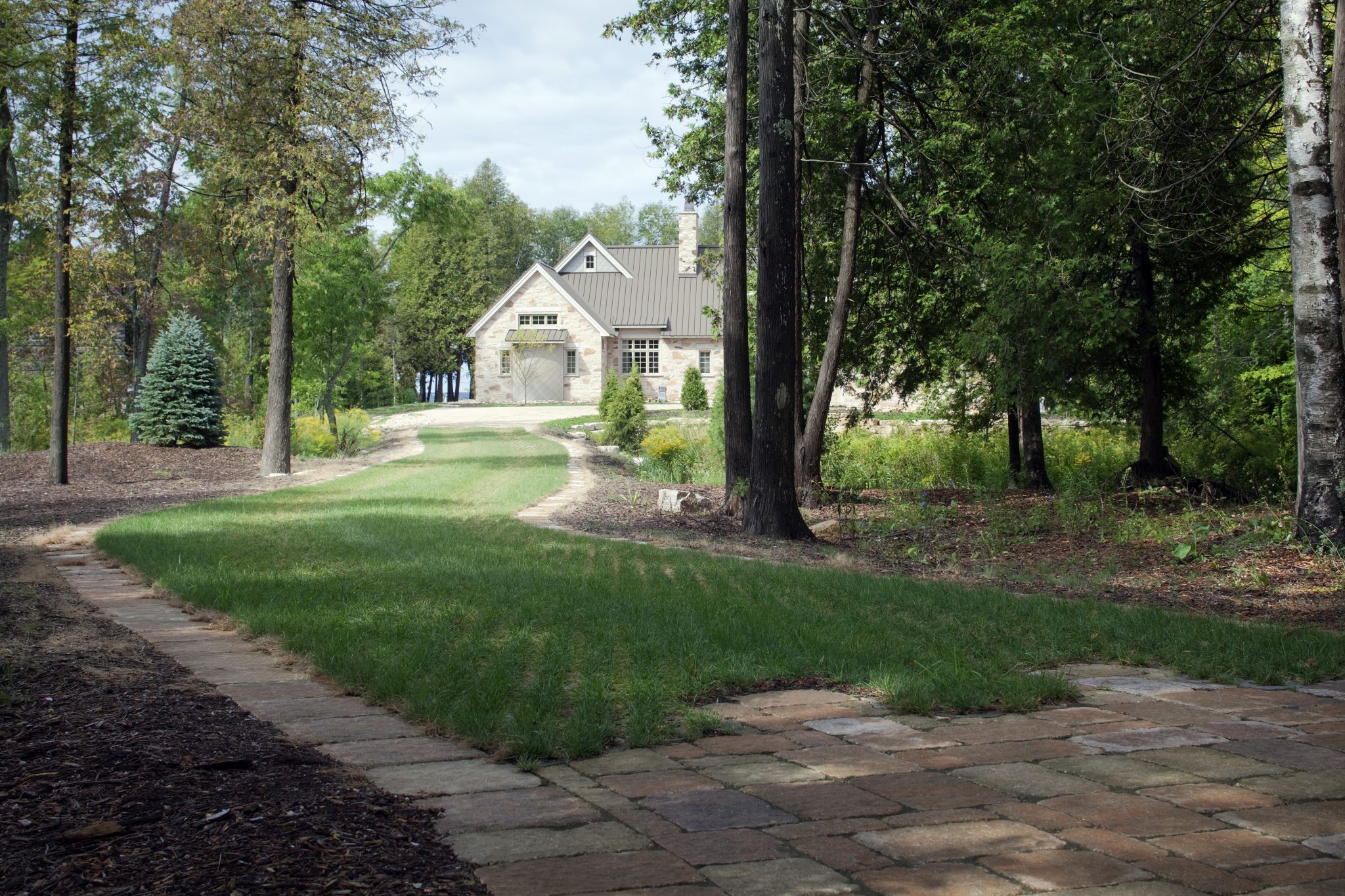 Pavers: An Eco-Friendly Choice
The overall movement towards low-maintenance, low-water landscaping has led an increasing number of homeowners to expand their hardscapes with paving stone patios and driveways and replace their natural grass lawns with artificial grass.
Permeable Pavers
Along with the growing popularity of paving stones and driveway pavers as an attractive, water-conserving hardscape option, permeable pavers, in particular, are increasing in popularity among eco-conscious commercial and residential landscape designers for their ability to reduce runoff and filter rainwater as it percolates through the pavers into the soil.
This is an eco-friendlier option that is particularly well suited for drought-prone areas that can benefit from filtered rainwater recharging our groundwater as opposed to running off into storm drains.
In the past, most commercial enterprises removed vegetation in order to put in asphalt parking lots, concrete walkways or paved lanes for emergency vehicles. This increased storm water run-off, increased pollutants in the runoff and took away from the visual appeal of the property.
With improved availability and awareness of permeable pavers as an alternative to expansive, unsightly asphalt or concrete parking areas and walkways, owners of commercial properties now have an option that allows them to improve the function of their properties in a more environmentally responsible manner. Permeable pavers have, historically, been primarily used for commercial and municipal applications; however, many homeowners are now choosing to incorporate them into their landscape design in an effort to create attractive, functional, eco-friendlier hardscapes.
Most homeowners have never heard of Turfstone, but you have probably seen this type of permeable paver many times being used in both commercial and residential applications.
Turfstone pavers are a particular type of permeable pavers that provides an even better option for those who need stable, durable, load-bearing surfaces but want to accomplish this without destroying green spaces and replacing them with seas of concrete.
What Are Turfstone Pavers?
Turfstone permeable grid pavers are also called grass pavers, grass pavement or turf pavers and are an attractive option that allows owners of commercial or residential properties to balance their need for load-bearing surfaces with their desire for attractive landscaping.
This type of permeable paver is more often used in commercial and municipal applications or for erosion control and is often overlooked when it comes to residential landscape design. However, there is a growing trend towards permeable pavers as a more environmentally responsible option for many applications, and the use of Turfstone paving stones is on the rise among homeowners.
Belgard Hardscapes, a premier producer of a variety of paving stone products, is one of our suppliers that offers Turfstone, and they have this to say about this increasingly popular permeable paver option:
The unique design of Turfstone™ allows rainwater to be gradually filtered back into the soil naturally, resulting in the control and stabilization of soil erosion. Its eco-friendly design reduces run-off and allows greenery to grow right through it, creating a highly unique hardscape design that works in harmony with nature." – Balgard Pavers
Turfstone differs from other permeable paving stone options because of its distinctive, lattice-like design that results in a grid pattern upon installation. The empty spaces that make up 40% of the lattice-like design of these machine-made pavers can be filled with soil and planted with grass, moss or other groundcover options. When used on boat ramps, to control storm water runoff or to control erosion, these open spaces also may be filled with gravel or varieties of stone.
For residential purposes (and in many commercial and municipal applications) Turfstone is an ideal choice for those who want to enjoy the visual and tactile appeal of living vegetation but need a stabilized, load-bearing surface for parking or pedestrian traffic. It is an option that is attractive, more environmentally responsible than most alternatives, and allows you to create an environment that is softer and more welcoming.
Essentially, Turfstone allows you to enjoy the look of a lawn while creating an area that is structurally capable of being used for RV parking, guest parking or sturdy walkways through your garden.


Uses for Turfstone Pavers
Grass pavers can be used in a variety of applications for commercial, residential, municipal or recreational properties.
Because these versatile paving stones stabilize soil and control erosion, they can provide an attractive option for landscaping slopes, embankments or swales.
This is how they are often used, but they also provide a visually appealing choice for applications where erosion is not an issue.
Here are just 15 of the many ways Turfstone can be used in residential and commercial applications:
1. Control erosion on slopes, ditches, embankments or swales
2. Overflow parking areas and guest parking areas
3. Residential driveways
4. Attractive access roads on large, residential properties
5. Stabilize soil around ponds
6. Boat parking areas and boat launch ramps
7. RV parking areas
8. Attractive, sturdy emergency vehicle access roads
9. Stabilize soil and allow green spaces for road shoulders and medians
10. Maintenance roads on farms and ranches
11. Living sidewalks
12. Attractive swimming pool decks
13. Walking, bicycling and horseback riding trails
14. Along the sides of solid stone driveways to widen driving and parking areas
15. Pathways through gardens or greenhouses
Using Turfstone permeable grid pavers in combination with solid paving stones provides even more versatility.
For example, this combination can provide an attractive solution for walkways that need to serve pedestrian traffic and wheeled mobility devices, such as wheelchairs or scooters.
Another example would be using permeable grid pavers on either side of a solid paving stone driveway to help ensure guests do not damage your lawn if they miss the edge of your driveway.
Why Choose Turfstone Pavers?
This type of permeable paver is an ideal choice for areas with pedestrian traffic, bicycle traffic or some vehicle traffic.
Anywhere you want to have grass or a green space but need a surface with the structural strength to handle RVs, boats, golf carts or guest parking is a good spot to consider using Turfstone to meet both requirements.
Turfstone allows you to have RV parking that does not look like a big, concrete slab or access for maintenance vehicles without destroying green areas in your landscaping.
They can soften the overall look of your property and bring a different texture into your landscape design to make it more visually intriguing.
Turfstone is also a great transitional material to use between hardscapes and living landscapes.
Imagine a sturdy, load-bearing road or guest parking area that completely blends into the scenery and takes nothing away from the surrounding grass or living groundcover.
That is exactly the combination of function and visual appeal you can achieve with permeable grid pavers.
Of course, there are also several environmental benefits that are reason enough to consider using Turfstone in your landscape design, including:
Reducing storm water runoff
Filtering storm water to reduce the transportation of pollutants
Recharging ground water with rain water that percolates through the pavers
Reducing urban heat island effect
Stabilizing soil to control erosion
If you would like to learn more about Turfstone and how you can incorporate it into your commercial or residential landscape design, contact us today to speak with one of our paving stone installation professionals.