Paver Cleaning and Sealing Services in San Diego
Are your pavers in need of a little TLC? Our paver cleaning and sealing services are perfect for homeowners and businesses looking to restore patio, deck, walkway, and driveway pavers to their original beauty.
Proudly Serving San Diego County
Our team is extensively trained and fully licensed to care for, clean and seal pavers in San Diego. Even better, our cleaning and sealing services are available to you whether we installed your pavers or not! Professionally restoring your patio, walkways or driveway is a great way to instantly improve the look and value of your home.
Schedule Paver Service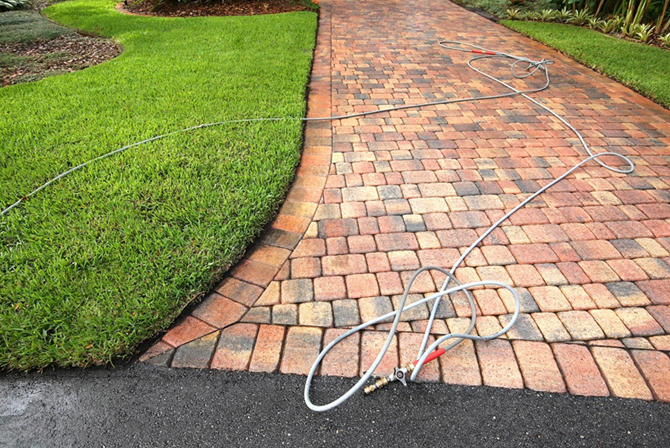 Protect your
pavers against:
Mold stains
Weather stains
Potted plant stains
Food and wine stains
Rust stains
Grease stains
Our Paver Clean and Seal services include:
Pressure washing treatment
Spot cleaning
Re-sanding
Protective sealant application
Protect Your Pavers with Sealant
Pavers enhance the beauty and value of any home or property. Without sealant, your pavers' pores are susceptible to dirt and other staining substances. It's easy to protect your pavers against harsh weather, unsightly mold and other stains with our convenient clean and seal services. Simply schedule an appointment today to restore and preserve the beauty of your pavers!
Environmentally Safe
Install-It-Direct is committed to offering eco-friendly services and solutions to our customers in San Diego County. That's why our pavers clean and seal services are non-toxic, pet-safe and plant-safe.
Schedule Paver Cleaning and Sealing Today!
We're proud to offer paver cleaning and sealing as part of our landscape design services in San Diego. Improve your home's curb appeal and protect your pavers for years to come by scheduling a paver service today!
Schedule Paver Service