Landscape Design in Scripps Ranch, CA
Install-It-Direct works with Scripps Ranch homeowners to enhance curb appeal with attractive front yard landscaping, improve patios with an outdoor kitchen remodel, or create functional, low-maintenance outdoor spaces with pavers, artificial turf, outdoor lighting, and features to fit their upscale, active lifestyles.
Scripps Ranch is known for beautiful parks, well-landscaped neighborhoods, and offering an upscale lifestyle with a country feel minutes from shops, restaurants, and services. The Miramar Reservoir offers hiking, boating, and other outdoor recreation opportunities, while the adjacent Sycamore Canyon Park and Mission Trails Open Space offer expanded options.
Between these offerings and nearby beaches and mountains, Scripps Ranch residents have plenty to do aside from caring for their properties. This means that homeowners here need low-maintenance outdoor living spaces that are always ready for friends gathering around the fire pit or extended families coming together for weekend cookouts without having to take time out of their busy lifestyles to prepare for entertaining.
The Install-It-Direct team is ready to help you meet these goals as a local landscape contractor with years of experience serving the Scripps Ranch area.
What Locations Does Install-It-Direct Serve?
Install-It-Direct offers landscape design services throughout the Scripps Ranch area, including Scripps Miramar Ranch, Scripps Ranch Village, Stonebridge Estates, The Reserve, and Miramar Ranch North.
We also provide landscaping services in San Diego County, including Cardiff by the Sea, Bonita, Encinitas, Del Mar, Chula Vista, Rancho Santa Fe, Escondido, La Jolla, Lakeside, La Mesa, Carlsbad, Poway, Solana Beach, San Marcos, Santee, El Cajon, Oceanside, and Vista.
Let professionals design your landscape in Scripps Ranch
Once you have an idea of how you want your yards to look or how you want to expand your outdoor living space, it is time to start working with a professional who can guide you through all the things there are to consider with a landscape remodel or designing a new landscape. For example, a landscape designer can help come up with a plan that is consistent with your budget and timeline,  your family's lifestyle, your property's terrain and unique features, how much space you have with which to work, the architectural style of your home, and any relevant safety considerations.
Taking all these factors into account makes it possible to choose the best options for your outdoor living spaces from water features and outdoor lighting fixtures to artificial turf lawns and outdoor kitchens.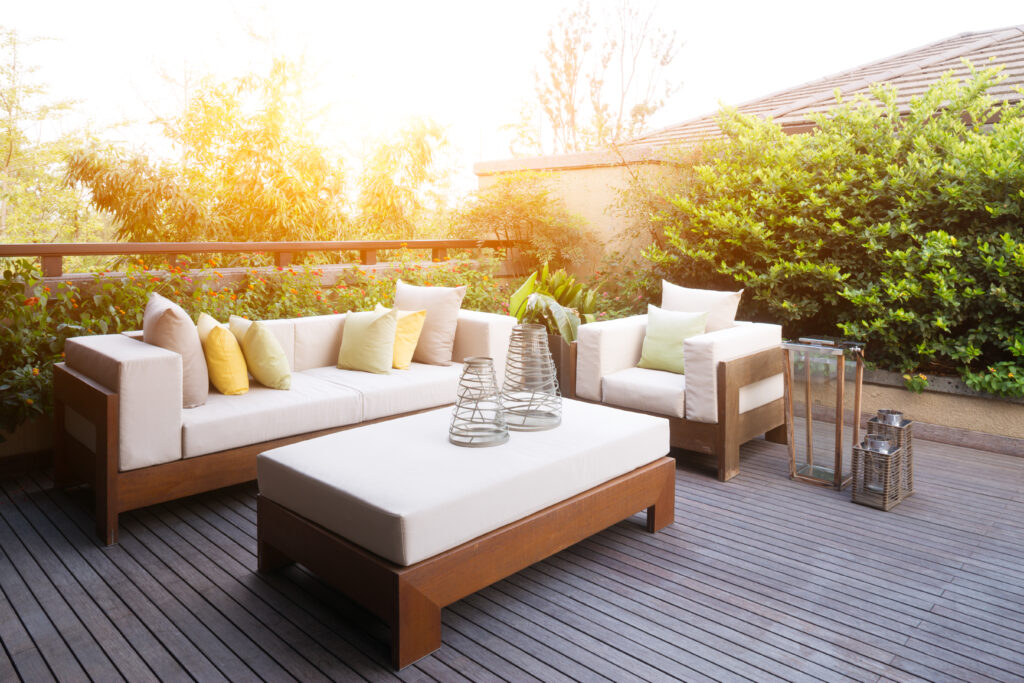 What Services Does Install-It-Direct Provide?
Our Scripps Ranch landscape design services include:
• Landscape Design
• Outdoor Living Design
• Artificial Grass Installation, Maintenance, and Repair
• Paver Installation, Cleaning, and Sealing
• Retaining Walls
• Outdoor and Landscape Lighting
• BBQ Islands and Outdoor Kitchens
• Fire Pits and Outdoor Fireplaces
• Pergolas
• Water Features
Where in Scripps Ranch Can I Get Inspiration for My Landscape Project?
You may find great inspiration for garden design and outdoor paver ideas just from driving around your neighborhood or neighborhoods near you. If you are not finding quite enough design ideas close to home, check out our Top 5 Landscape Designs in San Diego for more inspiration.
Why Should I Hire a Scripps Ranch-based Landscape Designer?
Local Knowledge
Scripps Ranch landscape designers are accustomed to creating functional, attractive, low-maintenance landscapes in the Scripps Ranch area. This means they are the best choice for designing gardens and outdoor living areas that include the features and materials that work best here. This includes understanding local regulations that might affect your project.
Coastal Influence Understanding
Coastal and near-coastal communities in California require a special understanding of designing landscapes to withstand fog, wind, and salt spray. Install-It-Direct has years of experience working with these coastal influences.
Hillside and Canyon Experience
The varied geography of Scripps Ranch includes slopes, hills, valleys, and other uneven terrain. Hiring a Scripps Ranch-based landscaping contractor ensures that your designer and the installation crew have knowledge of and experience in working with the local terrain. Your designer will be familiar with retaining walls, hardscapes, and erosion control fitting the needs of your home.
Access to Local Resources
Another benefit of choosing a local landscaping company is that local contractors are familiar with local resources, such as vendors and other contractors.
Does Install-It-Direct Landscape with Plants, Succulents, or Gravel?
Yes, our high-quality design and installation services team works with a variety of drought tolerant options that include gravel, succulents, native plants, artificial turf, and pavers.
What Landscape Design Styles Are Common in Scripps Ranch?
Scripps Ranch landscape design centers on low-maintenance, drought tolerant garden design that emphasizes curb appeal and upscale outdoor living. This often includes paving stone patios, fire pits, water features, artificial turf, and landscape lighting.

Does Install-It-Direct Design for Earthquakes, Wildfires, or Mudslides?
Those of us who call California home know that earthquakes, wildfires, and mudslides are real threats in some areas. Much of San Diego County is at risk for at least one of these natural disasters, which means they must be considered when designing landscape construction for this area.
Our team can help you determine how best to reduce the risk of damage to your property. If wildfire is your greatest concern, this might include creating a defensible space around your home and other buildings and designing a landscape that focuses on fire-resistant plants. If mudslides are a threat, we will discuss your options for retaining walls and erosion control. We can also discuss hardscape options that can better withstand an earthquake, such as artificial turf and paving stones.
What Does the Process of Hiring Install-It-Direct Entail?
The simple process of hiring our team to help with your landscape design starts with contacting us for a free estimate. We will then schedule an on-site assessment, provide you with a 3D rendering, discuss your budget and timeline with you, and take time to answer any questions you have.
What Questions Should I Ask Install-It-Direct?
Before you begin working with any landscaping contractor, you should ask the following questions:
Are your contractors licensed, bonded, and insured?
Do you have worker's comp and general liability insurance?
Are you licensed with the Contractors State License Board (CSLB)?
Do you have the correct licenses for the type of services I am requesting?
How long have you been in business and providing the type of services I need?
Do you have a list of completed projects in the area that I can look at in person?
FAQ
How much does it cost to consult a landscape designer?
The cost of working with a landscape designer depends on the size of your project, where you live, and what you want to include in the design. Look for a designer who offers free consultations in order to get an idea of the price before committing to working with someone. If you would like to get an idea of how much our design services will cost for your project, visit our pricing page, or call us for a free estimate.
What is the difference between a landscaper and a landscape designer?
Landscape designers offer professional design services to homeowners remodeling their current outdoor living areas or creating an initial design plan for their property. They will take your design ideas, talk about your needs and wants, and then design a landscape that fits your needs, timeline, and budget. They will then provide you with a 3D rendering of the design and will then manage the installation process.
Landscapers are generally hired after this process to maintain the landscaping. Sometimes a landscaping company will provide some construction services, such as installing walkways or sod, but most often they provide general maintenance, including irrigation repair, mowing and other lawn care, pruning, property cleanup, and light tree services.
How much do landscapers charge per hour in Scripps Ranch?
Scripps Ranch landscape maintenance generally costs between $25 and $50 per person per hour.
How much should I budget for a landscape project?
The first consideration when determining your landscape budget is whether or not you have a homeowner's association. If you do, check to see if the association determines how much residents are required to spend on landscape construction and design. This is most often a percentage of the value of your home. If you do not live under the regulations of a homeowner's association, a general rule of thumb is to budget approximately 10% of the value of your home for your landscape architecture.

Reach out to Install-It-Direct for landscape design in Scripps Ranch
Install-It-Direct is here to help you create a functional, beautiful landscape design to achieve the outdoor living spaces of your dreams. Our team will help you every step of the way from the design process to overseeing landscape construction. If you are ready to remodel your existing landscaping or come up with an entirely new garden design, we are ready to help.
To learn more about our services or get started with a free estimate, contact us at (858) 925-3000 or [email protected].