Landscape Design in Escondido, CA
Situated about 18 miles from the coast, Escondido, California, is one of the most historic cities in San Diego County. Originally settled by the Indigenous, the area would go on to become an agricultural powerhouse in the 20th century with local farmers cultivating grapes, avocados, and groves of citrus trees. In the present day, Escondido landscaping still retains a small part of its farming past thanks to vineyards and fruit orchards that flourish on account of the region's combination of semi-arid and hot-summer Mediterranean climates.
Likewise, life in this part of North County boasts a laid-back, pastoral charm. A popular spot for fishing, camping, and picnics, Dixon Lake draws locals and residents alike to its reservoir, which is home to sizable largemouth bass and other types of fish like bluegill, catfish, and trout. The oldest park in the city, Grape Day Park is a historic community hub named for the Grape Day Harvest, an annual tradition that lasted from 1908 until 1950. In modern times, the yearly event continues on as the Grape Day Festival, a family-friendly celebration that pays homage to the city's agricultural past.
Due to the area's sweltering summers and rainy winters, the landscape design in Escondido largely involves softscapes that require limited landscape maintenance, such as drought-resistant plants and native vegetation that can tolerate the dry seasons. Likewise, permeable hardscaping materials like gravel lend a desert-inspired aesthetic and potentially reduce water usage. These thoughtful design choices not only enhance the beauty of Escondido's landscapes, but also contribute to the preservation of its precious natural resources.
What Locations Does Install-It-Direct Serve?
Locally owned landscape company Install-It-Direct takes pride in creating and maintaining attractive outdoor living spaces for Escondido homeowners in neighborhoods like Cloverdale, East Canyon, Central Escondido, Kit Carson, and East Valley. In addition, from inland communities to waterfront towns, the team provides landscaping services to cities throughout San Diego County, such as San Marcos, Encinitas, Carlsbad, Solana Beach, Oceanside, Rancho Santa Fe, and Poway.
Building Your Dream Landscape
At its core, landscape design in Escondido is about creating pleasant outdoor spaces that you'll use and enjoy for years to come. The process begins when you consider essential factors like which landscaping construction services you can reasonably afford, as well as your unique lifestyle and home's architecture.
The cost of your landscaping project ultimately depends on the materials, plants, and features you choose. Do you want a simple easy-care succulent garden or an elaborate backyard with interlocking pavers and water features like a koi pond or splash pad? Stay within your means by creating a budget and list of priorities.
Also, think about how you use your outdoor spaces. For example, if you have kids or pets, sturdy, low-maintenance plants and no-mow lawns like artificial turf could save time and financial resources in the long run. On the other hand, for an outdoor entertaining space, features like fire pits, outdoor kitchens, and pergola-covered patios are unmatched.
Ideally, your landscape design should complement the architectural details of your home. After all, a thoughtful, well-designed outdoor space can transform how you live and entertain. Take the time to consider what really matters to you, then work with a locally owned full-service landscape design company like Install-It-Direct to develop a plan tailored to your needs, budget, and personal style.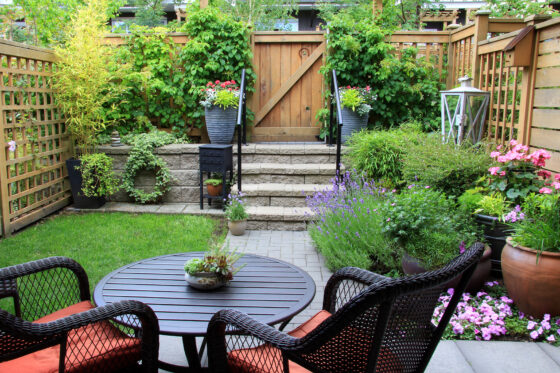 What Services Does Install-It-Direct Provide?
At Install-It-Direct, we are dedicated to turning your outdoor areas into something truly special with a comprehensive range of landscaping services, such as:
Our talented landscape architects and designers can accentuate focal points, frame scenic vistas, and determine the optimal layout for both entertaining and private outdoor spaces. At the end of the day, professional landscape design services can be well worth the investment.
Where in Escondido Can I Get Inspiration for My Landscape Project?
Start with our roundup of the top spots in San Diego to see stunning landscape designs. For further design inspiration, check out our local customer testimonials, which feature a wealth of pictures and videos of our completed projects.
Why Should I Hire an Escondido-based Landscape Designer?
With its hot, dry summers and cool, rainy winters, the city has characteristics of both semi-arid and Mediterranean climates, requiring specialized hardscaping and softscaping knowledge. Landscape designers from other regions simply won't have the same expertise and technical know-how as local professionals when dealing with Escondido's distinct environment.
Local knowledge
Landscaping specialists based in the area have familiarity with which plant species are likely to thrive with minimal water and maintenance. This comes with years of experience working with drought-tolerant succulents, California natives, and similar vegetation.
Coastal influence understanding
The majority of Escondido residential landscapes face unique coastal conditions like saltwater exposure and strong gusts of winds that carry loose sand. Fortunately, the best landscape designers are well-aware of these factors, selecting the most suitable plants and hardscapes for virtually any Southern California landscape near the Pacific Ocean.
Hillside and canyon experience
Escondido's varied topography presents challenges that call for strategic grading, erosion control, and plants with deep root systems. Local designers have successfully completed many hillside projects throughout San Diego County thanks to their intimate understanding of how to design for hilly or canyon terrain.
Access to local resources
Our professionals have nurtured connections to dependable nurseries and hardscaping vendors. By leveraging these relationships, they can source high-quality materials at competitive rates and potentially pass savings onto the homeowner.
Does Install-It-Direct Landscape with Plants, Succulents, or Gravel?
Yes—whether you prefer the colors and textures of native plant species or the low-maintenance beauty of gravel walkways and desert-adapted succulents, Install-It-Direct has the knowledge and experience to put together stunning landscape designs that complement your home.
What Landscape Design Styles are Common in Escondido?
Many Escondido residential landscapes showcase the natural beauty of the desert with a mix of succulents, cacti, and desert wildflowers. It's also common to see hardscapes like pergolas and walkways in warm earth tones with natural stone accents, gravel mulch, and rustic wood features. Similarly, a number of homeowners in Escondido prefer Mediterranean-style landscapes, which radiate a casual and inviting vibe. These may include winding stone paths that lead to intimate courtyards while vine-covered pergolas provide dappled shade.
Does Install-It-Direct Design for Earthquakes, Wildfires, or Mudslides?
Yes, the Install-It-Direct team carefully considers the geography and climate of the city and surrounding areas when designing landscapes. Our goal is to create sustainable landscape designs in Escondido that can stand up to the natural challenges of the region.
What Does the Process of Hiring Install-It-Direct Entail?
The professionals at Install-It-Direct aim to make the process of remodeling your landscape as effortless as possible. Contact us to receive a free consultation and estimate, then schedule an on-site property assessment with our team. After reviewing a 3D-rendered model of the proposal, we can discuss the prospective budget and timeframe for completion, as well as go over any questions about planning and installing your desired landscape design.

What Questions Should I Ask Install-It-Direct?
When engaging with Install-It-Direct for your landscaping needs, here are a few important questions you may consider asking:
Ask plenty of questions to make an informed decision about if Install-It-Direct is the right fit for your landscaping project.
FAQ
How much does it cost to consult a landscape architect?
In general, landscape architects can command an average rate of $53 per hour in San Diego County. For smaller projects or initial consultations, they may offer a flat fee instead.
What is the difference between a landscaper and a landscape designer?
A landscaper spends the bulk of their time on landscape maintenance and installation. They often handle tasks involving physical labor like artificial grass installation, as well as setting up hardscapes like landscape lighting, retaining walls, and pavers for walkways and patios.
With additional education in subject areas like design principles, as well as plant selection and placement, a landscape designer is a conceptual thinker who considers how all the elements in your outdoor spaces will work together functionally and aesthetically. Using this context, they can create a personalized master plan for your outdoor living areas.
How much do landscapers charge per hour in Escondido?
Serving Escondido and surrounding areas, landscape contractors may charge around an average of $35 an hour. This rate may change based on the project at hand, such as if it's landscape construction or maintenance.
How much should I budget for a landscape project?
On average, front-yard landscaping expenses start at $1,500 and reach upwards of $5,000. For a backyard landscape project, be prepared for a higher price tag that ranges between $15,000 and $50,000.
Reach Out to Install-It-Direct for Landscape Design in Escondido
The Install-It-Direct team has the expertise, experience, and access to high-quality materials to transform your outdoor space into a personal sanctuary. Committed to customer satisfaction, our pro landscape designers can develop a customized plan based on your property size, home's architectural style, and personal preferences.
As a full-service company providing landscape design in Escondido, Install-It-Direct can virtually do it all, from installing hardscapes like fire pits, pergolas, and stone walkways to implementing and maintaining garden designs involving artificial turfs and beautiful privacy hedges.
Plus, our skilled landscape contractors can properly prepare the soil, ensure even grading, and carefully place each paver, shrub, and sprinkler to bring out the best in your outdoor living spaces. This way, you'll have enviable Escondido landscaping that boosts your home's curb appeal and provides the perfect space for relaxing or hosting guests.
Book your free consultation today.