Landscape Design in San Marcos, CA
Nestled in North County, the charming city of San Marcos, California, is home to abundant natural beauty with rolling hillsides, miles of scenic trails, and thoughtful landscape design. Locals and visitors alike can enjoy an active outdoor lifestyle year-round in this sun-drenched part of San Diego County.
One of the city's most popular local gems is Double Peak Park. This 200-acre recreational area offers stunning hiking trails, an amphitheater, plenty of picnic areas, and panoramic ocean views atop a summit. Other top attractions in this part of town include Sunshine Mountain Vineyard and Discovery Lake, a family-friendly spot ideal for fishing and picnicking. 
Sunshine and moderate temperatures are common throughout most of the year, though summers tend to be warm and dry. As a result, the residential landscape design in San Marcos typically features drought-tolerant plants native to California, low-maintenance privacy hedges, relaxing patio areas, and rustic pergolas to provide shade during hot summer days. 
Let Professionals Design Your Landscape in San Marcos
Whether upgrading their backyard, front yard, or garden, homeowners have a lot to consider before remodeling their outdoor spaces. With the wide range of landscape design services available—such as paver and sod installation, tree services, and more—costs can quickly add up. From the outset, it's essential to establish a clear budget for any landscaping design projects. This not only lets homeowners stay within their financial means, but provides guidance for landscape contractors during the consultation phase.
In addition, an individual's lifestyle can determine how much time and resources they can dedicate to maintaining and enjoying their outdoor living space. Pets or children may also influence the type of plants and materials used in landscape construction—soft, grassy areas could be essential for their comfort and safety. Not to mention, the architecture of the home itself and the surrounding environment, such as natural features like hills and trees, potentially provide complications for particular landscaping designs. For example, a sloped yard could make it challenging to install a pond.
Fortunately, professional landscaping companies like Install-it-Direct have years of experience working with residents on projects involving landscape design in San Marcos, CA. Leveraging a personalized approach that takes each homeowner's unique requirements into account, these experts determine the most cost-effective and elegant solutions for any outdoor space.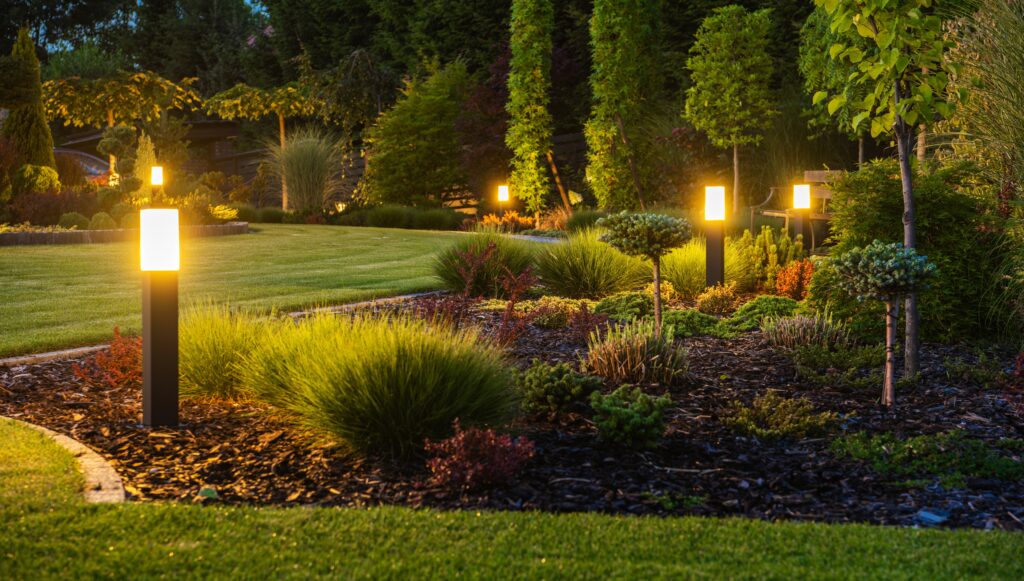 What Services Does Install-It-Direct Provide?
Install-It-Direct offers a comprehensive array of landscape design services to homeowners across San Diego County. From constructing outdoor kitchens to installing water features and everything in between, this seasoned landscaping company can handle a broad variety of San Marcos landscape projects, such as:
In addition to San Marcos, Install-it-Direct provides service to many other cities throughout the San Diego area, including Vista, Del Mar, Encinitas, Lakeside, Bonita, Escondido, La Jolla, Rancho Santa Fe, Oceanside, Chula Vista, Solana Beach, and Carlsbad.
Why Should I Hire a Landscape Designer in San Marcos, CA?
Investing in your home's landscaping potentially increases its property value. Save time and money in the long run by partnering with professionals specializing in landscape design in San Marcos to increase your home's curb appeal. 
Local Knowledge
A professional with years of experience working with San Marcos landscapes will be familiar with the city's rules and regulations. Plus, they appreciate the unique challenges of outdoor spaces in this region of California, such as the risk of wildfires, opting for fire-resistant greenery, and native plants that require little to no water for garden spaces.

Coastal Influence Understanding
Landscape design in San Marcos involves careful consideration of the local climate and environmental conditions. The city is situated around 6 miles inland from the shoreline, so residents may have to deal with salty air and sandy soil in their yards and gardens. By thoughtfully selecting plant species that are resilient to salt exposure and using durable, non-erosive materials for hardscapes, a skilled landscape designer can create an attractive and functional outdoor space.
Hillside and Canyon Experience
Whether designing a low-maintenance garden on a steep slope or a winding paver walkway on rugged natural terrain, San Marcos landscape professionals combine their technical expertise with innovative approaches to resolving topology-related issues.
Access to Local Resources
Landscape designers often have established relationships with nurseries, manufacturers, and other suppliers in the local area. This could result in significant cost savings for the homeowner during the landscaping construction process. 
What Landscape Design Styles Are Common in San Marcos?
Landscape design in San Marcos embraces styles that capture the essence of Southern California's natural beauty and laid-back atmosphere. Cacti gardens, spacious patios with fire pits, and artificial turf, which is one of the most popular alternatives to grass, are common among homes in this area. 
Not to mention, xeriscaping has grown increasingly popular due to water conservation needs—it incorporates drought-tolerant plants into beautiful, low-maintenance landscapes while promoting sustainability. Some residents also incorporate tropical-inspired design elements, such as palm trees and concrete pavers encompassed by gravel for easy and quick drainage.
What Does the Process of Hiring Install-It-Direct Entail?
 Submit an estimate form to Install-It-Direct detailing your project to start the process. Next, the team will contact you to schedule a free consultation with a landscape designer and discuss timeline and budget. The consultation involves the designer conducting an on-site property assessment and producing a custom project plan. Upon approval of the plan, construction can begin. 

FAQ
How much does it cost to consult a landscape architect?
Some landscape architects charge hourly for their time, while others work on a retainer or fixed-fee basis. In addition, the total cost depends on the services required and the scope of the landscaping project. On average, however, a landscape architect in the San Diego area may charge around $44 – $62 per hour.
What is the difference between a landscaper and a landscape designer?
A landscaper typically focuses on the physical labor required to build or maintain an existing landscape. Their work can include mowing lawns; pruning trees and shrubs; planting flowers and plants; and installing hardscaping features, such as patios or retaining walls. 
In contrast, a landscape designer handles the logistics of a client's project, from generating 3D renderings to sourcing materials. This also involves planning the layout of different elements like water features or lighting fixtures, as well as selecting appropriate plant species based on climate and soil quality. 
How much do landscapers charge per hour in San Marcos?
While a landscaper's fee may vary based on the project's scope and complexity, the average hourly rate for a professional landscaper starts at around $50 per hour but can go up as high as $100 per hour.
How much should I budget for a landscape project?
Expenses for a landscaping project can hover between $2,600 and $13,700. Keep in mind multiple variables could influence the total, from consultation fees to the size and complexity of the project.
Reach Out to Install-It-Direct for Landscape Design in San Marcos, CA
It's time to give your home the care it deserves. Partner with Install-It-Direct for landscape design that seamlessly blends form and function with the aesthetics of your home in San Marcos, CA. Entrust your outdoor living spaces with Install-It-Direct's expert landscape architects and designers. These professionals have years of experience designing visually appealing and practical landscapes. 
Offering a vast array of services, including paver and artificial turf installation, Install-It-Direct will work with you through all stages of the landscaping design process, from conceptualization through completion. So whether you want to add a fire feature and retaining walls to your backyard or completely remodel your garden, the landscaping pros at Install-It-Direct can bring your ideal outdoor space to life.
Book your free consultation today.