How to Create or Decorate a Courtyard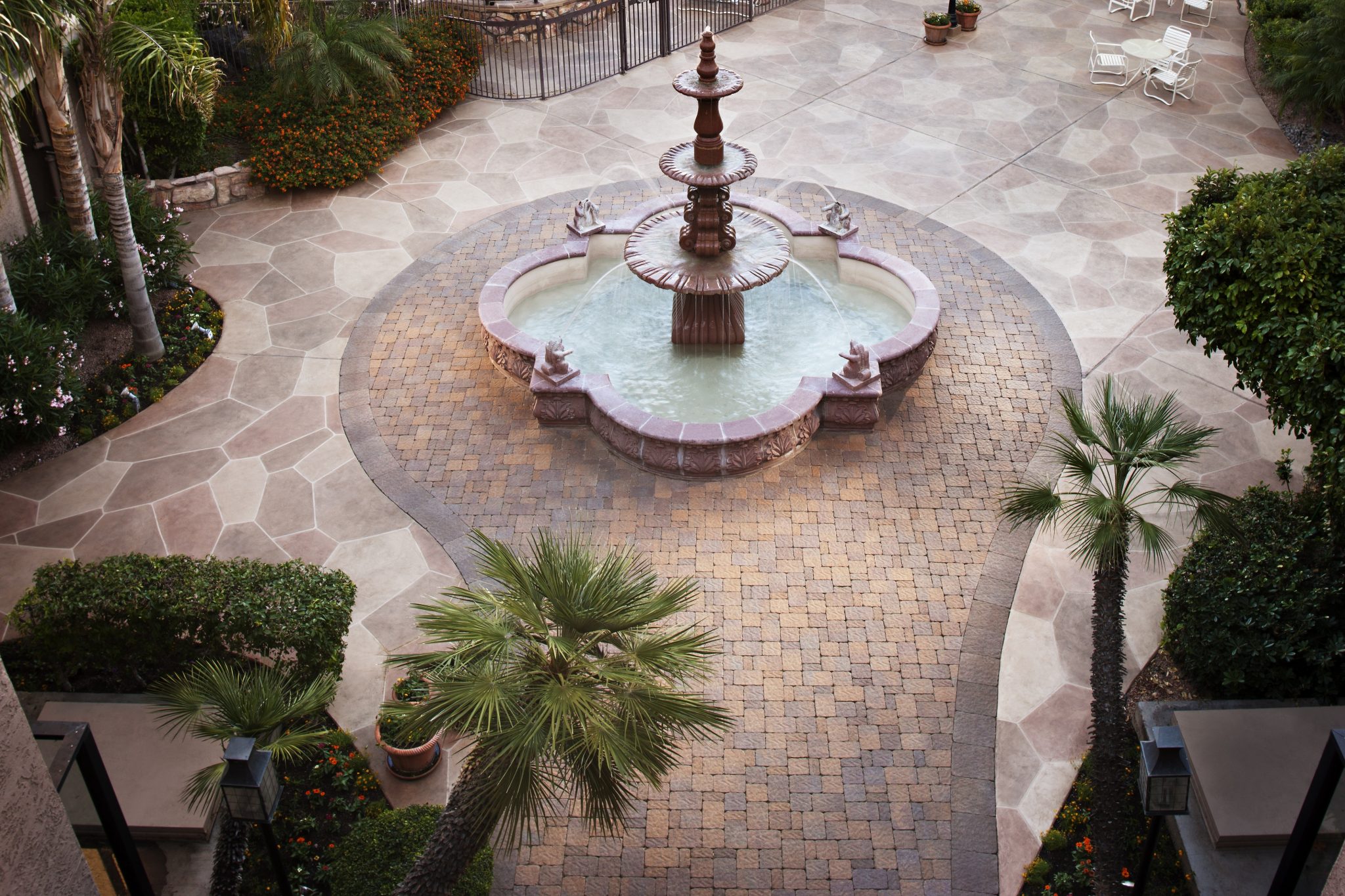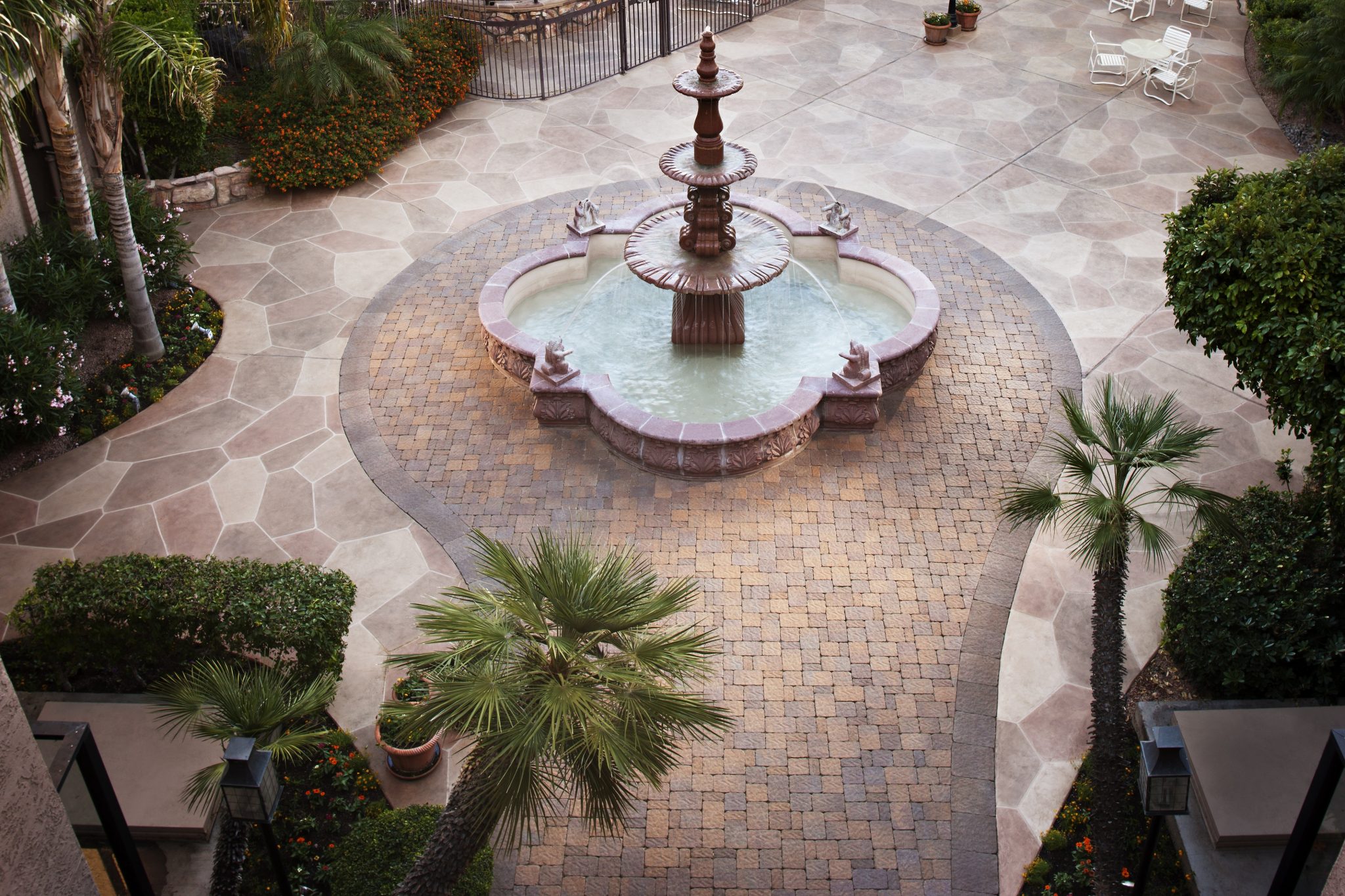 Courtyards, which are defined as outdoor living spaces enclosed by walls or buildings and open to the sky, have been a part of residential architecture since at least 3,000 BCE.
The inclusion of courtyards in homes around the world shows the historical importance of private, functional outdoor spaces that can be used as a place to gather, garden, cook, raise livestock and keep an eye on children as they play outdoors.
In various parts of the world, courtyards have also served as a defensible, central location to protect inhabitants from enemies and intruders or as a central gathering place surrounded by four different homes occupied by extended family members.
The importance of courtyards is apparent in California history as well, which can be seen in the inclusion of courtyards in the haciendas built throughout Southern and Central California during the Rancho Era.
In warmer climates where courtyards are common, these enclosed living spaces historically provided a place to cook without heating up the home, a way to cool the interior of the home before air conditioning was available and a place to sleep under the stars when interior temperatures were too hot for comfortable slumber.
The expansive courtyards found in California haciendas were also used as a central gathering place for celebrations, the perfect location for the kitchen garden, and a safe place to raise livestock for milk, wool and meat.
Throughout the years, the need for courtyards has somewhat diminished with the invention of air conditioning and modern kitchens, as well as our reduced need to raise and grow our own food.
However, courtyards still provide much-needed outdoor living space for entertaining, gardening or relaxing in a tranquil, private setting.
Many homes built in the Mediterranean, Spanish or hacienda style still include courtyards in their design, but courtyards are less often found in the popular ranch-style and Craftsman-style homes that are also found throughout Southern California.
Whether or not you currently have a courtyard, you can enjoy the privacy, functionality and tranquility of a courtyard with these tips for designing a new one or landscaping the one you have.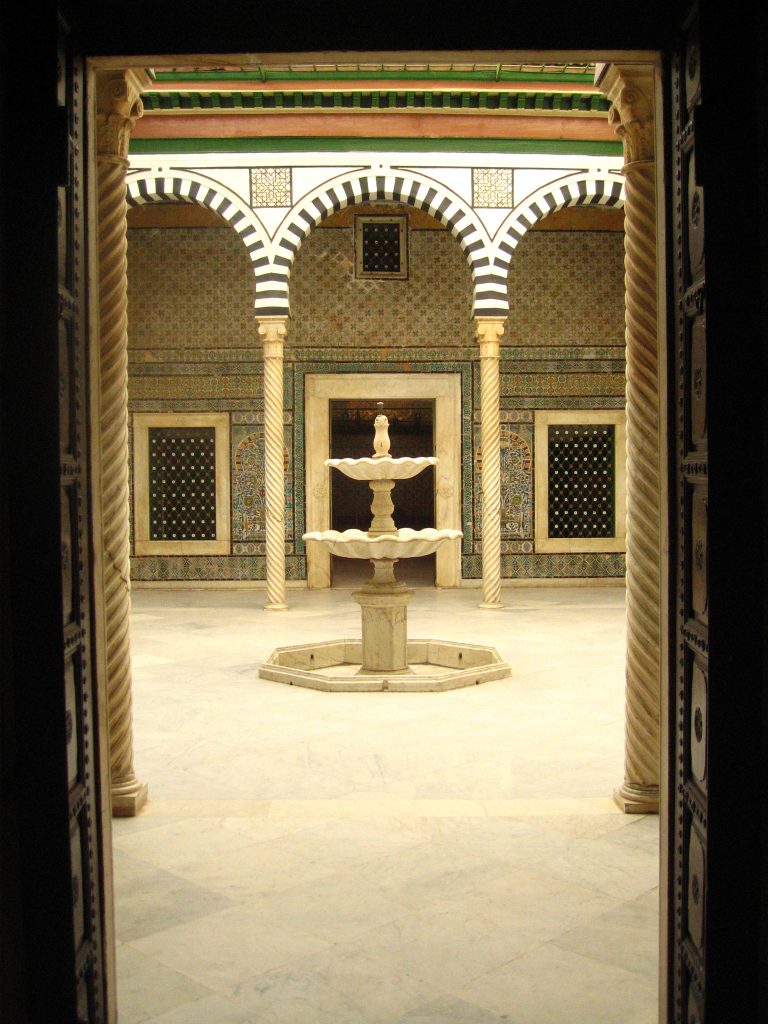 How to Create a Courtyard
If your home does not currently have a courtyard, you can build one, or you can create the intimate feel of a courtyard without building tall walls that cut the space off from the rest of your yard.
The first step in creating a courtyard is determining the best location on your property.
Some homeowners have courtyards in their front yards that act as an entryway to their homes.
This can give your home an enhanced feeling of seclusion and provides an additional point of separation between the outside world and your private oasis.
If you do not have the room or desire to have a courtyard in your front yard, you may want to consider transforming an under-used side yard into an inviting outdoor dining room or entertaining space.
One benefit of turning a side yard into a courtyard is that much of this space is often wasted, so this can make your property more functional while better using the outdoor areas of your home.
Another benefit of a side yard courtyard is that you probably already have at least two sides enclosed – one by your house and one by the boundary fence separating your property from your neighbor.
This makes creating a courtyard more cost effective, if you only need to build two walls to enclose it.
The most popular location for a courtyard is, of course, in the backyard.
Keep in mind that even a tiny space can be transformed into a private getaway, so do not give up on your dream of having an inviting, relaxing courtyard for reading or enjoying your morning coffee just because there is not a lot of extra room in your yard.
You can turn an existing attached patio into a courtyard by building three walls to fully enclose the space, which is the simplest way to create a courtyard similar to those found in historical homes.
However, this will separate the space from the rest of your backyard and will likely disrupt the sight lines from your home to your yard.
This can make your backyard feel considerably smaller and can take away from your overall landscaping by blocking the view of interesting features in your yard.
In this case, you may want to consider creating the intimate feel of a courtyard without cutting off the rest of your yard by installing a low garden wall or sitting wall.
A short wall made of brick or stone can give your new courtyard old-world charm while creating a more intimate space for outdoor dinner parties or relaxing with your family.
Keep in mind that courtyards are not covered, so if you plan on using an existing patio, it is best to choose one with a pergola or no cover at all, and save your covered patio for evening entertaining, your outdoor kitchen or other functions that require protection from the sun and rain.
The point of having a courtyard is having a private, usable space, which makes the ground cover you choose incredibly important.

If you plan to use your courtyard primarily for gardening, than a dirt floor might suit your needs; however if you intend to use it for any other purpose, you will need to consider an appropriate ground cover.
For example, a children's play space or gardening area could function well with natural grass or low-maintenance artificial grass as a ground cover.
If you plan to use the area for entertaining or as a comfortable place to spend time with your family, a paving stone patio is the best and most attractive option.
Low-maintenance, slip-resistant paving stones provide a great foundation for a courtyard and can give this outdoor living space more of an old-world feel.
You could also opt for a concrete patio or using decorative gravel or wood chips as your ground cover if you are working with a tight budget.
How to Landscape and Decorate a Courtyard
Hardscape features are essential to courtyard design and will help define the style of the space, so be sure to decide on your patio materials and any walkway materials prior to picking wall décor or plants.
Your patio and walkway materials will help define the style, but you will need to determine the type of courtyard you want before moving forward with landscaping or decorating.
For example, for a hacienda-style courtyard, you may want to consider including Mexican tiles in the flooring or décor.
For a Roman- or Greek-inspired courtyard, you may want to include columns to create a look reminiscent of a peristyle.
If you are drawn to the peace and tranquility of a siheyuan (a style of courtyard common in Chinese culture), you will instead want to choose a design that includes a simple garden and a fountain or other water feature.
Here are 20 general landscaping and decorating tips to help you personalize your courtyard and make it suit your needs:
1. To harken back to a time when sleeping in the courtyard was a common occurrence, include a hammock or two in your design scheme for reading or sleeping under the stars.
2. Focus on hardscape features – like a paving stone patio that encompasses the entire courtyard – to keep your courtyard low maintenance.
3. To add low-maintenance greenery to your courtyard, consider installing artificial turf as one of your ground cover options.
4. Make your courtyard more functional by installing a vertical garden on one or more walls to use for growing herbs or vegetables.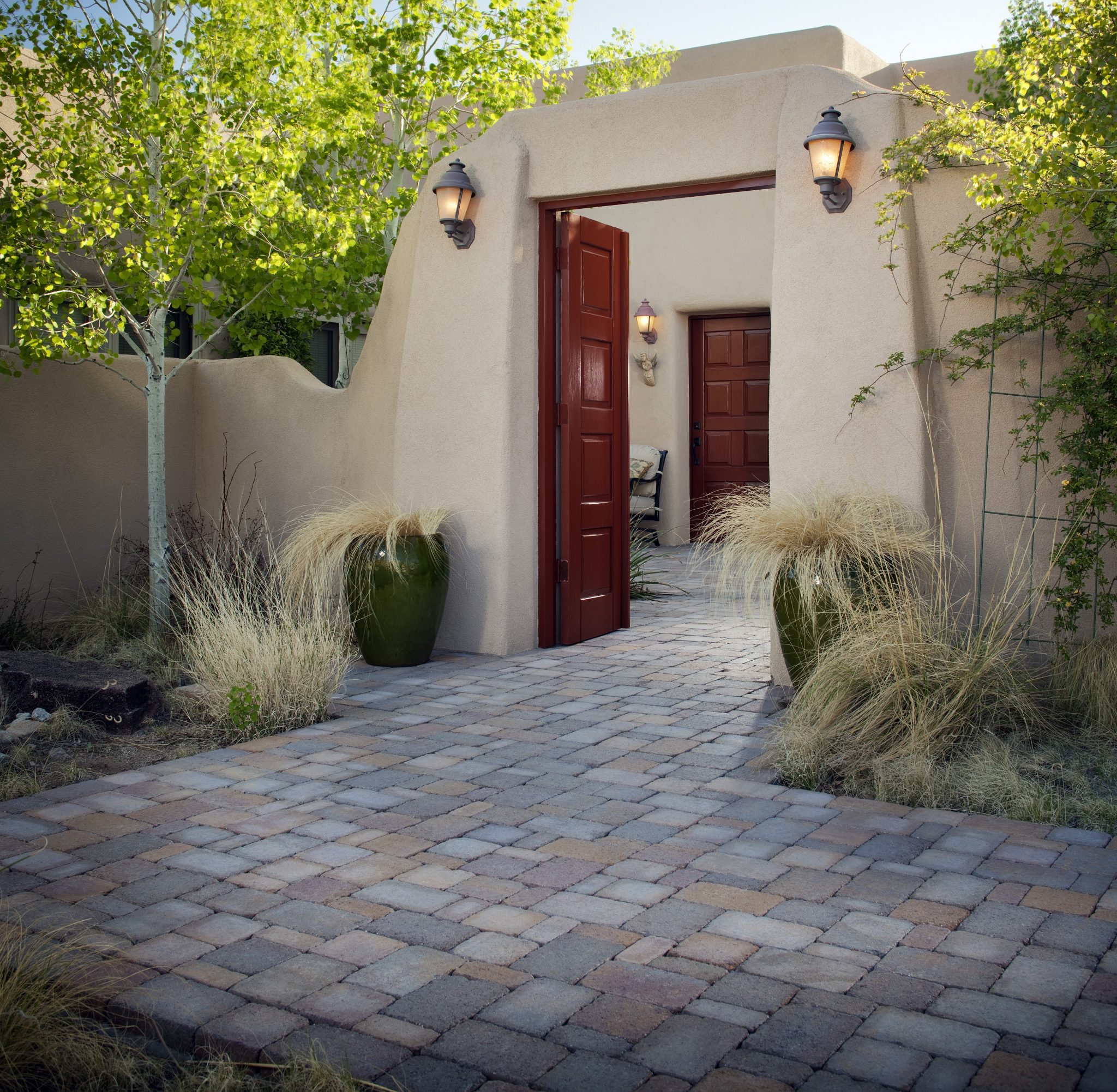 5. If you choose to install a low wall to create a courtyard area, consider building seating into the wall as an easy way to increase patio seating without cluttering the space with too much furniture.
6. Consider planting a flowering border along your courtyard walls to create a more inviting space.
7. A courtyard is the perfect spot for your outdoor dining room, particularly with the increased privacy and intimacy that only an enclosed space can provide.
So if you are looking to include an al fresco dining room in your landscape design, consider making this the primary function of your courtyard.
8. Courtyards are particularly well suited for container gardens, which provide a great way to include color and texture without installing permanent landscaping features.
Consider using wheeled containers to make it easy to move things around when preparing to entertain guests, particularly if you have a small courtyard.
9. Fountains are a common feature found in courtyards around the world.
Adding a fountain or water feature can reduce noise pollution from neighbors, increase privacy for your own conversations and bring the relaxing sound of running water into your outdoor living space.
10. If you need to incorporate more color into the space, but you have already maxed out on flowers and colorful containers, consider brightly colored fabrics for patio furniture cushions or colorful wall décor for your courtyard walls.
11. Since courtyards do not have covers, you may want to plant a tree to provide shade.
12. Outdoor lighting should be included in your courtyard design in a way that complements the space's overall style and purpose.
For example, string lights make for a more festive atmosphere, while accent lighting can illuminate a fountain or other focal point in the space.
13. If you prefer more protection from the weather than offered by a conventional courtyard, consider installing a pergola.
The openness will help you retain the feeling of a courtyard, while the shade will make your courtyard more enjoyable on warmer days.
14. For an old-world look, consider installing widely spaced pavers with thyme planted in the spaces.
15. If you prefer a taller courtyard wall but do not want to completely cut off the view of your yard, include one or more window spaces in the wall.
If you are going for a Mediterranean or European courtyard look, you may want to add colorful shutters to the open window spaces.

16. To enhance the old-world look of your courtyard, install an antique gate or rustic door at the entrance.
17. If space allows, a fire pit is a great addition to a courtyard used for outdoor entertaining.
18. A courtyard with a dining table that connects to a covered patio with an outdoor kitchen provides the perfect opportunity to bring these two outdoor rooms together by taking the colors and textures from your covered patio décor and continuing them throughout your courtyard décor.
19. If your courtyard connects to your home off of your dining room, take advantage of the opportunity to create an indoor-outdoor entertaining space with complementary colors, textures and lighting.
20. If you are transforming an unattractive concrete patio into a courtyard, use a colorful outdoor rug for added texture and to hide the concrete.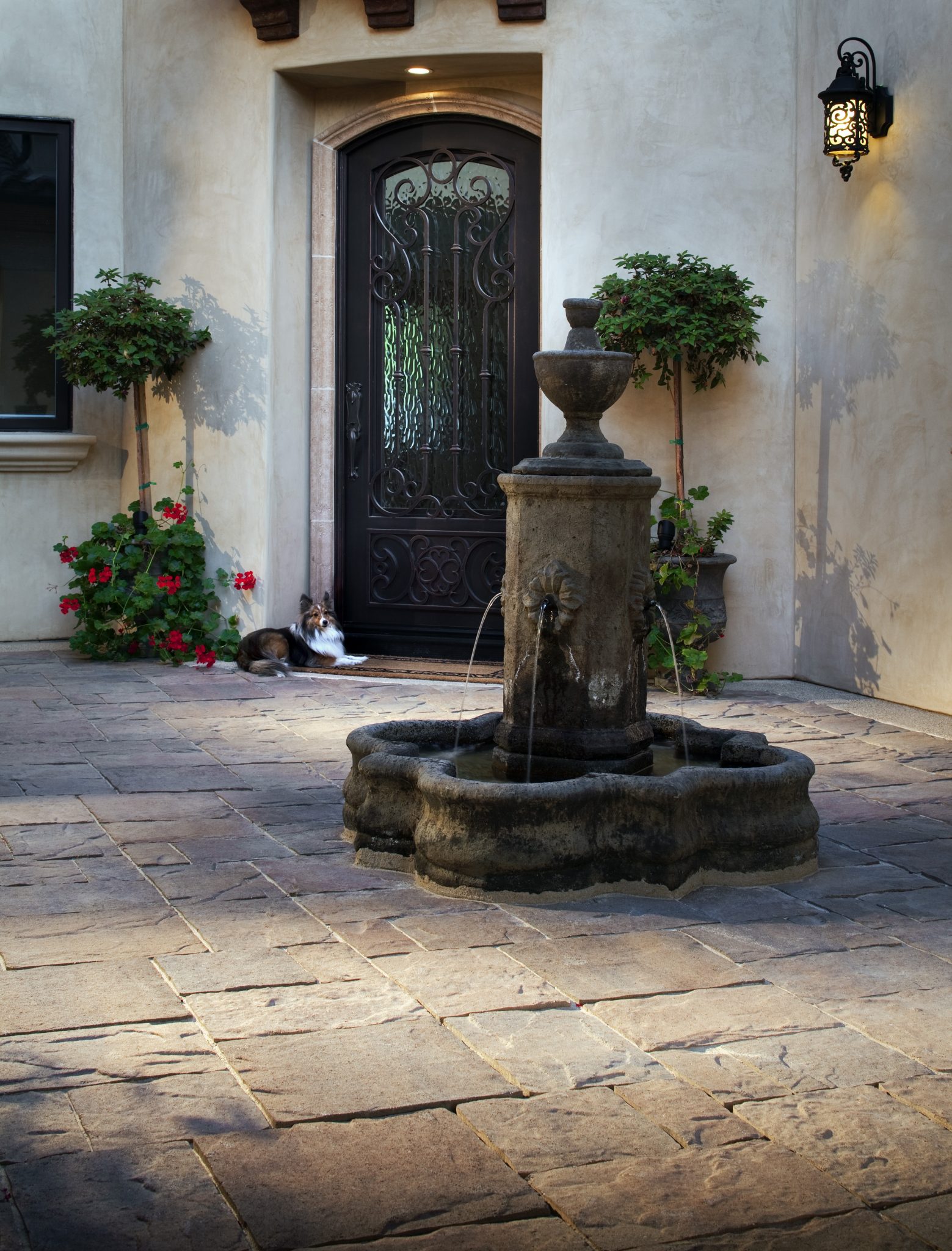 How to Create or Decorate a Courtyard: Final Thoughts
Most homeowners living in sunny Southern California want functional, inviting outdoor living spaces.
We want to use these areas for outdoor entertaining, spending time with our families and having a private retreat where we can relax and get away from everyday stressors.
Courtyards provide a perfect place for all of these activities and are often more intimate and inviting than conventional patios.
Because of this, there is still very much a call for courtyards in today's architecture.
Not all of us are fortunate enough to purchase a home with a courtyard already included in the design, but anyone with an outdoor space has the opportunity to create an appealing courtyard for their families and guests to enjoy.
Photo Credits (in order of appearance): morgueFile, kliqger; morgueFile, ana_c_golpe; morgueFile, NinoAndonis; morgueFile, jade; morgueFile, kconnors