25 Ways to Get the Perfect Area Rug
If you're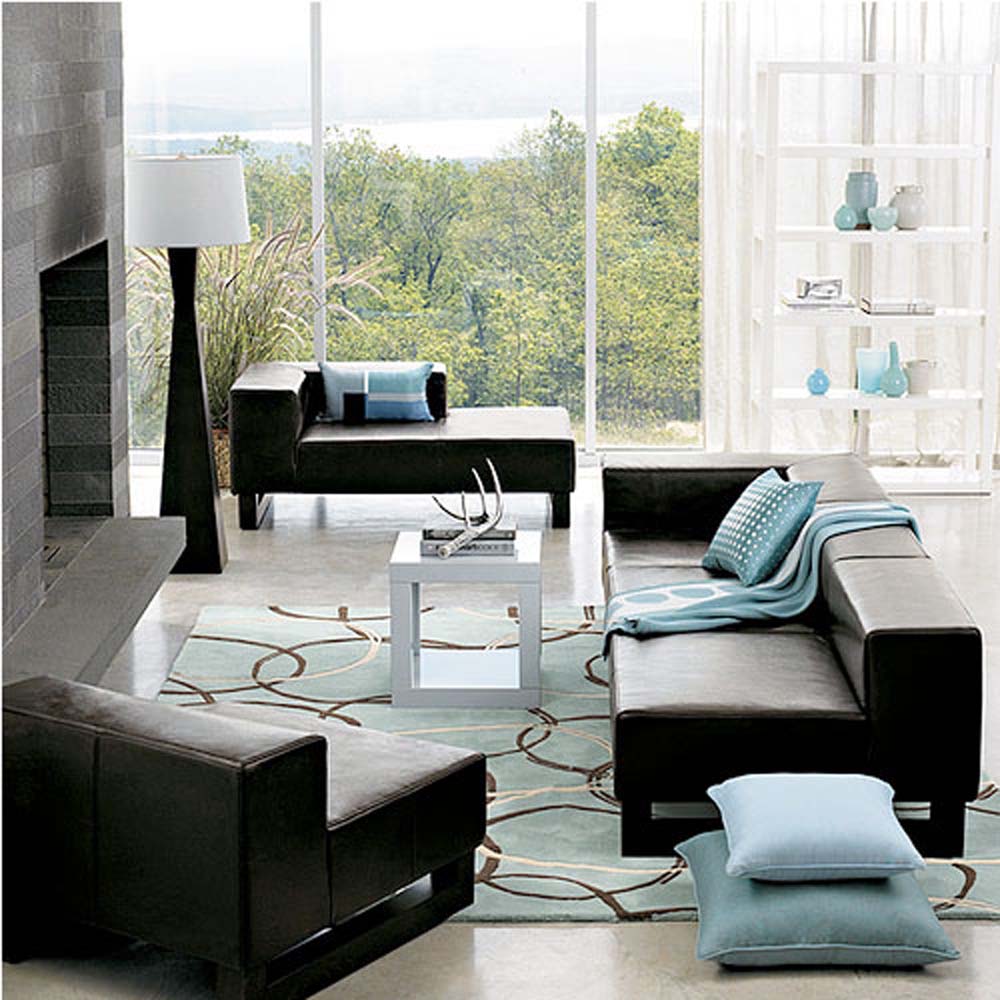 going to buy an area rug, you're probably going to use it for a long time.
People don't usually switch around their area rugs very often, so it pays to put plenty of thought and consideration into the matter before making a decision.
These days, there are more area rug styles and options than ever.
Having such a huge selection is nice, but it can be pretty overwhelming too.
By keeping a few things in mind, you'll be able to zero in on the perfect area rug in no time.
1. How Much Space is Available?
The first step to buying the perfect area rug is considering the amount of space that's available.
Are you working with a spacious room, or are you dealing with a space-challenged area?
Would you like to cover a lot of ground, or will a small amount of coverage suffice?
By having a clear idea about this point from the start, you'll have an easier time shopping for an area rug.
2. What Size do You Need?
Area rugs come in a dizzying array of sizes.
Regardless of the size you need, you should be able to find a good option.
However, some sizes are more popular than others.
For instance, rugs that measure 5 feet by 8 feet tend to be among the most popular, so there tends to be many more options for rugs of that size.
If you need a less popular size, you'll have fewer options.
3. Consider the Color Scheme of the Room
While shopping for an area rug, keep the color scheme of the room in which it will be placed in mind at all times.
If necessary, print out a color photograph of the room and carry it with you.
If you're mostly shopping from home, refresh your memory by looking at the room in question from time to time.
You might even want to jot down a few of the main colors because you can pull up results based on color on some websites.
4. Consider the Style of the Room
Another thing to keep in mind is the style of the room for which the rug is intended.
Like so many home decor items, rugs are available in a variety of styles.
Whether you are dealing with a traditional room or with a room that has a more contemporary style, finding rugs that fill the bill shouldn't be too difficult.
5. Choose the Rug First
If possible, you should buy the area rug first and other pieces of decor later.
This is much easier than trying to find a single rug that truly pulls a room together.
Once you've purchased a gorgeous rug, you can go to work on finding matching curtains, furniture, wall art and other decorative pieces.
Don't worry if you can't choose the rug first.
It will just take a little longer to pinpoint the perfect one.
6. Go with a Dark Color for a Cozier Look
A good rule of thumb is that a dark area rug will make a large, spacious room feel a little cozier.
It's also a nice way to add a splash of dramatic color to an otherwise neutral room.
You should generally avoid dark-colored area rugs when dealing with space-challenged rooms, as they can make rooms feel even smaller.
7. Try a Light Color for a More Spacious Ambiance
In the case of a rather small room, you can't go wrong with a light-colored rug.
Light colors give the impression of more space, which is precisely what you probably want when you have very little of it.
Light colors are also nice for rooms that get a lot of natural sunlight and for rooms that have a lot of windows.
8. Understand Rug Prices
Like most people, you'd probably like to stay within your budget when shopping for an area rug.
That's easier to do when you understand the factors that affect a rug's price.
The manner in which a rug is constructed plays a big role.
Hand-knotted rugs are a lot more expensive than machine-built rugs.
The materials that are used have an impact too; synthetics are cheaper than natural materials.
Finally, the size of a rug affects its price too.
9. Stick with Synthetics for Lower Prices
If price is a major concern, you should limit your search to rugs that are made out of synthetic fibers.
Just because a rug is made out of synthetic fibers doesn't mean it is low in quality.
With this option, you will be able to get a lovely rug that doesn't break the bank.
10. Choose Handmade Rugs for Higher Quality and More Detail
What if you don't have such a tight budget?
In that case, you can't go wrong with handmade rugs.
Hand-knotted rugs tend to be more highly detailed, and they are also usually more durable.
They often have special touches that make them a lot more unique too.
Natural materials tend to be more expensive too, but they have many great characteristics.
If you can afford to splurge, it's usually worth it to do so.
11. Define Traffic Flow with a Runner
When it comes to long, narrow spaces, runners are great options.
They are typically used in hallways and entryways.
By placing runners strategically, you can help to direct traffic in your home.
People naturally gravitate to hallways that have runners, and runners may also keep people off of your wood floors.
There are many gorgeous options available.
12. Fill in the Gaps with Scatter Rugs
Large rugs are nice, but they obviously don't work in exceptionally small spaces.
Scatter rugs, which usually measure 2 feet by 4 feet, are excellent options in such situations.
They can also be used in entryways.
Don't let the name fool you, though.
You shouldn't just scatter these rugs around a room randomly.
They really only make sense in compact areas with limited floor space.
13. Define a Small Area with an Accent Rug
What if you want to break a large room up into a few different areas?
You can do that with ease by purchasing the right accent rugs.
Accent rugs typically come in 3-by-5 and 4-by-6 sizes.
By laying them out the right way, you can define a small portion of a room to help it stand out in a gorgeous way.
14. Add Pizzazz with a Room-Size Rug
There are also many large, room-size rugs on the market.
Popular sizes include 5 by 8 and 6 by 9.
These rugs can be used in just about any room in the home.
They are especially popular in living rooms and family rooms.
Most people buy room-size rugs to pull a room together.
They also come in handy when you're not especially fond of the flooring in a room but don't have the budget to replace it.
15. Hide Worn Paths with Runners
Over time, paths can be worn into carpets and wood floors.
This most commonly occurs in high-traffic areas, and it can be a real eyesore.
One way to get around the issue without replacing the flooring altogether is by using runners.
A well-placed runner can hide these blemishes and keep them from getting worse.
Just make sure to use rug pads to keep them from sliding around.
16. Keep Dirt and Moisture from Being Tracked into the Home
In addition to looking nice, rugs can help to keep the rest of your home clean.
Place accent rugs or scatter rugs near the entrances of your home to encourage people to wipe their feet before stepping inside.
It's amazing how much dirt and moisture a small rug can capture, and it doesn't even have to be expensive to work well.
17. Consider Rug Sets
If you'd like to give a room in your home a quick, stylish makeover, you should consider investing in a set of matching rugs.
Many popular patterns and styles are offered in a variety of sizes and shapes.
They are often bundled together as sets too.
By purchasing one of these sets, you'll be able to instantly transform a large section of your home.
These sets are often quite economical too, so they are nice for people who have limited budgets.
18. Check Out Plenty of Shapes
Most people immediately gravitate to rectangular area rugs.
There are plenty of other options out there too, and it never hurts to at least consider them.
If you have a round dining table, for instance, a round rug can be a really gorgeous accent piece.
Similarly, oval rugs look fantastic beneath oval dining tables.
Square and octagonal rugs are also available, and they can add a lot of style to any room in the home.
19. Learn More About Natural Fibers
If you're leaning toward an area rug that's made out of natural fibers, study up about the many different options that are available.
Cotton is a very popular choice, and wool is a sound option as well.
However, exotic fibers like jute, silk, sisal and sea grass can add a dose of flair to your home as well.
Keep the location and purpose of a rug in mind before choosing a particular fiber.
Silk, for instance, isn't practical for high-traffic areas.
20. Study Up About Synthetic Fibers
Rugs made out of synthetic fibers have come a really long way, and they are great options for people who have tight budgets.
As with natural fibers, there are many synthetic fibers available.
Polypropylene, or olefin, is a popular choice.
Polyester and nylon are nice too.
Different synthetic fibers have different benefits and limitations, so learn as much as you can before making a purchase.
21. Care for Your Rug from Day One
When you buy your area rug, take note of the care instructions that come along with it.
By taking excellent care of your rug from the start, it's sure to stay in great shape for a long time to come.
Use rug pads on wood floors to prevent wear and tear.
Vacuum your rug regularly.
You should also rotate your rug every few months to minimize the risk of wear spots.
22. Look for the Best Features
Style, color and size are all important considerations to make when shopping for an area rug.
You should keep special features in mind too.
For example, many rugs come with non-skid backings.
The best rugs are designed to be as stain resistant as possible too, which helps them last a lot longer.
23. Take Care when Using a Rug in the Center of a Room
If you're going to place an area rug in the center of a room, make sure that there's not a long of space around it.
This can make it look strange.
For better results, buy an area rug that reaches the edges of your furniture.
This will not only look a lot better, but it will make the room seem larger too.
24. Consider the Construction of a Rug
Area rugs can be constructed in a variety of ways.
Hand-knotted rugs are lovely, but they're also really pricey.
Flat-weave rugs tend to resist wear and tear well, but tufted and hooked rugs add a lot of nice texture to a room.
Braided rugs are more traditional, but they work well in a variety of settings.
Don't buy a rug without finding out how it is constructed first.
25. Always Shop Around
Do plenty of research before buying an area rug.
Even after you've zeroed in on a great option, shop around to ensure that you get the best deal.
Search for the name of the rug online, or perform a reverse image search to see where else it's available.
You're sure to be amazed at the price variations that you'll run across.
Final Thoughts…
When you consider the fact that you'll be using your area rug for an extended period of time, it makes sense to do as much research as possible.
By taking a little extra time, you're sure to find a stunning rug that suits your needs and your budget perfectly.