Patio Furniture Maintenance Guide: How To Protect Your Patio Furniture
Outdoor furniture is an investment. However large or small your budget or yard, your patio furniture is integral to your outdoor living areas, including both their visual appeal and their function. Your furniture is what makes your patio a comfortable place to hang out and allows you to spend more time outdoors whether working, playing, or socializing.
Proper patio furniture maintenance will extend its life, keep it functioning properly, increase your guests' comfort, and help you get the most out of your investment.
So, to keep your patio looking good and functioning properly, use these 12 tips for how to protect outdoor furniture and extend its useful life.
Patio Furniture Maintenance Tips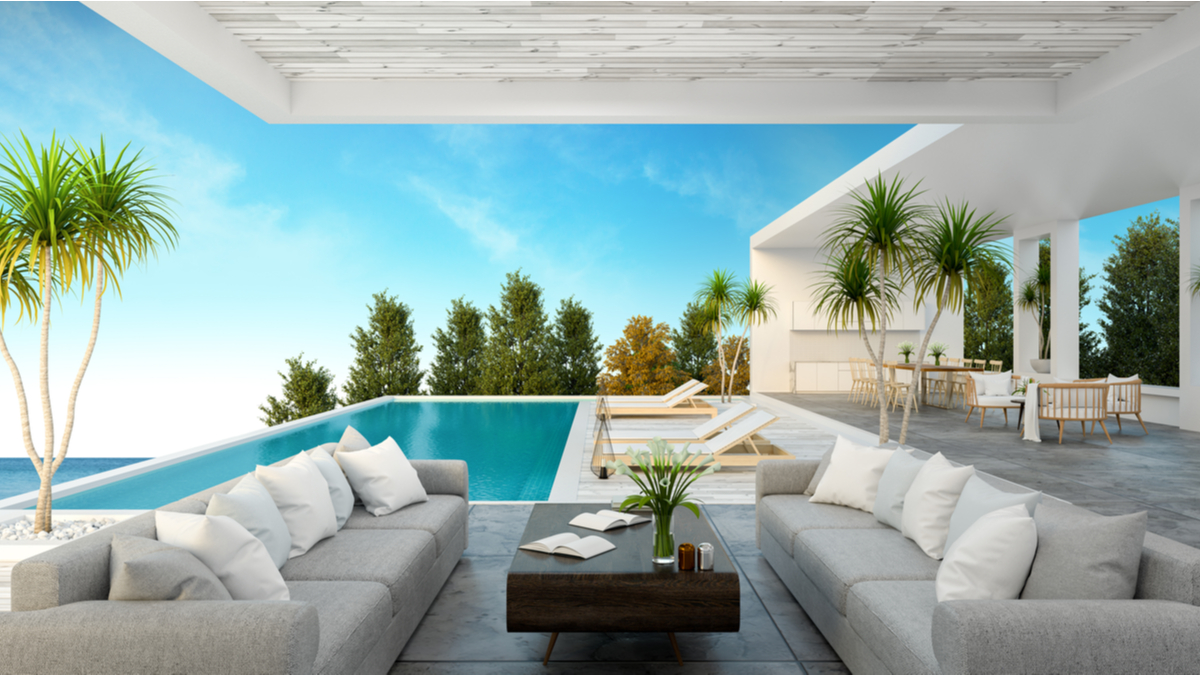 1. Clean Patio Furniture Regularly
One of the best ways to maintain and protect anything you own is to clean it regularly. This, of course, is also true with how to protect outdoor furniture. Cleaning regularly keeps dust and debris at bay while also giving you the opportunity to inspect your furniture to discover maintenance issues that can be handled right away before they become a bigger problem.
For regular cleaning of plastic, metal, resin, and vinyl patio furniture, fill a bucket with hot, soapy water, grab a sponge, and scrub each piece gently with the sponge. Rinse with your garden hose and allow the furniture to air dry in the sun. If you need to speed things up to have your furniture ready for a party, you can always use towels or rags to dry it off.
If you are cleaning canvas furniture or outdoor cushions, follow the directions on your favorite upholstery cleaner. If you prefer to make your own household cleaners, you can make a fabric cleaner with one quart of water, one teaspoon of dish soap, and one teaspoon of Borax. Put the mixture in a spray bottle, spray it on the fabric as needed, allow it to soak in, and then rinse with cold water to remove the cleaner. Allow the fabric to dry completely before using.
For wood patio furniture, spray it down with the garden hose, wipe it with a rag or sponge, spray it down again, and then allow to dry.
Glass tabletops can be cleaned with glass cleaner or a mixture of vinegar and water in a spray bottle. Use paper towels, newspaper, or lint-free rags to wipe down the glass.
Particularly dirty patio furniture may be difficult to clean with a sponge or garden hose. In this case, a pressure washer may be the answer. If you do not own a pressure washer you can rent one at a local home improvement store or purchase one locally or online. Be sure to read the instructions and use the lowest possible setting that will work for the job. Some materials can be damaged or discolored by a pressure washer, so try it out in a small, hidden area first.
2. Remove and Prevent Rust
If you begin to see rust on your metal patio furniture, it is important to remove it immediately to avoid the situation worsening. Use a small wire brush to remove rust. Do your best to only scrub the rusted area to avoid harming the finish surrounding the spot. Make sure you have removed as much rust as possible before moving on to the next step. Once you have removed the rust completely, consider whether or not your metal furniture needs to be repainted. When repainting metal furniture, consider rust-resistant paint that will help protect outdoor furniture from developing rust.
For ongoing maintenance of metal furniture, clean the furniture, and then add a coat of paste wax to all surfaces. Applying paste wax each time you clean your furniture will help prevent rust and keep your patio furniture looking newer longer.
3. Protect Outdoor Furniture from the Sun
Powerful UV rays from the sun can damage, discolor, or age plastic, metal, or wood patio furniture. It can also damage, discolor, or age patio cushions and other textiles. Protecting your furniture from the sun can extend its life and keep it looking newer longer.
The easiest way to protect your furniture from the sun is to keep it on a covered patio. If this is not possible, consider using outdoor umbrellas, installing a shade cloth, or using a portable or permanent canopy to provide shade and sun protection.
You can also use store-bought or custom patio furniture covers to protect your furniture and keep it clean when not in use.
To make sure your patio cushions last as long as possible, choose fabrics designed for outdoor use. If your current cushions do not have UV-resistant fabric, you can purchase a UV protection spray that can help limit damage from the sun.

4. Stay on Top of Mold and Mildew
If you live in a dry climate, mildew and mold might not be much of an issue. But if you live by the beach or have areas in your yard that rarely see the sun, this might be an issue for you. This could also be an issue if you do not allow your furniture or textiles to thoroughly dry after cleaning.
Mold and mildew have an unpleasant odor, are unsightly, can damage your furniture and textiles, and can be dangerous. If you are regularly cleaning your furniture and cushions, this is a good time to inspect for mold and mildew so that, if present, you can remove it right away.
Remove mildew and mold with a mixture of one gallon of water and three-fourths cup bleach. Carefully mix the two, test on an inconspicuous area, and then use to remove the mildew or mold. Rinse with cold water or use a wet sponge to wipe it down.
5. Protect Outdoor Furniture from Rain
We do not get much rain in Southern California, but even the small amount we get in dry years can damage or age your patio furniture. Rain can age wood, cause metal furniture to develop rust, and soak textiles and cushions to make them unusable until they have had time to dry out.
This is why any list of tips for how to protect outdoor furniture and maintain it properly must include how to protect it from rain.
One way to do this is to keep it on a covered patio. Having a cover that protects your patio from rain also allows you to enjoy your outdoor living area on the days we do get rain. If you do not have a covered patio or if you have some furniture that is not on your covered patio, consider purchasing furniture covers to protect your furniture from both sun and rain. Alternatively, if you do not want to purchase furniture covers due to lack of rain in your area, you could cover your furniture with tarps when rain is expected. Be sure to weigh down the tarps to keep them from blowing off of the furniture.
If you do not have waterproof textiles for outdoor use, store patio cushions and other fabric items in a deck box, shed, or garage when inclement weather is expected.
6. Keep Furniture Away from Fire Features
Fire damage is difficult to repair. If a cushion is singed or plastic furniture has melted spots from flying sparks, your best option is to replace them. Fire-damaged wood furniture may be savable with sanding and staining or painting, but, if undetected, it could smolder enough to actually catch on fire, which could cause that fire to spread throughout your yard or even to structures.
The best way to avoid this is to keep patio furniture a safe distance from fire features. You should also make sure that your fire features have spark screens and that you follow safety protocols to safely use your fire features. One of which is to always make sure you have a way to extinguish the fire or errant sparks that escape the fire pit or fireplace. Keep a garden hose or fire extinguisher on hand to quickly extinguish fire or sparks on your patio furniture or anywhere outside of your fire feature.
7. Protect Tabletops
Keep your glass, metal, plastic, or wood tabletops clean and free of damage with placemats, coasters, trivets, runners, and tablecloths. Keeping cold drinks on placemats or coasters will help save your tabletop from unsightly condensation rings. Trivets and runners can protect your tabletop from heat damage when placing hot dishes out for a dinner party. Tablecloths can protect all types of tabletops from crayons, markers, craft glue, spilled drinks, and paint if you use your outdoor table for more than just dining.
It is best to avoid conventional candles with live flames and opt for flameless candles instead. If you do use conventional candles and have a mishap with wax, you can remove it from most surfaces by softening it with a hairdryer, using a plastic scraper to gently remove the wax, wiping the area with rubbing alcohol to remove any remaining residue, and then cleaning the surface with a cleaner appropriate for that material. For example, use glass cleaner or a vinegar and water mixture to clean glass, soapy water to clean plastic or metal, or wood cleaner for wood.

8. Store Patio Cushions
It is best to store your patio cushions in a deck box, cabinet, shed, or garage when not in use. This will protect them from sun and rain, extend their lives, and keep them clean between uses. It will keep your dogs from sleeping on them and help keep them looking their best for years to come.
9. Store Patio Furniture for Extended Periods of Non-Use
Most people do not have enough space to store all of their patio furniture in an enclosed area when not in use. And, even if we did, most of us would not want to go to the trouble to drag out all of our patio furniture every time we want to use it, and then drag it back to the shed or garage when we are finished. This just does not make sense for outdoor living spaces that we use regularly.
However, if you live an area where you do not use your outdoor living areas in winter, or for vacation homes and second homes that you use infrequently, it makes sense to store your furniture between seasons or between visits.
This will help keep your furniture clean, protect it from the elements, and extend its useful life.
10. Make Repairs Promptly
If you find damage during your regular cleanings and inspections, make the repairs as soon as possible. Loose bolts may cause the furniture to fail resulting in injury, or, depending on the type of furniture, they could cause the frame to bend or warp. Cracks in wood that could easily be repaired with wood glue or putty now may turn into irreparable damage if left to develop unchecked. Corroded metal can be sharp and can cause injury to a guest or damage to clothing. Plus, cuts caused by rusted objects could lead to tetanus or at least having to get a tetanus shot.
Making repairs quickly makes your furniture safer, keeps it functioning properly, and extends its life while keeping it looking newer longer.

11. Properly Maintain Wood Patio Furniture
Wood patio furniture maintenance is particularly important, since wood is more susceptible to environmental damage than metal, plastic, or resin. Regularly stain or paint wood furniture to keep it looking fresh and to keep surfaces smooth. Follow the paint or stain with a waterproof sealant to further protect your wood furniture and extend its useful life.
12. Properly Maintain Wicker Patio Furniture
Caring for resin wicker furniture is much like caring for other plastic or vinyl furniture. The main difference is that you might also need to use a hand vacuum to regularly vacuum the pieces to remove debris from within the weave. Resin wicker, like other plastics, can be damaged by the sun, so it is also good to protect your resin wicker furniture from the sun by keeping it on a covered patio or covering it with a furniture cover when not in use.
Natural wicker also requires vacuuming to remove debris from the woven pieces and requires quick cleanup of spills to keep moisture from staining the natural material or causing decay after settling into the weave. Natural wicker furniture needs protection from sun and rain, and the lifespan can be shortened by using it when it is particularly hot or cold due to the nature of the natural fibers. Further, the natural wicker can shift or come out of the weave. When you notice gaps in the weave or ends sticking out, you should be able to repair these by just putting the wicker back in place.