How to Build a Pergola
What Is a Pergola?
A pergola is an outdoor structure generally used to cover or provide shade over a patio, walkway, or other outdoor living area. The structure includes vertical posts or pillars supporting beams with rafters or latticework. The roof section of a pergola may be left open or may have a cover that is permanent or operational, such as a retractable fabric shade. Pergolas with an open roof structure are sometimes adorned with vines, such as wisteria or bougainvillea, which provide shade and visual interest.
Pergolas are most often made from wood, metal, or vinyl. The pillars supporting the beams are sometimes masonry. The structure can be freestanding or it can be attached to a house or other building.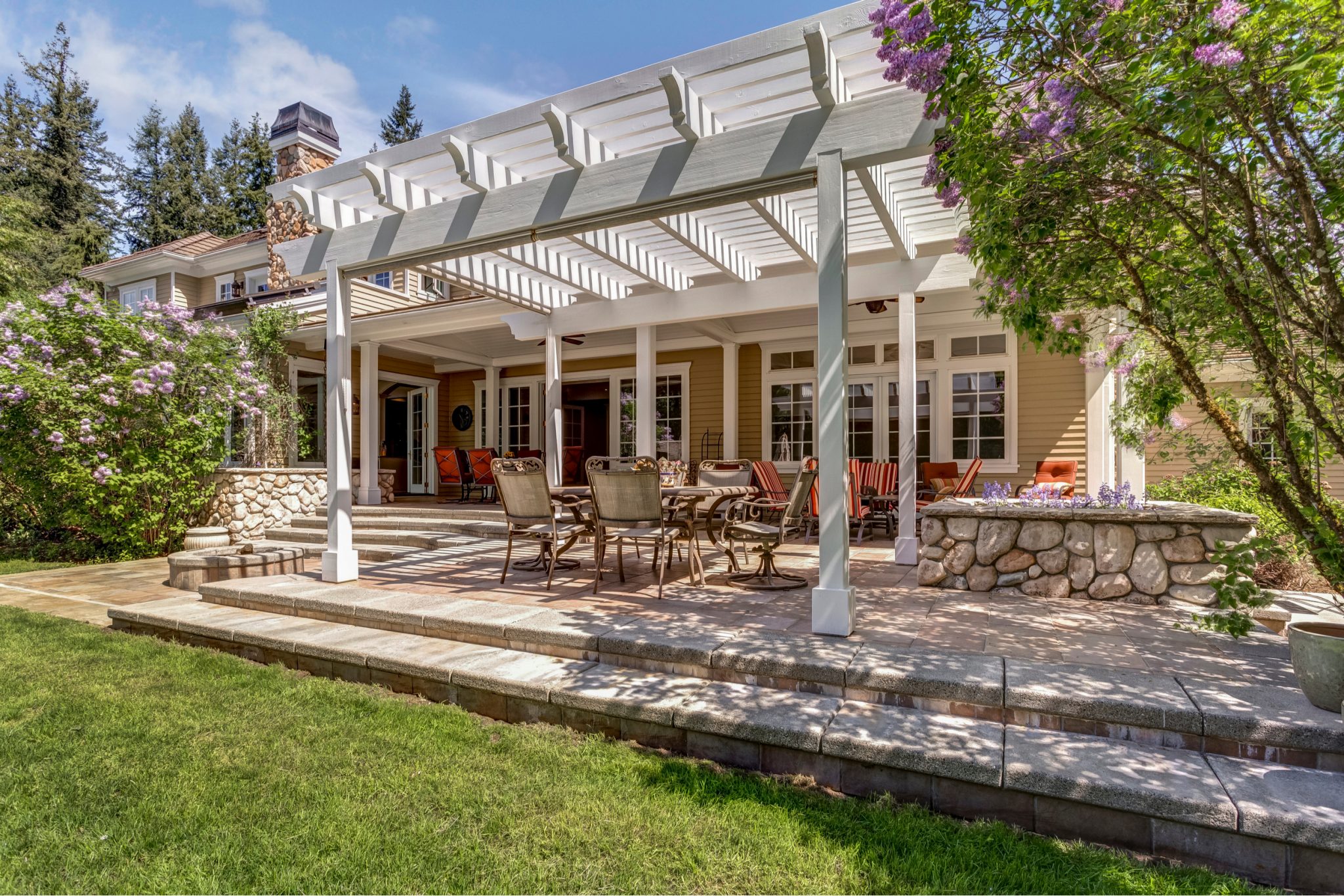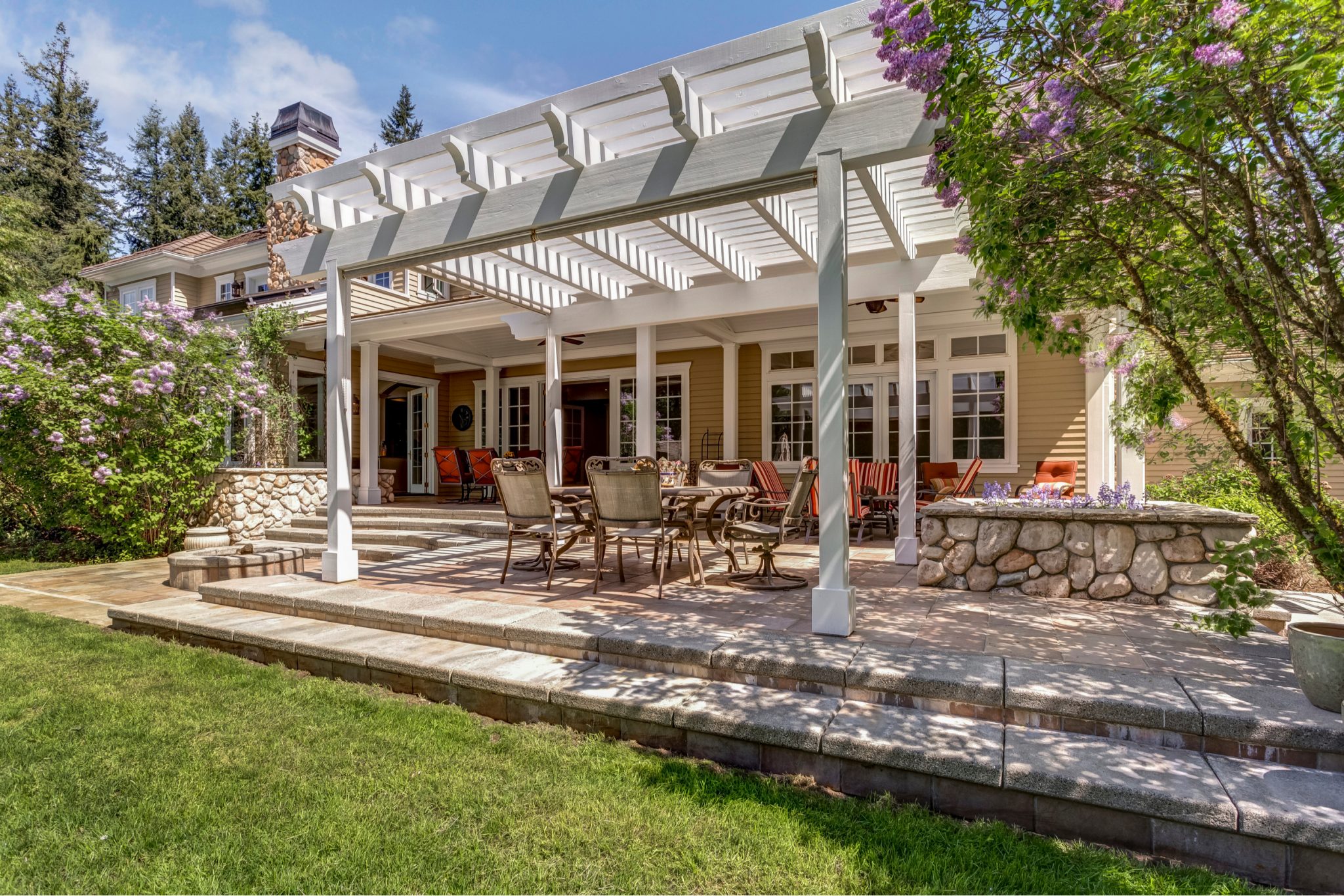 How to Build a Pergola: Pergola Kits
If you are planning on building your own patio cover and are not an experienced contractor or handyman, you might want to consider a pergola kit. You can shop online or at a local home improvement center or garden center to find wood or vinyl pergola kits for as little as $300. These kits come with everything you need – other than the tools – so costs can be kept to a minimum if you are providing the tools and labor. Keep in mind that this price is for a small, entry-level pergola and that prices increase as you look at larger sizes, custom kits, or pergolas with additional options, such as a fabric cover. Higher-end kits can easily cost upwards of $5,000.
Putting together a pergola kit is usually a one-day project if you have someone who can lend a hand.
Depending on the size of your pergola and the type of structure, you may need a permit. If you live in a neighborhood with a homeowners association, you will likely need to get approval before you begin your build.

How to Build a Pergola from Scratch
If you are not opting for professional pergola installation and are not a particularly handy builder, it is best to choose a DIY pergola kit. This will save you from measuring mistakes, cutting mishaps, and multiple trips to the store for forgotten joists or more bolts. But, if you have a strong do-it-yourself spirit and are determined to build your patio cover from scratch, here is some basic information about costs, materials, and project steps to help you get started.
Costs vary greatly depending on the type of materials used and the size of your pergola. For example, pine is about half the price of higher-end woods, such as teak.
The following assumes you are building a wood pergola since that is the most common material for pergolas built without kits.
Step 1: Plans, Permits & Building Codes
The first step in building your own patio cover is learning about local building codes and permitting processes. If your neighborhood has a homeowners association, start there. You will need to get their approval anyway, and they can likely point you in the right direction regarding building codes and how to apply for a permit, if necessary. If you do not live in a neighborhood with a homeowners association, head to the local building codes office in your city or county to learn about relevant building codes and whether or not you will need a permit.
If you do need a permit, you will need plans to submit. If you go with a pergola kit, you will likely receive plans that you can use for this. If you are building from scratch, your best and most affordable option is to find plans online. There are many free pergola plans available online. If you go this route, it is best to choose pergola plans from a site specializing in DIY home improvement projects, such as HGTV or DIY Network.
If you do not find plans online but do need a permit, you will need to hire someone to draw up plans. Depending on the size and scope of your project, you may also need an engineer to sign off on them.
If you will be digging holes for the posts, you will need to contact local utility companies to make sure you can safely dig in your chosen area without damaging lines or pipes.
Of course, if you hire a contractor for professional pergola installation, they will take care of all of this for you.
Step 2: Measure and Purchase Materials
Use your plans to help you determine the materials needed to complete your project. You will need to measure the area where you intend to install your pergola to make sure it will fit. You will then need to make a list of materials and cuts so that you can head to the lumberyard or hardware store. You may also need to add tools to your shopping list if you do not already have all the tools required.
Some lumberyards will cut the wood for you, which will save you time and make the project easier to complete. This is why you should bring your list of cuts with you to facilitate this process. Otherwise, you will need to cut your lumber on your own. If you will be cutting your lumber at home, buy a few extra pieces because it is very likely that some measurement will be off and you will need to recut at least one piece during your project.
If you are working from a good set of plans, making your list and shopping for your materials should only take a few hours.
Step 3: Cut Your Lumber
There is a lot of lumber to cut for a pergola, so make sure your saw blades are in good condition and that you have the proper protective gear before you get to work. Measure, and then measure again. The old saying about measuring twice and cutting once definitely applies here, so make sure you are confident in your measurements before you start cutting wood.
If you are comfortable with a saw, this will likely not take more than one to two hours, depending on the size of your pergola.
Remember, it is easiest to have your lumber cut to size when you purchase it at your local lumberyard or home improvement center, so you may want to call around and choose a retailer offering this service in your area. Home Depot and Lowes are two options that will cut lumber for you.

Step 4: Prepare Your Build Space
If you are installing a pergola on an existing patio, this might include removing any furniture or other objects in the area. If you are building a pergola on bare ground, you will need to dig your post holes and prepare them to receive the posts. This will require measuring and marking the area, and then using a post hole digger to dig your holes. This should not take more than a few hours.
Step 3: Set Your Posts
On an existing patio or deck, this means attaching your posts to the concrete, wood, paving stones or other hardscape. How you attach it will depend on what you are attaching it to, so look online for videos or tutorials on how to attach posts to the type of patio you have. Depending on your skill level and the material of your patio, you might spend an afternoon making sure your posts are securely installed before moving to the next step.
If you are setting your posts in the ground, you will need to place your posts in the holes you dug in step four, install temporary braces to keep the posts plumb, and then mix and pour the concrete. Leave the braces on until the concrete is cured to ensure that your posts are straight. Be sure to string a line from corner to corner so that you can line up your posts in the holes. It will only take you a few hours to complete this step, but then you must let the concrete cure for at least a full 24 hours before moving on to the next step.
Step 4: Cut Your Posts
Once your concrete has cured, you can remove the braces and cut the top of the posts so that they are all even. If you attached your posts to an existing deck or patio, you can cut your posts level after your posts are securely attached, but this should not be an issue since you are installing posts of the same length on a flat, solid surface.
Step 5: Install Your Joist Beams
The joist beams are what holds your roof structure in place. You will need to attach them to your posts with lag bolts to create a secure structure. This will involve placing the beams, drilling holes in the beams and posts, and then attaching them with lag bolts.
Step 6: Install the Rafters
Follow your plans to space and attach the rafters to your load-bearing beams. Aside from securely attaching them to the beams, the most important part here is making sure each rafter has an even overhang on each side of the pergola. Together, steps five and six will likely take you the better part of an afternoon.
Step 7: Paint or Stain the Wood
It is now time to paint or stain the wood. This is important both for protecting the wood and making sure your pergola is an attractive addition to your outdoor living area.
Follow the instructions on the paint or stain container for application and drying time.

Pergola Ideas
1. Add a fabric cover to provide shade and protection from the elements. You can choose a stationary cover that always provides protection or a retractable cover that allows you to let the sunshine in or let your guests enjoy the view of the stars during a dinner party.
2. Cut decorative accents at the end of the rafters. Use a jigsaw to transform the squared ends of your rafters into attractive, decorative cuts.
3. Plant and train vines to grow over your pergola. Adding plants to your pergola, increases the shade provided by the structure and significantly enhances the visual appeal of your outdoor living area.
4. Create a festive atmosphere with string lights. String lights are an inexpensive, easy, immediate way to create a relaxing, welcoming ambiance.
5. Before you choose a kit or plans for building a patio cover, check out these additional pergola ideas to help you determine the right style and features for you.
If you would prefer to have the help of professionals to make sure this important project goes well, get a free estimate for professional pergola installation.