How to Prepare Your Outdoor Kitchen for Winter
Do I Need to Winterize My Outdoor Kitchen?
Most folks living in Southern California can enjoy their outdoor living spaces and patio kitchen throughout the year. While you might need to add heaters or a fire feature to keep your guests warm or some extra landscape lighting to accommodate the shorter days, you can entertain in winter almost as easily as in summer. Therefore, most Southern California homeowners do not have to seriously winterize outdoor kitchens.
This means that most folks will just need to perform some seasonal outdoor kitchen maintenance and make sure that their appliances, cabinets, grill, and sink are protected and prepared for inclement weather.
However, if you live in an area with hard freezes, there are additional steps you will need to take to make sure your patio kitchen can withstand the elements and you do not have to deal with busted pipes, flooding and expensive invoices from your local plumber.
How to Winterize Your Outdoor Kitchen in Places Without Hard Freezes
This section includes tips for preparing your patio kitchen for winter regardless of where you live. This includes seasonal maintenance tasks that should be regularly performed to keep your kitchen functioning and in good condition, as well as ways to make sure your appliances and features are protected from inclement weather. Folks who live in areas where it regularly freezes in the winter should perform the maintenance tasks in this section and should also take heed of the tips in the next section.
1. Clean out the refrigerator, wine refrigerator, and kegerator.
You will likely entertain less in the winter months than you did in summer and fall, so now is a good time to clean out your patio refrigerator. Throw out expired food, compost those wilted vegetables, and use a rag and a spray bottle with a mixture of water and distilled white vinegar to clean the walls and shelves. If you keep baking soda in the refrigerator to combat odors, now is a good time to replace it with a fresh box. This is also a good time to vacuum the coils.
If you do not plan on using your outdoor refrigerator during the winter, you can unplug it to save electricity. However, if you do this, the door needs to remain open, which can be a hazard to children and pets. Therefore, you will need to remove the door completely or find a way to barricade the area so that children and pets cannot access the refrigerator.
If you plan on continuing to use your wine refrigerator or kegerator throughout the winter, simply clean it out by removing all of the bottles (or keg) and wiping down the interior. If you do not plan on using them, you can shut off the power, but you will need to treat them like other refrigerators and determine how to safely keep the door open all winter without posing a suffocation hazard for children or pets. For kegerators that will not be used during the winter, you should also drain the beer lines and clean them to make sure it is ready to go in spring.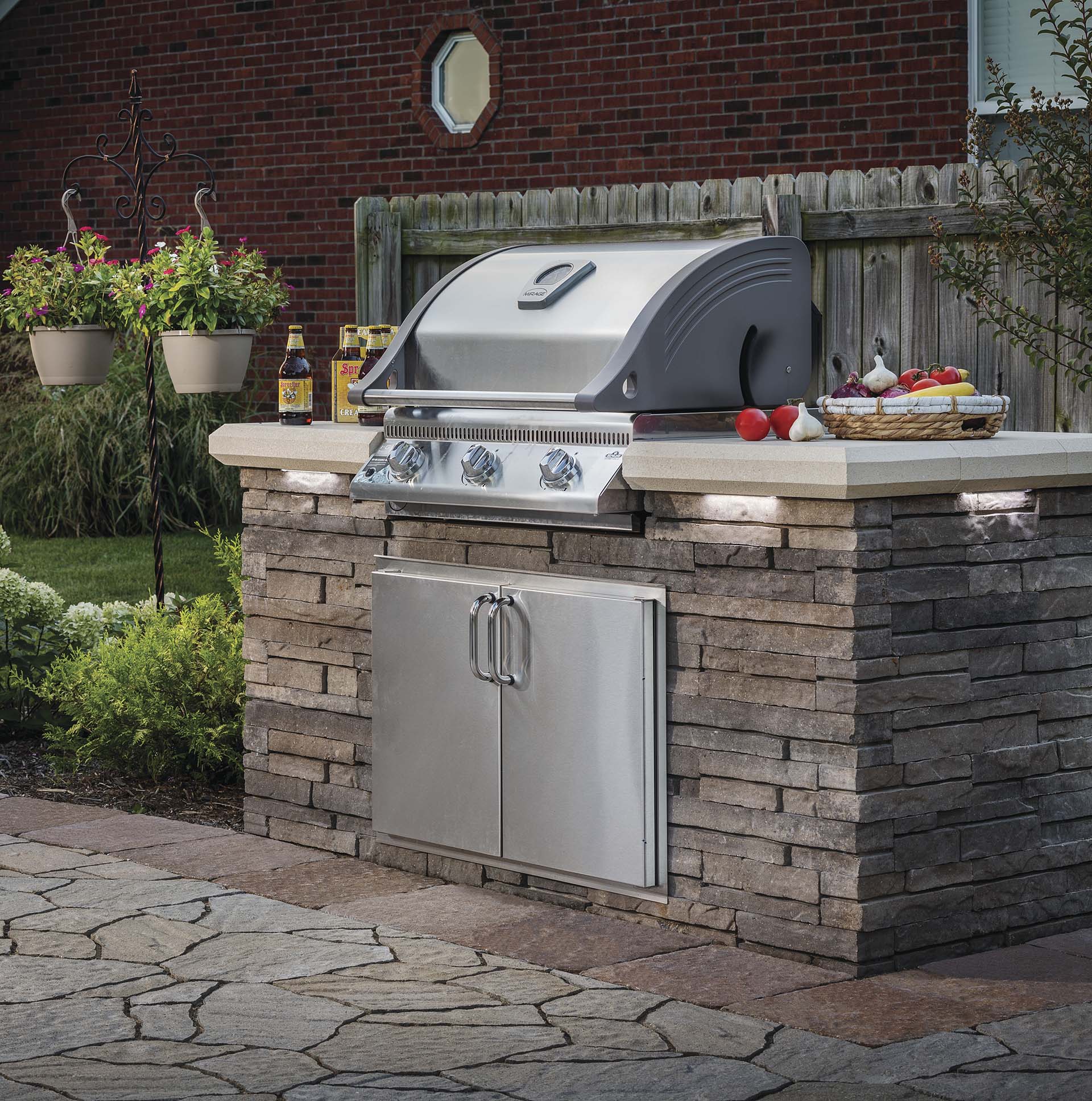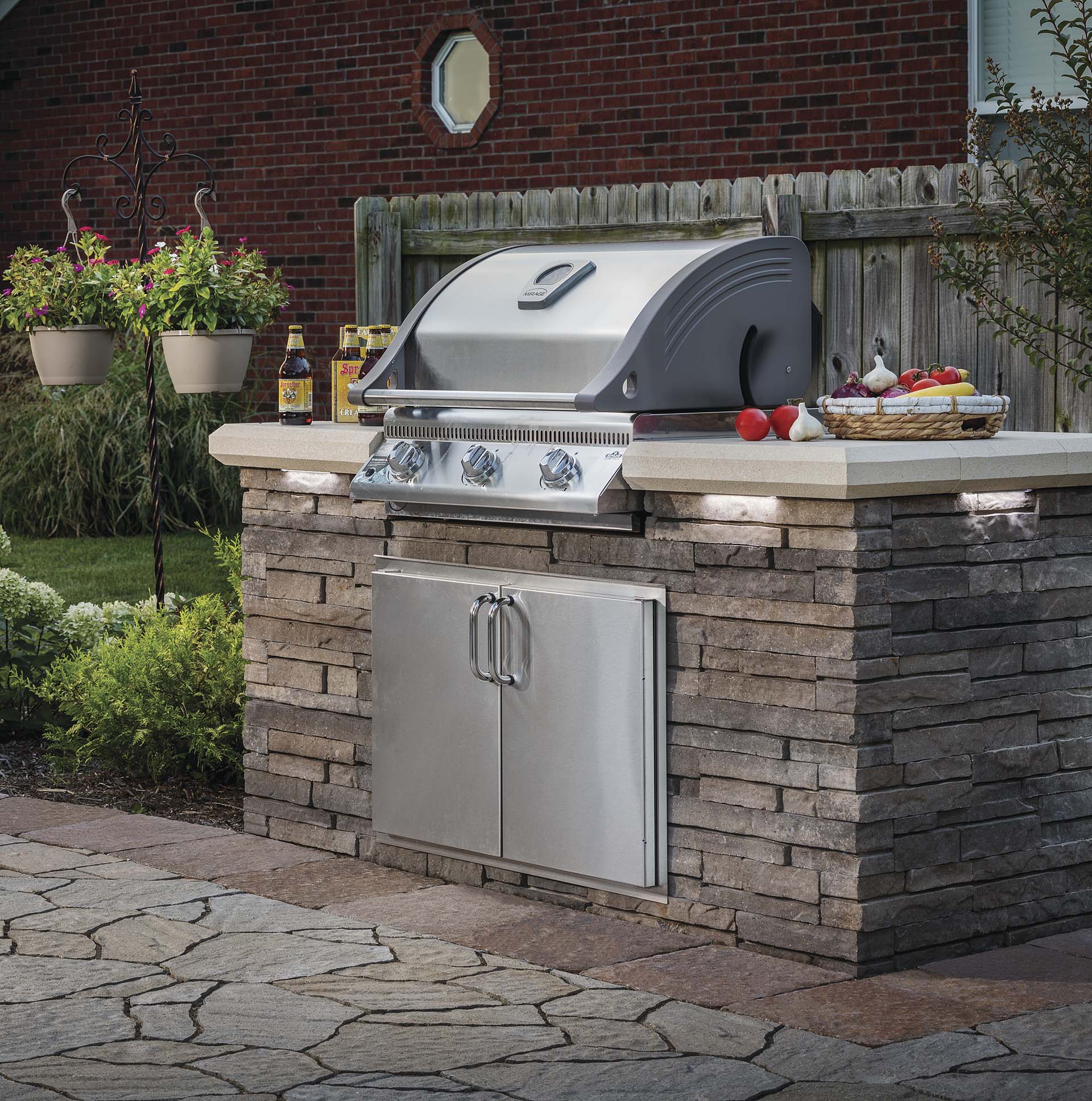 2. Clean Your Grill and Pizza Oven.
Your barbecue grill and pizza oven probably got a lot of use this summer, so start the winter entertaining season off right by making sure they are clean and in good, working order. After you have cleaned your grill and made sure it is working properly, season your cooking grates to help prevent rust. You can easily accomplish this by applying a coat of vegetable oil, and then heating the grill for 15 to 20 minutes.
If your outdoor kitchen is well protected on a covered patio, you may not need a grill cover. If your grill or pizza oven is exposed to the elements or you simply want to keep them clean and protected through winter, purchase covers designed to fit them properly.
3. Take Care of Your Cabinets and Countertops.
If your cabinets and countertops are stainless steel, you can simply apply stainless steel polish to make sure they are ready for the next entertaining season and for any wet weather. If they are wood, make sure they are properly sealed so that they can withstand the wetter months of winter. Paving stone countertops are sometimes sealed and sometimes not. In some cases, a porous surface, such as paving stones, can benefit from sealing to ward off stains. Ask your kitchen designer or installer to see if your countertops should be sealed.
Now is also a good time to clear your countertops of clutter and clean out your cabinets. Throw out expired food, move foods no longer needed outside into your indoor kitchen, and wipe down the shelves.
4. Prepare Your Furniture.
Most outdoor furniture is made to withstand the elements, but regular maintenance is necessary to keep it in good repair. Metal furniture will need to be painted with a rust-resistant paint every few years, wood furniture will need to be regularly stained and sealed, and all patio cushions will last longer if they are stored in a waterproof deck box during wet weather. If you plan on using your furniture through the winter, consider purchasing covers that will keep it clean and dry between uses.
5. Clean and check your patio heaters, fire pits, fireplaces, or other fire features.
Any heater or fire feature you plan on using this winter should be cleaned and checked for proper function. If your heaters use propane, be sure to stock up before your first winter soiree.
These resources will help you make sure your fire features are clean and safe:
Fire Pit Safety + Maintenance Guide for Your Backyard
Outdoor Fireplace Safety Guide

6. Cover Your Kitchen.
Since most Southern Californians experience cold weather and rain in the winter but little or no snow, one of the best ways to prepare your outdoor kitchen for winter is to cover it. If it is in your budget, a permanent patio cover provides your appliances and surfaces with protection from the elements. It also makes winter entertaining much easier and helps keep your guests dry and comfortable.
If a permanent patio cover is not in your budget, consider purchasing a canopy to cover your entire outdoor kitchen or a smaller grill canopy to at least make sure your grill has more protection from wet weather.
How to Prepare Your Outdoor Kitchen for Winter in Places with Hard Freezes
The above outdoor kitchen maintenance tips apply to folks living in areas that freeze and that do not freeze. If you live in an area where the temperature drops below freezing often enough that you winterize your outdoor plumbing, then you also need to winterize your outdoor kitchen beyond the above-mentioned steps.
Most importantly, you will need to prepare your water lines in order to avoid pipes bursting in freezing weather. The first thing to do is shut off the water line going to your outdoor kitchen. You will then need to drain the lines, which includes lines going to your sink, ice maker and refrigerator. Finally, make sure all of the drain valves are open.
If you do not plan on using your patio kitchen during the colder months of winter, turn off the gas lines going to your grill, pizza oven, and other gas appliances.