14 Outdoor Kitchen Design Ideas
Southern California homeowners can enjoy their outdoor kitchens any time of year, which means any time of year is the perfect time to design and install your patio kitchen. While most include the basics, like a barbecue grill, refrigerator and sink, some people may want to customize their designs a bit more to fit their lifestyle.
For example, if your family has a weekly pizza night, you probably need a pizza oven. If you are known for the best barbecue ribs in the county, you are going to need a smoker. If your interests lean more towards inviting your girlfriends over for a glass of wine, you can probably skip the smoker and go for a wine refrigerator instead.
Read on for 14 outdoor kitchen design ideas that will help you customize your outdoor space to suit your needs and maximize your outdoor living areas.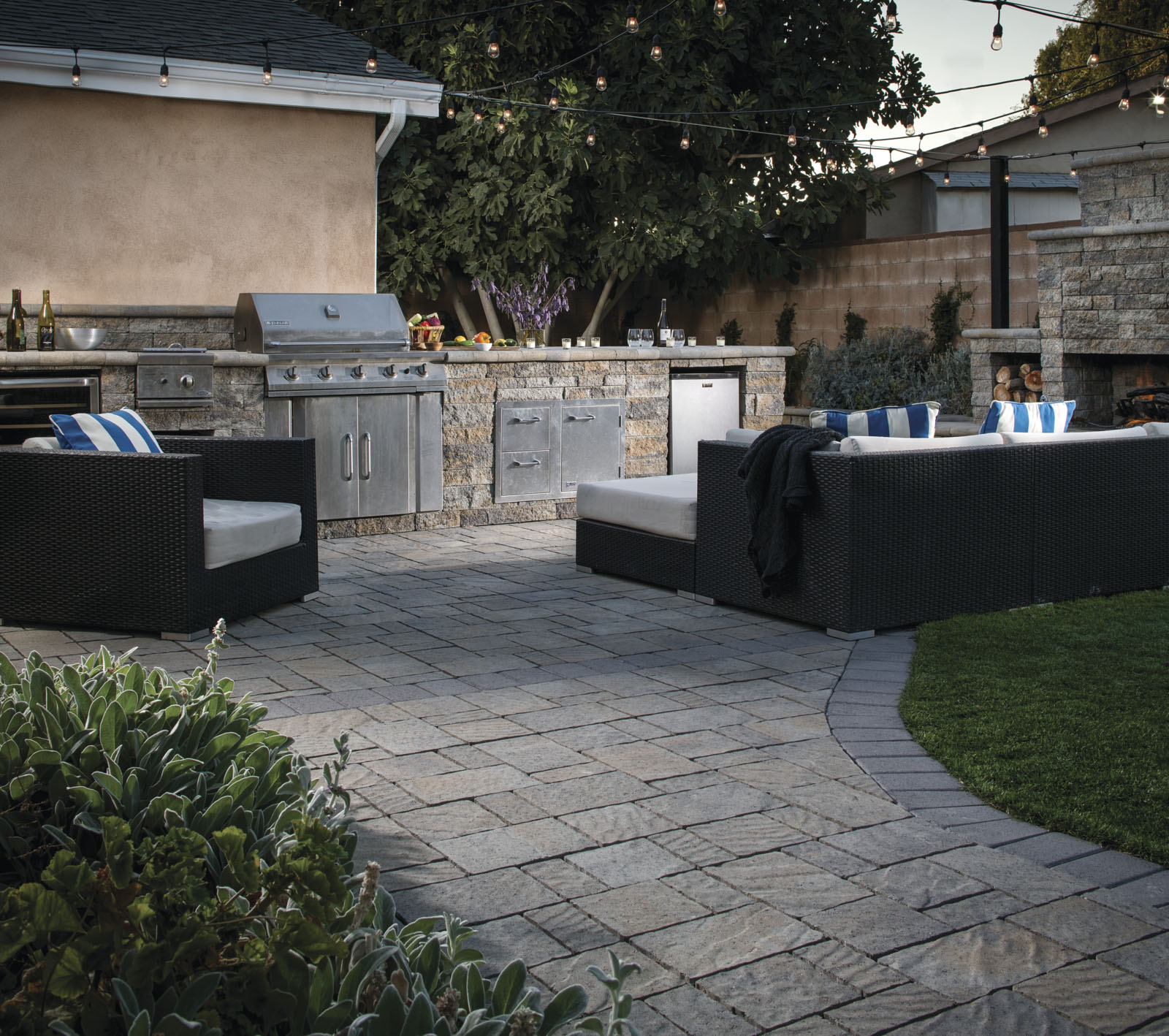 Outdoor Kitchen Ideas for Small Backyards
Skip the Table and Go for a Bar
If you are designing a patio kitchen for a small backyard, one of the easiest ways to save space is to forgo a patio dining table. Instead, include a bar and barstools for your guests. As an added bonus, you can use the bar for counter space while prepping food in the kitchen.
Prioritize Appliances and Features
You may not have room for every feature you would like to include, so you will need to prioritize. Consider how you currently use your outdoor living areas and how you are hoping to use them in the future. Prioritize the features and appliances you will include based on this. Outdoor kitchens almost always have a grill, and most have a sink and a refrigerator. So, for most people, it is best to start here, and then see what else you can include after you fit these basics into your design. If your patio kitchen is particularly close to your interior kitchen, you may even be able to skip the sink to save space. Just keep in mind that this will mean running inside whenever you need water and cleaning your grimy grilling accessories and pans inside.
Include Portable Features
Most outdoor kitchen designs focus on built-in, permanent features, but sometimes folks with small backyards have to get creative. Instead of a built-in bar, you could include a bar cart that can be rolled into the garage or a shed when not in use. Instead of trying to squeeze in extra counter space, you could include a rolling kitchen cart that can be moved around as needed to make the most of your space.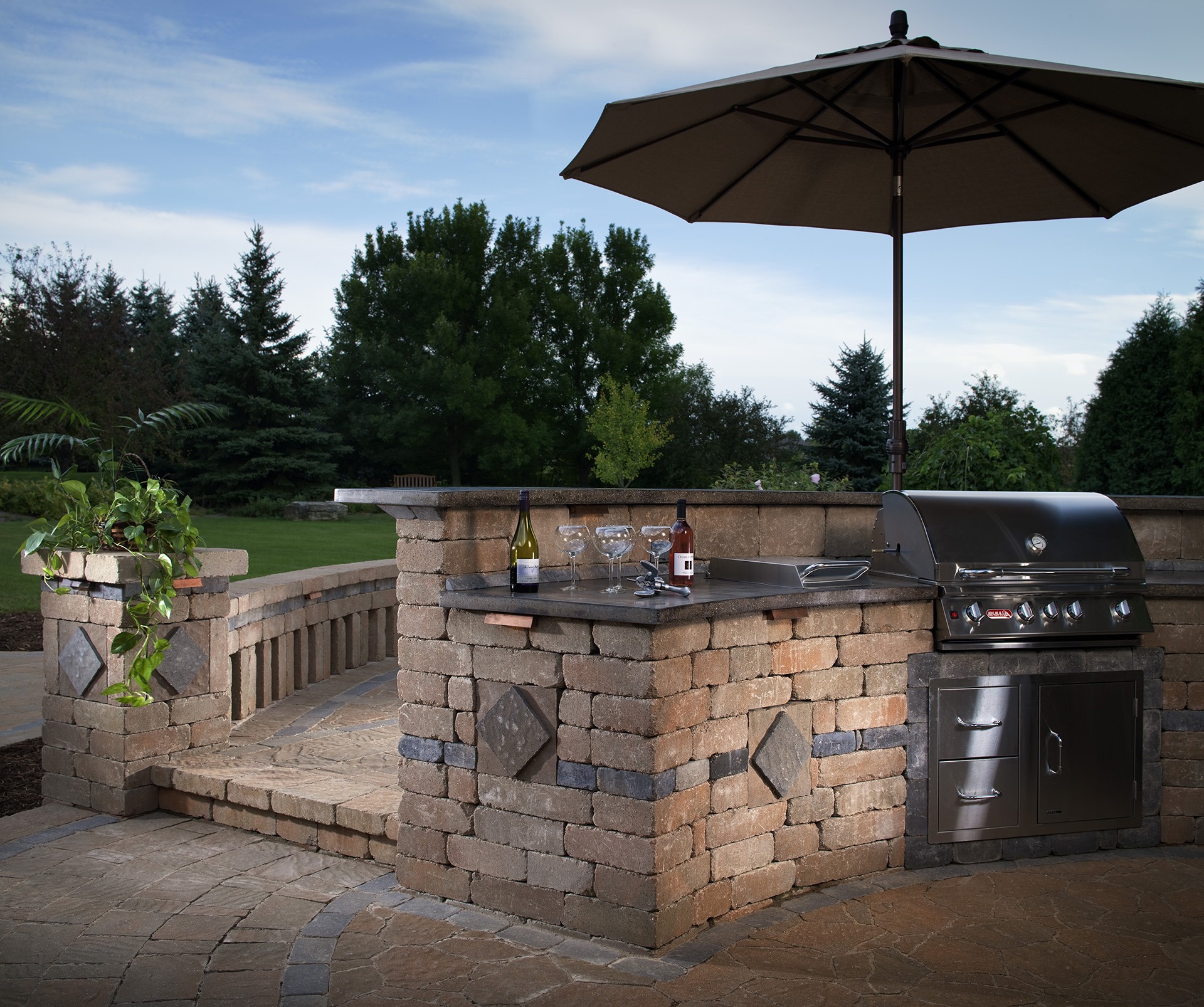 Outdoor Kitchen Ideas for Grill Masters
Built-In Barbecue Grill
Obviously, every grill master needs a built-in barbecue grill in their outdoor kitchen. A grill is central to most patio kitchen designs, but it is particularly important for avid grillers. For you, this is where you should focus more of your budget to get the grill of your dreams.
For versatility, you might consider a divided grill that burns both propane and charcoal. To cook full meals in your kitchen, consider also installing one or two burners to complement your grill station.
Add a Smoker
As a proven or aspiring grill master, you will also need a smoker. Smokers are essential to the art of barbecue. If you are a purist or just enjoy tending the fire and keeping an eye on your smoker throughout the day, go for a wood-burning smoker. If you are more interested in getting it going, and then walking away to do other things while your food smokes, you are better off with an electric smoker or a gas smoker.
Storage for Barbecuing Accessories
Tongs, spatulas, meat forks, basting brushes and bowls, salt and pepper shakers, thermometers, and bottle openers are all necessary grilling tools that you will want to keep close at hand. As you design your kitchen, make sure you include accessory storage where you can put your tools away, keep them clean and protect them from the elements. Also, be sure to include a hanging rack, caddy or hooks where you can keep your tools handy while grilling.

Outdoor Kitchen Ideas for Pizza Lovers
Pizza Oven
If you love pizza, love spending time in your outdoor living areas and are intrigued by the idea of making pizza on your patio, you are going to need a pizza oven. Pizza purists will need a wood-fired, brick oven for the most authentic pies, but there are propane-powered options for those who prefer the convenience of gas. If a pizza oven is not in your budget, you can also get a pizza stone for use on your grill. It is not the same experience, but it will allow you to make pizza on your patio while you save up for a pizza oven.
Pizza Oven Accessory Storage
Pizza peels are among the largest kitchen accessories, so you will need to incorporate a large drawer or a hook in your patio kitchen design to store it when not in use. You will also need storage for other accessories, such as your pizza wheel, spatula, pizza oven brush, parmesan and crushed peppers jars, pizza trays, and stands.

Outdoor Kitchen Ideas for Girls Night
Wine Refrigerator or Kegerator
A girls night in is just not the same without the appropriate beverages, and you definitely do not want to be running in and out of the house all night if you are entertaining in your backyard. Therefore, make sure you include a wine refrigerator or kegerator (or both) in your outdoor kitchen design to keep the drinks flowing (responsibly, of course).
Patio Bar
If you have limited space, you may have to keep your beverage-dedicated space to a minimum with just a wine refrigerator, but if your budget and space allow, consider installing a patio bar with an ice maker. Patio bars are far more fun and festive, and teetotalers can enjoy them just as much as folks who partake in adult beverages. Mocktails are enjoying quite a bit of popularity right now, so virgin sangria or shrubs could definitely be on the menu at your backyard bar.
Sound System
If your group of friends gets together to listen to your favorite podcast, watch your stories or get your groove on to the latest tunes, make sure your outdoor sound system reaches your kitchen.
Outdoor Television
Gathering in the kitchen to chat while preparing food has long been a central part of informal girls nights. If you plan on doing the same thing in your outdoor kitchen when you have your girlfriends over, you might want to include a television in your patio kitchen design. This will allow you to watch rom-coms or your favorite female standup comedians while you grill.
Add a Sink for More Functionality
Sinks are pretty standard in outdoor kitchens, so you likely already have one in your design. If not, you might need one. If your girls nights include spa treatments, a sink in your outdoor kitchen will allow you to continue that tradition without traipsing back and forth to the bathroom to remove masks or fill water bowls for manicures.
Seating and Tables
Seating and tables are a must for dinner parties, craft nights and game nights, so be sure to have an outdoor living room or dining room near your patio kitchen to accommodate your guests and any planned activities.
Frequently Asked Questions
Is it worth it to build an outdoor kitchen?
Outdoor kitchens can improve the value of your home, however, we would recommend only building one if you plan to get use out of it. Outdoor kitchens can be great in backyards of all sizes, and significantly improve your entertainment space.
What is the normal size for an outdoor kitchen?
Outdoor kitchens can be built in small or large backyards. Most outdoor kitchens range from 10 feet to 16 feet of counter space. You want to have all the appliances you desire plus workspace.
Do you need a sink in an outdoor kitchen?
A sink in an outdoor kitchen is a great addition to have, but it is not necessary. The functionality from adding a sink can not be understated. Adding a sink will save you time in the long run from walking in and out of the house to use a sink.
An outdoor kitchen can be a great addition to any size backyard. They provide functionality and improve entertainment spaces. These 14 functional and design ideas are just the beginning! Get started planning your dream backyard today.
This article was originally published July 27, 2019 and updated April 28, 2022.