Outdoor Kitchen Design Guide: Building Ideas + PRO Tips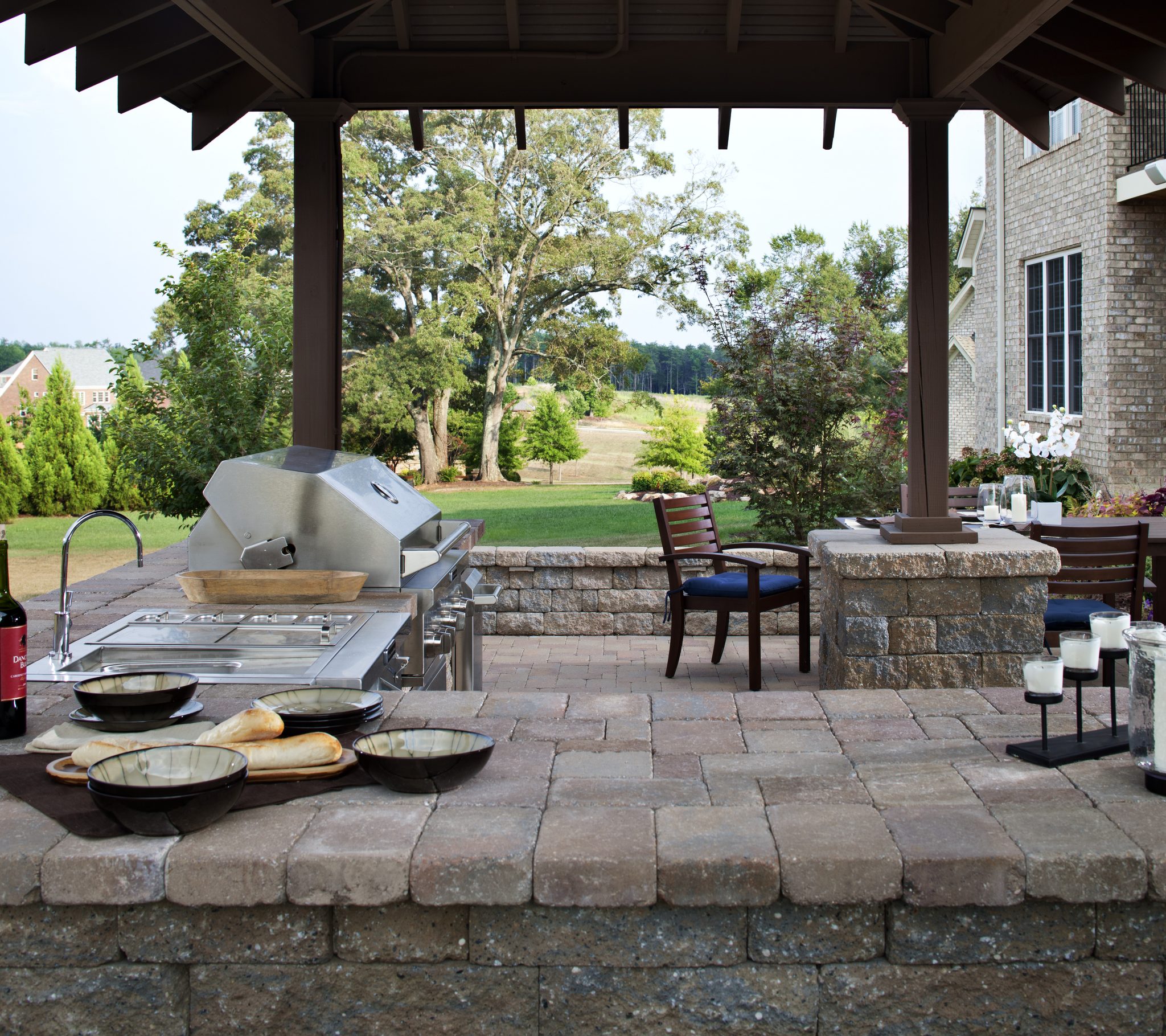 San Diegans arguably spend more time outside than in, so it's no surprise that outdoor kitchens are an often added backyard "perk." And while installing an outdoor kitchen might initially seem to come down to picking a grill and fridge, there's obviously much more to it than that. In fact, the ultimate outdoor kitchen is built for durability, seasonability, ease of use, and function – not to mention maximum enjoyability.
Below are the key factors to consider when planning and "purchasing" the best outdoor kitchen for your money:
The Successful Outdoor Kitchen
Layout is Key —
Professionals know that in an efficient kitchen layout, the refrigerator, cooking surface (i.e., stove), and sink should form the three points of a triangle, with no radius of the triangle measuring more than 10 feet and that the legs of the triangle should be unobstructed by other elements like cabinets or an island. This is the ideal "work space" triangle, ensuring the most efficient use of the kitchen and requiring the cook to take the least amount of steps to make a meal.
You'll also want to remember to have a "landing element" or workspace around each side of your major appliances and sink, so you have space to place platters, dishes, and other prep equipment.
In fact, according to HGTV.com:
— a grill or oven should have 12 inches of workspace on one side and 24 inches on the other.
— a stove top should have 12 inches of workspace on both sides.
— the sink should have 18 inches of workspace on both sides.
— the minimum food preparation area should be 36 inches wide and 24 inches deep.
— a 10-foot kitchen needs at least 21 inches of linear storage.
Also remember to connect your indoor look with your outdoor look. In other words, make the two spaces look like they're related in design and material. So you can choose your outdoor decking in the same color family as your indoor space, and use the same countertop materials and/or tile as your kitchen inside.
If you want to have both kitchens function as one space, put the two as close together as you can so dishes can be easily passed back and forth and supplies can be shared. Sliding doors and big windows leading to the outside kitchen can help make the spaces look as one and merely extensions of the other.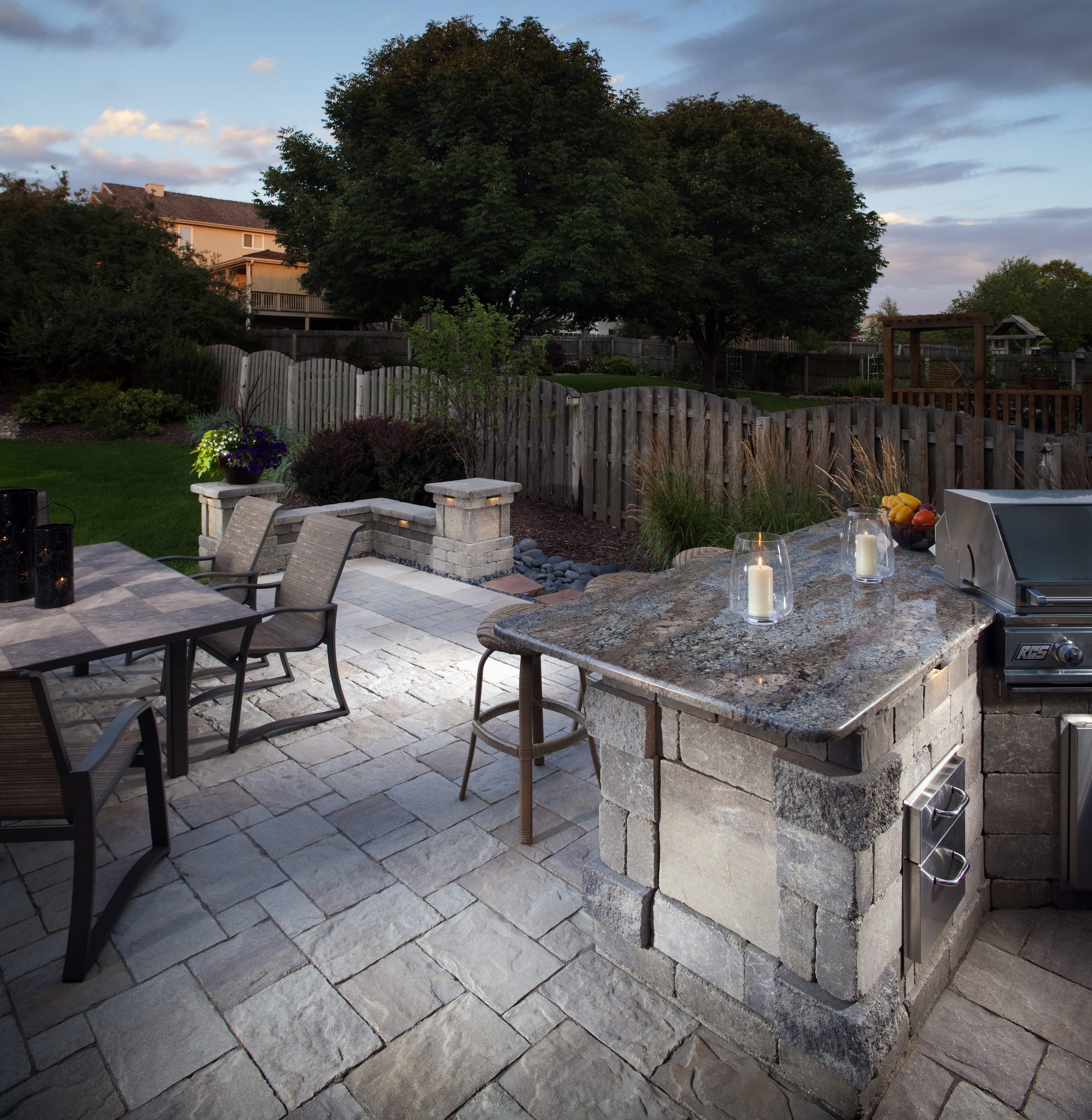 Use Quality Materials — 
Because outdoor kitchens are subject to the elements – even in San Diego – it's crucial you choose the best grade of every material you use to withstand wear and tear.
For cabinets, marine-grade plywood (that used on boats) or marine-grade polymer sheets are ideal. Polymer is durable and waterproof, so is a good choice. Plus, unlike wood, polymer won't swell, rot, or split when exposed to excessive moisture. Ask for polymer that is thick and with a minimum of hardware. Stone (but it will have to be maintained and treated) and stainless steel are good options for outdoor countertops because they're the most durable.
For stainless steel, choose #304 stainless because it's more rust-resistant. Stainless steel grades indicate the amount of chromium and nickel the steel contains and 304 stainless contains more of both. Keep in mind that some manufacturers will use #304 on appliance lids, but not the body of the appliance, so be sure to check. Most high-end (and yes, expensive) alliances are made with #304 steel, but check the screws: non-stainless screws will rust.
Appliances and countertops made with #304 steel will still get some surface rust, and so need cleaning and treating. Most outdoor kitchens installed in oceanfront homes require that even the highest quality grills be replaced every so often due to the elements, so if you are lucky enough to live in such a home, have your designer place the grill in a place that it can be removed and replaced without tearing apart the entire kitchen.
As for your sink, choose the best materials you can as well and make it big enough to accommodate your entertaining needs (i.e., party platters and serving pieces should fit inside the sink). Good materials for sinks are stainless steel or enamel.
For flooring, avoid glazed or porous tiles and stone because they'll become slippery when wet as well as greasy from cooking. Good flooring materials include concrete, brick and natural stone. Ceramic tile is also available and comes in a variety of colors and finishes to make it generally slip resistant. Concrete is probably the most common flooring choice for outdoor kitchens, and stamping, coloring and finishing will allow you to coordinate a concrete floor with the overall look  of your kitchen. Depending on your style, you can choose tumbled pavers, exposed aggregate, slate, unhoned travertine and a variety of others flooring types.
If you choose granite, use cultured granite with UV stabilizers and always avoid highly porous materials like limestone.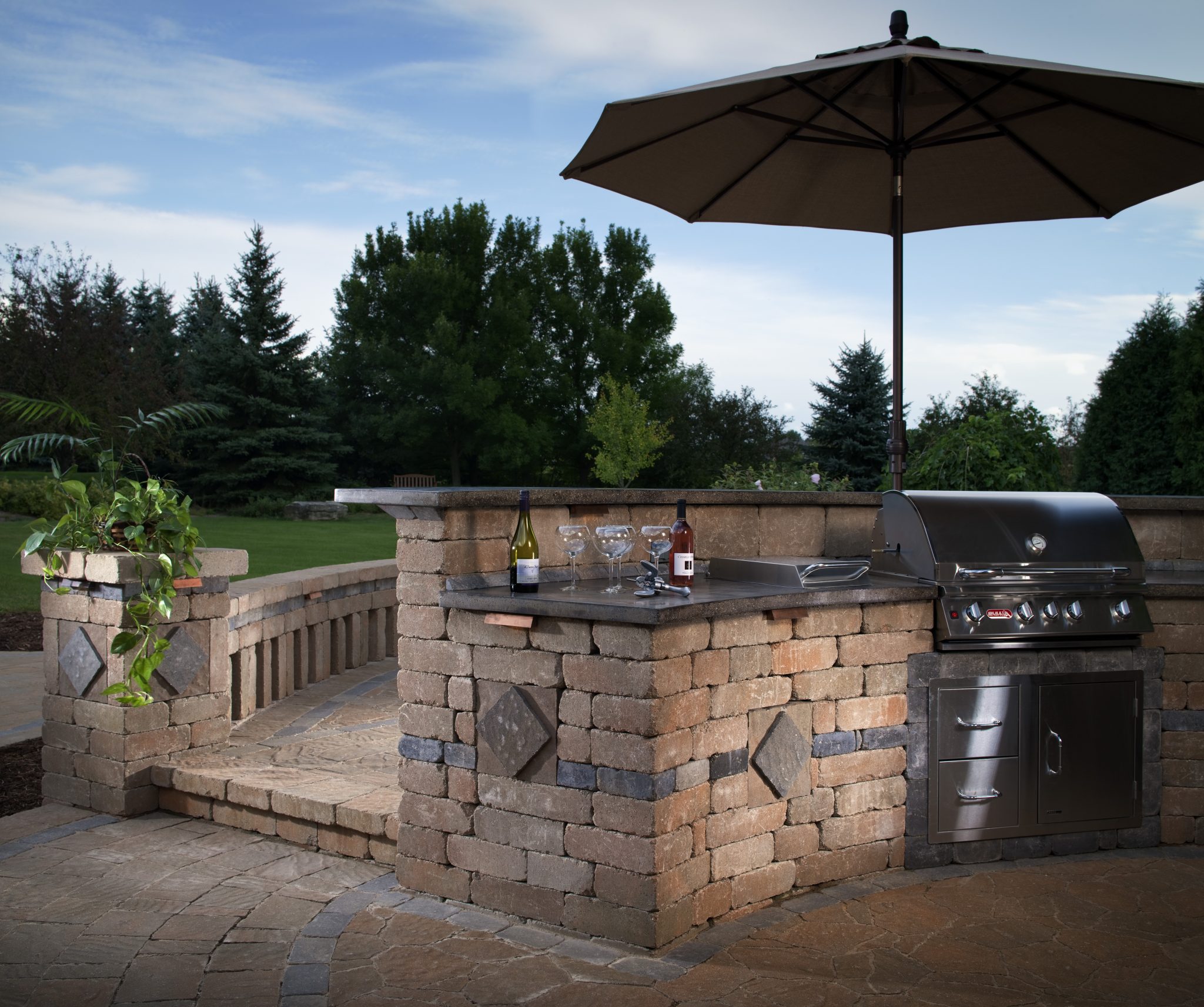 Protect Your Kitchen —
Again, although "it never rains in Southern California," you'll still need to shelter your outdoor kitchen from the elements (sun and the occasional precipitation). Structures like pergolas, simple roofs, walls or even screens can protect your space. If you're in full sun,  arbors or thatched roofs can be outfitted with misting systems to cool you off. And don't forget those chilly nights – an outdoor gas or propane heater will make a huge difference when you're outside entertaining.
Do remember that smoke from a grill can be trapped under a roof and so you'll need an efficient ventilation system if you go this route.
Finally, if you shelter your kitchen from wind, rain, and sun, entertainment features like flat-screen TVs and sound systems will more effectively incorporated.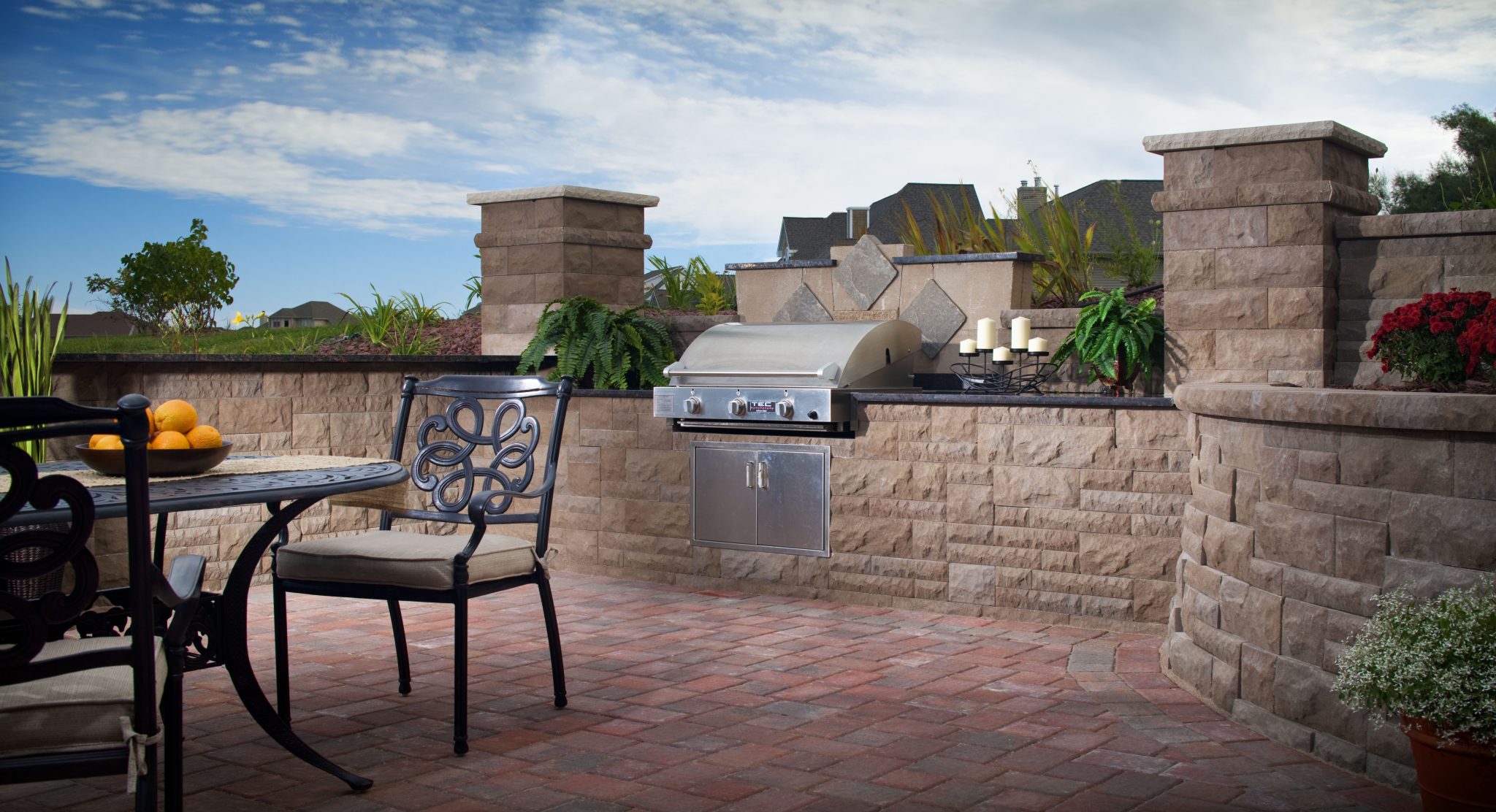 Types of Outdoor Kitchens
As we mentioned earlier, layout is of prime importance. Below are the most common outdoor kitchen layouts for you to consider. Choose whichever one combines form and function for your specific space.
Island Layout —
This is probably what you imagine when you think "outdoor kitchen." Island layouts are the most common outdoor kitchen design, with the grill and all appliances clustered in one central space (the island). This is a perfect design for entertaining because guests can visit around the island, as well as eat and drink there while you're cooking. Raise one side of the countertop (where the guests might sit) to define the socializing space from the cooking area.
Straight Line Layout —
This design is good for smaller areas and is just as it sounds – all appliances are in a straight line. Here, the kitchen is installed against a wall of the house so it's critical that you protect the siding with materials that don't combust or will otherwise destroy your siding.
U-Shaped Layout —
This design works best for larger kitchens. U-shaped layouts look most like indoor kitchens and are freestanding with a grill, refrigerator, dishwasher, sink and bar.
Fun Outdoor Kitchen Extras
— Built-in refrigerator and/or beverage chillers
— Pizza oven
— Outdoor television and sound system
— Fire pit
— Outdoor oven
— Built-in kegerator (yes!)
Cleaning and Maintaining Outdoor Kitchens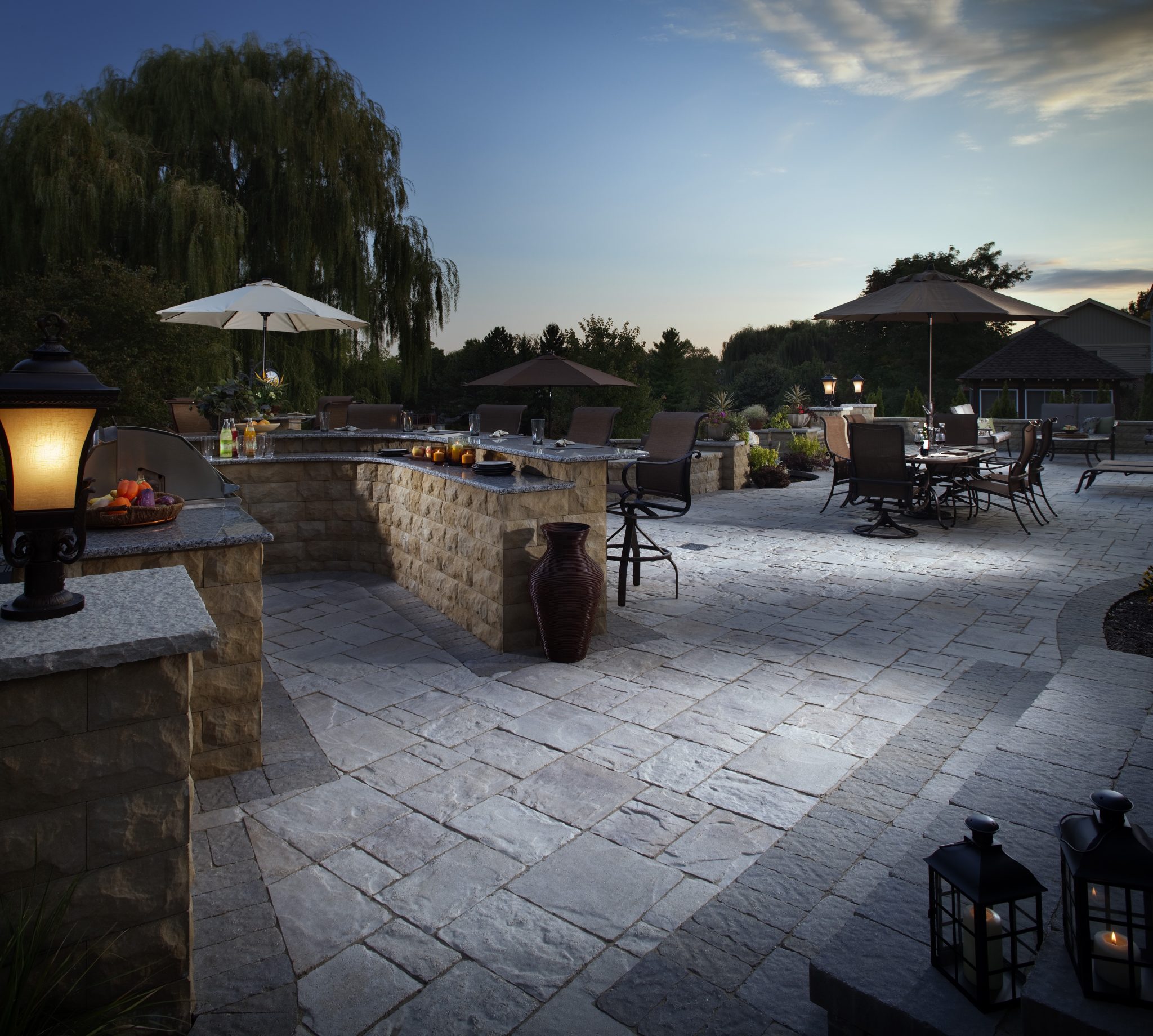 Stainless Steel —
First and foremost, avoid  cutting directly on a stainless steel surface. Use a cutting board, because using metal knives on metal surfaces will scratch them. Also, don't leave metal cans, cooking implements or cookware  on your stainless steel countertops. Finally, don't place anything hot on them for any length of time because it can lead to staining and corrosion.
For cleaning, follow the grain of the steel. Rinse off the surfaces with soapy water and dry the surface completely to avoid mineral deposit buildup.
Glass cleaner works well to eliminate fingerprint marks on stainless steel.
Granite/Stone —
Many pros recommend the oil/lemon juice test to determine how susceptible your stone is to stains and dulling. If the test suggests it, seal your stone surfaces. If you spill something, wipe it up ASAP. Natural stone counters require sealing on a regular basis.
The rules about caustic cleansers, cutting, metals and heat apply to these surfaces, too, so be sure to observe them for maximum maintenance.
 BBQs —
Read how to clean a grill here.
Final Thoughts
Building an outdoor kitchen is a fun, but intensive process that requires a lot of planning. Keeping in mind some of the above tips should give you a good place to start, but as always, your contractor will point you in the right direction.
What is your dream outdoor kitchen? Let us know in the comments below…