How to Design Landscape Lighting
Landscape lighting can completely transform the look of your home and is one home improvement project that can quickly make your property safer for your family and guests, increase home security, and significantly improve your outdoor living areas.
The key to improving the look and function of your property with outdoor lighting is to start with a plan. So, let's take a look at how you can put together the landscape lighting design that will best meet your needs.
Landscape Lighting Design Tips
The first step in landscape lighting design is determining your goals. These might include:
Guiding traffic to outdoor entertaining areas
Improving the security of your property
Adding task lighting for grilling or food prep areas
Illuminating pathways to make them safer and easier to traverse
Accentuating interesting architectural or landscaping features
Creating a warm, inviting atmosphere in outdoor living areas
Illuminating a water feature
Enhancing curb appeal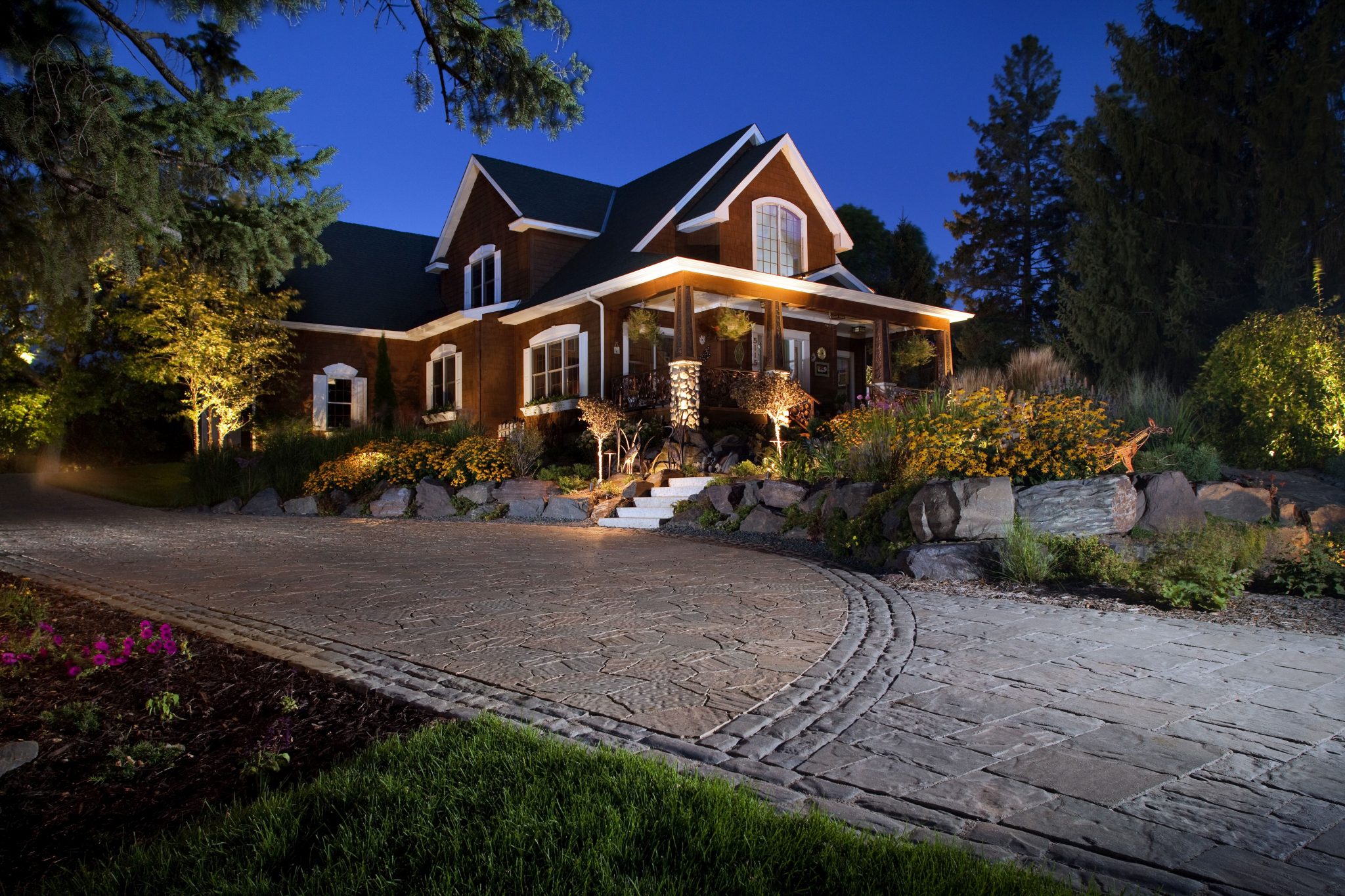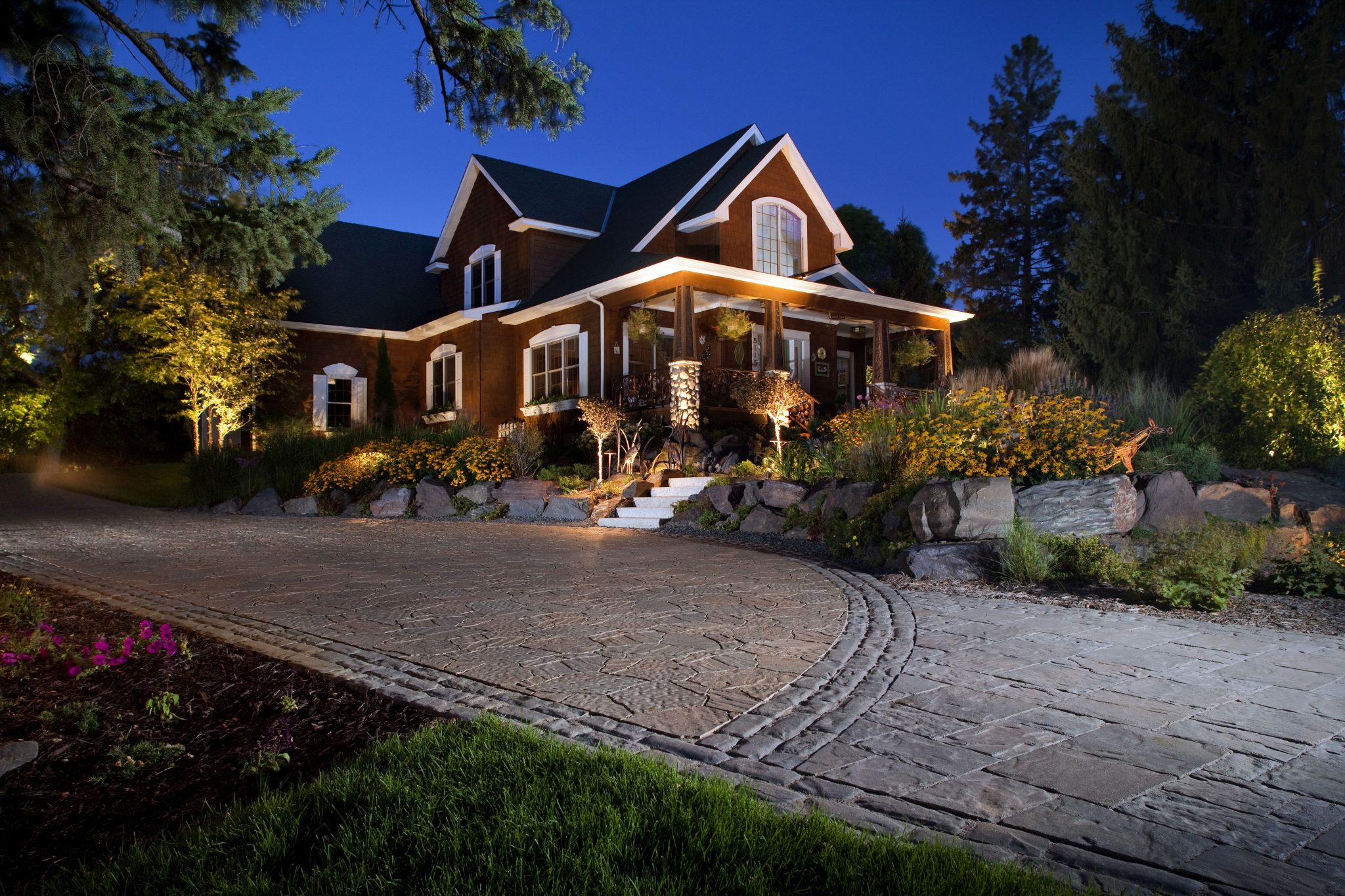 Determining your primary goals will help you develop your outdoor lighting plan, which you will need to do before you begin any type of installation.
Once you know your goals, determine how best to meet those goals. For example, if your primary goal is to illuminate walkways and guide traffic, you will likely focus on choosing pathway lights to meet this need. If your goals include illuminating interesting features on your home or in your yard, you will likely include uplights in your lighting plan.
When you have a pretty good idea of what you want, it is time to sketch your yard, including placement of light fixtures, where the transformers will be located, and where you will be installing wiring to connect the fixtures to the transformers.
When sketching your design, keep in mind that spacing is key. For example, most folks will want to place their pathway lights about six feet apart to provide ample light without overcrowding or making the area too bright. When spacing outdoor lighting in your yard, try to avoid making some areas too bright or leaving dark spaces that will look like empty voids at night.
If you are working with an installer, your next step is meeting with them with your sketch. Be open to their ideas and suggestions, since they do this type of work all the time and might notice things you have missed or might know ways to take your landscape lighting design and make it even better.
If you are working with an installer, they will order the fixtures, transformers, wiring, and other supplies prior to completing installation. If you are installing your outdoor lights on your own, you will need to make a list of products and parts that you need, and then purchase them at a home improvement store or order them online. Depending on your project, there may even be a kit available that will arrive assembled and make your project easier.
For a do-it-yourself project, you will also need to purchase any necessary tools that you do not already own. This will likely include screwdrivers, a wire stripper, wire, connectors, conduit, landscaping staples, voltage detector, and crimping tool. You will also need a shovel or spade to dig trenches and bury the wires. If you are working with an installer, then you, of course, will not need to purchase these items, since they will already have the tools and will purchase any supplies they need for the installation.
Before you make your parts list, you will need to determine if you will be using solar outdoor lights, halogen lights or LED landscape lighting. Solar lights require no wiring or electricity and are the easiest option for do-it-yourselfers who are not comfortable working with electrical wiring and transformers. On the other hand, solar lights can only be placed in areas that receive sunlight, the solar panels must be cleaned regularly, and solar lights usually do not stay on as long as other options once the sun goes down.
If you are going for wired outdoor lights, you will likely be choosing between halogen or LED fixtures. Halogen has a lower upfront cost, but LED lighting lasts longer and uses less energy, which can help you save money over time.
If you are not sure which type of landscape lighting is right for you, check out these two posts for more information:
Solar Landscape Lighting (Pros and Cons)
Halogen vs. LED Landscape Lighting (Which One Is Best?)

Landscape Lighting Design: Additional Resources
Whether you are working with a designer or coming up with your own lighting plan, it is helpful to learn the basics about outdoor lighting before beginning your project. Here are just a few articles you can use to learn more about landscape lighting and landscape lighting design:
Low-Voltage Landscape Lighting 101
Landscape Lighting Maintenance Tips (How to Avoid Costly Repairs)
Pathway Lighting Tips + Ideas (Walkway Lights Guide)
Homeowners who want to ensure a good end result without the challenges of running electrical wires or learning about transformers can enlist professional landscape lighting services that include design and installation. At Install-It-Direct, we offer free design consultations and estimates, and even a free outdoor lighting demonstration where our professionals install outdoor lighting in your yard on a Friday and let you have the entire weekend to decide whether or not you like them.
You can schedule a free weekend demonstration for your landscape lighting here.