Pool Deck Materials Guide: TOP Pool Decking Options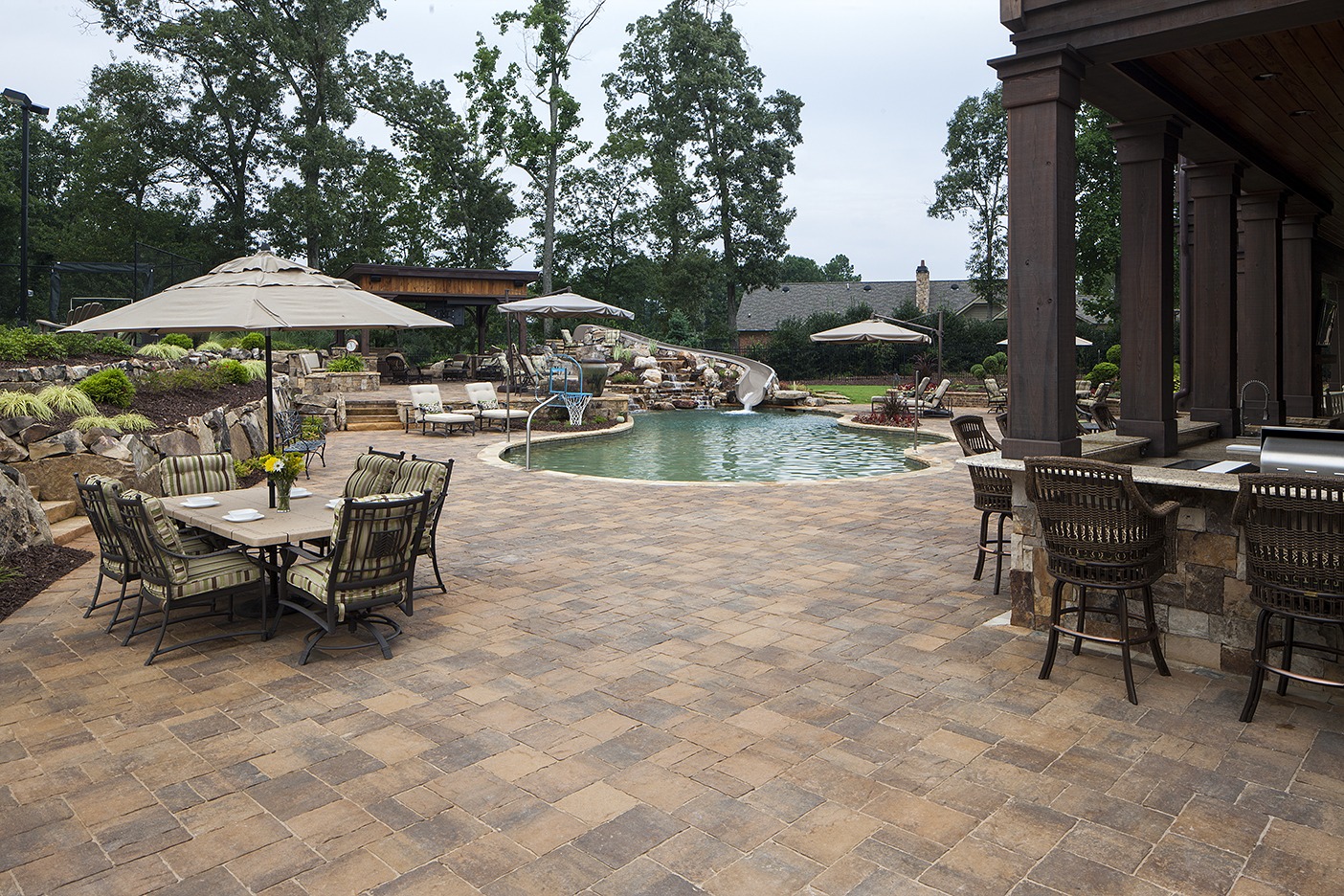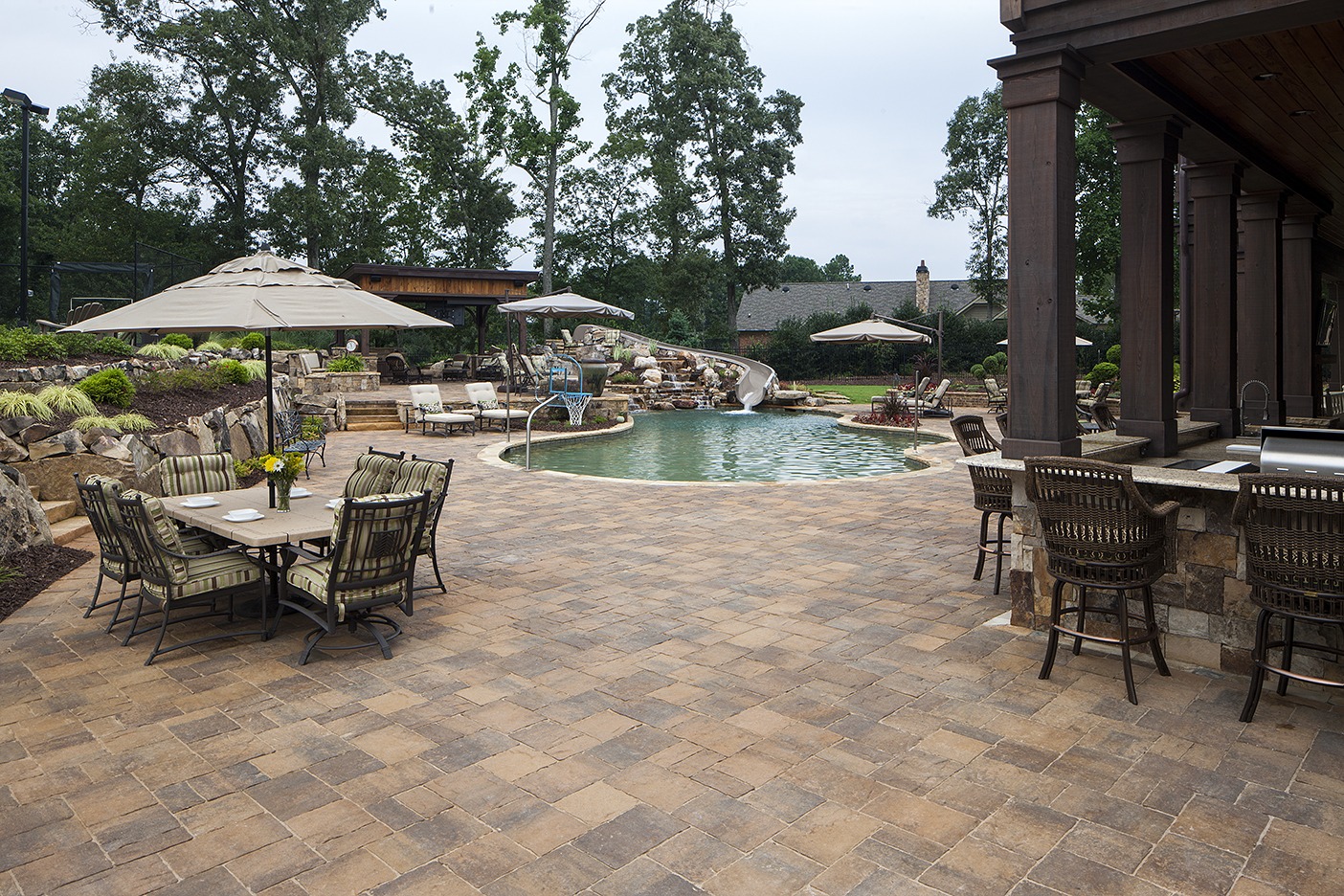 A pool deck can instantly improve the look of your pool area, and it can also amp up the entertainment factor.
Whether your pool is above or below the ground, the deck material you choose is an important consideration.
Decks should be attractive, cool to the touch and comfortable to walk on.
A deck must also have a non-slip surface.
The type of material you should choose depends on various aspects such as cost, maintenance and durability.
Above-Ground Decks
You have multiple options for your above-ground pool deck.
Many people prefer aluminum or vinyl because of the durability and maintenance factors.
You can purchase a kit that includes installation instructions and all the building materials you need.
Vinyl and aluminum decks require little more than regular cleaning.
This option is ideal if you're counting down the minutes to splash time.
You can install your deck and do cannonballs in the same day.
A slightly more expensive option is a PVC deck.
This material is low-maintenance as well, and it takes little time to install.
If your deck will be used by a large amount of people, you may want to consider this option.
PVC decking generally outlasts aluminum and less expensive vinyls.
It will also maintain its color longer than other materials.
When it comes to durability, a PVC deck can withstand daily exposure to the sun, water and climate.
Wood Decks
Wooden decks add to the natural beauty of the outdoors.
This is a suitable option if you understand the care and maintenance required.
Pine is a common choice for pool decks because it's inexpensive, but teak is a more durable option.
Teak is naturally resistant to mold, mildew and insects.
You can also choose a composite material that mimics the look of natural wood.
These decks don't require waterproofing or other maintenance that wood needs.
For a more elegant aesthetic, consider higher quality woods such as mahogany or redwood.
These woods are sturdy and can withstand the changes in weather.
Because they are robust, they do not splinter easily.
This makes them ideal for pool decking.
Each wood come in shades that would enhance any backyard design.
To ensure you are purchasing the best lumber available, check the ratings for strength and appearance.
Before opting for a wood deck, consider these benefits and disadvantages:
1. Wood is environmentally friendly.
2. Most woods complement any outdoor décor.
3. Wooden decks can be easy to maintain (depends on the wood you select)
4. Wood rots, but many varieties are water-resistant.
5. Wood is more difficult to install than other materials.
6. Wooden decks need to be sealed and waterproofed yearly.
Decks for Below-Ground Pools
When deciding on a deck for your built-in pool, it's important to choose a material that can endure the climate in your area.
Consider temperature changes, wind and sun exposure before making a decision.
Your pool deck should be textured as well so it isn't slippery.
There are several options to consider such as poured concrete, tiles or paving stones.
Each material has various pros and cons.
Concrete
One of the most popular pool deck materials is poured concrete.
Concrete can be fairly inexpensive compared to other options.
To give it a more pleasing appearance, you can have color added to it or even a stamped design.
Since concrete is a rigid surface, the downside is that it will crack over time.
Another thing to note is that it's important to add texture to your concrete deck to create a slip-resistant finish.
Upkeep includes renewing the texture as well as replacing or patching cracked and faded sections.
Tile
For a more sophisticated look, you can opt for unglazed ceramic tiles.
Most unglazed tiles have matte finishes, and they resemble natural stone.
A tile deck can withstand colder temperatures, but the grout may need replacing every few years.
The downside to choosing this option is the cost.
Many ceramics are expensive, but their durability, beauty and user-friendly qualities offset the higher prices.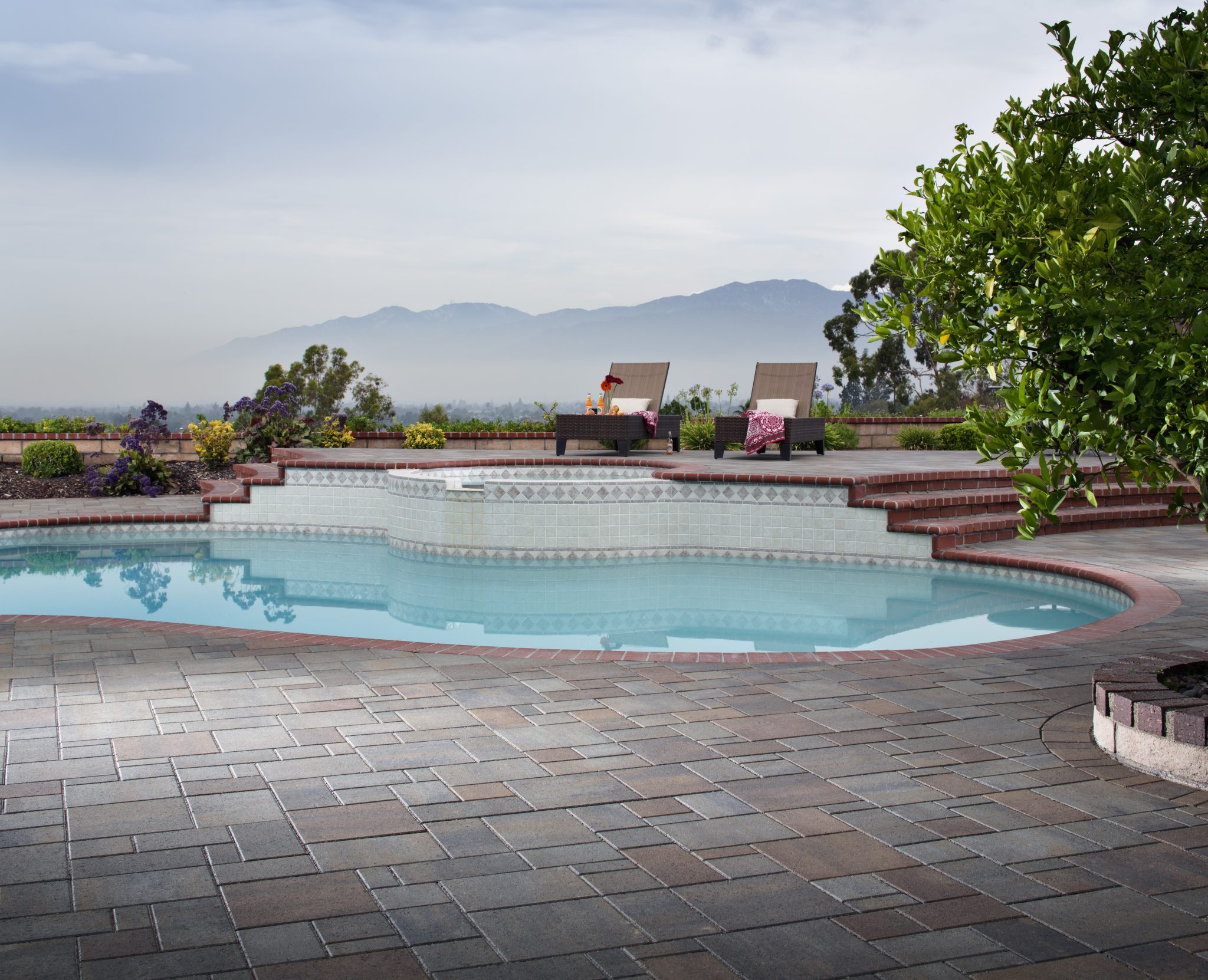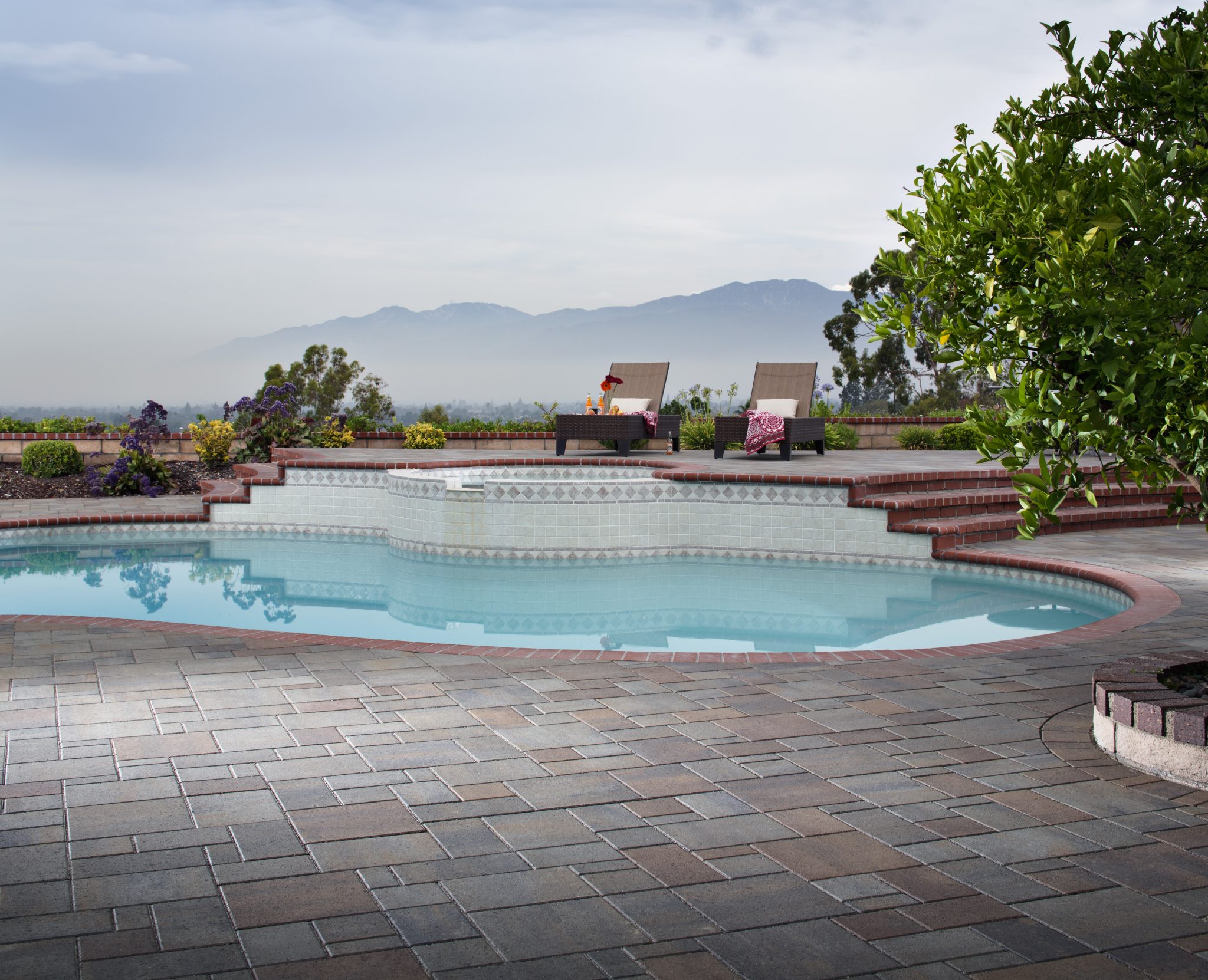 Paving Stones
Pool deck pavers are frequently used for in-ground pools because they come in a range of sizes, shapes, textures and colors.
There are 2 types; natural and manufactured stone pavers.
Inherently, the natural pavers will come with a higher price tag than the manufactured stone, however, it all depends on the aesthetic you are looking to achieve.
The most common styles are brick, cobble, tumbled, slate, flagstone, marble, granite and travertine.
The reason pavers are becoming the go to choice for pool decks is mainly due to their benefits:
1. Fade resistant
2. Non-skid, Non-slip surface
3. Low maintenance (easy repairs – remove and replace the pavers like legos)
4. Reduced chance of staining
5. Lifetime Guarantee on breaking and cracking (manufactured pavers)
6. Similar in price to stamped concrete (manufactured pavers)
7. 100's of patterns, colors and textures to choose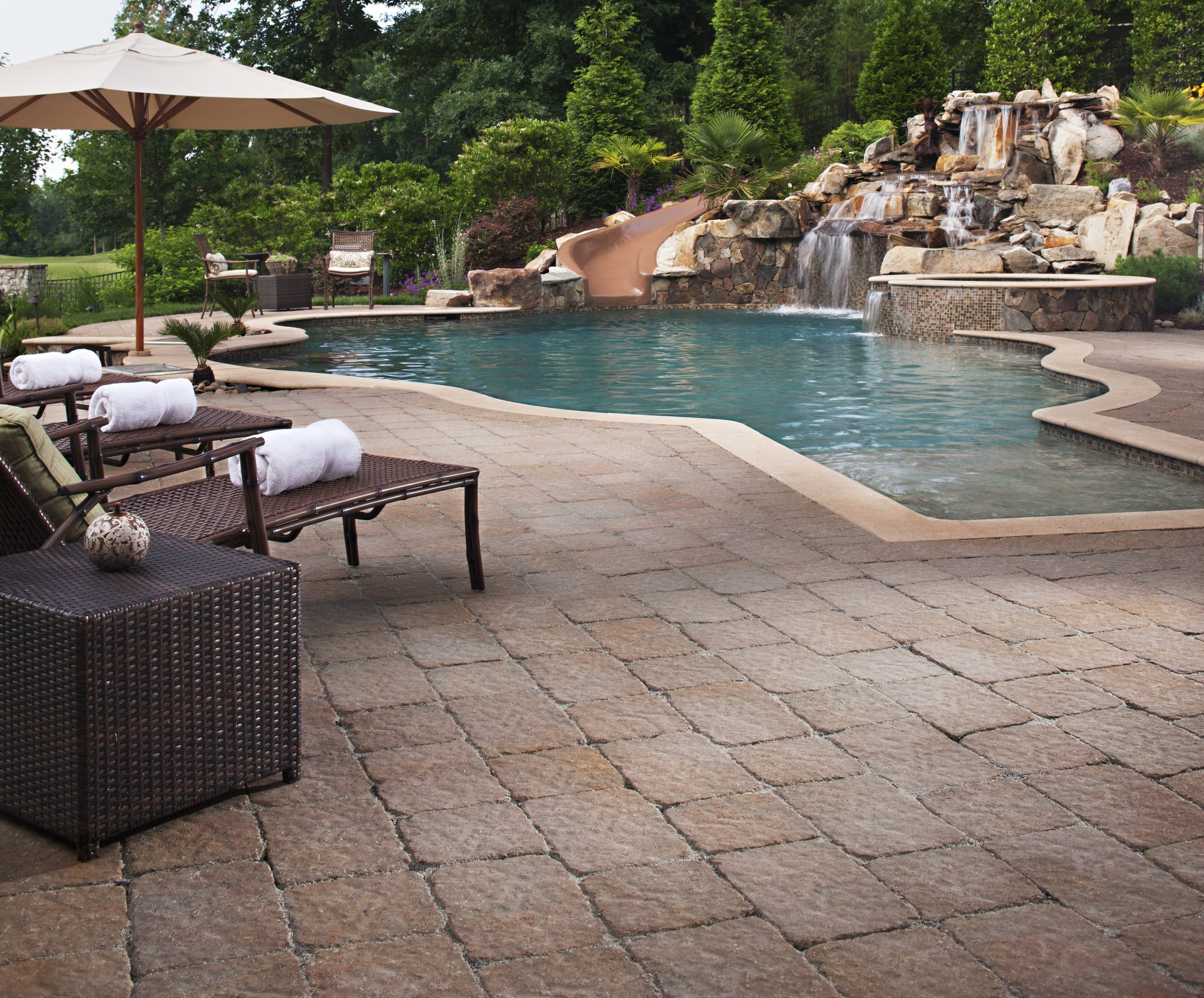 Final Thoughts…
Selecting the right pool deck is easy once you determine your personal preferences.
Before you begin the process, consider all factors, including the climate where you live, the construction process, and the overall costs.
Good luck with your due diligence process and please drop us a line to let us know how it goes.