Poolside Pavers Guide (How to Choose the Best Pool Deck Material)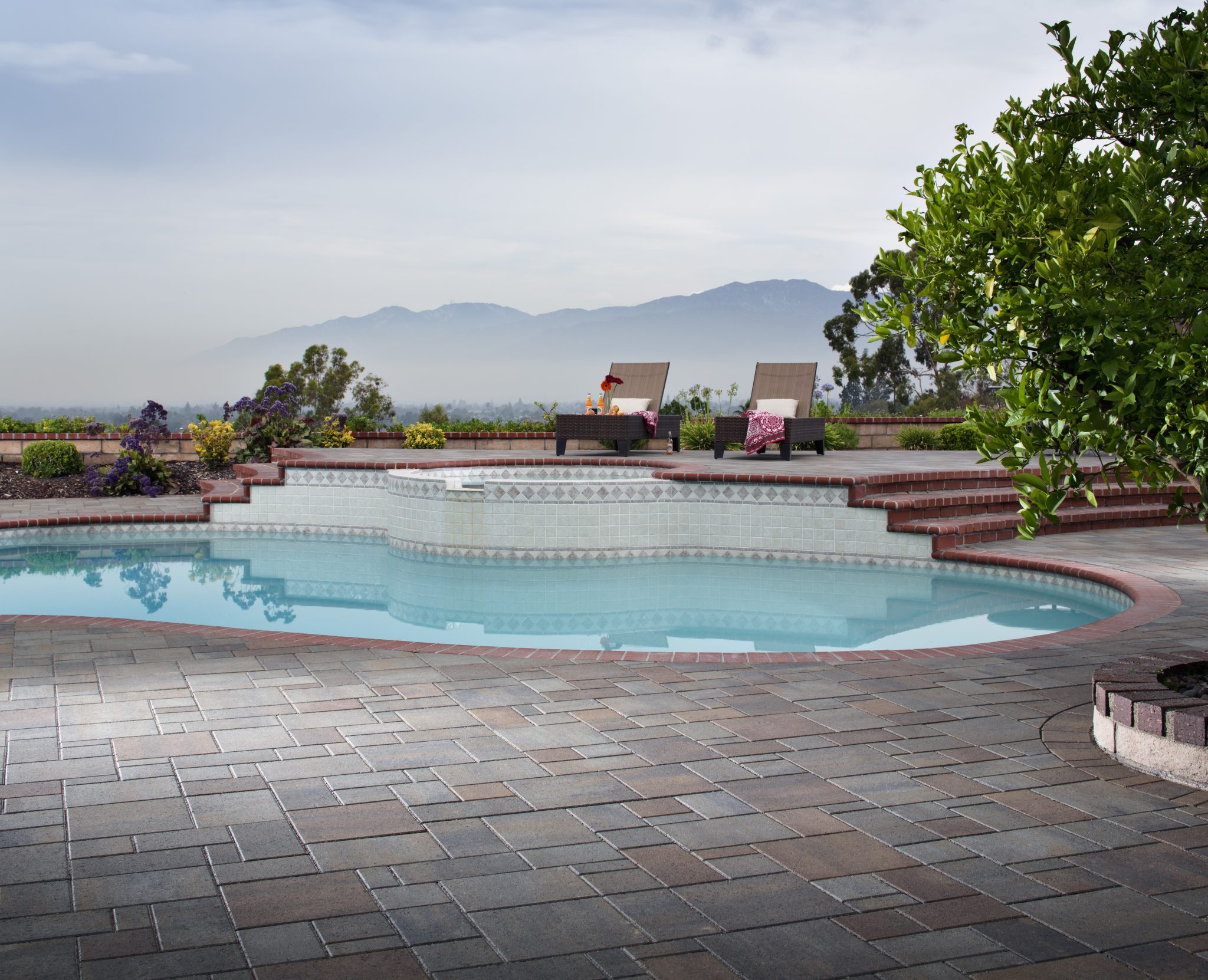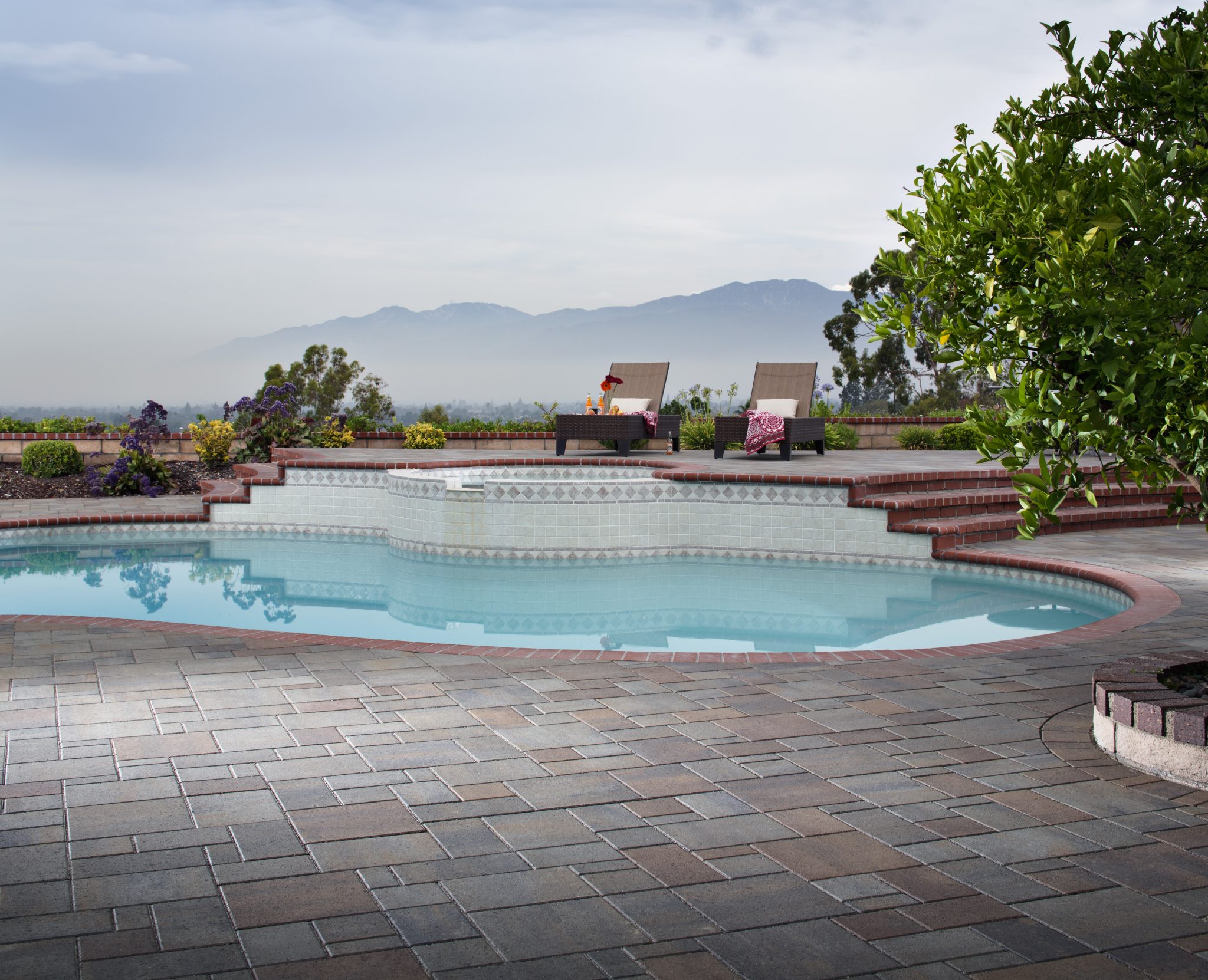 If you're tired of looking at your drab…
…lackluster pool area,
consider adding a beautiful pool deck.
Installing a deck around your pool can create a striking focal point for your yard.
Whether you have a unique pool shape or the traditional oval or rectangle, adding pavers will improve the overall look of your backyard landscape.
There is a vast assortment of materials to choose from, and each type of paving stone offers a different benefit.
No swimming area is complete without a pool deck. A deck can provide an attractive and safe zone for your family and friends to enjoy.
You have plenty of options when it comes to designs, which means you don't have to settle for the dull, dreary, gray concrete traditionally seen around older pools. By simply adding a walkway to your pool area, you can create an appealing, interesting and welcoming environment.
Factors to Consider Before Installing Your Deck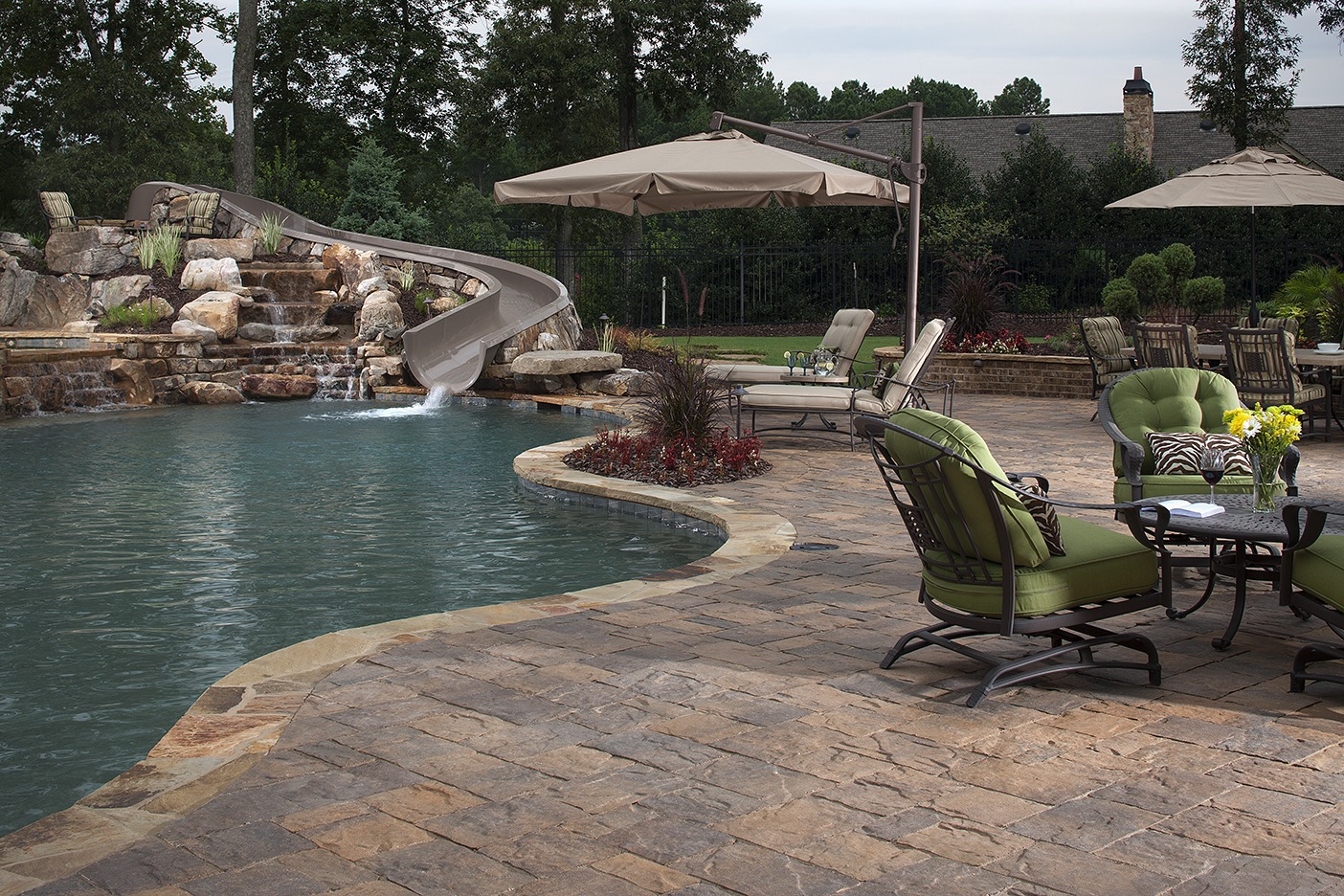 Appearance, safety, sturdiness, cost and maintenance are all important considerations when it comes to choosing your deck materials.
Regardless of whether you choose paving stones or another type of material, you should factor in your personal needs and requirements. Deck materials come in a large range of prices, and some options are more cost-effective than others.
The main types of pool deck materials are:
concrete
brick
natural stone
pavers
tile
wood or composite
Tile, wood and composite decks are not as convenient as concrete, brick or stone varieties, and they can be more difficult to maintain. Wood often needs to be cleaned with a pressure hose, and it may need to be stained or painted frequently.
Tile decks are beautiful and elegant, but they require regular upkeep at the grout lines. Wood composite can be hot, which makes it inconvenient for placement around a pool.
Factor in how much space you want to cover as well. If you merely want a small pathway around the pool, you will need considerably less square footage than if you want a lounging area where you can soak up the rays.
Your deck should also enhance the aesthetics of your landscape. After installing a large amount of synthetic turf, you may want to preserve the natural feel of the surrounding area by choosing neutral colors and eye-catching textures.
The Advantages of Using Paving Stones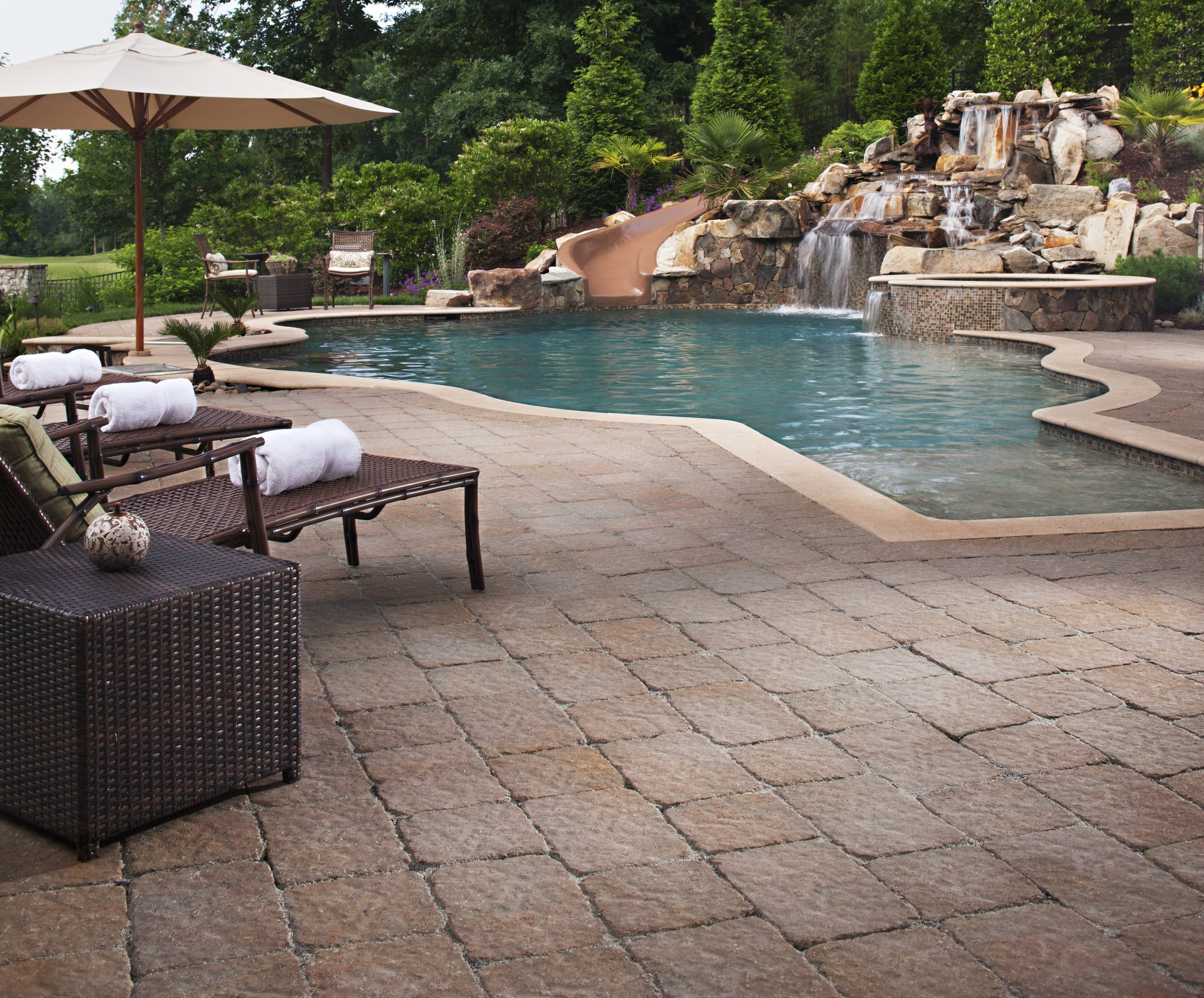 When it comes to convenience, appearance and durability, pool deck pavers are ideal. Pool decks built from paving stones will last longer than the alternatives.
The durability of the paving materials allows for optimum performance for many years. Additionally, most surfaces are textured, which makes them safe even under wet conditions as they are non-skid, non-slip. Resistance to chemicals and spills make them perfect for poolside use as well.
In addition to being practical, pavers are visually pleasing. Adding a deck can increase the resale value of your home as well as create an impressive aesthetic you cannot achieve with most landscaping projects.
If your pool is surrounded by a field of natural or artificial grass, adding a deck will break up the monotony. The assortment of sizes, shapes, patterns and colors available means you will easily find the right look to fit your yard.
Maintenance Considerations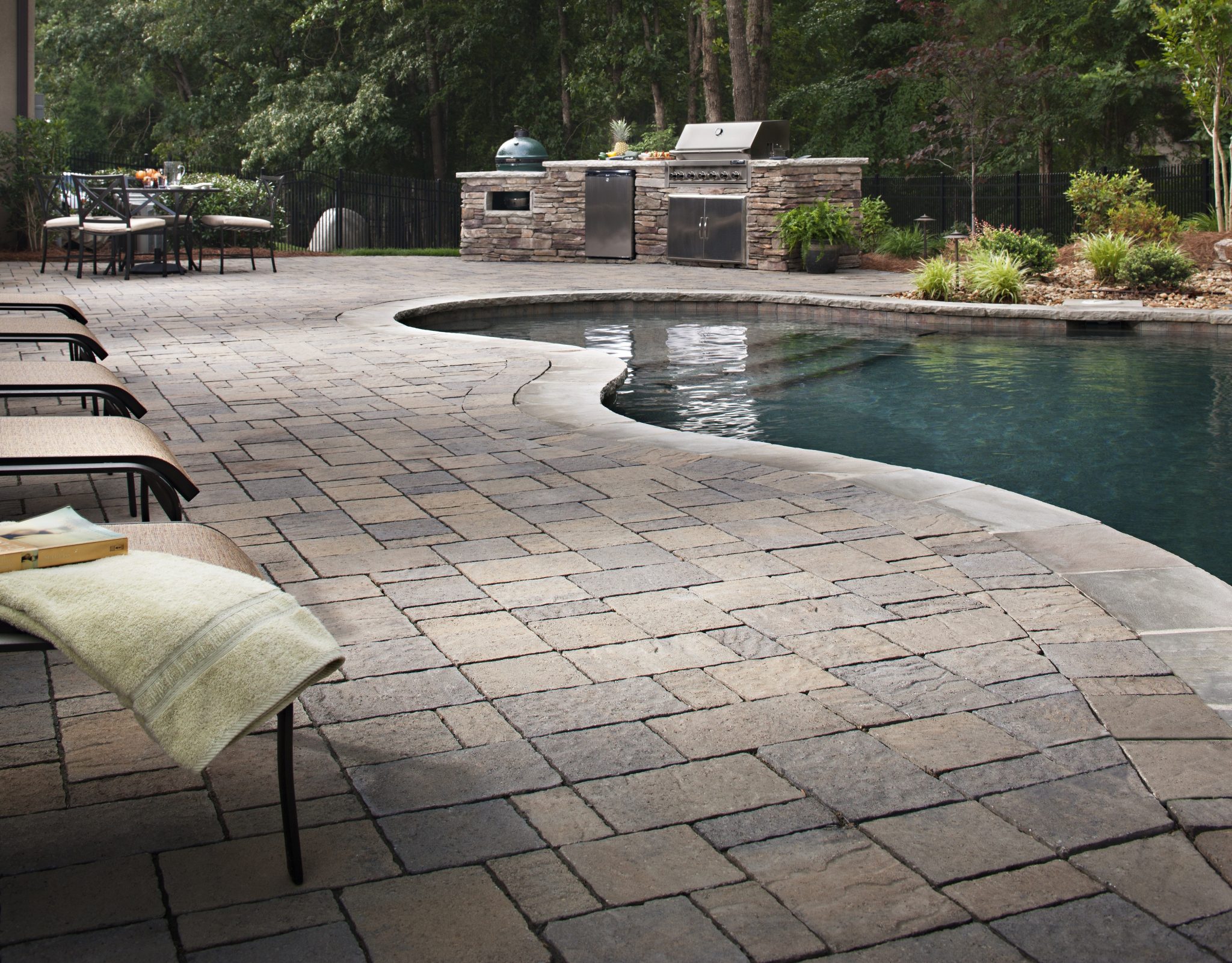 Water, chemicals, sun, salt and the weather can destroy any deck surface, but many paving stones are manufactured to resist damage. While poured concrete and wood can crack, split and shift as it ages, pavers are made to endure the test of time.
The stones are set in a sand base, which means they remain flexible but don't shift position. Contraction and expansion during weather changes will not be an issue.
Most deck pavers are dense and resist water penetration. The joints in between each stone, in addition to proper grading preparation, allow for optimal drainage. This is especially important for pool areas because of the immense amount of water that splashes onto the surrounding space.
If you have ever sloshed through a puddle created by an overflowing pool, you may want to consider using interlocking stones for your deck.
With traditional concrete slab decks, the options for replacement are limited. Fixing any utility issues or underground line leaks is virtually impossible without saw cutting the concrete and re-pouring the problem area, which can turn into an eye soar.
If you choose to lay paver stones, you can remove and add as many as you need without destroying the adjacent deck surface. Each stone can be easily set back into position, and the overall look of the deck won't be compromised. This means that accessing any underground utilities can be done with relative ease.
You can showcase any pool area by adding a deck that reflects your own style. When making your selections for deck materials, choose textured, nonskid surfaces and light earth tone colors.
With very little effort, you can transform your pool into a breathtaking, appealing entertainment space for family, friends and neighbors. For more tips on how to choose the best pool deck, contact Install It Direct today.