Increase Your Property Value With a Paving Stone Makeover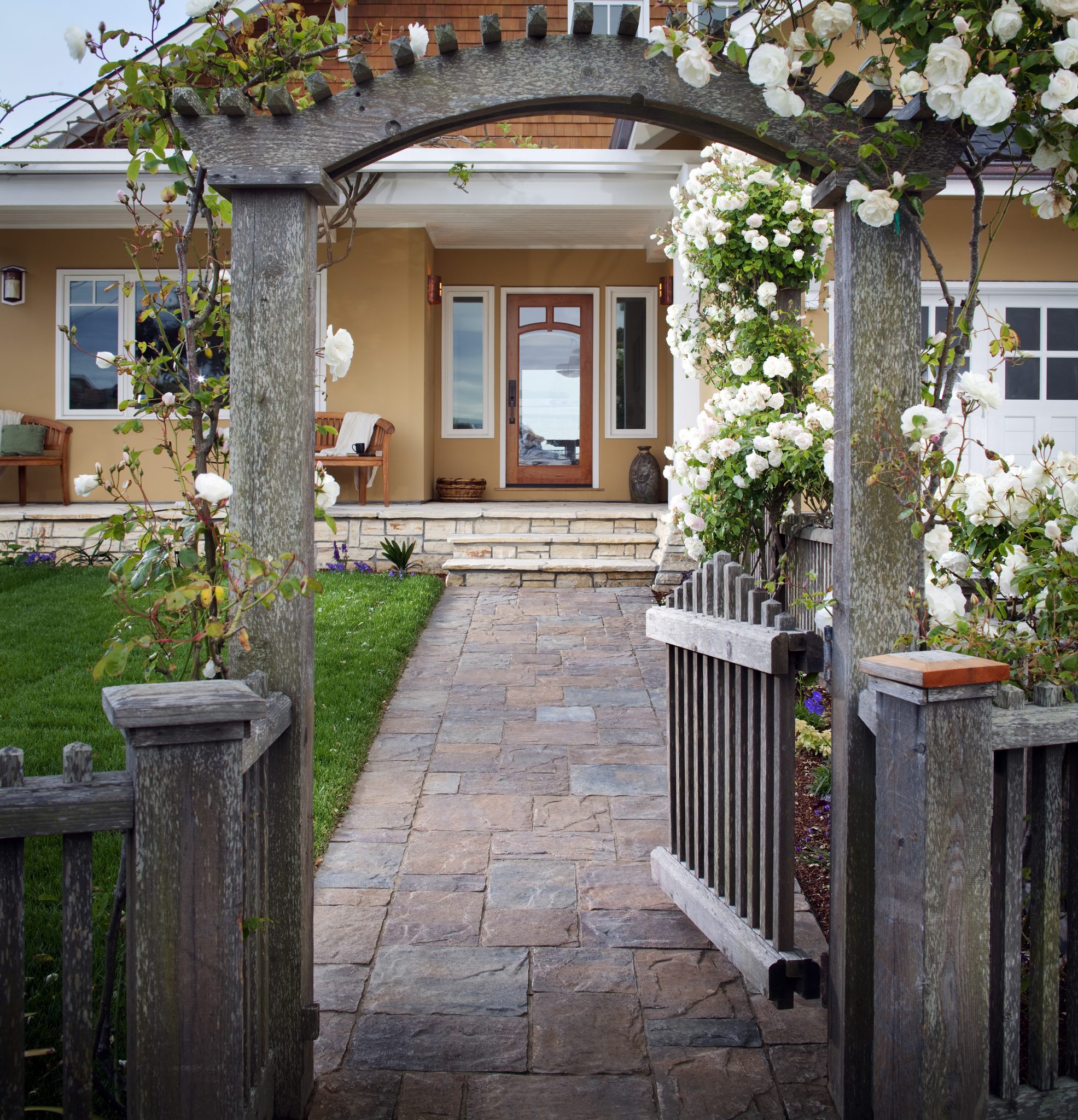 What could be better than increasing your property value and increasing the enjoyment you get from your home at the same time?
A new pavestone driveway will make your home look more inviting. A walkway of paving stones makes an attractive entrance for any home. Paving stones create a beautiful atmosphere around a swimming pool.
A pavestone patio will make you want to cook out every evening and spend more time relaxing out of doors. Pavers give a pleasant appearance to any outdoor area. Time spent outside is always more enjoyable when you are surrounded by beauty.
Your excellent taste will impress family and guests alike when they see the improvements you make to your property by giving it a makeover with paving stones.
Benefits
A higher property value can be a real asset when the time comes to sell your home. Prospective buyers always see the outside of a house before the inside.
They are sure to fall in love with the exterior before even entering the house when they see the beautiful pavestone walkways, patios and pool areas.
They may decide they want to buy your home before getting out of their vehicle when you have an attractive pavestone driveway. Because of the increased value, you will be able to easily recoup the cost of pavers when you sell your home.
However, you can enjoy the benefit of their beauty yourself for years in the meantime until you decide it is time to relocate.
Do Not Forget the Lawn
When you want to have a lovely lawn to enhance the beauty of your gorgeous new pavestone driveway and walkways, consider getting high-quality artificial grass. Synthetic turf will provide the perfect finishing touch for your paving stone makeover.
It is virtually maintenance free. It never needs mowing, weeding or watering. It is environmentally friendly and never needs fertilizer or weed killer.
Incidentally, you will not find a better company to provide and install synthetic turf than Install It Direct.
Pools and Patios 
You will not need to worry about people slipping on wet surfaces when you install paving stones by your pool. The pavers are non-skid and non-slip, a crucial feature for pool decks.
Make a low wall of pavers surrounding your patio, garden area or pool, and you will never run out of places to sit.
You will be surprised at how many people choose to sit on the wall instead of on your patio furniture. The attractiveness of this feature is an added bonus.
You may like the effect of using several different colors, styles and patterns that work together to create a truly unique pavestone patio.
Define different areas with the various paving stone styles, and you are sure to get rave reviews from your guests.
Driveways 
Our pavers in driveways or any other areas have manufacturer's lifetime guarantees against cracking or breaking.
You will never have to replace or resurface a paver driveway, pool deck or other pavestone surface. It will not break down as it ages. It will just remain beautiful and valuable.
For a more dramatic curb appeal, install the pavers of your choice, and create a pattern in the middle of the area with the same pavers or with several different types or colors of pavers.
Paver driveways are skid-proof and slip-proof. People will not slip on them when they are wet. Cars will not skid on them during rainy weather. The safety they provide will give you peace of mind.
Pavers are Practical
Think about the difficulty of getting access to pipes under a concrete driveway or pool deck to make repairs. Pavers make the job easy.
Simply remove the necessary pavers, make the repair, and replace them. Your repair will not leave a telltale sign like you see with other types of surfaces. If a paver, or several pavers, get an unsightly stain, it is easy to remedy.
Just replace only the stained pavers, and the entire area will be as good as new again.
Options
Choose from a wide variety of styles and textures like cobblestone, flagstone, tumbled or embossed. Colors can be charcoal gray, terracotta brown, cream brown, sandstone, earth tones or many others.
Install the pavers in a running pattern, random pattern or let your imagination run wild. Experiment with different designs by laying some small pieces of paper on a table in various patterns until you find one that pleases you.
Learn more about pavers by joining the Install It Direct mailing list, and you will receive insider tips and deals. When you are ready to upgrade your property with paving stones, sign up for a free estimate.
Design Assistance 
An Install It Direct professional design consultant will help you plan your project. You may want to look through our examples, which can give you some new ideas. The consultant will help tailor your plan to the amount you want to invest in the project.
Installation
There are codes to follow during a paver installation. Some of the considerations concern details like ensuring that water flows away from the house.
The sub-base must be compacted properly to avoid air gaps and future problems. We advise installing a geotextile fiber to keep your native soil from combining with the road base. The base must be compacted to a 95 percent level.
We use sand specifically designed for pavers over the rock-hard base. We finish by completely filling all joints with the sand and compacting them thoroughly. This is just a condensed version of all the details involved with installing pavers.
You may wish to have a sealer applied to your pavers for a finishing touch. Optional sealers include a joint stabilizer sealer. This sealer is very popular and keeps weeds and grass from coming up between pavers by locking the joints. Other types of sealers can enhance color or give the surface a wet look.
It takes knowledge and skill to install pavers correctly. You will get the most value from your pavers when you have them installed by an experienced, professional crew.
Our Crews
Hiring Install It Direct for your project will ensure that you get superior products and Southern California's best crews to install your pavers. We have both in house crews who work solely for Install It Direct as well as exclusive access to the best subcontractors in the industry.
In that way, we can closely control the quality of work our crews provide for our customers. Our crews are all licensed and bonded installation professionals. We hire only the best crews that specialize in their particular area of expertise.
Value
We employ efficient business methods and strive to reduce our overhead. That enables us to offer our clients greater value.
Some of our cost-cutting measures include not hiring sales people and relying on satisfied customers' word of mouth as our primary means of advertising. Our efficiency enables us to offer lower prices for our services and products.
Guarantees
Install It Direct guarantees that we will give you the best price on paver installation. We back up that statement by offering our exclusive "Best Price & Value Guarantee."
Free Consultation
Select the "Get Started" button on the top of this page to request a free consultation and estimate from our experts. We look forward to working with you on your project!