How to Build a Backyard Chicken Coop
Prior to the novel coronavirus pandemic, many folks were trying their hand at raising backyard chickens to save money on eggs, lower their carbon footprint, ensure their eggs come from well-treated hens, and enjoy some of the side benefits of keeping chickens, such as natural pest and weed control and getting nutrient-rich manure to add to their gardens. Then the pandemic hit and along with it came egg shortages brought on by the sudden increase in baking, all of us cooking more at home, and some folks clearing the shelves and hoarding them. This has led to an increased interest in raising backyard chickens, which has resulted in an increased need for backyard chicken coops.
A backyard chicken coop is a great quarantine project since this is a DIY build that you can do alone or as a family over the course of a weekend or a few days. Plus, while your interest in backyard chickens might be due to the egg shortage right now, you will likely enjoy having them and will continue to benefit from gathering fresh eggs from your backyard long after the pandemic wanes.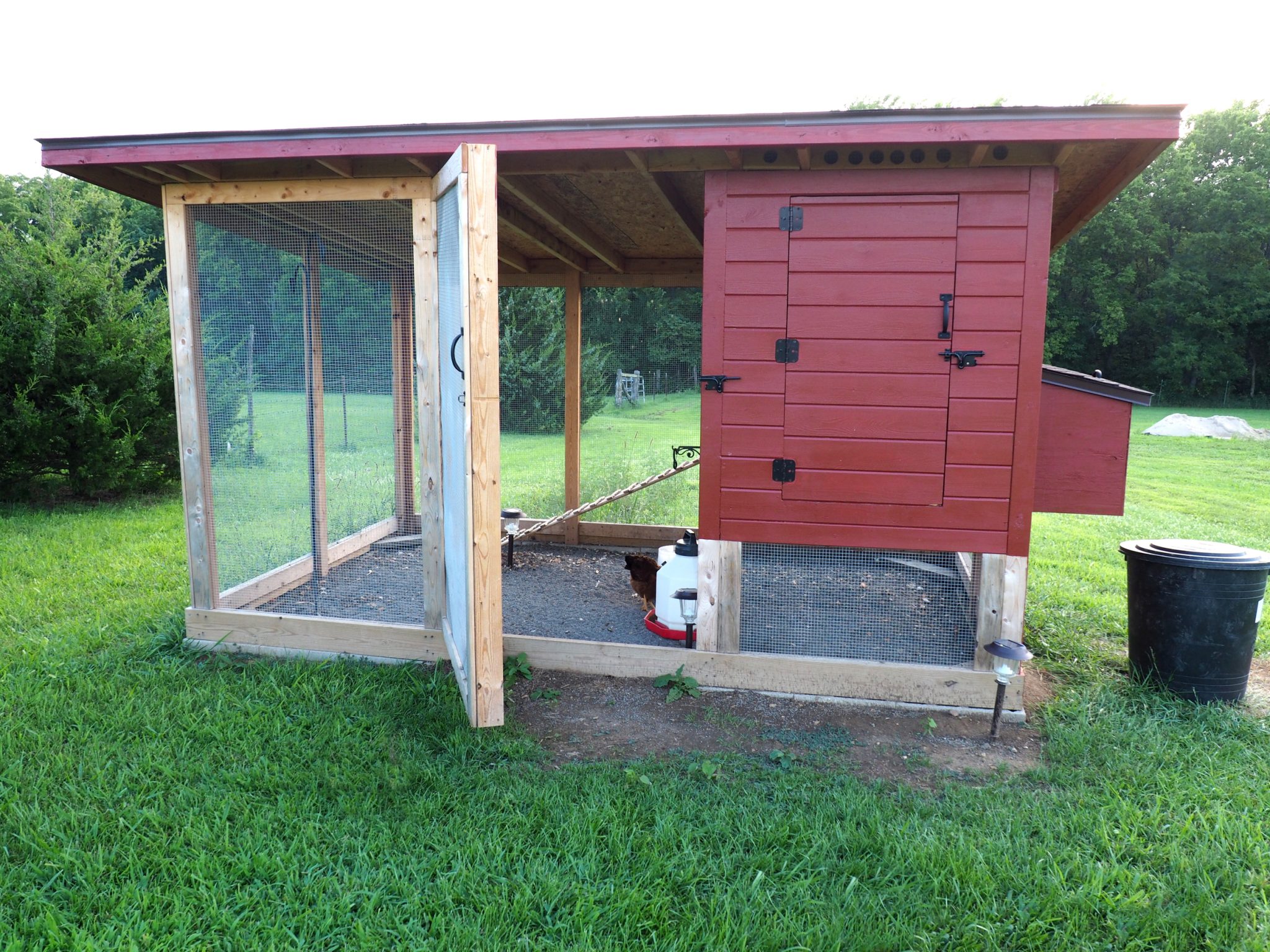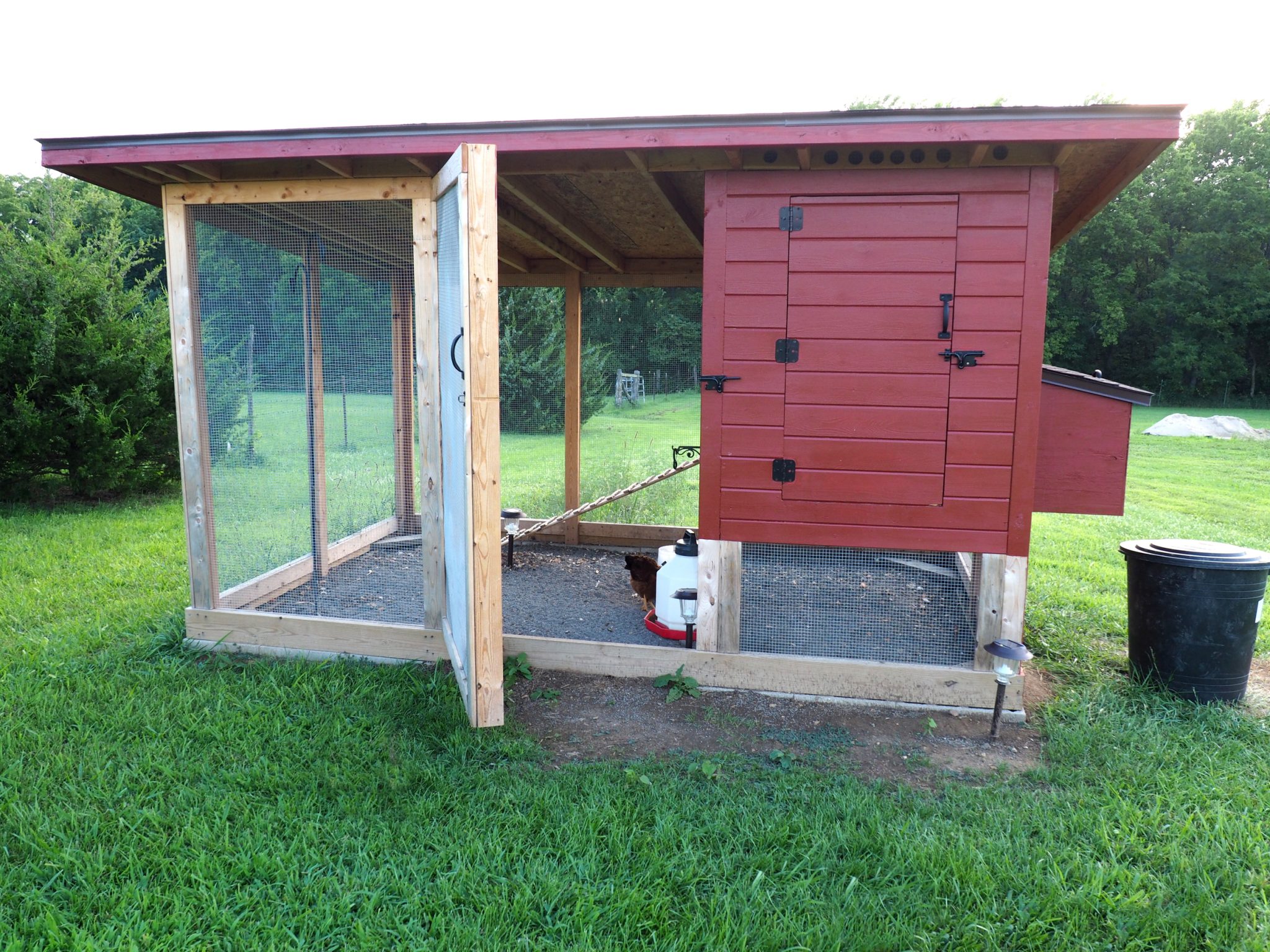 How to Build a Backyard Chicken Coop
Step 1: Determine the Features You Need
Before you buy a kit or print out plans, there are several things to consider. For example, you need to determine how many nesting boxes you need and how you will easily access them to retrieve the eggs. You will also need roosts for your hens to use at night, a water source, at least one feeder, a plank leading from the outdoor enclosure to the henhouse, and access for easy cleaning.
Step 2: Choose a Location
Next, you will need to choose a spot. Keep in mind that your hens need protection from the elements, so make sure there will be plenty of shade on warm days and protection from rain and wind when the weather is bad. Also, keep in mind that your city will have setbacks, so you will need to know how far away your coop must be from structures and property lines.
Step 3: Choose a Kit or Backyard Chicken Coop Plans
You have a few options for acquiring a backyard chicken coop. The easiest option is to purchase a pre-made coop that needs little or no assembly. Another easy option is to purchase a chicken coop kit that you assemble. These are easy to find at feed stores or online and come in a variety of sizes and styles. When selecting a size, it is important to remember that your chickens need enough space to avoid fighting and for their health and overall well-being. Depending on where you live, there may also be space requirements. For example, in the City of San Diego, you must provide a minimum of six feet per chicken.
Other options include hiring a contractor to build your coop or finding chicken coop plans online and building it yourself. If you are somewhat handy and comfortable with woodworking, this may be a good option for you. If not, go with a kit, which will have everything you need and clear instructions for assembly.
One of the main reasons to have a coop is to protect your hens, so make sure your hutch and run will provide protection from local predators.
Step 4: Build Your Coop
If you have chosen a kit, follow the instructions to assemble it in your backyard. If you have chosen to build your coop from plans, follow the instructions, which will likely include these basic steps:
Build the frame for the hutch and run.
Build a gate for the run.
Dig a trench to sink the run fencing at least one foot below ground.
Install your fencing material (such as chicken wire or hardware cloth).
Install nesting boxes, roosts, and any attached accessories that go inside the hutch.
Finish the roof and walls on the hutch.
Add bedding material, feeders, and waterers.
Introduce your chickens to their new home.

Rules for Having Backyard Chickens in San Diego
Whether or not you can raise backyard chickens and how many chickens you are allowed to have depends on where you live and the size of your property. Each city has its own ordinances regarding backyard chickens and, if you live in a neighborhood with an HOA or CC&Rs, there may be additional restrictions you must follow. You will want to read the City of San Diego Municipal Code Section 42.0709 before building your coop to make sure you can have chickens and to see how many you can have.
The basics that apply to most folks living within the city limits include:
You can have up to five chickens if your coop is at least five feet from side property lines and 13 feet from the back property line.
You can have up to 15 chickens if your coop is at least 15 feet away from side property lines.
No roosters are allowed.
Your coop must be located in your backyard.
Your coop must be predator-proof, ventilated, and large enough to provide at least six feet of space for each chicken.
If you are unsure about your property's zoning or have questions about setbacks, you can call the City of San Diego Development Services Department at (619) 446-5000 for assistance.

Basic Tips for Raising Backyard Chickens
Some folks like the idea of chickens roaming their property freely. While it is great to let them roam while you are outside with them so they can stretch their wings and have some cage-free activity time, it is not safe for your chickens or your landscaping to just let them roam free all the time. As for your landscaping, chickens will eat almost anything and spend a good amount of time scratching for worms and bugs. So, giving them free rein to roam your vegetable garden or well-manicured flowerbeds may not go well for your landscaping.
As for protecting your chickens, roaming around with no protective barriers leaves them vulnerable to predators, including cats, dogs, raccoons, skunks, opossums, coyotes, bobcats, raptors, mountain lions, and more. While it is nearly impossible to completely protect your flock from a determined predator, you can make them much safer by providing a well-made coop surrounded by a fully fenced enclosure. For maximum protection, your enclosure should be covered, and the fencing should be sunk at least one foot below the soil line.
If you are going to allow your chickens time to roam freely, make sure you do not use chemical fertilizers, herbicides, or pesticides that might harm them.
To ensure that your chickens consume a healthy diet, do not just feed them kitchen scraps. While they are great for turning your scraps into manure you can use in your garden, you do need to also feed them high-quality chicken feed, which you can pick up at your local feed store.
You will also want to find a local veterinarian who provides care for chickens and should consider joining an online community of folks raising backyard chickens. Ask lots of questions and make sure you know some basic chicken first aid, such as what to look for to know when a hen is egg bound and what to do for an egg-bound hen.
If you are new to keeping backyard chickens, it is best to start with a small flock. Three to five is generally considered a good number to start with. Start with three at a minimum in order to make sure your chickens always have companions. It is pretty likely that you are going to lose chickens to disease or predators, particularly when you are just starting out, so having three means that if one dies, there is still a brood of two until you replace the hen you lost.
And, finally, when choosing plans for your backyard chicken coop, build a bigger coop and enclosure than you think you need. This will give your chickens more space for their health, comfort, and well-being and will accommodate future chickens if your flock grows. This is pretty common, since folks who think they just want two or three chickens often end up wanting more once they get started.