Outdoor Kitchen Trends: 9 HOT Ideas For Your Backyard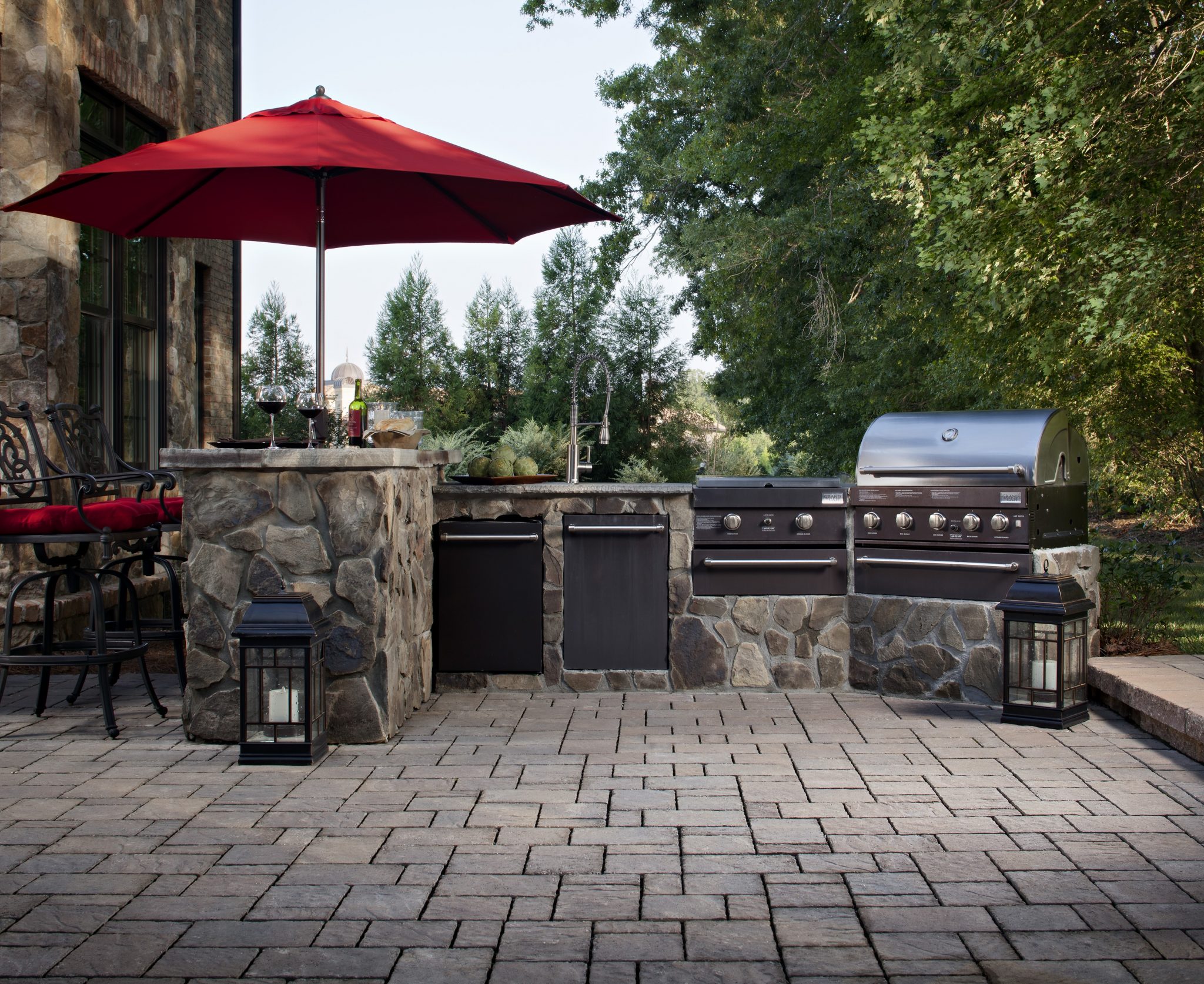 It used to be that outdoor kitchens consisted of merely a barbecue, lighter fluid and a bag of charcoal when the weather cooperated. Times have changed. In Southern California, outdoor kitchens are planned with nearly as much detail as the kitchen inside the home.
These private backyard retreats are equipped to entertain family and friends in comfort and style regardless of the season. Appliances and gadgets are getting more high tech and the truth is that in newer mid- to high-range homes, some sort of outdoor kitchen is an expected feature.
If you're looking to install an outdoor kitchen or upgrade the one you have, here are hot trends to consider.
1. Outdoor Kitchens with  Functional Zones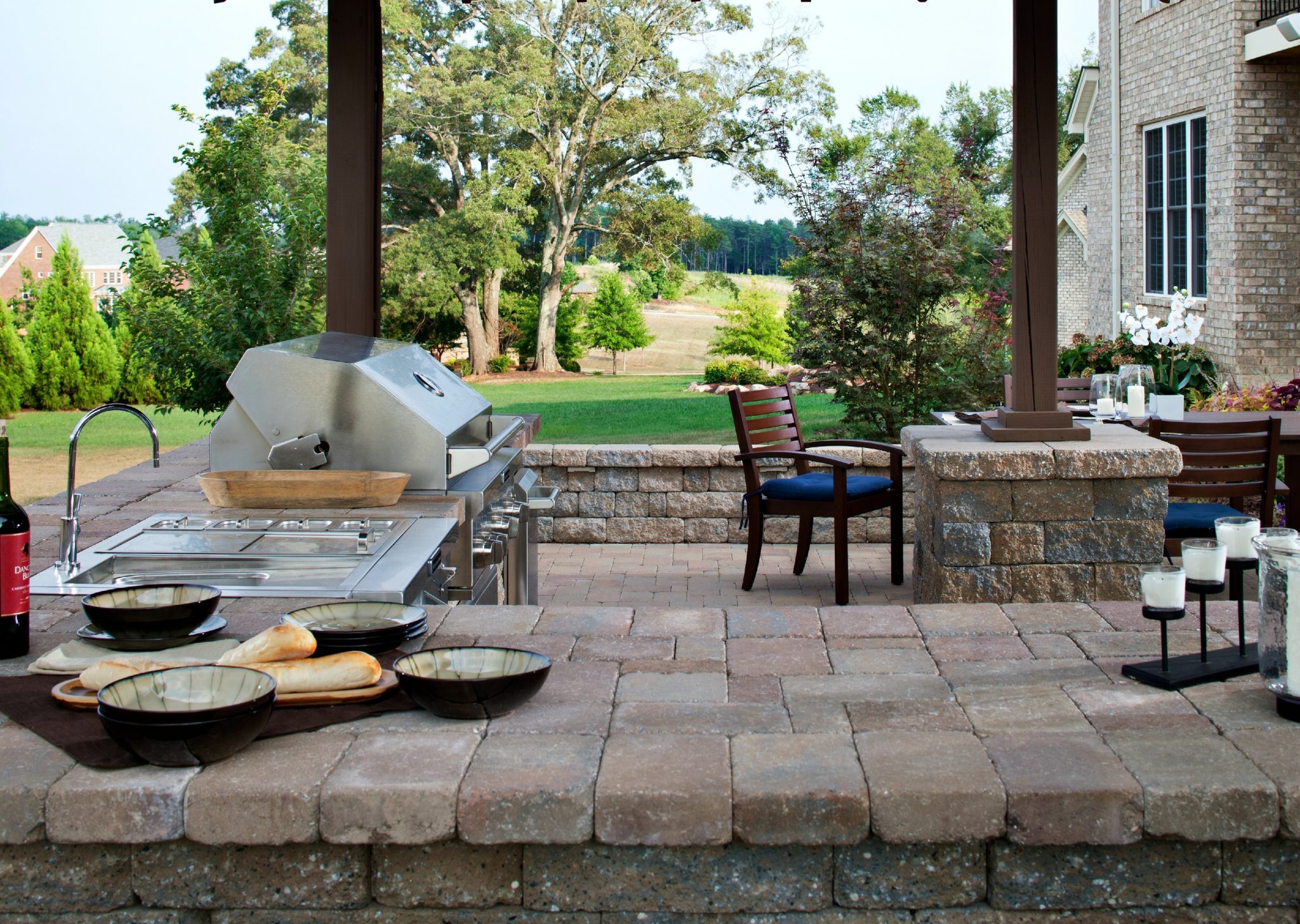 Just like the kitchen inside the house, plan the outdoor kitchen so that the flow from refrigerator to counter space to cooking area is easy to navigate. Think about how you'll store food and drinks along with what you're likely to retrieve from inside the house.
A common mistake that homeowners make is not planning enough outdoor counter space. If guests are seated outside, you may want to socialize and cook — not just barbecue — the entire meal outside.  Plus, setting up a buffet outside eliminates a lot of potential mess inside.
2. Weather-Resistant Cabinets
The built-in barbecue's home has evolved from stuccoed cinder blocks and porcelain tile counter tops to weather-resistant cabinetry with granite on top. Barbecue islands are also commonly built with beautiful paving stones.
As far as cabinetry goes, stainless steel is a top choice for handling weather, insects, spills and rust in addition to its attractive look. Stainless steel drawers and cabinets come in a variety of shapes and sizes along with gadgets like pull-out trash bins.
However, powder-coated metal cabinets are rising in popularity for their durability and choice of colors. The metal can be powder-coated with a special technique to make it look like real wood.
One company in that specializes in powder-coated metal cabinets, Danver, offers a sealing service that seals out chlorine and salt in coastal areas. In Southern California, you would have to do this as even powder-coated metal finishes can corrode in ocean air.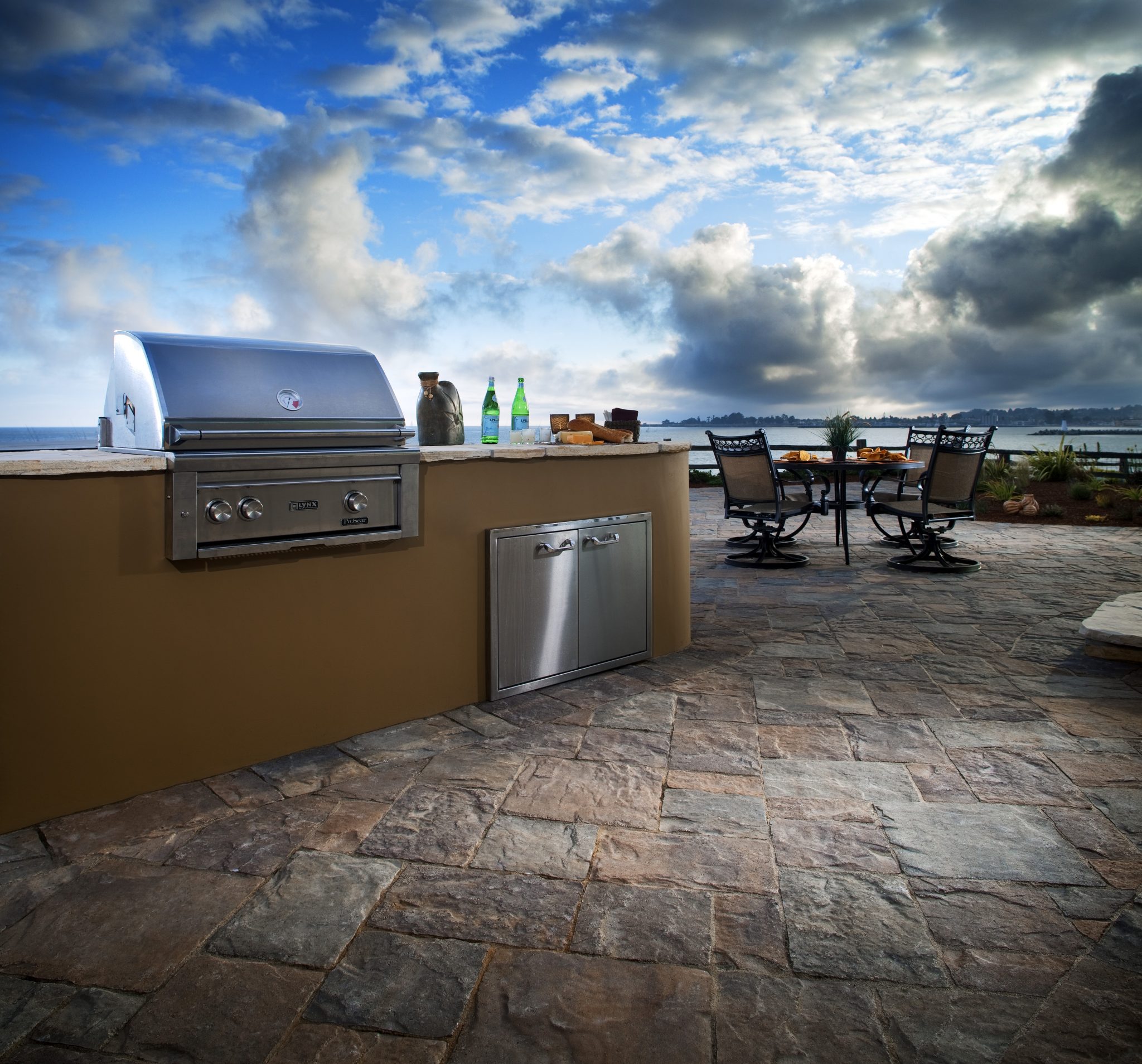 3. Barbecues Do it All
It's hard to resist the allure of shiny new barbecues after entering a Home Depot or similar home improvement stores. Prominent spring time displays definitely play off the importance of outdoor cooking in Southern California homes.
In recent years, prices of luxury barbecues have dropped dramatically while bells and whistles included have increased. Forget the barbecues that just grill meat. Why not opt for one that also comes with a rotisserie, warming racks, griddle, and even side burners for heating sauces or cooking side dishes?
And, some barbecues even offer multiple fuel options. Feel like wood-smoked salmon? No problem. How about a charcoal-grilled burger? Sure, it can all be done on certain gas barbecues.
You will definitely need to clean and maintain your high end BBQ, so luckily we've already covered that.
4. Smokers, Open-Flame Cooking and Pizza Ovens

When planning your outdoor kitchen, think about the type of cooking you'd like to do outside that your indoor kitchen doesn't permit. Smokers are a great example as they have an ability to produce incredibly tender meat or amazing spare ribs in addition to injecting flavor as the wood inside burns off. Or, perhaps you're looking to replicate a Santa Maria-style barbecue on an open flame. Cooking on open flames isn't really possible in residential kitchens.
Currently, one of the hottest outdoor kitchen appliances is a pizza oven. Homeowners are even springing for wood-fired versions at costs upward of $12,000. These amazing ovens are usually built-in, though less expensive freestanding models are easy to come by — Deeco's Aztec Allure wood-fired pizza oven is made from cast iron and costs less than $600.
Do consider wind direction and the comfort of your neighbors. If you run a smoker for hours at a time will it bother anyone? Or, go with eco-friendly cooking by considering a solar oven.
5. Go Under Cover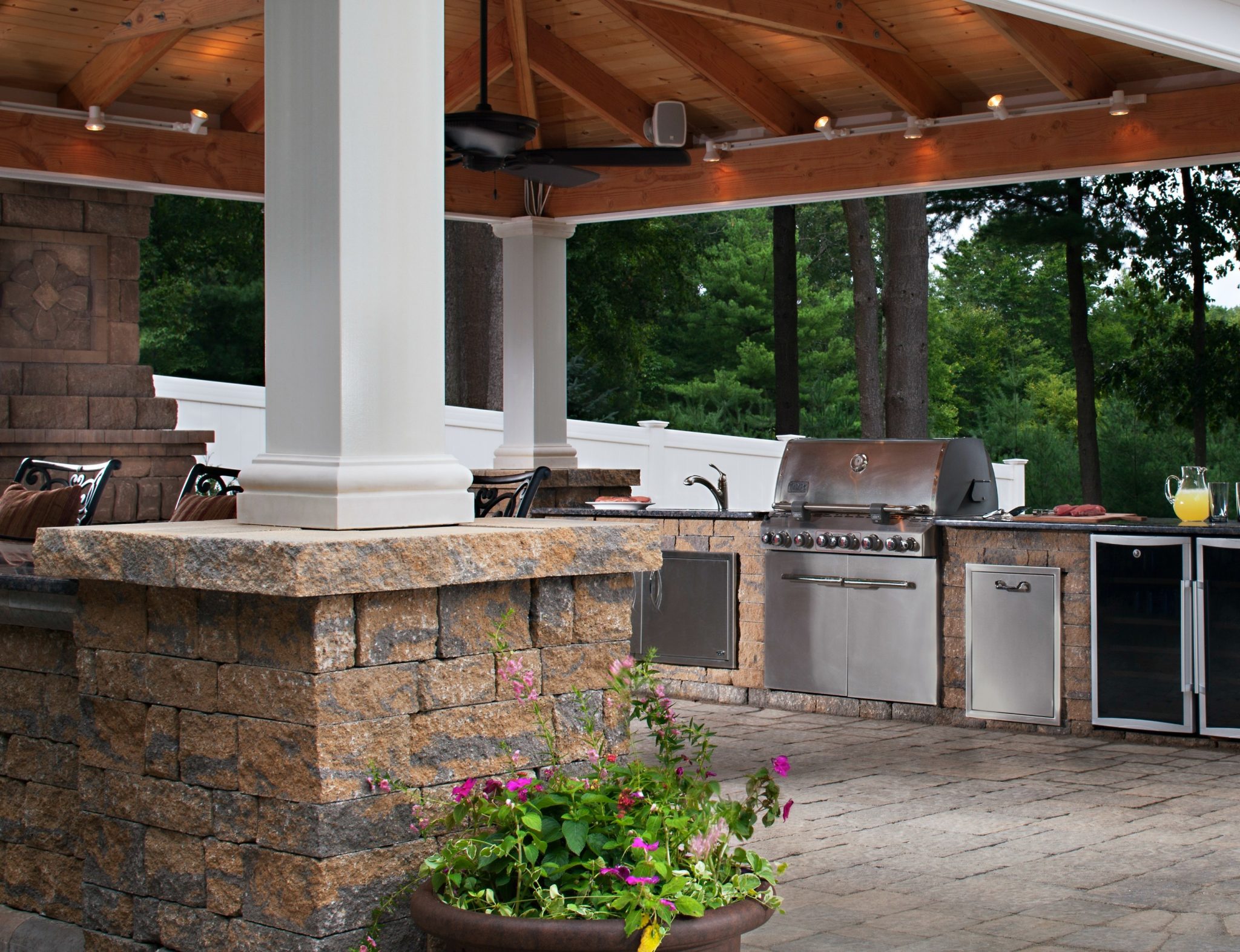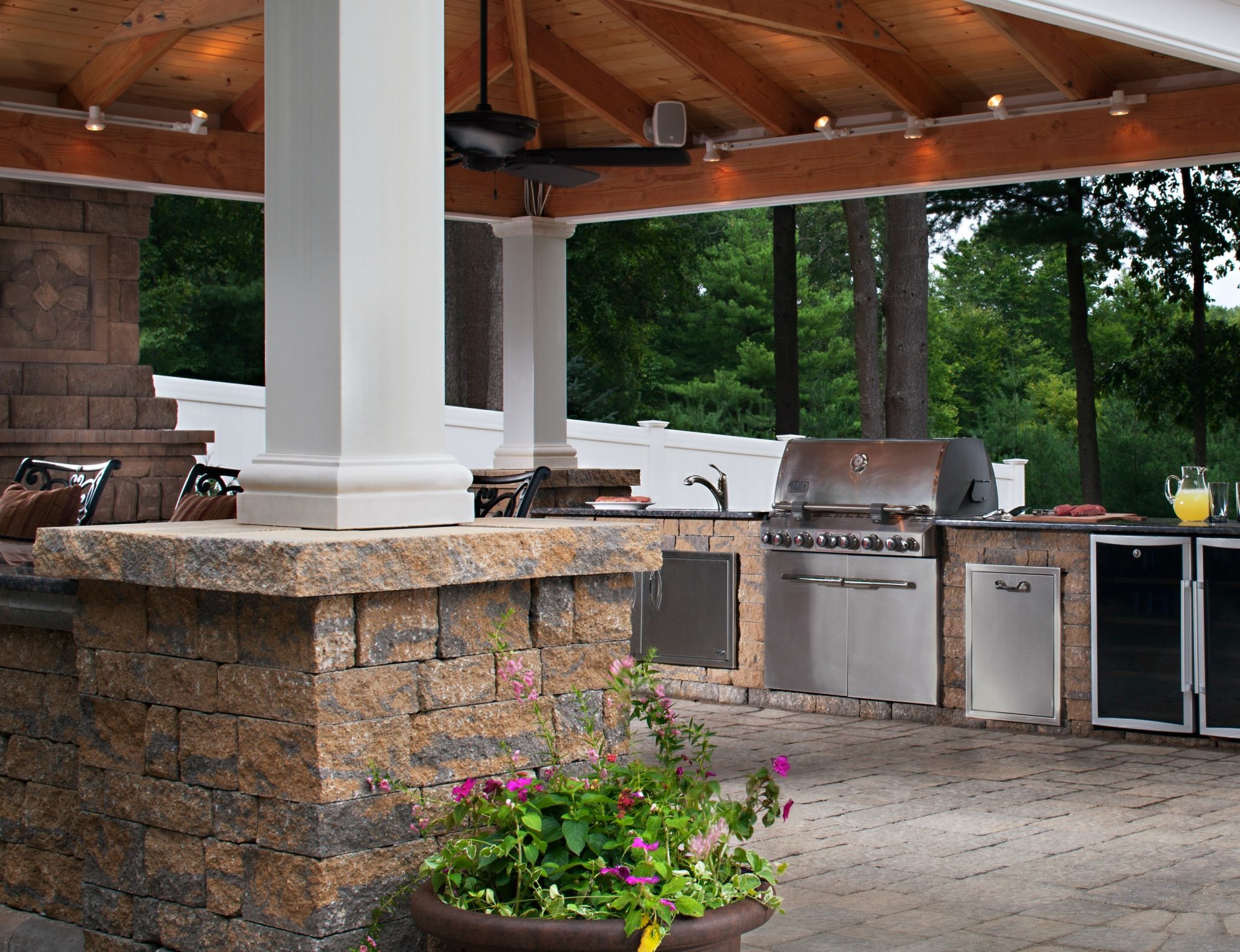 Outdoor kitchens are protected by much more than umbrellas or trellises these days. Homeowners are designing open-air patio structures to keep sun and rain as well as hungry birds away from their outdoor kitchens. Protecting expensive cabinets, appliances and countertops from inclement weather also extends their lifespan.
Definitely consider appropriate shading if outdoor refrigeration is in the plan. It takes more energy to chill a small refrigerator when it's hot out.
6. It's the Whole Deal

Nope, it's not just about the barbecue anymore. Your outdoor kitchen can have, plush seating, sinks, beer taps, wine refrigerators, smokers, barbecues, wine refrigerators, ice makers, ceiling fans and more.
Outdoor TVs and entertainment systems also entice guests to linger outside. You can actually buy a weatherproof TV that resists rain, dirt, extreme temperatures, snow and wind. These TVs also crank up brightness to overcome sunshine. Keep in mind, that you'll need to wire in cable or DirecTV to wherever you plan to install the TV.
7. BBQ Season Extends Past Summer
In addition to adding a cover to your outdoor kitchen, heaters mounted to the ceiling or walls add comfort to the space when weather isn't cooperating. Wood and gas-burning fire pits and fireplaces also add warmth and ambiance to the space.
Though during hot days, especially inland, misters pleasantly cool down guests taking a break from the pool or sipping cocktails near the barbecue.
And, don't forget the lighting to enable the area to be enjoyed long after the sun goes down. Not only does outdoor lighting serve practical purposes but special touches such as under-counter lighting adds artistic flair to the area. Drape small lighting strands from trellises or use solar lighting. The costs don't need to add up in this department.
8. Design the Entire Yard as One Cohesive Space

This is much easier to do when starting from scratch, however, integrating outdoor pools, kitchens and living spaces so that they can be used together versus having them compartmentalized sets the scene for a perfect party. For example, there's no need to fly to Mexico or Hawaii to take advantage of a swim-up bar when you could have one in the backyard. Placing the living area with sofas and a fire pit near the outdoor kitchen allows more guests to socialize with you while you cook.
9. Urban Grilling Is Also Hot

Just because you don't have a huge yard, doesn't mean that an outdoor kitchen is out of the question. Small outdoor kitchens enable grilling in compact spaces and they've evolved way beyond the beloved Hibachi. High quality options include more gadgets such as folding shelves and warming racks while maximizing available grill space. Plus, they're mobile enough to take camping or to the beach (if allowed in your area). Big names like Char-Broil and Weber manufacture grills under 2 feet wide at prices well below $500.
What About Cost?
We addressed potential costs of an outdoor kitchen in a prior post but here is a quick refresher. There are three main factors: labor, appliances and materials. Each can vary tremendously depending on design, however, homeowners without big budgets need not get discouraged as there are plenty of ways to integrate an outdoor kitchen in a number of price ranges.
Many homeowners combine professional help with a little DIY to cut down costs. In San Diego, don't forget that permits may be required depending on what you're doing.
Your Turn…
Tell us about your outdoor kitchen. What do you love? What would you do differently?