Winter Outdoor Entertaining Tips: Keeping Your Guests Warm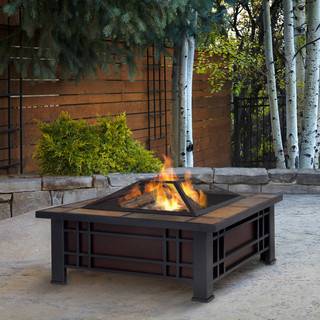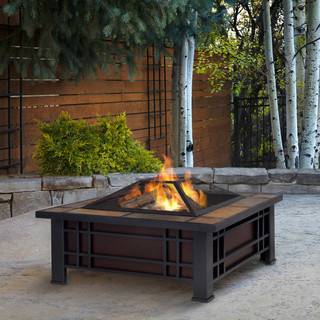 In Southern California, we are fortunate to have some pretty great weather throughout the year, and most of us in the San Diego County, Riverside County or Orange County area need to head to places like Big Bear to see any serious snow.
But even with all of our days of sunshine and year-round weather that most of the country envies, winter does bring a chill to the air, and we do still need at least a few sweaters in our closets.
We are certainly blessed with the ability to enjoy outdoor living any month of the year, but colder months can make outdoor entertaining a bit less comfortable and calls for a some preparation before your guests arrive.
One of the primary concerns regarding backyard entertaining during the colder winter months is how to keep guests warm.
Read on to learn about easy ways to heat outdoor living spaces to make your backyard more enjoyable for you, your family and your guests no matter what winter brings our way.
Winter Outdoor Entertaining Tips: Fireplaces and Fire Pits
The most attractive way to heat your patio is by adding an outdoor fireplace or fire pit to your backyard landscaping.
Fire Pits —
Fire pits are generally a more affordable option for patio heating and provide the perfect place for family and friends to gather to spend time together, swap stories or celebrate special occasions.
Available in both portable and permanent options, a fire pit is the type of backyard heating option that can fit into any homeowner's budget.
Portable pits are available for as little as $50 at home improvement stores and garden centers and are an easy way to immediately add a heat source to your backyard.
You can pick one up the day of your event if you need a last-minute way to warm up your space, so this is a quick, easy option to keep in mind – particularly since you may need to add to your existing heat sources in a hurry if the weather takes an unexpected turn for the worse just a few hours before your shindig.
Permanent fire pits are a better option for homeowners concerned about the overall look of their landscape design and can be installed by a professional or built by homeowners of the handy sort.
Everything you need to build your own fire pit should be available at your local home improvement center, and this is a great weekend backyard improvement project you can do with even a small budget.
Fire pits should always have some sort of fire break surrounding them, such as a paving stone patio, which also provides a level surface on which to place seating for your guests.
Outdoor Fireplaces —
Outdoor fireplaces make fantastic additions to your home's exterior living spaces and, in some cases, can even increase the value of your home.
A beautiful paving stone patio with a professionally installed patio fireplace as the focal point is the perfect place to host family gatherings or entertain guests.
A fireplace is an excellent heat source that can take the chill out of the air and can significantly increase the visual appeal of your backyard landscaping.
While this is a more expensive option, it is also a more attractive one.
Professionally designed fireplaces that complement the style of your patio, outdoor kitchen or other landscaping features are the best way to go if you have the budget, but there are lots of DIY fireplace kits available for handy homeowners who feel comfortable taking on this backyard improvement project.
Chimeneas —
Chimeneas are freestanding, portable fireplaces that are usually made from clay but are also sometimes made from aluminum or cast iron.
This patio heating option was originally used in indigenous cultures to provide warmth and a cooking source that takes up little room and guards the fire from rain.
While some people still use chimeneas for cooking or baking, they are now mostly used as functional garden décor that provides an attractive heating option that is more affordable than an outdoor fireplace.
Chimeneas can be used on covered patios or gravel areas, but because they do not usually have a screen to keep sparks from flying, they should not be used on natural grass lawns, wood chips or bark.
Due to their design, chimeneas give off ample heat to create a warm, cozy environment for small outdoor gatherings.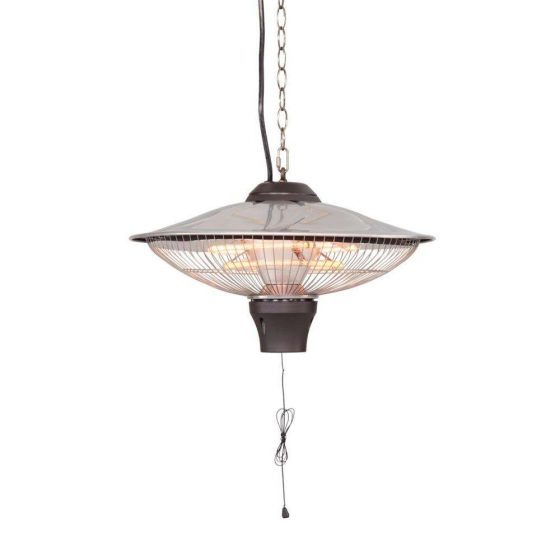 Winter Outdoor Entertaining: Patio Heaters
We have all been to events where we have huddled around those tall, freestanding heaters that are usually fueled by propane.
While they may not be the most attractive addition to your patio, these portable heaters do their job well and put out a good amount of heat to keep small areas warm.
There are standing, tabletop and hanging options available and, if you are willing to spend a bit more, there are actually some rather attractive options available that look more like floor lamps than the typical stainless steel options seen at outdoor events.
In terms of portable heaters, you can also simply use electric space heaters that you may already have on hand.
While this option may not be as attractive, portable space heaters do provide a good amount of warmth and are an affordable way to heat your outdoor living space on short notice.
Portable heaters designed to look like fireplaces or wood-burning stoves are a more attractive option for your temporary heating needs and can sometimes be purchased for less than $100 when they are on sale.
These faux fireplaces are a great choice for folks who have an electrical source nearby and just need a temporary way to heat an outdoor space for a gathering.
If you are interested in a more permanent solution that does not involve fire, installed patio heaters may be your best option.
Wall- and ceiling mounted outdoor heaters powered by gas or electricity are widely available and provide a viable solution for heating outdoor spaces.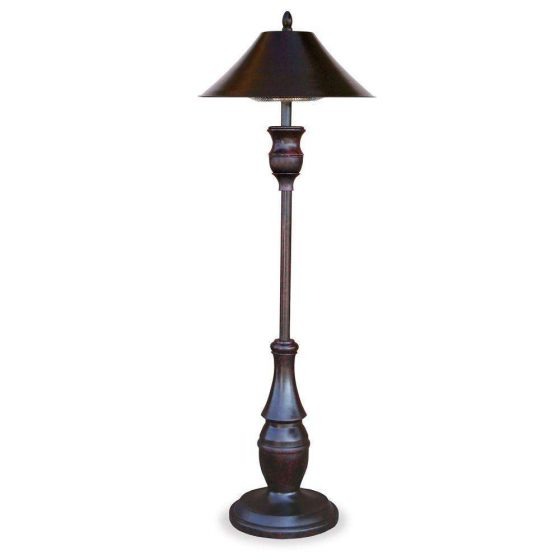 Winter Entertaining Tips: Additional Tips for Staying Warm
Portable patio heaters, fire pits and outdoor fireplaces are not the only way to create a cozy atmosphere for your next party.
Here are 10 tips for creating warm, welcoming outdoor entertaining spaces for your family and guests to enjoy.
1. Add patio curtains to your covered patio to help keep in the heat. Outdoor curtains or roll-up bamboo shades can also help block the wind and add privacy to your patio. If you have a fire pit or outdoor fireplace, just be sure to keep your curtains at a safe distance to avoid a fire hazard.
2. If you are planning an outdoor movie night or having a circle of friends around your fire pit, distribute inexpensive throw blankets to your guests for additional warmth.
3. Create a warm, welcoming atmosphere with candles and soft lighting.
4. Make sure you have some cozy cushions for guests to sit on so that they will not have to sit on cold patio furniture.
5. Make warmth part of your party theme with an ugly Christmas sweater party or a funny winter hat party.
6. Serve hot drinks, such as spiced apple cider, hot chocolate, hot toddies or flavored coffees to keep your guests warm.
7. Purchase an outdoor rug to add texture and color to your entertaining space while also providing a soft layer between your guests and a cold stone or concrete patio.
8. Provide plenty of table space so that your guests do not have to hold cold drinks all night.
9. Make or buy fun drink koozies for your guests to use on cold drinks.
10. Make roasting hot dogs or marshmallows part of the fun to give your guests and excuse to gather around the fire to stay warm.

More Tips for Winter Outdoor Entertaining
Some areas of Southern California do get snow, but we all get at least a bit of occasional rain, which means mud can be a problem when planning outdoor events.
To avoid your guests standing in mud or tracking it into your house, frequent party hosts may want to consider installing a synthetic turf lawn.
Artificial grass provides a level, mud-free surface on which your guests can congregate without worrying about slipping in mud or ruining their shoes.
This attractive, low-maintenance landscaping option always looks its best and can cut down on your party prep, since you can cross pre-party mowing or weeding off of your to-do list.
If evening entertaining plans are in the works, keep in mind that it gets dark earlier during winter months.
This means that the temperature may drop earlier in the evening once the sun goes down, and your guests may need a little extra walkway lighting to guide them to your front door or through your backyard.
While rainy days are a rarity in Southern California, prepare for unexpected inclement weather by providing your guests with a place to put wet coats and umbrellas.
Your Turn…
What are your best tips for winter outdoor entertaining?
Share them with us in the comments!
Photo Credits (in order of appearance): overstock.com; stock.xchng, scottsnyde; homedepot.com; homedepot.com; stock.xchng, jimrubio.