Backyard Movie Theater: DIY Step-by-Step Guide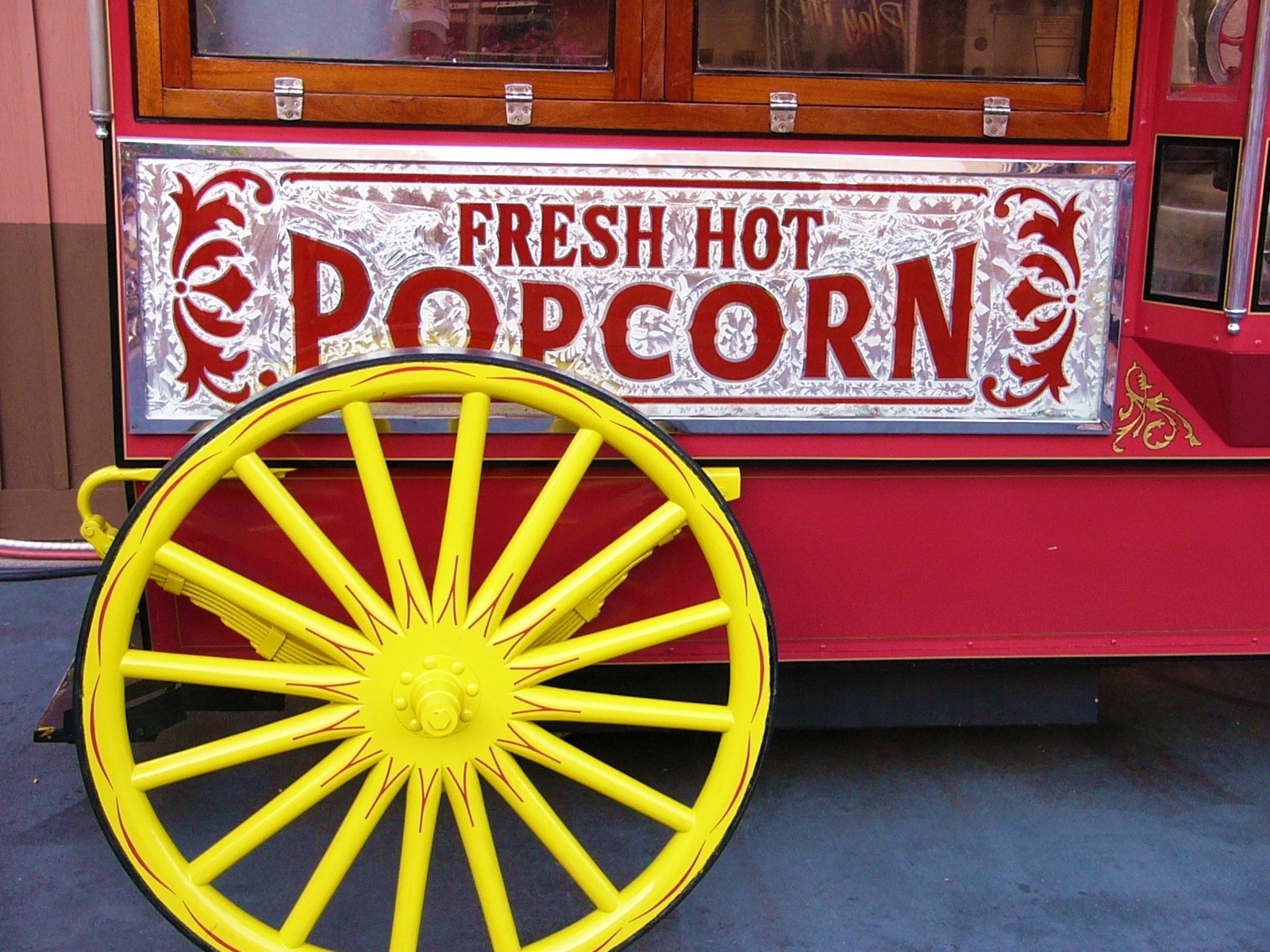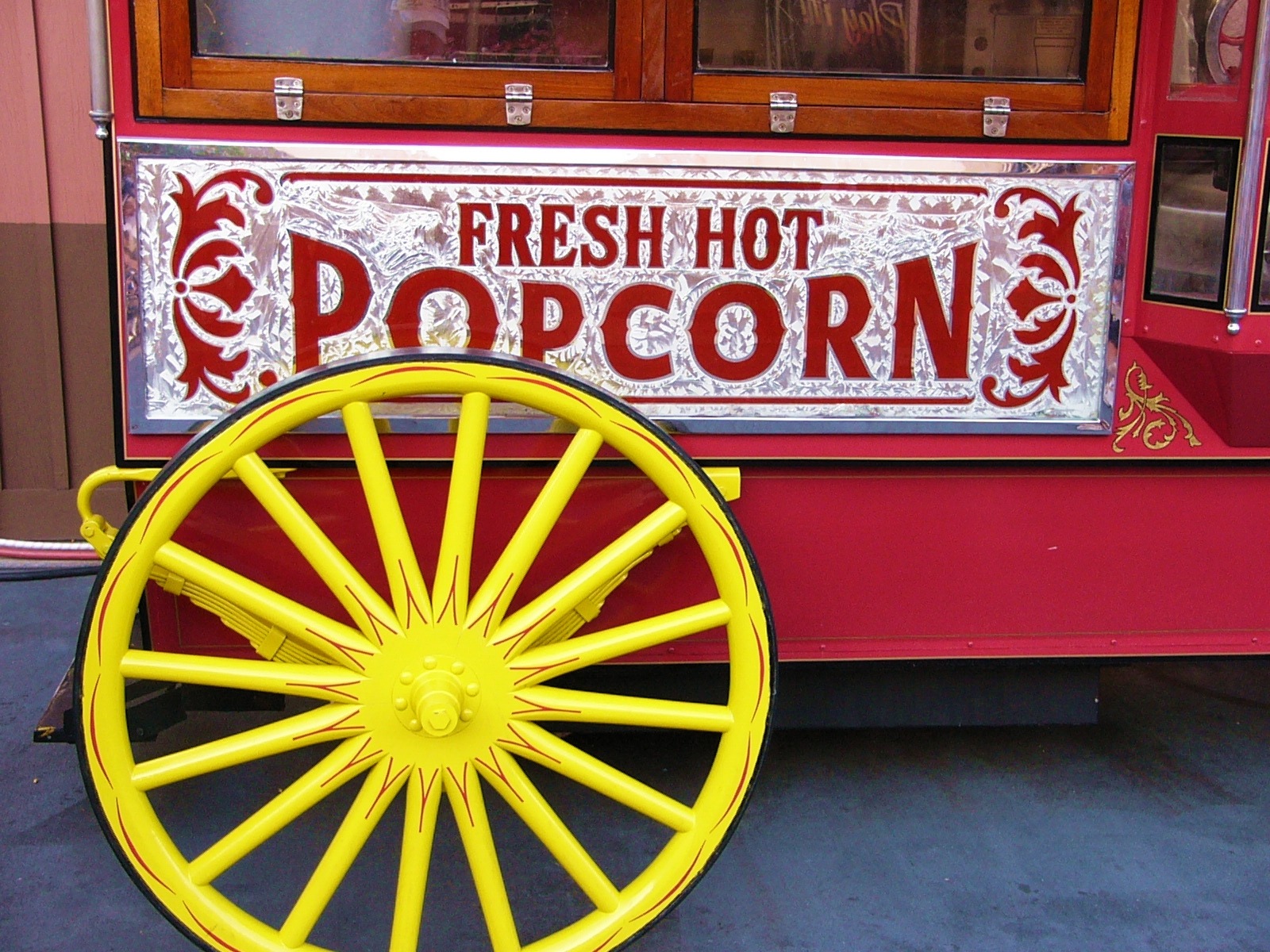 Heading to your local movie theater or making the short jaunt to one of the drive-in theaters in the San Diego area is not your only option for enjoying your favorite flicks on the big screen.
Here in San Diego, where we enjoy some pretty great weather throughout the year, we have another option that can be a lot more fun: backyard movie theaters.
It might seem like you need some extensive tech skills, expensive audio-visual gear and a pricey movie screen to set up an enjoyable movie-watching experience at home, but creating your own theater is actually easier and cheaper than most people think.
In fact, DIY theaters are so easy to set up, it is a bit surprising that we do not see more of these outdoor room options in San Diego homes.
Of course, expensive, luxury options are available that require bringing in professionals to set up high-end A/V equipment and a huge, permanent movie screen, but DIY options are available that should fit into any homeowner's budget.
You probably have at least some of the necessities for this do-it-yourself project already on hand, which will make it even more affordable.
There are a lot of options when it comes to setting up a backyard cinema, including portable options that can be used for both indoor and outdoor home theaters, inexpensive options that can be put together in a day using mostly items you already have, and luxury, permanent installations that could even increase the value of your home.
This DIY project can range from simply hanging a white bed sheet on your clothesline to installing a high-end, retractable projector screen on your patio, which means almost any homeowner with a yard or some sort can get in on some alfresco movie-watching action.
So let's get right into gathering your gear, expanding your usable outdoor living space and getting your at-home movie theater set up for your next date night, family movie night or social gathering.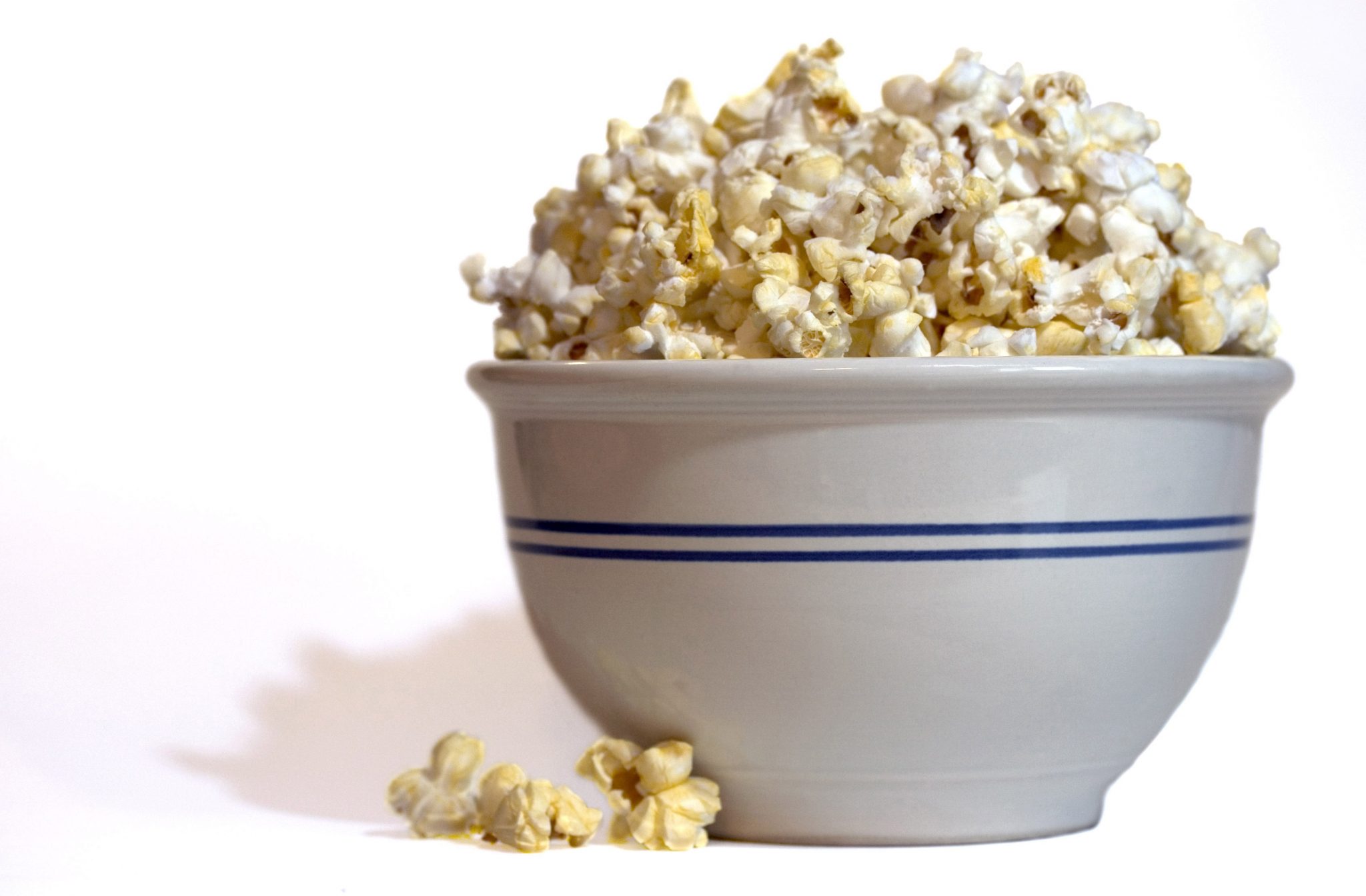 Finding a Space for Your Outdoor Cinema
The first thing you need to decide before choosing a space for your theater is whether your setup will be permanent or temporary.
If you will just be bringing out your equipment for occasional movie nights, then you will not necessarily need to make any permanent changes to your backyard.
Your existing patio or lawn may suit your needs, and you will just need to move some patio furniture to accommodate guests or find a spot to hang your screen temporarily.
If you want a more permanent setup that can be enjoyed at a moment's notice, you will need to find a dedicated space that allows room for your screen, seating and audio-visual equipment.
You will need to consider the size of the screen you wish to use, the number of movie watchers and the space your particular A/V equipment will require.
Typically, you will need at least enough space for a small table to accommodate your equipment.
Keep in mind that you will likely want a bit of space between your seating and the screen.
Most people do not like sitting in the front row of a movie theater or parking in the first rows at the drive-in, so remember that these same preferences will likely hold true for your backyard movies.
Aside from making sure you have adequate square footage to create this outdoor room, you will also want to pay attention to streetlight placement, potential wind conditions and other environmental factors that may affect your movie-watching experience in your chosen space.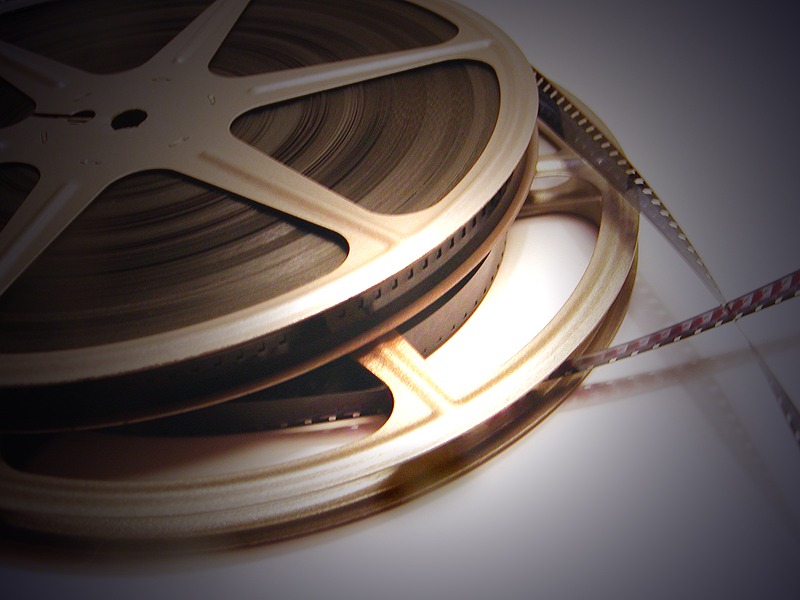 DIY Backyard Movie Theater: Selecting Your Movie Screen
Choosing what you are going to use for your screen is where you can really save some money on your setup or choose to go for a higher-end option and hit the top of your budget.
If it is within your budget and you want to ensure that your at-home cinema will be the envy of all who attend a movie night at your home, purchasing a permanent or retractable projector screen is definitely an option.
You can easily find multiple choices in various sizes either online or at an electronics store near you.
There are also less expensive inflatable screens and several types of portable screens available for outdoor use.
Retractable screens and inflatable screens are both portable options that can be stored when not in use or left up during summer months when you will likely watch more movies outdoors.
You can easily find some of these portable screen options for around $200.00, and you can sometimes find smaller inflatable screens on sale for less than $100.00.
Nicer options that will appeal to more discerning homeowners looking to create a permanent outdoor room usually start closer to $1,000.00 and can cost several thousand, depending on the option you choose.
Or you can make your own screen for as little as a buck.
Making an outdoor movie screen is an easy DIY project.
Some options for making your own screen require a few tools and minimal handiness, while others require no skills at all.
Here are 10 ways to make your own screen:
1. Use white paint to create a space for watching movies on a fence or wall.
2. Hang a white bed sheet on a wall, fence or clothesline (it is better if there is a dark backing, like a fence).
3. Stretch white fabric over a frame made from wood or pvc pipes.
4. Buy a cheap black-out curtain, and hang the white side (backside) facing your projector.
5. Paint a large artist's canvas white, and hang it on a wall or fence.
6. Buy black-out fabric or curtain backing at a craft store to hang over a fence or stretch on a frame.
7. Tape butcher paper to a fence or wall.
8. Head to your local home improvement store to purchase white vinyl panels (usually used in bathrooms) to attach to a wall or frame.
9. Attach a white sheet or fabric to a roller shade hung from an inside rafter on your patio ceiling.
10. Buy a white shower curtain or shower curtain liner at your local dollar store, use the included grommets to hang it, and use a shower rod, curtain rod or large dowel as a weight.
This last option can cost you as little as one dollar, if you already have a few nails and an extra shower rod in your garage.
You can also use the rod or dowel to roll up your shower curtain movie screen when not in use.
You do not want your screen to be too big or too small for your space, so make sure you know how much space you have to work with and how far away from the screen your seating will be located before making or purchasing a screen.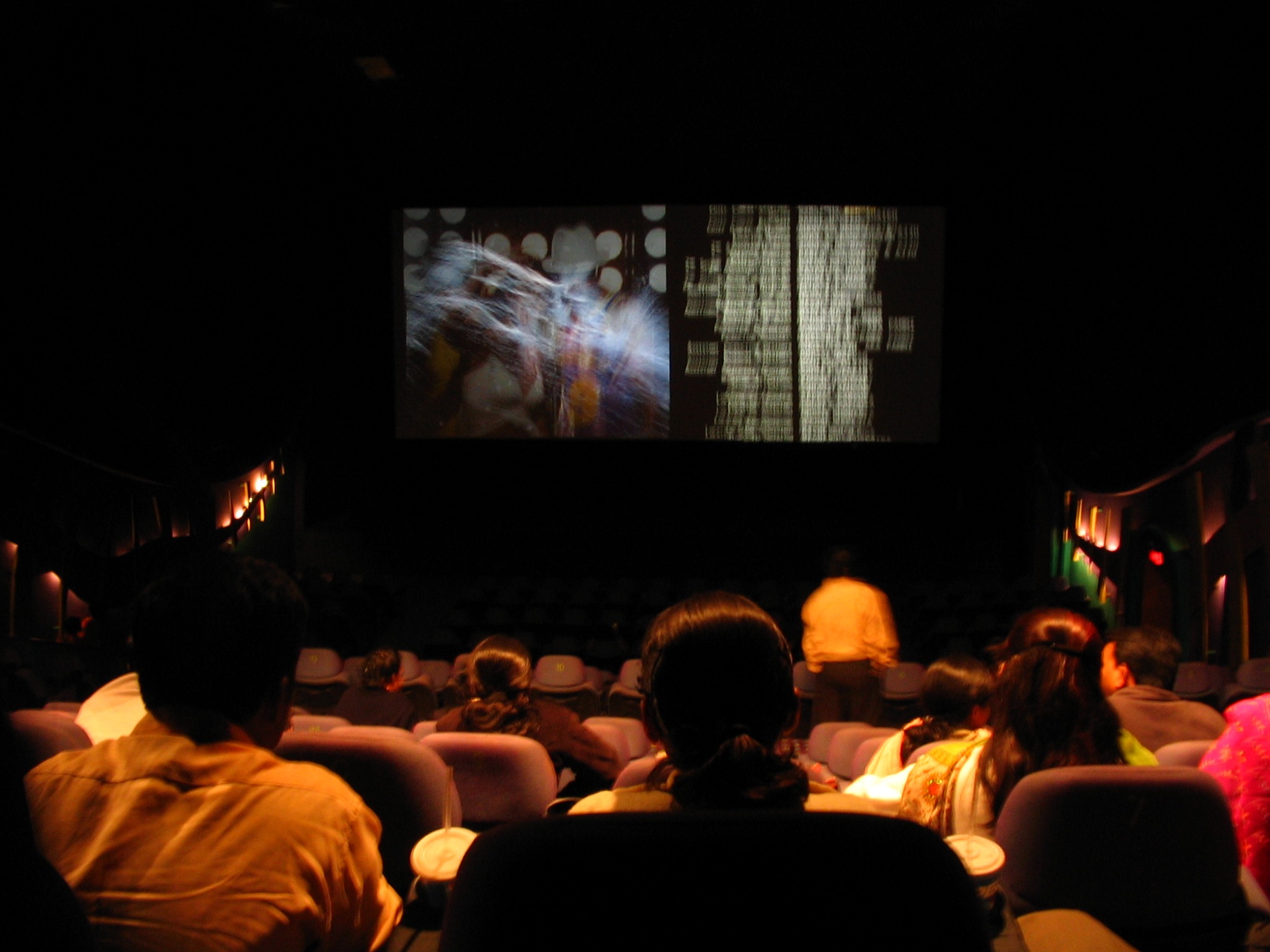 DIY Outdoor Movie Theater: Audio-Visual Equipment
For the non-techie crowd, this is the most complicated part of setting up a backyard cinema, but it is actually much easier than you might think.
If your budget allows, you can purchase a projector and sound system as part of a complete outdoor theater setup that comes with everything you need to start watching movies in your yard right away.
If you are going the DIY route with this project, you can pick up the A/V equipment you need and combine it with items you likely already have on hand, and can most likely save money in the process.
If you plan to purchase a low-cost screen or make your own, the projector will likely be the most expensive piece of your theater.
You will want to acquire an LCD projector or DLP projector for the best movie-watching experience, which you can purchase at any electronics store.
If you are want to create your theater on the cheap, you can likely find a used projector for significantly less money than purchasing a new one.
To find a used projector, you might try online classified advertisements or print classifieds, or you might want to contact your local school district or public library to see if they have used equipment they are willing to sell.
Once you have your projector, you will need something on which to play movies and some sort of sound system.
To play DVDs, you can use a DVD player, Blu-Ray player, laptop or gaming console.
On a side note, if you choose a laptop or gaming console and have wireless Internet, you can also play video games on your outdoor screen.
While you can certainly add a spectacular surround sound system to your cinema, you can also use a simple, inexpensive set of speakers.
While surround sound might sound like a great way to enhance your experience, keep in mind that nearby neighbors might not appreciate the theater-quality sound coming from your backyard quite as much as you do.
You will need to determine the best way to run electricity to your A/V equipment and will need the correct cords and wiring to set up each component, so keeping it simple with an extension cord, surge protector, DVD player and regular speakers might be a good way to start.
You can always upgrade your system once you have had a chance to try out your setup and are a bit more savvy about what you want to use.
If you plan to leave your equipment set up, you may want to consider a locking cabinet that will protect your investment from the weather and potential theft.
If you plan to host a movie night soon after setting up your backyard cinema, be sure to do a trial run with a video and sound check to make sure your projector is in a good location and that everything is in working order before your guests arrive.
DIY Outdoor Theater: Seating and Ground Cover Options
If you have an existing patio from which you can view your screen, this might be the best place to set up seating.
Lawn chairs, beach chairs, blankets or comfy patio furniture works great if you have just a few guests or it is a casual gathering.
If you do not have a patio, but you do have a natural grass lawn, you can set up your seating on the grass without too much concern – if you plan on hosting occasional movie nights.
If you plan on using your backyard theater more frequently, a conventional lawn may not hold up well to the wear and tear of traffic and chairs.
You will also need to consider things like turning off an automatic sprinkler system that may be set to water your lawn at inopportune times, using natural pesticides to keep bugs at bay, and making sure your grass is dry and free of muddy spots before your guests arrive.
Wet grass or bugs will definitely bring a damper to your movie night if this is the location of your seating.
If you do not have an existing patio to use for seating, you may want to consider installing a small paving stone patio to provide an attractive, stable foundation for chairs and your projector table.
If you want to create a more theater-like experience, pavers also provide a great foundation for theater-style seats purchased new or from a theater that has closed.
Alternatively, if you want the area to double as lawn where your kids and pets can play during the day, you may want to install durable artificial grass, which is an ideal ground cover for outdoor living spaces.
Soft, natural-looking synthetic turf does not provide an inviting environment for insects and does not require water, which makes it a great option for a seating area where you plan to spend evenings outdoors.
As an added benefit, if a guest happens to spill their soda, the spill can easily be rinsed off your low-maintenance manufactured grass.
Creating a Theater-Like Experience
Now that you have your own personal movie theater in your backyard, you will likely want to make a few additions to enhance your outdoor living experience.
If you have an outdoor kitchen or built-in barbecue, you may want to consider adding a counter-top hot dog machine.
Savvy shoppers can find a hot dog roller grill and bun warmer setup for as little as $100 online, and this is a great way to create a more authentic concession stand experience.
Of course, you will probably also want a popcorn machine, which can be purchased new or used.
Both freestanding and counter-top options are available, so you are sure to find an option that will fit your space.
To complete your concession stand, you can purchase snack-size bags of candy, pretzels or peanuts, and reusable popcorn containers for serving up this quintessential part of any movie-watching experience.
Luxury movie theaters are opening across the country with comfy armchairs, and there is no reason you cannot include this high-end feature in your San Diego backyard.
If your seating area is protected from the weather and includes a durable ground cover, like fake grass or pavers, armchairs are a perfect seating option that will provide a much more comfortable experience for you or your guests.
Your Turn…
Do you have a backyard movie theater? If so, what are your tips for ensuring the best outdoor cinema experience?
Photo Credits (in order of appearance): lumix2004, stock.xchng; kinsum; stock.xchng, plattmunk; stock.xchng, Bubbels; stock.xchng, leocub; stock.xchng, Cancia; stock.xchng, lumix2004.