Every Backyard Needs an Outdoor Fire Pit
Building a fire outdoors satisfies…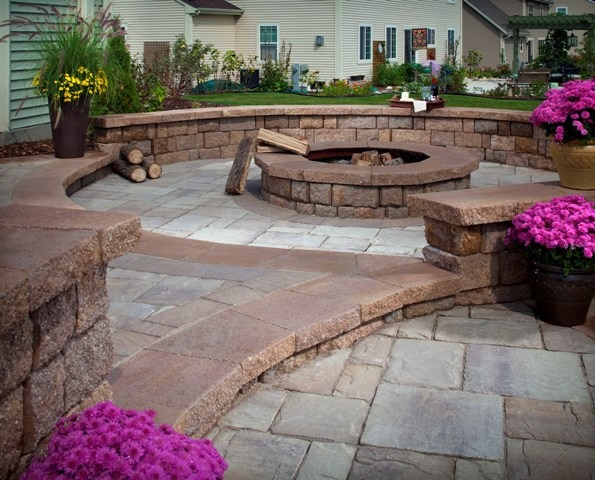 …a primeval urge for many people.
With the myriad of options available for harnessing fire,
designing the ultimate outdoor entertainment area can be confusing.
If you long to control fire for creating delectable meals
or providing an inviting atmosphere, you can simplify things by
installing a fire pit in your yard. Outdoor fire pits give you the
flexibility that many other units cannot provide. 
What is an Outdoor Fire Pit?
An outdoor fire pit is essentially a freestanding fireplace for your yard or patio. There are various designs available, including portable metal bins and clay chimeneas.
You can also choose from a vast selection of permanent brick or natural stone structures. This option is increasing in popularity because of the ambiance these fire pits provide. The type of fire pit you choose depends on your personal needs.
A common type of fire pit is designed with a cavity for placing kindling or wood, but you can also opt for a gas version. Other fire pits are more ornate and may be fabricated to look like fireplaces.
Many stone or brick structures come in unique shapes and colors. Some varieties feature a grilling tray as well, which allows you to instantly transform the pit into a barbecue. 
What Should be Considered Before Making a Purchase? 
When it comes to selecting the supreme outdoor fire pit, your budget and lifestyle should be major considerations. You can create the ideal entertainment area on even the most rigid budget, but you will need to be savvy.
Make a list of what is important to you prior to shopping around. Consider the size of the area, how often you will use the fire pit, how much heat output you want, and how elaborate you want the structure to be. 
To get the most for your money, consider purchasing a manufactured stone fire pit. Manufactured stone is low maintenance, and it can withstand temperature changes and various forces of nature.
It comes in a range of colors and can look as rustic or as polished as you want. You can also match your fire pit to your existing patio pavers. After selecting your building materials, determine whether you want to use natural wood as your fuel source or fake logs with a propane starter. You can also hook a gas line to your fire pit.
Can Anyone Install a Fire Pit?
Most outdoor fire pits require professional installation. A design contractor will have the knowledge and ability to ensure the job is done safely and correctly.
If you decide to use natural gas as your fuel source, a licensed professional will carefully lay the gas line and protect your natural or artificial grass. A skilled landscape expert should be able to envision the whole design of your entertainment area and meet all your goals.
Before hiring any professional, take these simple steps:
ask for several referrals related to your particular job 
obtain photos of similar design projects
request to see completed jobs firsthand 
ask how many years of experience the contractor has
request that the contractor visit the project site before hiring him or her
inquire about the use of fireproof products
ensure that the installation will not damage your synthetic turf or natural grass
What Advantages do Outdoor Fire Pits Provide?
An outdoor fire pit will give your home additional worth by extending your living space. You can delight in the comforts and pleasures of indoor living while enjoying the wonder of nature.
Building a fire pit on your deck or patio will instantly transform even the most dreary yard. Whether you want to create an inviting atmosphere or design the ultimate outdoor kitchen, adding a fire pit creates a charming space for you and your guests. 
Fire pits add resale value to a home as well. They are relatively inexpensive additions, and they can be designed to mirror the aesthetics of your indoor living area.
You can also choose from building materials that coordinate with your paving stones or the bricks on your house. A fire pit placed in the center of a patio not only offers visual interest, it's a unique and eye-catching apparatus for cooking mouthwatering meals or providing heat. 
Installing a fire pit in your backyard can extend the warm season. By choosing one that radiates a good amount of heat, you can enjoy the outdoors well into the cold months.
No matter how you use it, a fire pit is an essential outdoor item. Install It Direct can provide you with more information on the benefits of owning a fire pit as well as deals on the installation. Sign up today for a free estimate, and you will soon be building a cozy fire in your own backyard.