10 Bike Storage Ideas For Your Home (Guide)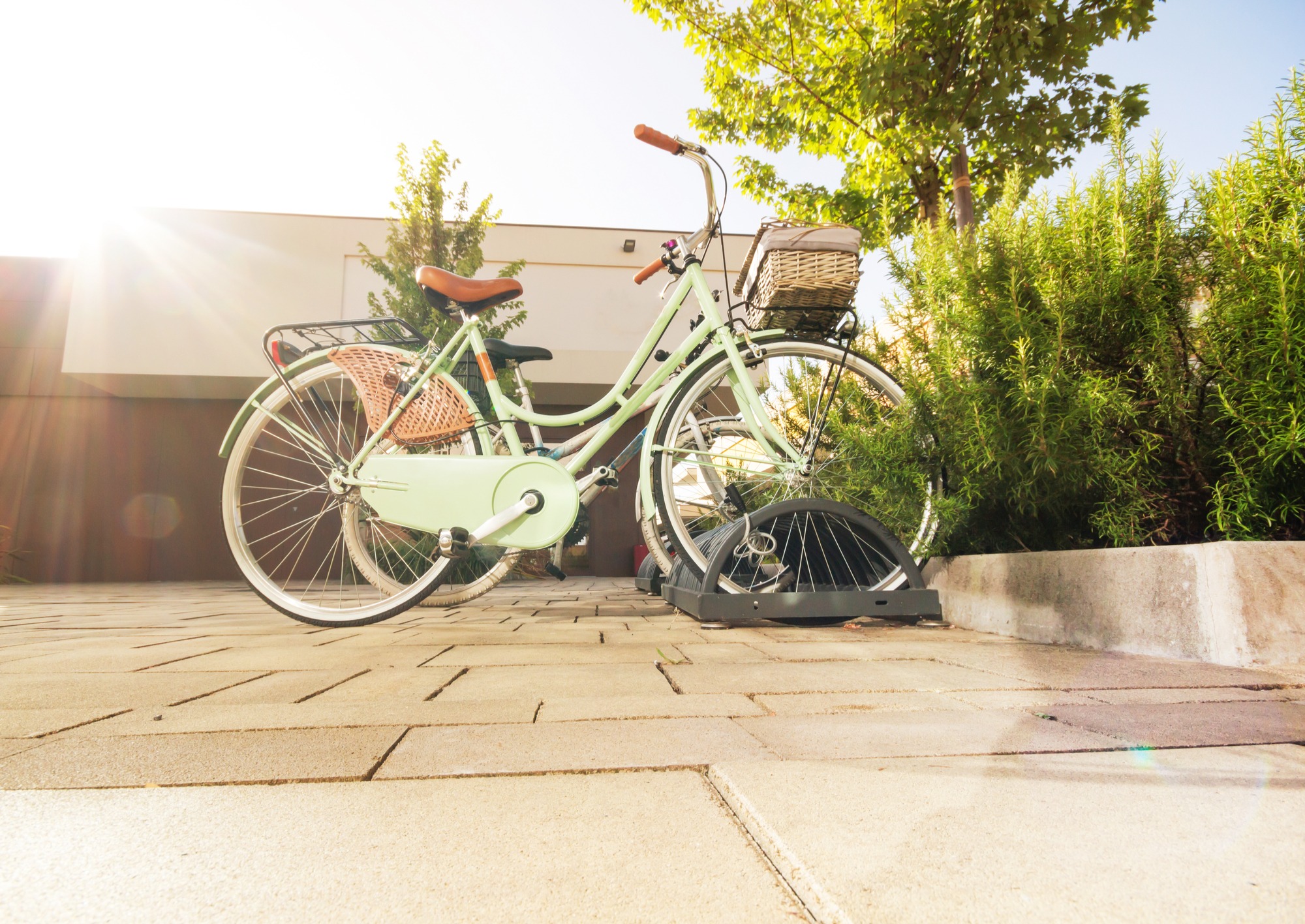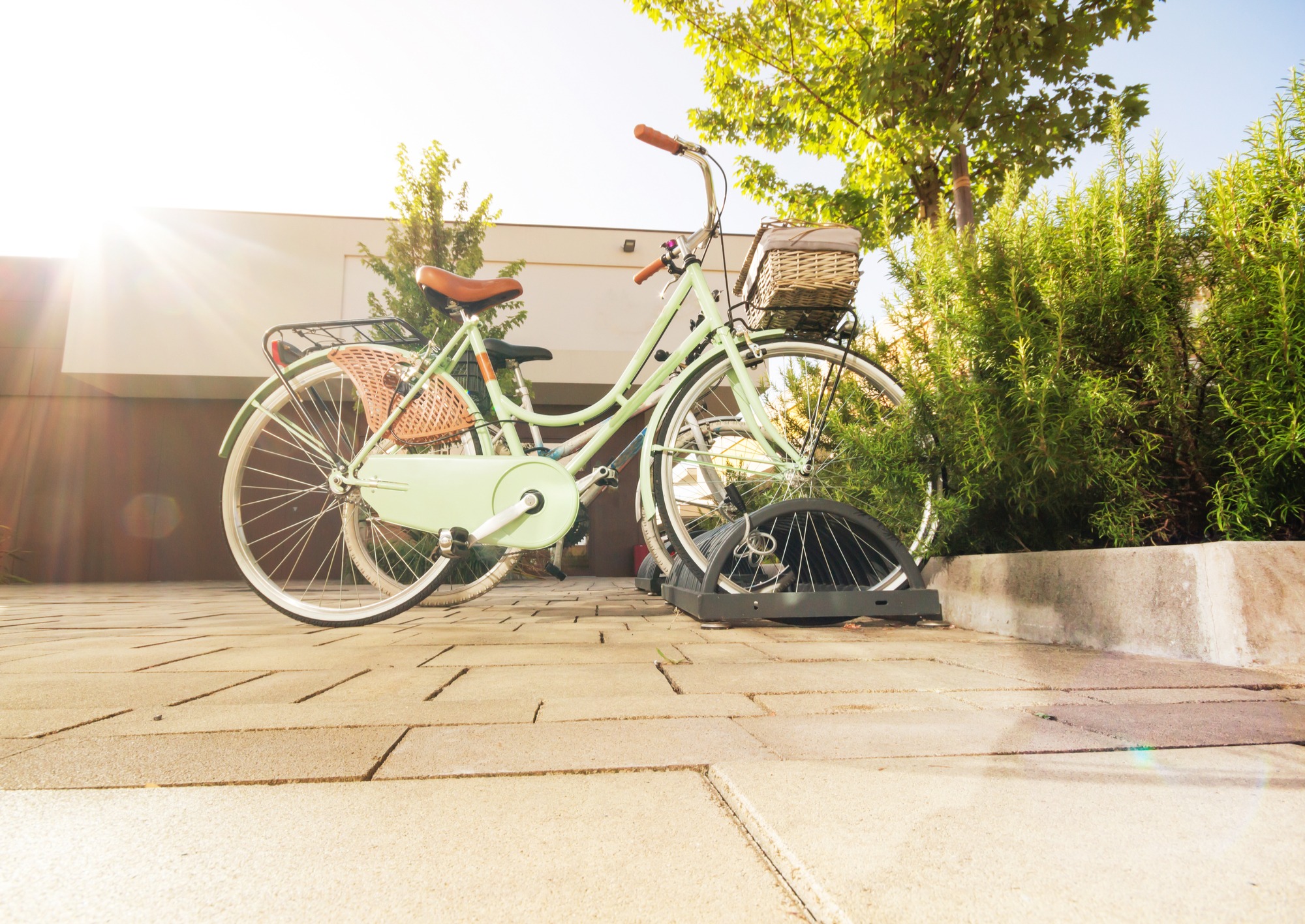 Southern California may not be known as a bicycling culture, but biking is on the rise here, and more folks are choosing two-wheeled transportation for commuting to work, running errands, and getting in a bit of outdoor recreation on the weekends. Many Southern California homes have garages, which provide a perfect bike storage option that keeps your bicycles protected and easy to access when it is time to ride.
However, not everyone has a garage for storing their bikes, and even those who do have a garage may not have enough free space inside for easily storing bicycles. When this is the case, there is a need for creative bike storage ideas that will protect your bike from the elements, ward off potential bike thieves, and keep it out of the way – all while making sure it is still easy to reach when you need it.
1. Wall or Ceiling Hooks:
Found on Amazon

Wall hooks or ceiling hooks that allow you to hang your bicycle out of the way are a simple, inexpensive solution. This storage option keeps your bikes conveniently within reach but up off the ground and in a secure location. Hanging your bike on the ceiling or wall is a good choice if you have room for this option in your garage or garden shed and if you want to keep your bikes indoors.

You can also use wall or ceiling hooks to store your bikes inside your house, or you can install hooks on an exterior wall of your home to store them under the eaves outside. This will provide some protection from the weather but is not the most attractive option if your storage area is near your outdoor living areas.
2. Bike Covers:

Bike covers are a simple, portable, affordable, quick option that can be used in a garage or shed or outside. While a cover will keep your bike dry and clean, it does not secure it from potential thieves and may not be attractive enough for use in or near outdoor living areas. Covers are not as durable as other bike storage ideas, but if you do not ride often, they are great for keeping your bike clean and protecting it from water when on a patio or porch or in your garage or shed. A cover might be a good option for you if you travel with your bike and need an easy storage option while on the road.
3. Bike Storage Tents:
Bike tents, like the one pictured above, are more attractive than covers, a bit more durable, and offer a portable, affordable, immediate option. They are relatively easy to assemble and can be moved out of the way when guests come over for social gatherings. Bike storage tents protect your bike from the weather and keep it clean, but they will not do much to deter thieves, if that is one of your concerns. Like covers, storage tents can be taken with you if you travel with your bicycle.
4. Bike Racks: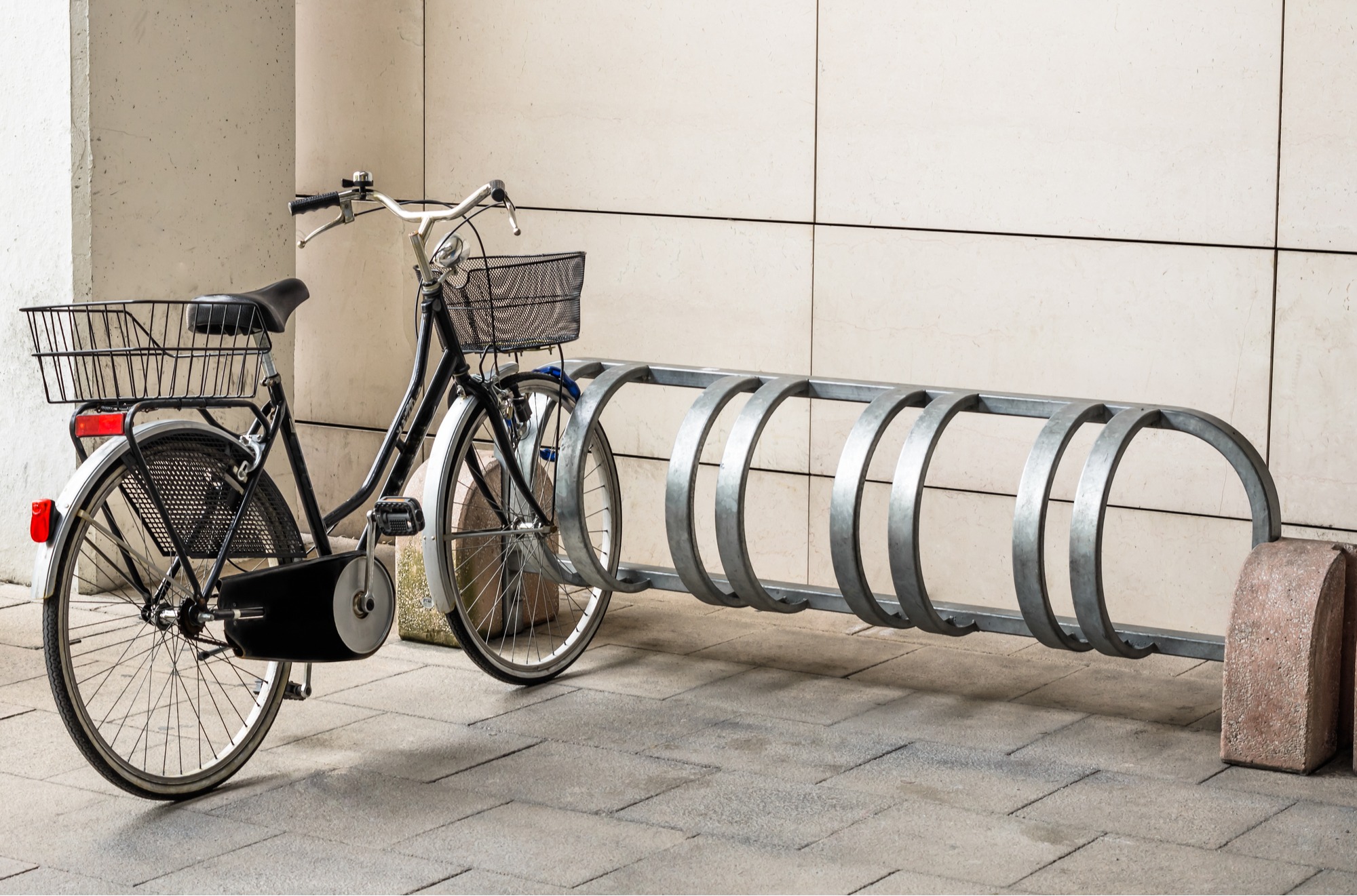 This is a tried-and-true bike storage option that is most often seen in front of schools, stores, restaurants, and public transportation stations. As more people ride bikes for their health or to lower their carbon footprint, we can expect to see the number of bike racks in public spaces increase even more. While these simple racks do not protect your bicycles from the weather, they do allow you to secure them with a lock to deter theft.
If you do not mind having your bikes visible, an old-school bike rack is a retro, fun option that is simple to install and provides a way to at least keep your bikes organized and in one area. You can even make your own DIY bike rack with a couple of wood pallets, as shown in this instructable. It is not an incredibly attractive option, but it is practically free, and you could paint it or stain it to improve its appearance.
5. Adjustable Column Bike Racks:
If you have limited space and want a sleek option that you can pick up for less than $200, a column rack might be the right choice for you. You can store two bikes in a small footprint with this option by holding both bikes in the same vertical space. These spring-loaded columns are adjustable for different ceiling heights and can be used in your house, in the garage, or on a patio or porch.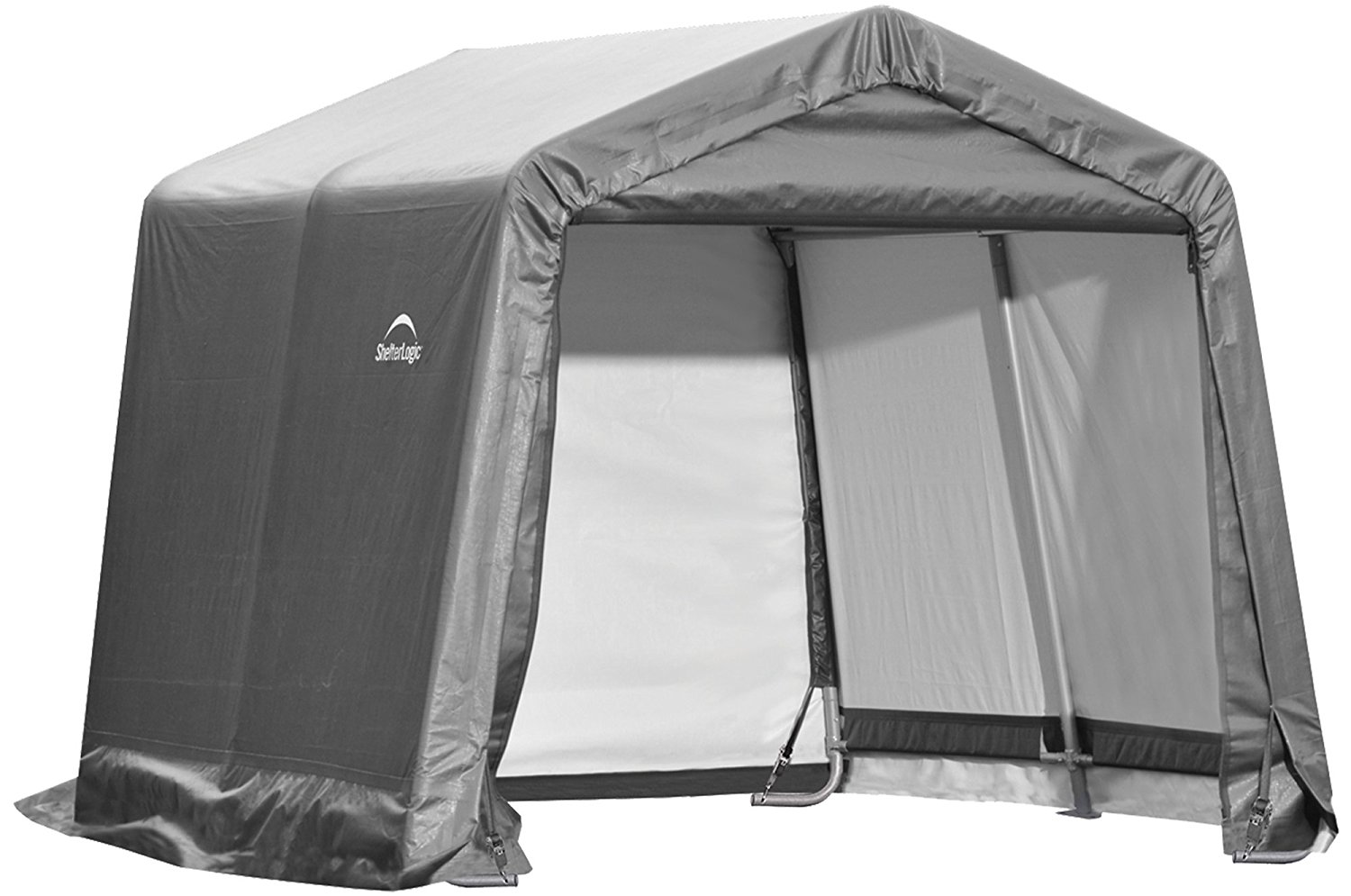 6. Canopy Sheds:
Canopy sheds are more affordable than solid sheds, are relatively easy to assemble, can be taken apart and moved, and are usually equally or more durable than bike tents. Canopy sheds come in lots of sizes, so they can be used to only store bikes or to also store yard maintenance equipment or gardening supplies. Some are narrow enough to use in a side yard and, while they will not deter a bike thief as much as some other bike storage ideas, they do protect your bikes from the weather and can be completely closed.
7. Pulley Systems and Racks:

If you want (or need) to keep your bikes inside your house, a pulley system is the perfect way to store them without taking up floor space. Pulley systems can be used with a bike rack or simple hooks that suspend your bike either upright or flat against the ceiling. This works well in a house or garage where space is at a premium.
8. Bike Lockers:
Bike lockers are most often seen in public spaces, such as at train or bus stations, and they are generally found in bike-friendly cities. This means they are a rare sight in Southern California. This solution is more expensive than the other bike storage ideas mentioned so far, but they are also more attractive and are a solid, lockable option that reduces the chance of your bike being stolen. Bike lockers can be installed on or next to your driveway, in a side yard, or on a porch or patio.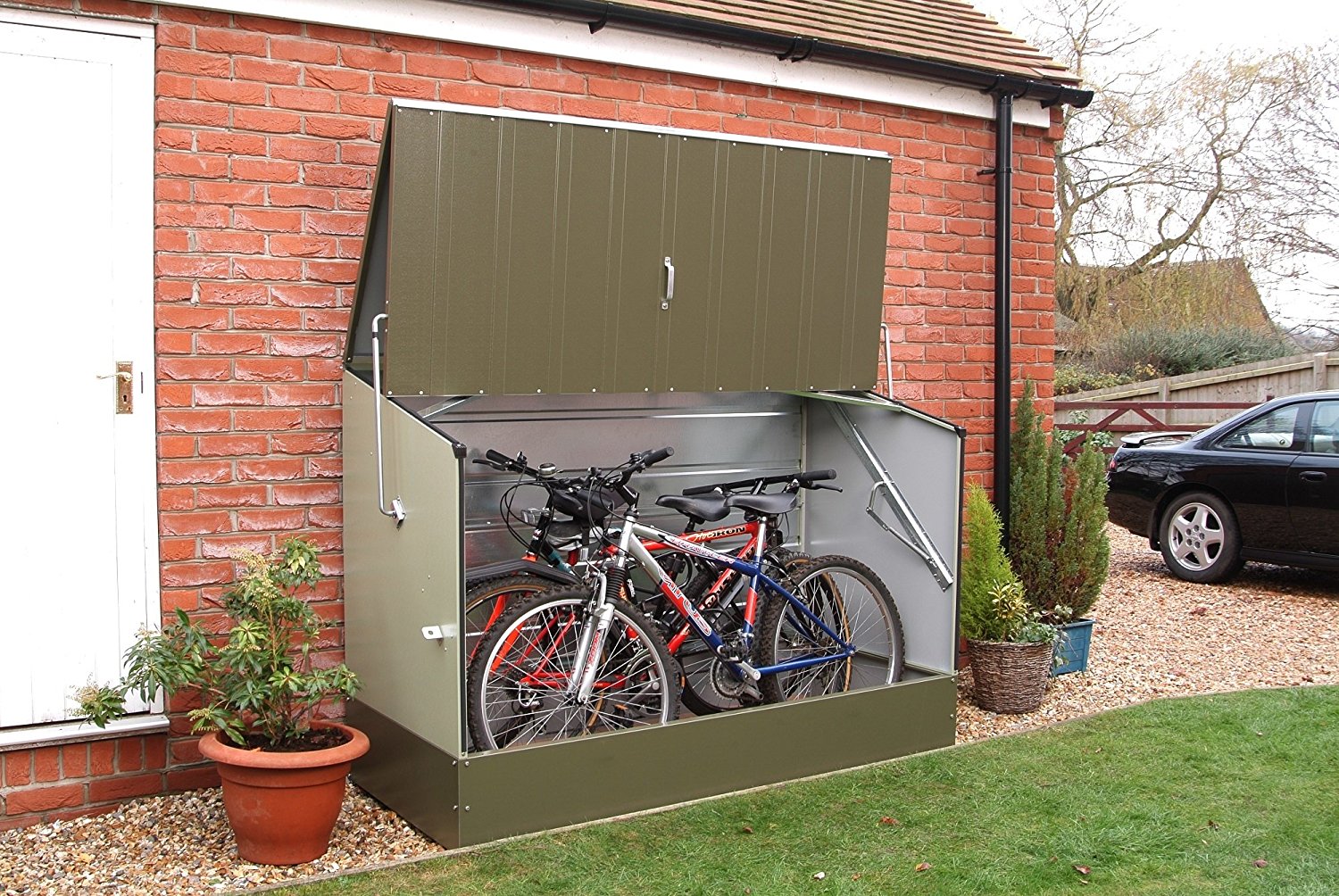 9. Bike Storage Units:
Somewhere between bike lockers and conventional storage sheds, you will find storage units specifically designed for housing bicycles (like the one pictured above). You can expect to spend a minimum of several hundred dollars – and, more likely, more than $1,000 – for this type of unit. This puts this option well above the price of most of the other bike storage ideas on this list, but, if your budget allows, this is a much more attractive, lockable choice. While they hold up to three bikes, the depth on these units is only about three feet, which means you could use it alongside your driveway or in a side yard and still have room to maneuver around it. Plus, it is attractive enough to use on a patio or in outdoor living areas.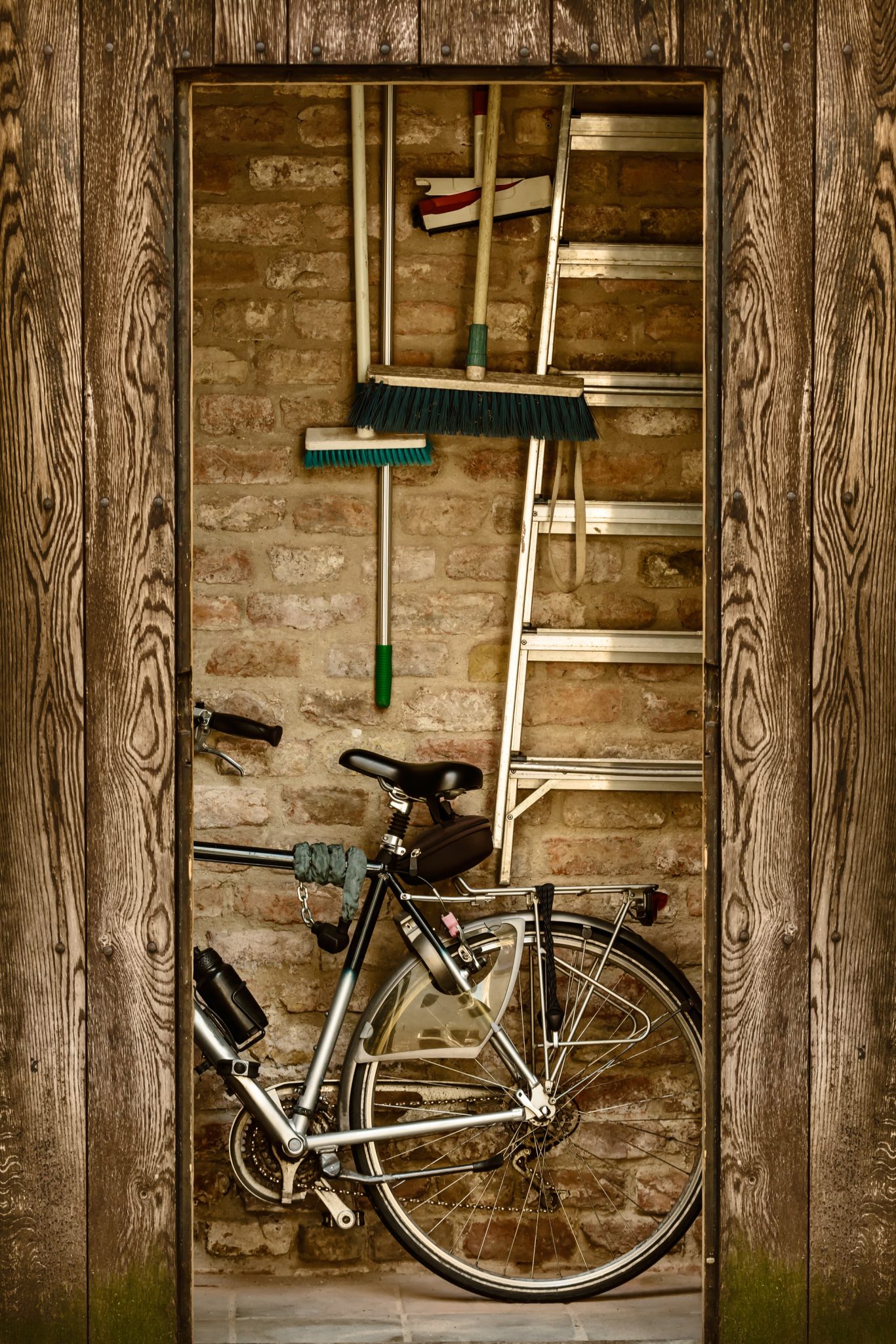 10. Storage Sheds:
You can store your bikes in your existing garden shed or purchase a short, narrow shed designed for storing bikes or trash bins. Opting for the short, narrow shed gives you more flexibility regarding placement, since it can even be used in a side yard or along the side of your house in the front yard to keep your bikes secure but accessible. This is one of the most attractive bike storage ideas and can range in price from a few hundred dollars to more than $1,000, depending on the size and type you choose. Your main options are metal, wood and resin, with wood generally being the most attractive and most expensive of the three. Wood sheds also require the most ongoing maintenance, while resin sheds require the least.
Solid storage sheds are one of the most durable options and one of the best choices for storing bikes in an attractive manner in or near outdoor living areas.
You can even build your own bike shed, as seen here.
Additional Resources