Artificial Grass For Play Areas: Is Fake Grass Safer Than Natural Grass?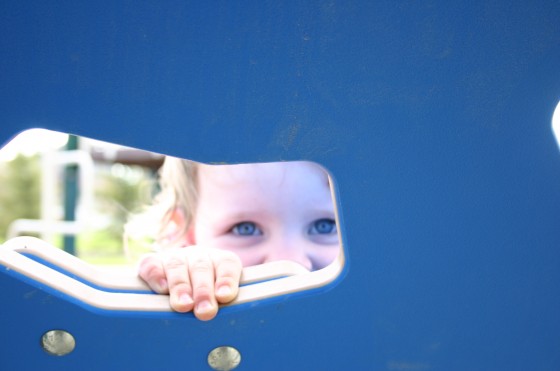 Outdoor play areas are an important feature in homes frequented by children who need ample opportunities to be active and spend time outdoors in the fresh air.
Whether you are a parent concerned about your own children's safety and ability to play outdoors or you have an in-home daycare center, ensuring that your outdoor spaces are as safe as possible is an important part of ensuring the overall safety of the children in your home.
Most single-family homes have a natural grass lawn in the front yard, backyard or both, but choosing synthetic turf for low- and high-traffic areas is a growing trend.
As the popularity of artificial turf increases, more parents and childcare providers are seeking information to help them determine if natural grass or fake grass is the safest option for use in their landscaping.
Many have heard alarming stories of lead exposure from synthetic turf or may be aware of the national debate that continues to plague the National Football League (NFL) as some players lobby for natural grass, while others are proponents of artificial field surfaces.
At the same time, fans of fake grass rightfully point out that children are often exposed to toxic chemicals left behind by pesticides and herbicides when playing on natural lawns.
The uneven surface of most conventional lawns can also pose a tripping hazard for both children and adults; however, some advocates of traditional grass believe the potential for injury is greater with fake turf.
As is often the case when comparing products, the answer to which option is safer depends on a number of factors, the most important of which is the particular artificial grass product you are comparing to conventional grass.
The safety of either option is also strongly influenced by the installation process and the experience of the installer.
For example, either choice could lead to significant tripping hazards if installed incorrectly or if the installer takes too many shortcuts, such as skipping the important step of leveling the ground before installing sod or sculpting the sub-surface correctly before installing artificial turf.
To help you determine which option is best for you, this article addresses a variety of questions about which is safer for areas where children play.
This includes whether or not artificial grass could increase your child's exposure to lead or other toxins, which option requires more harmful chemicals for ongoing maintenance, which has the highest potential for injuries during play, and how you can ensure your lawn and other play areas are as safe as possible.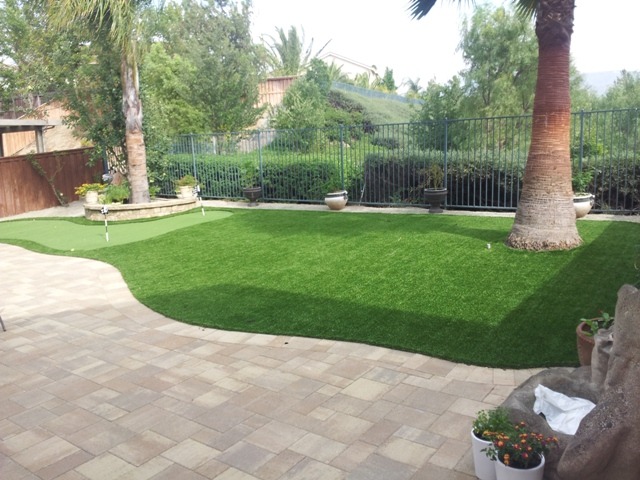 Does Artificial Grass Contain Lead?
Let's start with the question that is most likely your greatest concern when considering turf for your home: Will it increase lead exposure?
This is a great question to ask, since lead exposure has been linked to cognitive impairment, behavioral issues, nerve function impairment, colic, peripheral neuropathy and an array of worrisome symptoms.
Rumors of lead exposure from artificial turf are not completely unfounded, but it is very important to recognize that this lead scare came from studies conducted on older turf manufactured and installed prior to agreements that are now in place that strictly limit the amount of lead allowed in turf.
Parents were not the only people concerned about high levels of lead found in some old manufactured grasses; the Center for Environmental Health (CEH) came together with the major manufacturers of turf in 2008 to put in place agreements to ensure that this health hazard would no longer be a concern.
The synthetic turf products our professional installers use contain no detectable traces of lead or of any other RCRA (Resource Conservation and Recovery Act) hazardous waste heavy metals.
Now, keep in mind that this does not mean that all manufactured turf offered by all companies is free of lead.
While no ethical company would knowingly sell a product with this known health hazard, it is possible that you may encounter a turf company that offers low-quality products that contain lead.
This is why it is imperative that you choose a reputable company when shopping for synthetic grass.
If you choose a trustworthy company with a good reputation that provides grass products with no detectable traces of lead, you will not need to worry about the potential for your children being exposed to high levels of lead while playing on your lawn.
On a side note, if your kids play on artificial turf fields at their school or community sports complexes and you are concerned about the potential for lead exposure, there is something you can do about it.
If you live in California, the first step is to visit the Center for Environmental Health website to view the map of sports fields they have tested for lead levels.
The CEH has screened more than 500 such fields in the state and found that most of them are not lead poisoning hazards.
If you do not see the field you are concerned about on the map, the CEH will screen the field at no cost.
All you have to do is send them a sample, and the simple instructions for doing this are available on their site.
While we are on the topic of potentially hazardous substances, we should also note that fake grass requires no chemical pesticides, fertilizers or herbicides, which are commonly used on natural grass lawns.

Which Option Poses Fewer Tripping and Injury Hazards?
If you are a sports fan, you are probably aware of the ongoing debate about which is the better option for sports fields.
Some professional sports players, officials and organizations assert that natural grass is the safer option, while others maintain that artificial field turf provides the safer playing surface.
Studies intended to determine which is the safer option have returned conflicting results, which has left people wondering: Is artificial grass safer than natural grass?
One study published in the American Journal of Sports Medicine in 2010 compared a brand of synthetic field turf with natural grass and found that fewer injuries occurred on the fake grass.
Another study published in the American Journal of Sports Medicine reported that high school sports injuries occurred at similar rates regardless of whether the turf was natural or manufactured.
A third study was presented by the National Football League's (NFL) Injury and Safety Panel that showed one particular injury (anterior cruciate ligament injuries) occurred more often on manufactured turf.
While children playing or roughhousing in a backyard is not the same as professional athletes plying their trade on the field, it is still a parent's duty to consider which type of playing surface will pose the lower risk of injury.
The simple answer is that either option, if poorly installed, can pose a hazard when it comes to your child tripping or getting hurt.

Natural grass that is grown from seed or installed as sod often has an uneven surface with hills and valleys that may not be noticeable once the grass has grown and is mowed at an even height.
These invisible tripping hazards can result in both minor and major injuries.
If your sod installer does not take the time to level the surface prior to installation, these dips and inclines can be even more prominent.
However, it is also important to note that normal erosion can cause this to occur over time, even if the person who planted or laid your natural grass made an effort to provide an even surface.
If manufactured grass is installed incorrectly, it can also be a tripping hazard.
While artificial turf is ideal for areas where you need a level playing surface with low risks of tripping over uneven ground, this is only true if it installed properly.
Experienced installers will ensure that the sub-surface is properly sculpted, that edges are appropriately addressed, that the product is secured correctly and that seams are put together well.
This is paramount to providing a safer surface on which your children can play and is another reason why choosing an experienced, reputable company to install your lawn is crucial to your overall satisfaction, the longevity of the product and the safety of your yard.
Synthetic turf that is properly installed by a reputable company is the way to go when it comes to providing a flat, even surface that reduces tripping hazards.
It is also important to note that the infill used in fake grass installation acts as a cushion to further enhance safety.
What About Bacteria from Pet Urine and Solid Waste?
Bacteria can build up on natural grass lawns that are used as restrooms by your pets.
While quickly removing solid waste and diluting urine with water can help inhibit the growth of bacterial spores somewhat, you just cannot avoid some bacterial buildup if you have traditional grass.
Anaerobic bacteria, which require no oxygen to thrive, can build up in your soil quickly in areas where solid pet waste frequently occurs.
Fake grass with infill that does not absorb animal urine – such as the Durafill we use in our installations – can be easily cleaned of pet urine by simply spraying the area down, and solid waste is easy to pick up off this surface.
Typically, artificial turf requires minimal maintenance and can just be rinsed and groomed as needed.
If you ever feel like you need a more thorough cleaning, you can just flush your fake grass with a half-and-half mixture of distilled white vinegar and water, which will neutralize any bacterial spores that might be hanging around.
Ultimately, if you want your children and your pets to safely share the same grassy areas, synthetic turf is the way to go.

Natural or Artificial Grass: Final Thoughts
It will always be the case that some people will prefer natural lawns, and others will prefer synthetic lawns.
The folks who prefer artificial grass are generally those who want to:
— Limit the chemicals they use in their yard care
— Limit their family's exposure to bacteria and potentially toxic substances
— Lower their carbon footprint by reducing their need for powered lawnmowers and other equipment
— Have a beautiful lawn they never have to weed, mow, water or aerate
— Provide their children and pets with a level surface and safer play area
If you are leaning towards artificial turf, here are five things to keep in mind:
1. Not all infill is created equal. The Durafill we use does not absorb animal urine, degrade over time or significantly increase in heat on hot days.
2. Choose a professional installation company offering high-quality products to get the safest option for your yard.
3. The negative press artificial grass received in the past was based on older products made with inferior materials.
Advances in technology, materials used and the manufacturing process have created options that are much safer, more comfortable and more attractive.
4. Artificial turf means no more grass stains on your children's play clothes.
5. This option provides a safer place for your children and pets to enjoy together.
Folks who currently have natural grass or who are considering installing a conventional lawn can take these steps to make it as safe as possible:
1. Avoid fertilizers, pesticides and herbicides containing harmful substances.
2. Create a separate area for your pets to use to avoid bacterial buildup where your children play.
3. Make the dirt surface as level and even as possible before planting grass seeds or laying down sod.
While both options require some type of maintenance, the ongoing care of a synthetic lawn is much less expensive than caring for a natural lawn.
The maintenance required to keep a conventional grass lawn looking its best, including mowing, weeding, watering, aerating, edging and fertilizing, can require hours of your time every week or the expense of hiring a professional landscaping company to perform these tasks for you.
When it comes to ensuring that your children have a safe place to play, who you choose to install your lawn is just as important as the product you choose.
Whether you choose traditional grass or synthetic, your overall satisfaction and the safety of your yard starts with proper installation.
Photo Credits (in order of appearance): stock.xchng, bsarney; stock.xchng, Ayla87; stock.xchng, code1name; stock.xchng, cempey; stock.xchng, ivana.