DIY Patio Table
If you need a new patio table for your outdoor living area but are not finding a design you like or just don't like the prices of the tables you are finding, consider building your own.
Whether you need a dining table, cocktail table or side table, you can save money by building it yourself. Plus, there is something satisfying about building something with your own hands, particularly if it is something for you, your family and your guests to enjoy.
Before we get into how to build your own patio table, there are a couple of other do-it-yourself options that should be mentioned.
If you are not quite as handy as you would like to be but are interested in building a DIY patio table, consider purchasing a kit. Some ready-to-assemble patio table kits come with everything you need, including lumber that is already cut to the perfect size. Other kits include instructions and hardware, so all you have to do is head to the nearest lumber yard to pick up the wood. If you purchase your lumber at a home improvement center like Lowes or Home Depot, bring your measurements so that the staff can cut the wood for you. Then, all you need to do is get your kit and lumber home so that you can assemble your new table.
If you would like to have a hand in making your table but are not interested in assembling a kit or building one from scratch, another option is to buy an unfinished table that you can paint or stain and seal. This allows you to enjoy a small DIY project in less time and with no power tools. You can go online or to your local home improvement store to purchase assembled tables that just need to be painted or stained.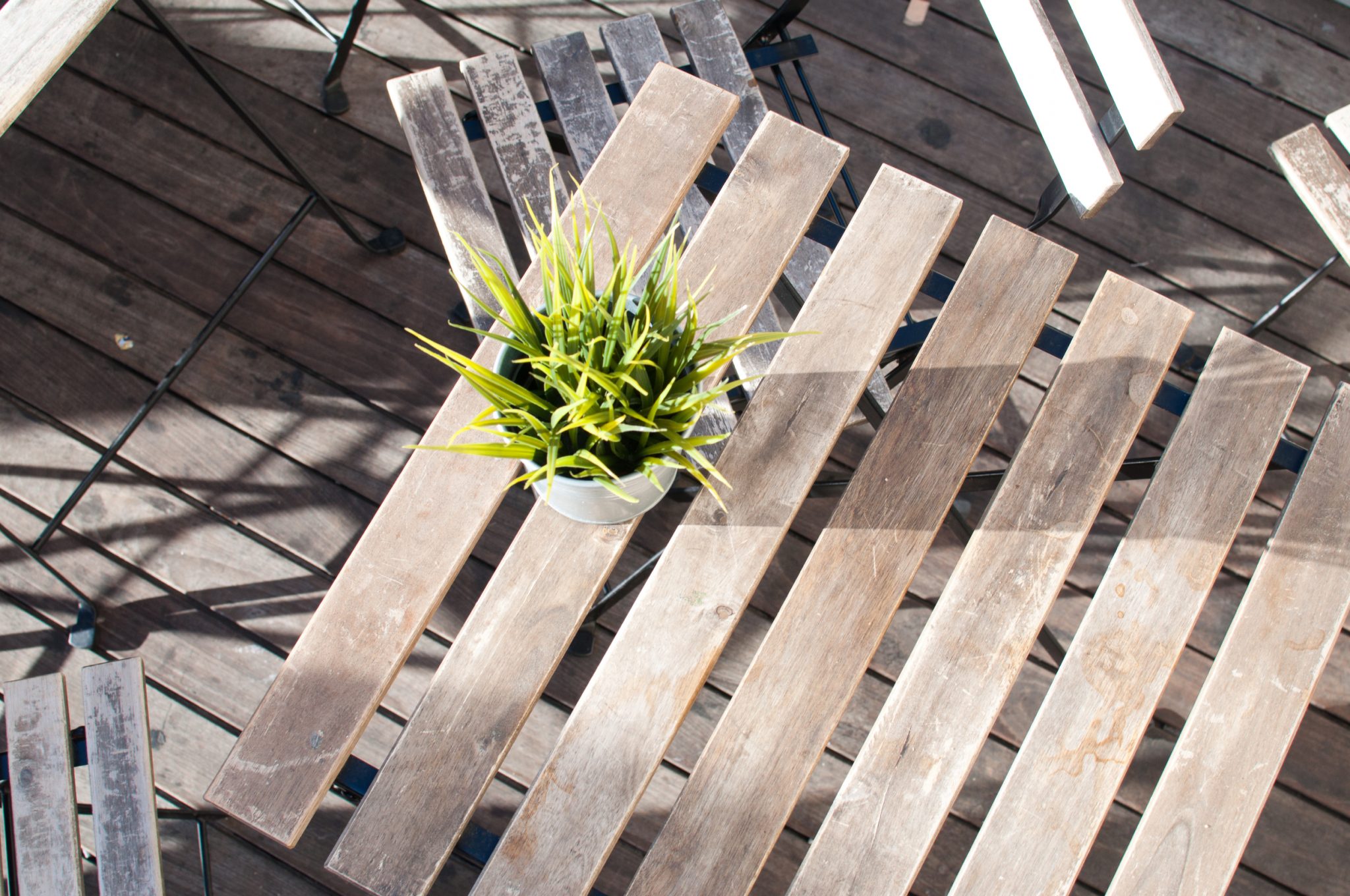 How to Build a DIY Patio Table
If you are not an experienced furniture maker, the easiest way to build your own table is to find plans online. Look for plans for a table that is the design and size you want for your outdoor living area. Good patio table plans will give you the dimensions and will provide a cut list. The cut list includes the dimensions for each piece of wood, which you will use to either cut your own wood or have the lumberyard staff cut it for you.
If a dining table seems intimidating, you can start with something smaller, such as a side table, but keep in mind that it is the same process and requires the same skills. Starting with a side table will save money on lumber and allows you to work on a smaller project you can complete a bit faster, which will help build your confidence for tackling larger projects.
Once you have decided the size of your table, you need to choose the design. Do you want to make an eco-friendly table from reclaimed pallets or barn wood? Are you interested in a farmhouse table for hosting dinner parties or a coffee table where you can enjoy your morning coffee?
Once you have decided on a design, look for plans online that will walk you through the project step by step.
DIY Patio Table Tools and Supplies
Now, let's go over what you will need in order to build your table. These supplies will vary a bit depending on the size and type of table you are building, but here are the basic supplies you will need.
Lumber
Screws, nails, bolts, nuts, washers
Level
Hammer
Saw
Drill
Drill bits
Sandpaper, sandpaper blocks or an electric belt sander
Tape measure
Pencil
Wood glue
Wood filler
Stain, paint or oil
Wood sealant (or waterproofing oil)
Safety gear (respirator mask and eye, ear and hand protection)
Once you have chosen your patio table plans and gathered your tools and supplies, it is time to cut your wood. If you do not have a saw or are not comfortable using one – or if you just want to make the project easier – purchase the lumber from a retailer that will cut it for you. Print your cut list to bring with you so that you can give the staff member the exact measurements.
Bring your lumber and supplies home, choose a clean, level work area, and get to work following the plans to build your table. Do not stray from the plans or cut corners in an effort to save time. It is not worth it.
Once you have constructed the table, it is imperative that you waterproof it before using it outside. Even if your outdoor living area is covered, wood furniture can still weather, warp and rot from exposure to the elements.

How to Waterproof an Outdoor Table
Wood furniture used outdoors requires protection from the elements. There are three common ways to waterproof your patio table; each of them requires cleaning and sanding the surface before applying the first coat.
Option 1: Sealant
Sealants, such as varnish, lacquer or polyurethane, provide the best waterproofing, but they are also filled with solvents and give off toxic fumes during the application process. Therefore, if you choose to use a sealant on your table, make sure you are working in a well-ventilated area. Once you have chosen the sealant, follow the instructions on the can. The basic instructions will be to sand and clean the surface, apply the first coat, allow the product to dry, sand and clean the surface, apply the second coat, allow the product to dry. In some cases, you may want to follow this process to add a third coat.
Option 2: Stain-Sealant (Deck Stain)
Alternatively, you can add color and weatherproofing at the same time by using a deck stain with sealant. The process is similar to that used for sealants. Complete instructions will be available on the can.
Option 3: Oil
You can also waterproof your patio table with linseed oil, walnut oil or tung oil. You can use the oil alone, or you can purchase or make a mixture of oil, polyurethane and mineral spirits. If you purchase a commercial product, there will be instructions on the can. If you make your own, the basic instructions include sanding and cleaning the surface, applying a coat of oil, wiping off the excess oil, allowing the wood to dry, and then repeating this process until you achieve your desired number of coats.
Tips for Building a DIY Patio Table
Regardless of the plans you use to build your table, there are some universal tips that will help make your project a success.
1. Choose straight pieces of wood to ensure a flat surface and a good fit.
2. Paint your hardware with rust-resistant spray paint to avoid future rust.
3. Choose zinc-coated hardware (instead of galvanized), since zinc-coated hardware is easier to spray paint.
4. If you do not have a drill, invest in one. You will need a drill to pre-drill holes for screws. This is much easier than using a nail to create the hole and a screwdriver to screw in the screws.
5. Build the tabletop before you build the table base, this will allow you to adjust the dimensions of the base, if needed.
6. Always sand with the grain. If you sand against the grain, you will see it once your table is finished.
7. Strengthen and stabilize your table by using wood glue in the joints.
8. Sand between coats of stain and sealer.
9. Your table will be outside in the elements, so do not try to save time, money or effort by skipping the waterproofing.