Outdoor Living Space Ideas: Expand Your Living Space with an Outdoor Room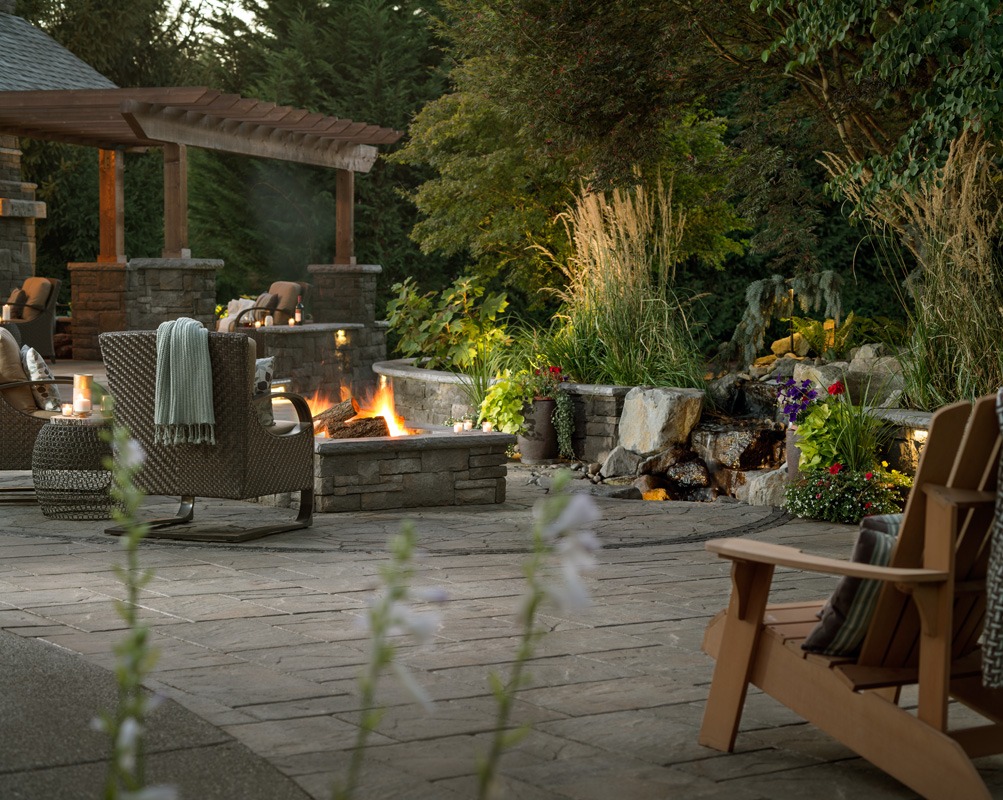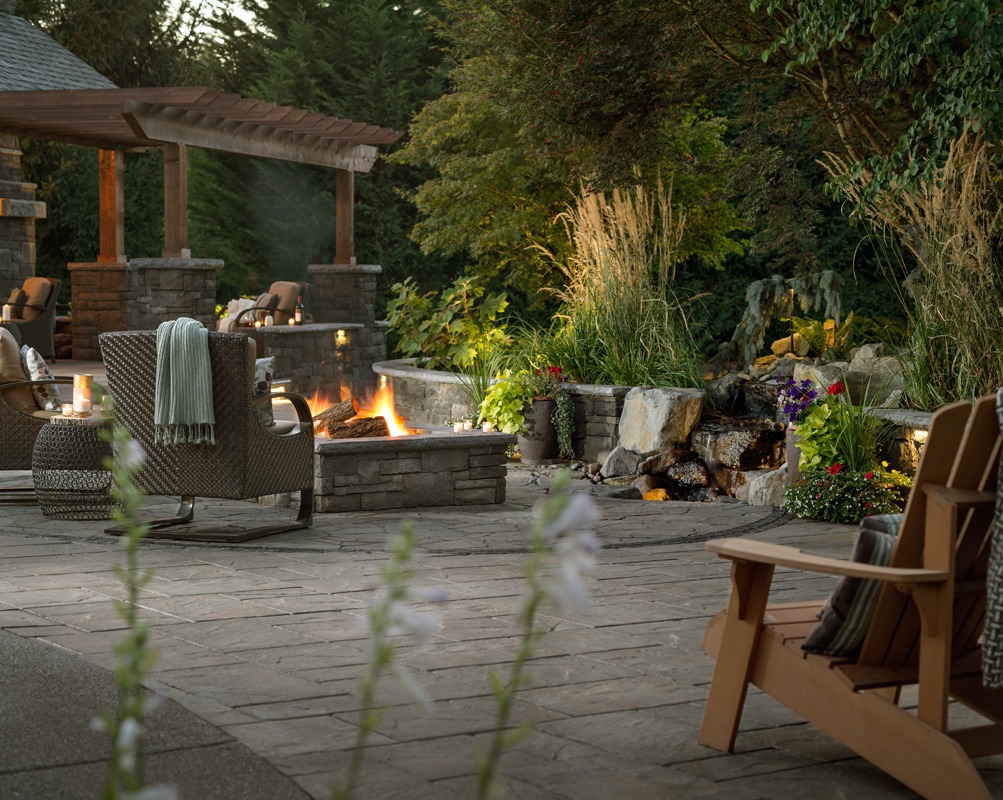 Most people could use a spare room or a little extra space in their homes, but this can be difficult to achieve without expanding your house with an expensive addition. For some, this means using a single, spare room for a combination office-craft room-storage room-guest room, or it means not having a spare room at all.
But you can get the extra space you need at a fraction of the cost of putting an addition on your home by adding an outdoor room in your backyard. This is not a new idea, since outdoor kitchens, living rooms and dining rooms are quite common. But, even in higher-end homes, outdoor living spaces usually stop there. These are certainly the basics that you will want to create first so that you have functional outdoor living areas, but you can go well beyond this to create extra space with backyard rooms.
Now, you can do a lot with a covered deck or paving stone patio that provides usable space for crafts, entertaining, reading and more, but you can do even more if you create enclosed rooms.

Backyard Room Ideas
Here are just eight of the ways you can add an extra room to your home by creating one in your backyard:
1. Yurt – A yurt is a circular tent with a wood frame that makes it super sturdy. This versatile outdoor room is perfect for use as a guest room or meditation space.
2. Summer House – Some summer houses look a bit like converted sheds, but these simple structures are designed to provide a comfy place to relax outside when the weather is warm. They often have large door or one wall that can be opened completely to allow the outdoors in. Most popular in Europe, summer houses are a growing trend in the United States.
3. Converted Shed – You can convert a conventional shed into a sewing room, summer house, yoga studio or game room, which makes this a great option for folks who already have a shed and have a smaller budget to use for their outdoor room. Check out she shed ideas to convert your shed into the feminine equivalent of a man cave.
4. Vintage Trailer – A vintage trailer is a perfect alternative to a guest house and can also be transformed into an office or writer's retreat.
5. Office Pod – Prefab office pods are incredibly convenient to install and can provide you with an office space, play room or art studio in as little as a day.
6. Teepee – Teepees are pretty trendy these days, which means you can easily find one to buy online and in some stores, or you can check out lots of do-it-yourself teepee projects online. Backyard teepees make great reading nooks and play rooms, and larger ones can even be used as a place for guests to sleep.
7. Screened Porch – If you already have a paving stone patio, you may want to consider turning some or all of it into a screened room. While a screened porch is a simple structure, it creates a space you can use as a game room, art studio, sleeping porch and more.

8. Solarium – Also known as a sunroom, a solarium can be built into the design of your home or can be added after construction to expand your living space. Sturdier and providing more protection from the elements than a screened porch, a sunroom can be used an a gym, office, play room or other space where you might want electricity and need to protect office equipment or your treadmill from bad weather.
Tips for Creating an Outdoor Room
There are a few things to consider when expanding your living space outdoors. First, you will want to check with your local governing body to learn about regulations that could limit how you can use your outdoor room. For example, in some areas it may not be legal to use a yurt or summer house as a sleeping area. You will also likely need to pull a permit for any electrical or plumbing required to install your outdoor room.
Since most of these are permanent or semi-permanent structures, you will also want to consider placement. This is a great opportunity to maximize your side yard, turn an unused corner into functional space or expand your current outdoor living areas.
A good foundation is an important part of having a functional space, but most of these options do not require an actual foundation (unless your local governing body says you need one). You will want a sturdy, level surface that can be kept clean, since you will be using this space much like an indoor room and might want to have furniture, craft supplies or office equipment inside. Two options to consider, depending on the type of outdoor room you are creating, are paving stones and artificial grass. Both of these options provide a surface that can be easily cleaned.

15 Ways to Use an Outdoor Room

1. Office Space: Everyone needs a home office, so if your home does not have enough space for at least a small desk or workspace, consider creating an outdoor office that will make working from home much more enjoyable. As an added bonus, this helps keep your work life separate from your home life.
2. Art Studio: Unless you are an income-earning artist, it can be difficult to justify dedicating an entire room inside your home to an art studio. But if you just take all of those art supplies outside and create a studio space in your backyard, you can save the space in your home and might find that being outdoors is quite inspiring.
3. Reading Nook: It is one thing to have bookshelves lining a wall in your living room, office or hallway, but once you grab a book off the shelf, where do you go? Reading is a quiet, contemplative activity that does not always go well with children playing, loud football games or other common, household noises. Creating an outdoor room dedicated to this pastime is a great way to create a quiet space just for you. A reading nook is one of the options on this list that does not necessarily have to be a separate, enclosed space. You could create a quiet, partially separate corner in an existing outdoor living area or simply add a cozy chair and umbrella to a corner of your artificial grass lawn.
4. Guest Room: Having a room set aside just for guests is a luxury that is not an option for all homeowners. Many of us have family members living in all of the bedrooms, need the space for other purposes or — at best — have to make a spare room do double duty as an office and guest room. While you cannot stick most guests outside on the patio overnight, you could create an enclosed backyard retreat with just as much luxury and privacy as they would have in a bedroom in your home. For example, this option might be a good use for a yurt or summer house.

5. Gym: A gym is a great addition to any home and helps encourage staying active and making healthier choices. But not everyone has enough square footage to dedicate a room for use as a gym. If you have free weights set up in the garage or a treadmill in your living room, you are probably one of the many homeowners who could benefit from creating an outdoor room to use as a gym. This will free up space inside your house and encourage you to spend more time in your outdoor living areas.
6. Yoga Studio: Backyard yoga studios usually allow for a bit more flexibility than backyard gyms. Whereas gyms usually require electricity, yoga studios do not require running any wiring through your current landscaping. Lights or a docking station might be a nice touch, but they are not absolutely necessary. Outdoor yoga studios also do not require a solid enclosure, and you will likely find the most enjoyable yoga experiences happen in the fresh air where you can feel the breeze. This makes a gazebo, a covered paving stone patio or a covered deck an option. If you do opt for an enclosed space, consider adding French doors or a movable wall to let in the fresh air and light.
7. Meditation Room: A meditation room can easily share space with a yoga studio, and each of these mindful practices even use some of the same tools. So it is easy to set up your yurt, gazebo or summer house to serve both of these purposes.
8. Sewing or Crafting Room: Whether they provide the majority of your income, are a fun side business or are simply your favorite hobbies, sewing and crafting really do need their own space. Of course, you can stash everything in a closet when not in use and drag it all out when you want to craft, but this is certainly not convenient and it takes up valuable storage space in your home. Instead, move your craft room outdoors to a converted shed, summer house or yurt to free up space in your home and maximize the space in your backyard.

9. Play Room: An enclosed, outdoor play room allows your kids to enjoy playing outside even if the weather is not cooperating as well as you would like. A converted shed that looks more like a playhouse or a sturdy yurt filled with their favorite toys can be a great place to play even if it is raining or a little colder than ideal. Plus, it provides a storage place for toys that would otherwise cause more clutter in the house. To help avoid your little ones tracking in mud or blades of grass, install artificial grass or a paving stone walkway leading to their outdoor play room.
10. Writer's Retreat: If you dream of writing the next great novel or an eco-friendly children's book, you are going to need a quiet, inspiring space to collect your thoughts and work on your masterpiece. Stepping outside can help you separate your workspace from your everyday life, and a little fresh air is a great way to clear your head and get in the right mindset for writing.
11. Sleeping or Napping Porch: You could actually take your bedroom outside if you opt for a yurt or summer house for your outdoor room. But even if you like the comforts of an indoor sleeping space, you may want to occasionally partake in some backyard camping or an afternoon nap outdoors. A screened porch is great for this purpose.
12. Storage Room: We all could use some more storage, and including it in your backyard landscaping design lets you free up space in your garage or inside the house. This, of course, could just be a simple storage shed, but you could also designate part of a screened patio or summer house to storage so that you can use the rest of the outdoor living space for other purposes.

13. Music Studio: Your neighbors may not love this idea, unless you soundproof it, but moving your music studio outside might allow you to have a dedicated guest room inside or could allow your teenager to practice with their garage band without giving you a headache.
14. Game Room: An outdoor game room is a perfect complement to other outdoor living areas used to spend time with your family or entertain guests. Party guests can play billiards while you cook in your outdoor kitchen, or younger guests can play board games while the adults hang out in your outdoor living room.
15. Spa: Spa treatments are a great way to take care of yourself and indulge in a little me time, but driving to and from the spa can take away from that experience. Create an at-home spa in a yurt or summer house where the professionals can come to you for facials, massages and other spa treatments in the comfort of your own home.
Your Turn…
If you had an extra room in your backyard, how would you use the extra space?