Small Backyard Landscaping: 10 Tips for Making the Most of Small Outdoor Living Spaces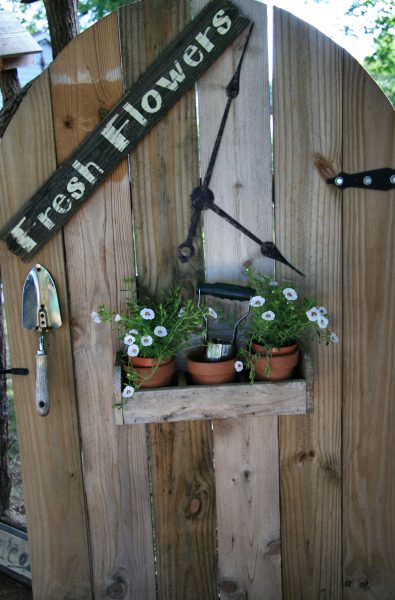 Small outdoor living spaces are not necessarily a bad thing.
While you may not have all of the room you want to create your dream backyard, a small yard gives you the opportunity to maximize your space, create cozy outdoor living areas and design a more intimate atmosphere for entertaining.
Small space gardens can have just as much color, texture and visual appeal as their larger counterparts, and you can still create functional spaces that can help make your yard meet your needs.
The key to making your small backyard work for you is to have a plan, maximize your space and make a priority list to make sure you can fit in all of your must-have landscaping features.
These 10 tips for small backyard landscaping will help you transform you yard into an inviting, functional outdoor living space that you and your family can more fully enjoy.
1. Have a Plan
Some homeowners prefer fully laying out their landscape design – or hiring a landscape designer – before breaking ground.
Other homeowners prefer the more eclectic look of a landscape that has been put together one plant at a time whenever they happen upon a unique floral find or are inspired to add a new feature.
If you are working with a large backyard with numerous landscaping features and multiple spaces serving different purposes, you can usually get away with a few landscaping mishaps or a plant or two that might look a little out of place.
However, this is not the case when you have a small backyard.
It is always a good idea to have at least a basic landscape design in mind before tearing apart your yard and giving it a new look, but it is even more important to lay it all out beforehand when working with a small space.
You cannot afford to lose functional space with a poorly placed tree, and the fact that your entire yard will be taken in by guests as soon as they step onto your patio means that there is no room for error with hodgepodge plantings or landscaping features that do not fit with the overall look of your yard.
Draw it all out and make sure it will be both visually pleasing and functional before you begin installing hardscape or planting a garden.
2. Prioritize
To get the most out of your small backyard, you are going to need to prioritize your needs and wants, and make sure you can fit them all in.
You may have to make some compromises for the end result to be as close to your dream yard as possible, so the time to do that is before you break ground on any new projects.
You might really want a swimming pool, but a small yard may not accommodate such a big feature, so you may have to settle for a small pool, a hot tub or adding another type of water feature, such as a pond or fountain.
Start by making your dream list of everything you would want in a perfect backyard.
Then make a list of the bare minimum, must-have features that you absolutely have to have in order to be able to use your backyard in the ways you need or want to.
For example, if you have a dog, then a pet restroom area is a must-have feature.
If you love to entertain, then a seating area and a barbecue grill should be high on your list of priorities.
Once you have these two lists completed, start your list of what will actually be in your yard.
The items on your must-have list should be at the top, then you can list your dream features in order of priority.
You may not be able to make it all the way to the bottom of your list, since space is limited, so make sure your priority items are near the top.
Look for areas where you may be able to save space by compromising a bit or getting creative in selecting dual-purpose features.
For example, if both a fire pit and a barbecue grill are at the top of your list, but you are not sure you have room for both, consider installing a fire pit that comes with a grill and is designed to function as both a gathering place for entertaining and for outdoor cooking.
3. Create a Focal Point
Every yard, small or large, needs a focal point to add visual interest and bring the overall landscape design together.
This may be your outdoor dining room, a fountain, a sculpture, a great view, an old tree or a salvaged piece of garden art.
If you choose your focal point early on, you can place it appropriately and design the rest of your landscape around it for a cohesive look.
4. Landscape in Layers
Landscaping in layers creates depth and the illusion of more space within your yard.
If you plan to install planting beds around the border of your yard, plant the shortest plants in front, and the tallest plants against your fence.
Taller plants, vines or bamboo will also increase the privacy of your yard, which makes for more inviting outdoor living and entertaining spaces.
Most folks with small yards have neighbors that are very close, so enhancing privacy may need to be a priority in your landscape design process.
If you have centrally located flower beds, plant taller bushes and plants towards the center, and work your way down to the shortest plants or a low-growing ground cover near the borders.
Taller plants that block the view between different areas of a small yard can sometimes be successfully used to define separate spaces with different functions, but it can also make your yard look even smaller, so install taller landscaping features with care.
5. Forget the Grass
Lots of people still love natural grass, and many homeowners seem to think that a natural grass lawn is something they are simply expected to have.
There was a time when a lush, healthy natural grass lawn was considered a status symbol and could be found in just about every backyard and front yard in suburbia, but those days – fortunately – have passed.
While the idea of expansive lawns acting as a display of the homeowner's success has not completely gone by the wayside, more and more homeowners have come to see natural grass lawns as a landscaping feature that requires too much time and money to maintain, wastes water and takes up valuable property that could be better used as functional spaces for outdoor living and entertaining.
When you are working with a small backyard where space is at a premium, a natural grass lawn is often even more of a waste.
Additionally, the expense of a lawn mower, edger and other lawn maintenance tools is difficult to justify when your small backyard would only allow for a tiny lawn anyways.
You, your family and your guests will be better served with a well-designed space that includes a patio, one or more seating areas, and usable spaces that serve a purpose.
You may want at least a small patch of grass if you have children or pets, which you can easily accomplish with artificial turf.
Installing a small section of synthetic grass is an affordable option that provides you with the lush, inviting look of natural grass without the ongoing expense and maintenance of a natural lawn.
Manufactured grass provides a level, stable ground cover for play areas and is easy to clean when used as a restroom by pets.
When working with a small area, you will also benefit from being able to place your patch of artificial grass under a tree or in other shady areas, and will not have to worry about water runoff affecting other areas of your yard.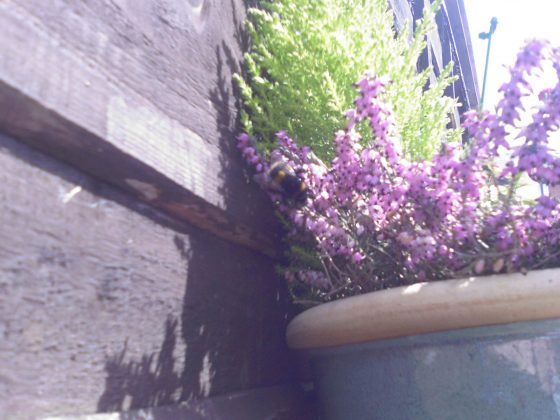 6. Get Creative with Containers
Container gardens are a perfect solution for smaller spaces.
If you dream of growing your own vegetables but do not have room for raised garden beds or a full vegetable garden, a patio container garden will allow you to use just a few feet of space to grow fruits, vegetables and herbs for your family.
You can maximize your garden space even more by installing a vertical garden on a fence or wall, or by building shelves or steps to hold your container garden.
You can also use small groups of containers at the corners of your patio or to define spaces to create more intimate seating areas or sections of your yard to be used for different purposes.
You can also use containers to add plants and flowers to your small space landscape design without taking up the amount of space required for full flowerbeds.
7. Add Color and Texture
A small garden is not an excuse for a lack of landscaping.
While it may seem challenging to create an inviting space in a small backyard, adding color and texture will increase your outdoor living area's visual appeal and can make your yard appear larger than it actually is.
Fun fabrics, colorful flowers and brightly painted chairs create an inviting space where your guests are far more likely to forget that the fence is just a few feet away.
Adding different textures will also make for a more inviting entertaining space and will add depth to your yard.
A mix of gravel, wood chips, living ground covers, and foliage that differs in texture and size will enhance the look of your yard and make your outdoor entertaining areas more welcoming for you, your family and your guests.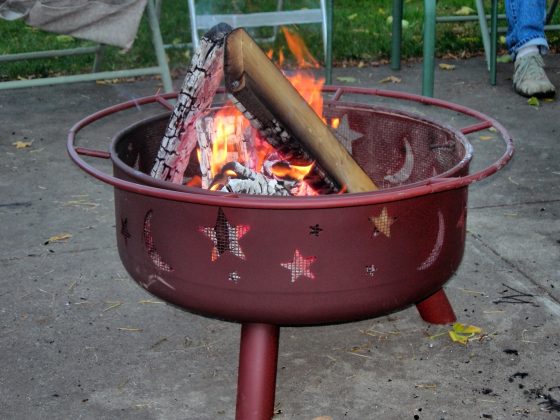 8. Don't Forget the Fire Pit
A fire pit is a simple, affordable addition that should be included in any backyard landscaping design that is created with outdoor living or entertaining in mind.
A fire feature creates a warm, welcoming atmosphere that extends the hours you can enjoy your backyard by allowing for evening entertaining and comfortable outdoor living after the sun goes down.
Fire pits do not have to take up much room, and you can even opt for a portable pit, which means you can store it in the shed or garage when not in use.
This frees up the space to be used for other purposes when the fire pit is not in use.
9. Make the Most of Your Space with Movable Features
On the topic of portability, you can maximize your outdoor living space and get more use out of a small backyard by adding movable features that can be tucked away out of sight when they are not being used.
A portable fire pit is one great example of this, as is a portable barbecue grill that can be kept in the garage and wheeled out for special occasions.
While a built-in barbecue grill is a great feature for any Southern California home, those with limited space may be better served by portable grill.
If you plan use your yard to occasionally entertain more than just a few guests, you may also want to invest in a seating option that is easy to move and easy to store, such as stacking chairs or floor cushions.
Other backyard features that can easily be stowed away when not in use include backyard cinemas with roll-up movie screens and a rolling cart for the projector and DVD player.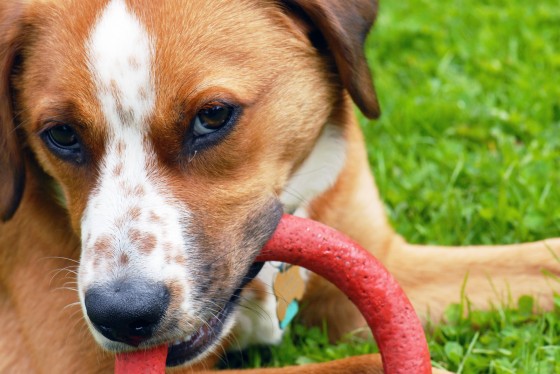 10. Avoid Clutter
Clutter takes away from the visual appeal of yards of any size and makes them a less inviting place where you and your guests are far less likely to want to spend time.
When every inch of space counts, clearing the clutter is even more important.
Keep a basket by the back door for dog toys, put a children's toy box on your patio to keep outdoor toys out of sight, and make sure your gardening tools find their way back to your storage shed or garage.
If you happen to have a side yard, this might be a good spot to squeeze in a storage shed or put up a fence to hide your garbage cans and other unsightly necessities.
Photo Credits (in order of appearance): morgueFile, taliesin; morgueFile, jppi; morgueFile, frozenoxygen; morgueFile, click; morgueFile, missyredboots