15 Creative Container Garden Ideas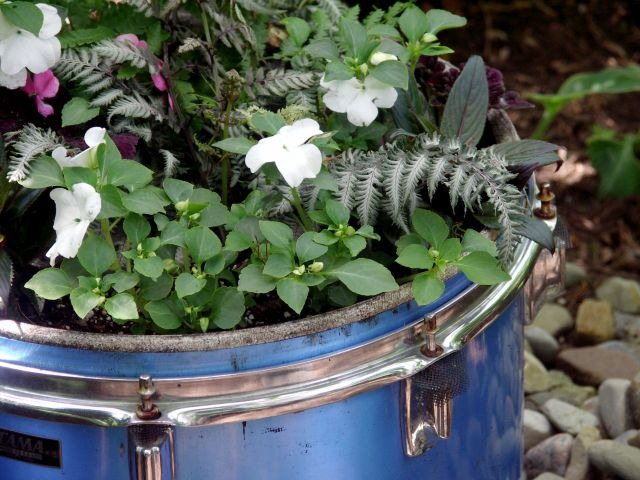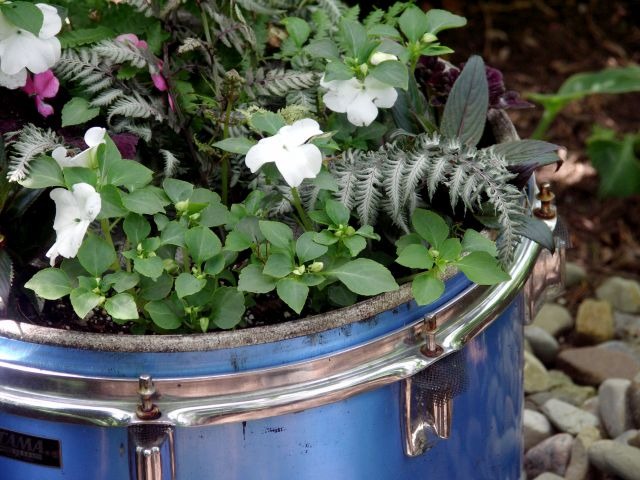 Container gardens are a great option for homeowners with small backyards, limited mobility, beginner gardening skills, or pets and children that may take a toll on an in-ground garden.
They generally have fewer weeds to pull, allow you to move your garden around at will, and can be placed at a height that does not require stooping or bending.
They can be placed on patios, used as a border, strategically positioned to create different outdoor living areas in your yard or positioned to help block the view of neighbors.
This small-scale approach to gardening can also make it easier to get children interested and involved in growing flowers and food, and having fewer plants and less ground to tend to makes it a manageable hobby that will not take up too much time.
Another nice thing about container gardens is that you can take your favorite plants with you if you move.
A quick trip to your local home improvement store or garden center will show you just how popular container gardening is and that planters come in just about any size, shape and color you might want for your garden.
However, if you have a bit of a creative side that balks at using the same, mundane planters all of your neighbors have in their yards, you might want to consider some creative container garden ideas that will better suit your style.
Delving into the world of creative containers will also appeal to those interested in achieving a greener lifestyle, since some of the ideas below provide the opportunity to keep household goods out of landfills or reuse broken or damaged items in a completely different manner than the intended use for which they will no longer function.
There are several low-cost options that you can find at garage sales, dollar stores, secondhand stores, vintage shops, or laying around in your house or garage.
Some of the other options, you can find at your local garden center or order online.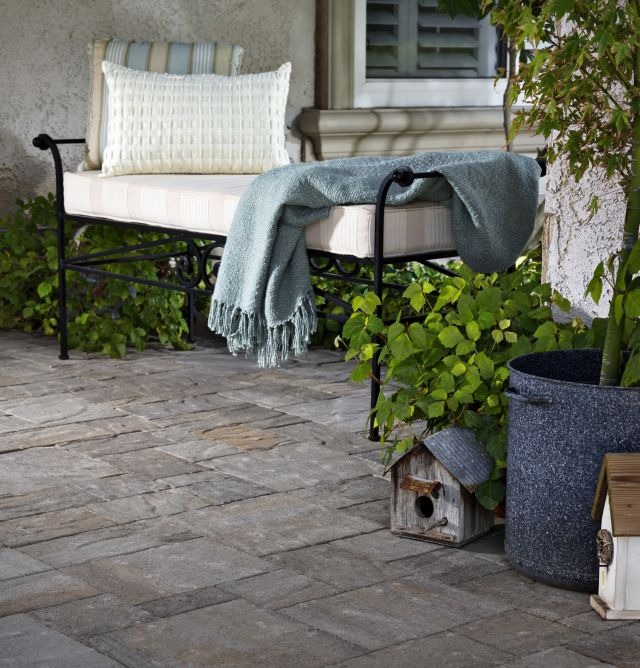 15 Creative Container Garden Ideas
1. Fountains
Water fountains that no longer work or function just fine can be transformed into rather attractive planters.
If you have stopped running your fountain in an effort to conserve water, planting it with trailing succulents is an excellent way to create the effect of water without wasting a single drop.
2. Bird Baths
Bird baths invite wildlife to your yard and provide birds with a place to cool off and water to drink.
Unless you have some really big birds splashing around, it usually does not require much water to keep them full and keep your feathered friends happy.
Therefore, if your bird bath is still functioning properly, it is probably best to continue using it for its original purpose, since birds could use a little help during this drought as well.
However, if it is cracked, leaking or otherwise damaged, it might be time to turn your non-functioning bird bath into a planter that is the perfect height to allow you to tend to your garden without bending over.
3. Vintage Bird Cages
Vintage bird cages are particularly well suited for use as planters in cottage gardens, but they can be painted to match almost any outdoor decor.
The tray in the bottom may provide enough room for plants with shallow roots, but you can also add an inexpensive coconut coir planter liner to create a space you can use for larger plants.
4. Gutters
Did you recently replace your gutters and are wondering what to do with the old ones?
Before you send them to the landfill, you may want to consider expanding your gardening space with these seemingly useless items.
This is a fantastic way to upcycle old gutters, but if you do not happen to have any old rain gutters laying around and are looking for an inexpensive, space-saving way to expand your garden, you can also purchase them for less than $10.00 at home improvement stores.
These long, narrow planters can be attached to your house, a shed or a fence and are particularly well suited for growing lettuces.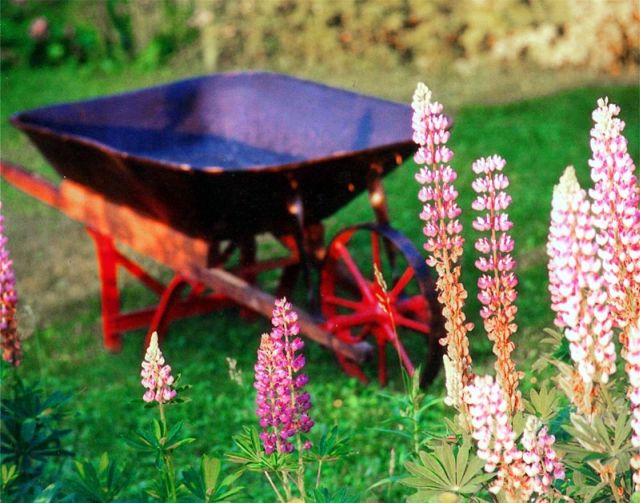 5. Concrete Blocks
Concrete blocks — aka cinder blocks — have negative space that is just begging to be planted with an herb, lettuce or flowering plant.
But what makes this option especially appealing is that you can use leftover concrete blocks as individual planters, or you can use multiple blocks to build a larger planter.
6. Broken Wheelbarrows
If your wheelbarrow has seen better days, don't go sending it to the dump just yet.
Broken down wheelbarrows are basically a must for any shabby chic garden, but they can easily be incorporated into other garden themes as well.
Paint it a bright color to make it a focal point or a neutral shade to allow it to blend in with the rest of your landscaping design.
7. Cooking Pots
Once that convenient non-stick surface on your pots and pans is scratched, they are no longer considered safe to use for the original function.
But once you can no longer cook in your cooking pots, it can be difficult to figure out what to do with them to keep them out of the landfill.
Of course, if they are no longer considered safe for cooking, then they should also not be considered safe for growing edible plants, but succulents or flowers will look great in this cute container option.
Stockpots and Dutch ovens with side handles are also easy to move, and the handles enhance their look, but you may want to cut long handles off of pots, if you do not like how they look in the garden.

8. Hanging Pocket Planters
This type of vertical garden can be difficult to find at chain stores, but you will find lots of affordable options online.
Some are made from tarp-like material, some from cloth and some from recycled bottles, which makes for a particularly eco-friendly option.
They can be hung on a fence or balcony to increase privacy while providing lots of gardening space in a small area, or hung on the wall just outside your kitchen door for growing herbs.
Some are designed for use inside, which allows you to have a vertical garden with your favorite herbs or lettuces right in your kitchen.
The biggest benefit of choosing this creative container option is that you can grow so much in such a small footprint.
9. Buckets and Bowls
Leaky buckets, cracked dog bowls and chipped ceramic bowls can all find a home in your garden and stay out of the landfill.
Since these are basically shaped exactly like conventional planters, any of them can be used just as you would use a planter of a similar size.
10. Biodegradable Flower Pots
These look just like conventional planters, so you may think this one lacks creativity, but regular pots are not biodegradable, so that makes these an appealing departure from the norm.
As far as performance goes, they function just as well as their non-biodegradable counterparts.
The best thing about these pots is that you can simply toss them in your compost bin if they become damaged or you no longer need them.
For at least the last two years, Dollar Tree has sold biodegradable flower pots as part of their seasonal wares.
Knowing that you can pick some up for just $1.00 each and they are more eco-friendly than other pots, this is one creative container option you should definitely consider.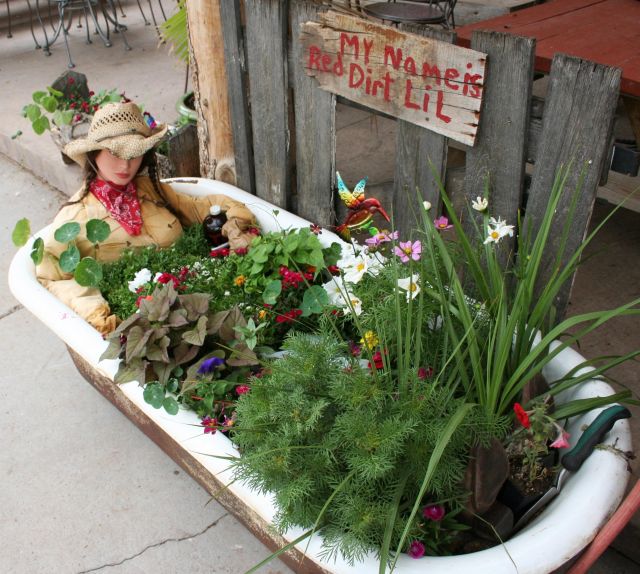 11. Colanders
Long before collapsible, silicone strainers seemed to become the norm in kitchens, there were long-lasting, attractive metal colanders.
Sometimes they would rust, or the enamel would chip or the base would mysteriously fall off, but most of us figured out a way to keep right on using them.
If you have any of these old timers around, you can make some very charming planters that come complete with built-in drainage.
If you want to get even more creative, you can acquire a few feet of chain and transform it into a hanging planter as well.
12. Teapots and Teacups
If you happen to have cracked teacups or a ceramic teapot missing its lid, there is no need to discard them.
You can instantly transform them into some of the cutest planting containers ever seen by filling them with potting soil and planting them with herbs or plants with shallow roots.
These are attractive enough to use indoors as well, which means your collection of chipped teacups is just waiting for you to turn them into a windowsill herb garden.
If you do not have any cracked or mismatched tea sets laying around the house, inexpensive teacups and teapots are common finds at thrift stores and flea markets.
13. Grow Bags
Grow bags are soft-sided containers specifically designed to be used as planters.
Aside from being completely portable and lighter than conventional pots, this option offers the added benefit of enhanced aeration.
This is particularly important for gardeners who tend to over-water, but can also improve the health and productivity of your plants.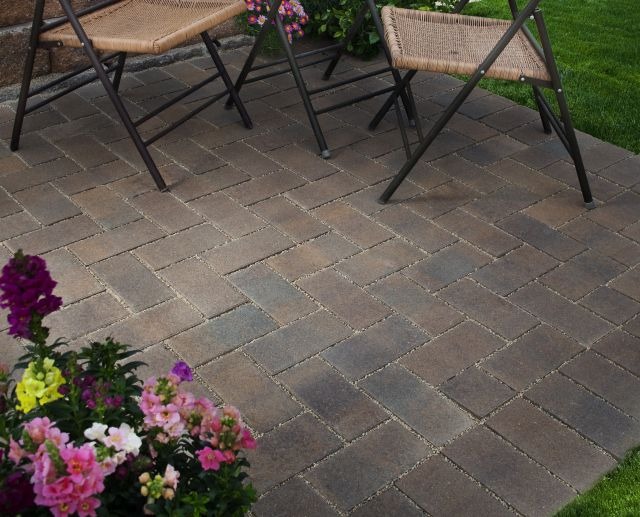 14. Old Sinks and Bathtubs
Sinks and bathtubs that have served their purpose and have been replaced with newer models most often end up in a landfill, but this does not have to be the case.
These sturdy, deep containers come with their own built-in drainage and can definitely lend a kitschy, eclectic vibe to your garden.
While this option is not for everyone, just imagine how charming a claw foot bathtub would look as a planter in a cottage garden.
Even a toilet can be effectively used as a planting container and, again, comes with its own drainage already built in.
15. Boots
Does anyone in your house have some old rain boots, riding boots or work boots that have seen better days?
If so, it might be time to retire them to the garden.
Even if they are no longer comfortable, are damaged or cannot be used for their original purpose for some other reason, they probably still have years of life left in them if they are repurposed for use growing flowers or herb.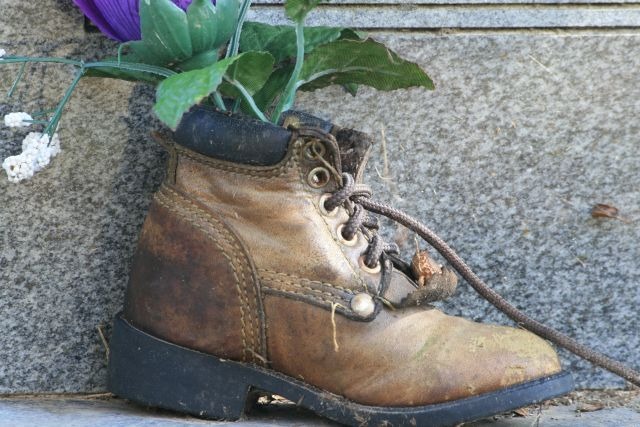 Tips for Using Creative Container Garden Ideas
Almost anything can be a transformed into a planter, so keep your eye out for things around the house or while you are out shopping.
Always keep in mind that you are going for shabby chic — not just shabby — so you may have to get creative to keep your finds looking eclectic and fun.
Covering your containers in fabric or painting them to match your decor can go a long ways towards turning an old tin can or dresser drawer into your next flower pot.
Using creative containers can bring more personality and visual interest to your yard — just make sure that the containers you choose express your personal style and do not take away from your overall landscape design.
Your Turn…
What is the most interesting or creative thing you have used as a planting container?
Photo Credits: Vertical Pocket Planter, Amazon.com; Wheelbarrow, morgueFile/earl53; Drum, morgueFile/gleangenie; Boot, morgueFile/taliesin; Bathtub, morgueFile/ImBoo Too