Best Outdoor Tech for Modern Backyards
Home automation is a growing trend that helps us make our homes safer, makes our lives easier, and allows us to spend less time maintaining our indoor and outdoor living spaces and more time enjoying them. Many homeowners now use their smartphones to answer their door, turn on the lights, make sure they locked the door when they left, and turn up the AC before they get home. With all of the technological advances that make smart home automation even easier and more convenient, there is no reason to stop at just automating your interior lights or putting your robotic vacuum on a daily cleaning schedule. Now you can also modernize your outdoor living spaces with an expanding array of outdoor tech options to reduce the time you spend on yard work, make your property safer, and make spending time in your backyard even more enjoyable.
Here are 11 outdoor tech options for modern backyards…
Backyard Movie Theater
Watching movies or your favorite television shows outside with your family and friends is a great way to spend the evening. If you are currently working with an entry-level projector and a sheet hung on the wall, you can seriously improve your backyard movie theater with some high-tech upgrades. For starters, there are many surprisingly affordable, remote-controlled, motorized screens that will drop down at the touch of a button. You can also up your projector game by installing a ceiling mount that folds up to keep it out of the way when not in use, by hiding your projector in the wall, or by investing in a media cabinet to store all of your outdoor AV needs.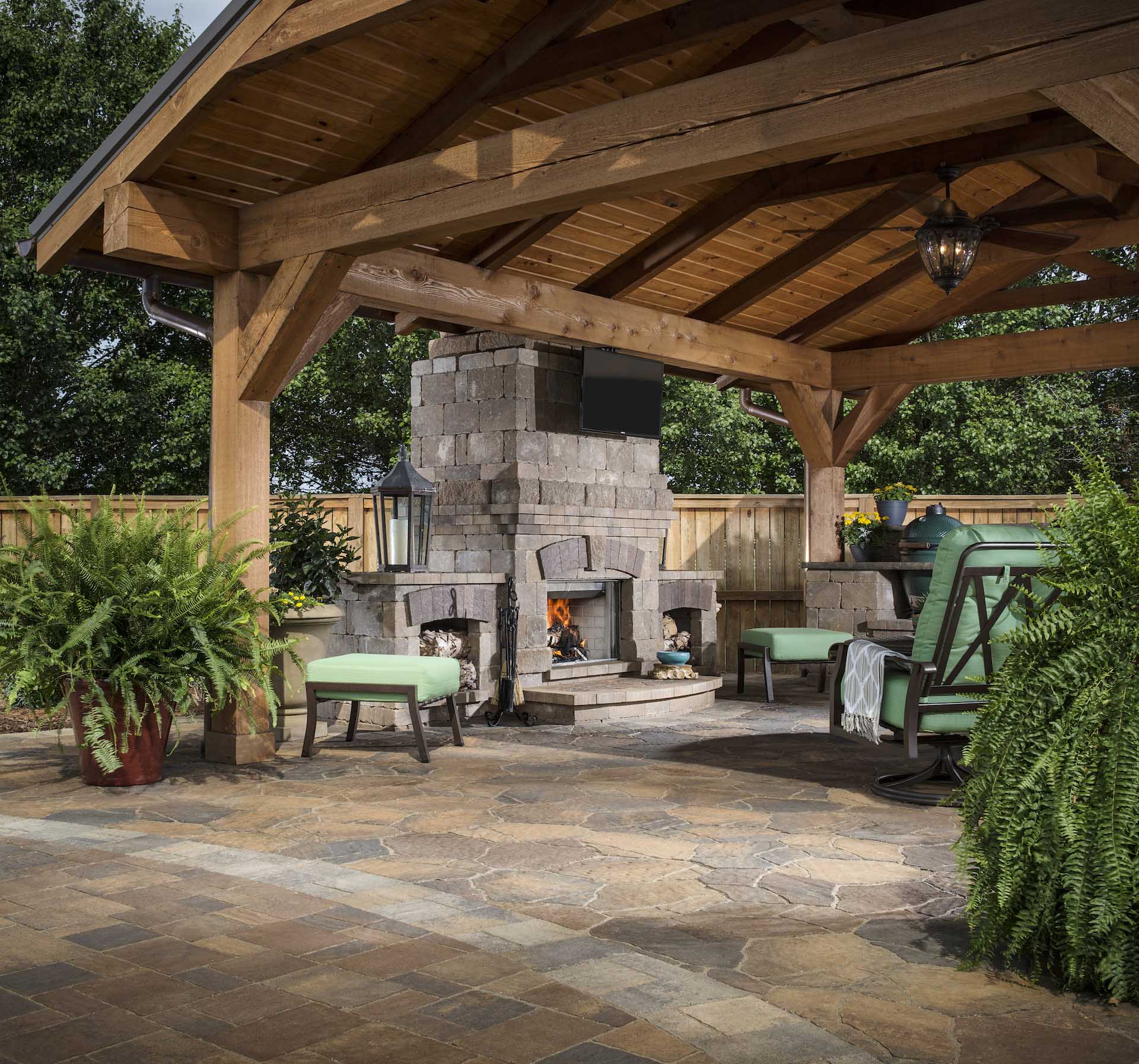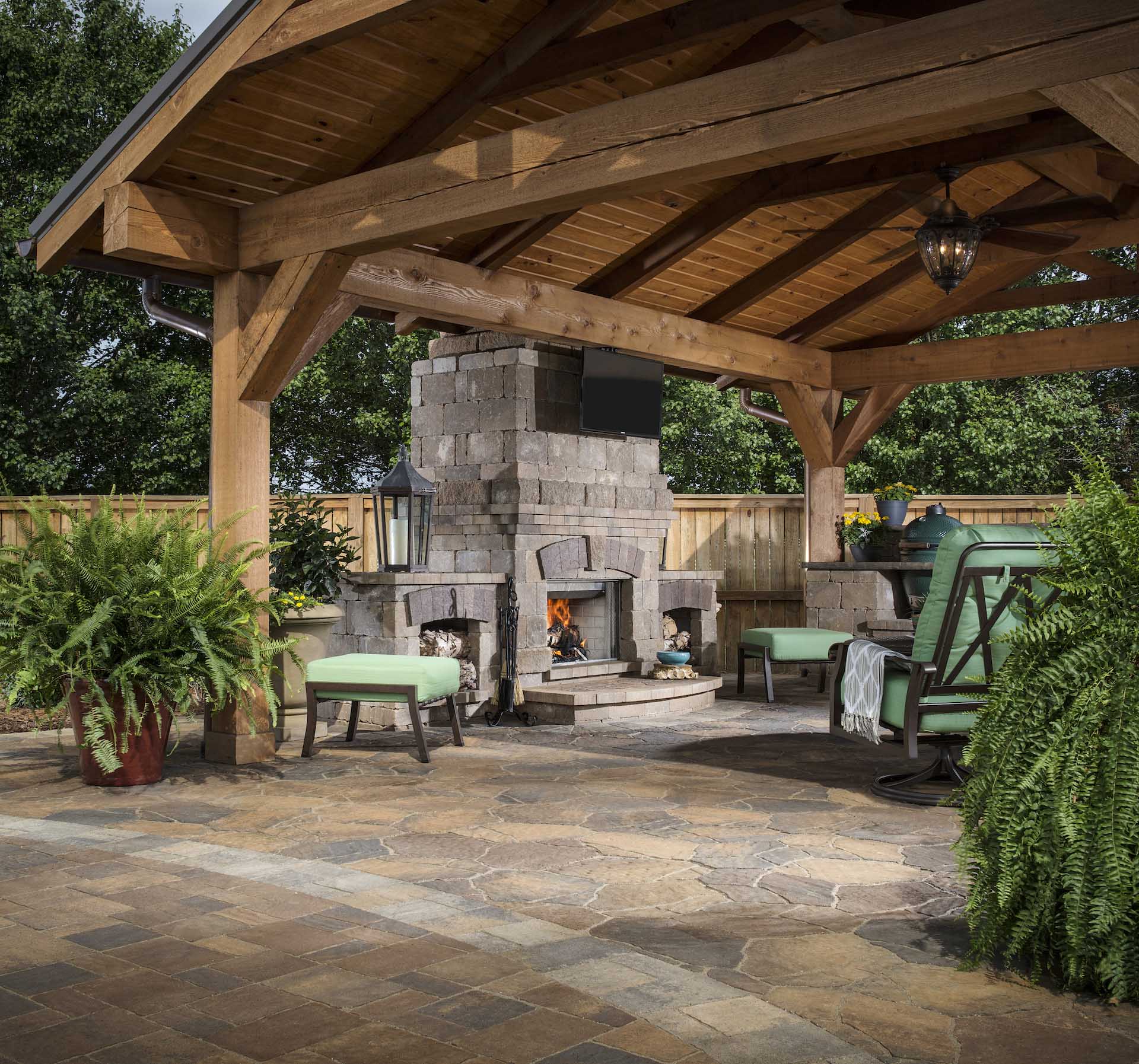 Patio Television
Instead of a movie screen, you could opt for a patio television where you can watch the big game with your friends, have outdoor movie nights with your partner, or let your kids watch Saturday morning cartoons on the patio while you get in a little quiet time. Make sure you purchase a weatherproof television that is designed for outdoor use. If space is at a premium, consider installing your patio TV inset above your outdoor fireplace or on a ceiling mount that folds flat against the ceiling when not in use.
Smart Dimmer and Timer Plug for String Lights
Turn your string lights on an off, set a timer for them to automatically turn on at dusk, or dim them to set the mood for your next dinner party all from an app on your phone. With an outdoor smart plug that allows for dimming lights and setting timers, you can easily control your string lights even if you are not at home. Some smart plugs, like the Homder Smart Plug, also offer voice control if you have Alexa or Google Assistant.
Audio System
If you are going to spend any time at all in your outdoor living areas, you really do need some type of sound system. This can be as simple as a Bluetooth speaker that allows you to play music from your phone, or it can be an extension of your whole-home sound system with built-in speakers controlled by a remote or an app. If you need to install speakers away from the house, consider rock speakers that bring the sound to pool areas, gardens, and outdoor living areas while blending in with your landscaping.

Robotic Lawnmower
You have probably seen plenty of advertisements for those little, round robots that will vacuum your house while you are at work, but did you know there is a similar robot that will mow your lawn? We know many Southern California homeowners are removing their natural grass lawns and replacing them with low-water, low-maintenance alternatives, but folks who still have natural lawns can spend a bit less time maintaining them with a handy robotic lawnmower. Most of them can be controlled through an app, and some can even be controlled by voice commands, such as the Husqvarna AUTOMOWER 315X, which is compatible with Alexa and Google Home devices for voice control.
Pool and Spa Controls
Automate your pool and spa with either an app-controlled or a remote-controlled system that allows you to heat the water, turn on the jets, or start an underwater light show all without getting off the chaise lounge. This type of outdoor tech is quite common now, so your pool service provider can likely install the system for you. If you have your pool service provider set up the system, they will provide the wireless remote or set you up with the app you need to control everything from your phone.

Automatic Irrigation with Smart Controller
Before you invest in any other outdoor tech or home automation, you should – at the very least – get a rain sensor for your automatic irrigation system. And, if you do not have an automatic irrigation system, you really need one. An automatic system saves water, time, and money with or without a rain sensor, but will save you even more with one.
To take it a step farther, opt for an automatic irrigation system with a smart controller that saves even more water by forecasting the weather and using historical statistics to create and adjust irrigation schedules for your landscaping. Some smart controllers will even automatically adjust to comply with local water-use regulations wherever you live. And, of course, you can access and control your irrigation system remotely with a smartphone app.
Security Cameras with Two-Way Talk and Remote Viewing
Many people have installed video doorbells, which allows you to answer the door without getting out of the pool or when you are out of state on business. You can now take this remote-viewing and two-way talk tech to the next level by installing security cameras offering the same features. One example is the Wyze Cam with two-way talk, which allows you to sound an alarm if someone is creeping around your property, to remotely tell your kids to get inside and do their homework, or just go to the live view to see what your dogs are up to.

Smart Grilling
Bluetooth meat thermometers are one of those grilling gadgets that you didn't know you needed but, once you have one, you won't know how you ever lived without it. A wireless meat thermometer that will send you a notification when your meat is perfectly cooked – or let you check the internal temperature on your phone – means you can mingle with guests, watch the game, or mow the lawn without worrying about the steaks on the grill. If you are looking for an easy, affordable way to take your outdoor kitchen to the next level, this is it.
Robotic Pool Cleaner
While we are on the topic of making our lives a little easier through automating yard maintenance, let's talk pool cleaning. You can spend hours scrubbing the sides and bottom of your pool, or you can invest in a robotic pool cleaner that will do it for you. You can even set up a schedule to have your robotic pool cleaner automatically clean your pool every day or every few days.

Swimming Pool Alarm
We have focused mostly on outdoor tech that makes our lives easier or saves time and money, but there are also options that can make your home and yard safer. For example, a swimming pool alarm that sounds an alert at the pool and inside the house when someone enters the water could save the life of a child or a pet. If you have little ones or furry family members that should not be in the pool unsupervised, a pool alarm can help you rest easier knowing that you will be alerted if someone falls in. You can also use these motion sensors for hot tubs or ornamental ponds to help keep your loved ones safe.