5 Luxury Outdoor Kitchen Upgrades for Entertainers
You have a great outdoor kitchen with a grill, sink, mini-fridge and plenty of counter space for food prep but are ready to take it to the next level. Or perhaps you have a great patio kitchen design in mind but are wondering what you might be missing that could make your outdoor living area even more inviting and enjoyable. In either case, all you need are a few luxury outdoor kitchen upgrades that will up your entertaining game and help you create the perfect outdoor kitchen to fit your lifestyle and impress your guests.
Here are 5 Luxury Outdoor Kitchen Upgrades for Entertainers.
1. Outdoor Fireplace
Patio fireplaces create a cozy, welcoming ambiance that you can enjoy alone with a glass of wine and a good book or with a group of friends. This luxury outdoor kitchen upgrade is particularly well suited for dining by the fire when hosting al fresco dinner parties and provides an attractive focal point for your outdoor living area. Additionally, an outdoor fireplace expands your entertaining options by allowing you to host gatherings after dark and even in the colder months of winter. While you can be sure that a patio fireplace will enhance your outdoor living space, this upgrade may even increase the value of your home.
Keep in mind that choosing a gas fireplace means that you will need to run a gas line to your patio. If you already have a gas barbecue grill, this will likely be an affordable, relatively simple task. If running a gas line is not an option or if your budget does not allow for a custom outdoor fireplace right now, consider upgrading your patio kitchen with a chimenea. While a chimenea will not increase your property values and does not offer the same focal point quality as a fireplace, it still fosters a cozy atmosphere for you and your guests to enjoy.
Additional Resources:
Outdoor Fireplace Safety Guide
Fire Pit + Outdoor Fireplace Accessories Guide
5 Wood Alternatives for Wood-Burning Fire Pits + Outdoor Fireplaces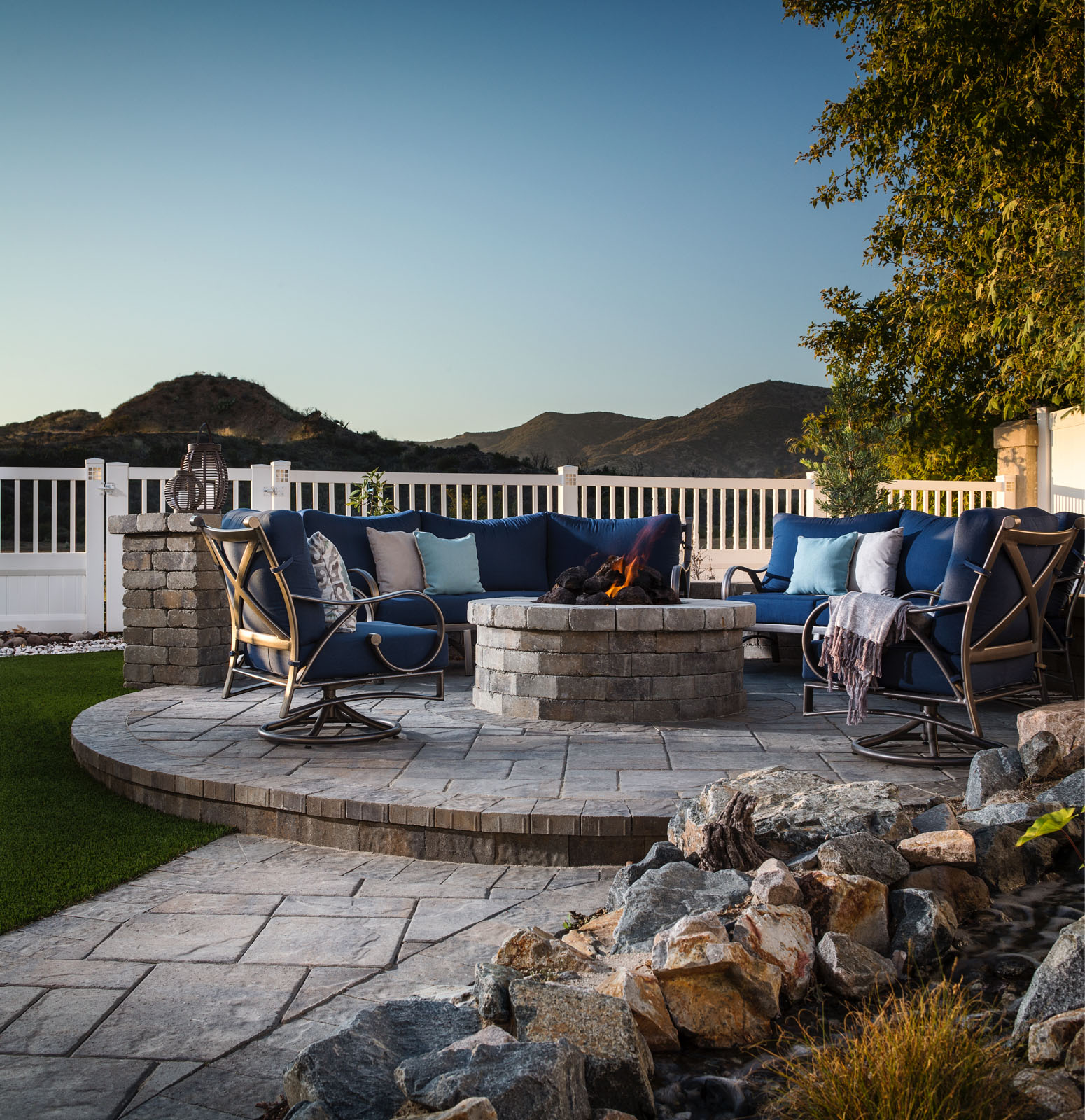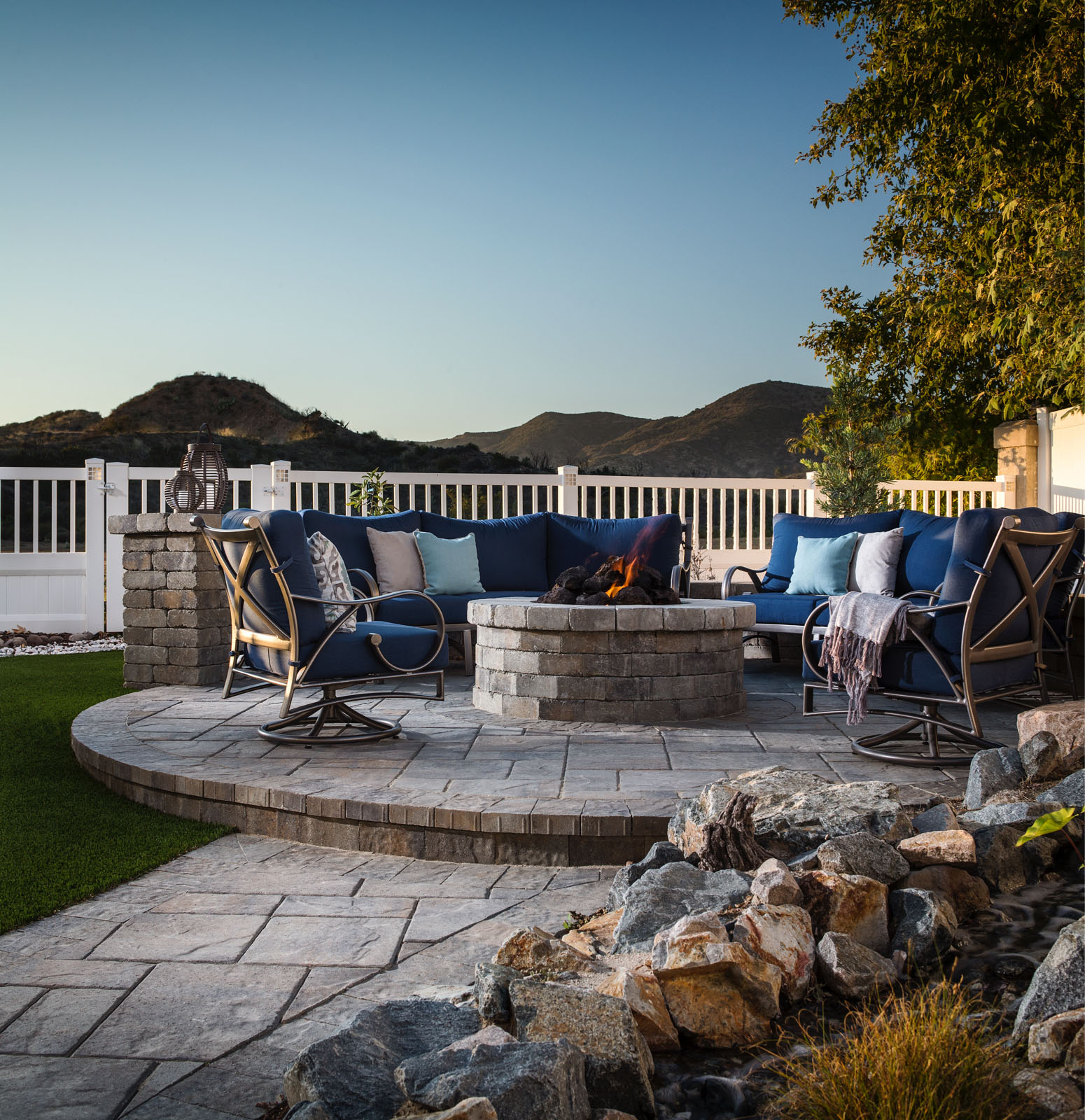 2. Fire Pit
Fire pits are usually less expensive than patio fireplaces and offer a more casual atmosphere. Like fireplaces, fire pits expand your entertaining options to include chillier nights and colder months of the year, which allows you to get more use out of your outdoor living spaces.
Ideally, you will have both an outdoor fireplace and fire pit but, if you only have enough room for one of these options, choose the one that best fits your lifestyle. While a fireplace is a good choice for small, intimate gatherings or al fresco dinner parties, a fire pit is better for gathering around with a larger group of friends. Some hosts like to have a fireplace in their outdoor dining room where they will eat with guests, and then a fire pit to gather around afterward while enjoying a drink and each other's company.
Another thing to consider is whether or not you plan on cooking with your fire feature. You can roast marshmallows and hot dogs in a patio fireplace, but a fire pit provides a more campfire-like atmosphere for this activity. Also, with a fire pit, you can more easily cook entire meals by adding a grill or a tripod with a Dutch oven.
Additional Resources:
Fire Pit Safety + Maintenance Guide for Your Backyard
Tips for Campfire Cooking with Your Fire Pit
What is the Best Firewood for Fire Pits?

3. Pizza Oven
While you can grill a pizza on your barbecue grill, an attractive, wood-fired pizza oven is certainly more luxurious. Outdoor kitchen pizza ovens are a growing trend and allow you to cook much more than simple pizzas. With a little practice, you can use your pizza oven to roast or bake just about anything you can roast or bake in your indoor oven. This includes pies, breads and casseroles.
Many built-in, wood-fired ovens have a gas ignition, so you may need to run a gas line, which will require a permit. If this sounds too complicated or too expensive, you can choose an option without a gas ignition.
A custom pizza oven is far more likely to impress your guests or even increase the value of your home, but if your space or budget will not allow for that right now, there are plenty of counter-top options that make a great addition to a luxury outdoor kitchen.
Additional Resources:
What to Know Before Buying an Outdoor Wood-Fired Oven

4. Outdoor Entertainment Center
You can get even more use out of your outdoor living spaces by increasing the activity options they offer. For example, you have an outdoor kitchen where you can prepare meals, an outdoor dining room where you can host dinner parties, and a swimming pool where you can swim, splash and cool off on hot days. But then when the big game or your favorite sitcom comes on, you have to leave the fresh air and relaxing atmosphere or your outdoor living spaces to watch it inside.
You can easily change this by adding an outdoor entertainment center to your patio kitchen where you can listen to music, invite your friends over to watch sports, or get cozy under a blanket to watch your favorite movie.
While you may have to hire a professional to run some speaker wires and electrical lines, installing an outdoor entertainment center should be a relatively easy home improvement project, particularly if you use one of your home's exterior walls, which probably already has electrical lines in it.
Speakers and a large smart TV are key components. This will allow you to watch television programs and movies on streaming services. It will also allow you to set up a sound system where you can play music from your phone. If your neighbors won't mind, you might even consider a surround sound system to enhance your viewing experience.
Make sure you purchase a television designed for outdoor use, since indoor televisions cannot withstand the elements and their screens are not properly lit for outdoor viewing. If you would like to add a Blu-Ray player to your patio entertainment center, consider investing in an affordable buffet or cabinet to protect them from inclement weather.
You may also want to consider a projector and movie screen if you prefer to watch movies on an even larger screen or want to create a more festive, drive-in-like experience.

5. Ice Maker
If you frequently host dinner parties or other gatherings, you are really going to appreciate having an ice maker. With no more trips to the store for bags of ice before your party and no more repeated journeys to the kitchen to fill an ice bucket, this simple appliance will free up your time and allow you to more fully enjoy your hosting duties.
If you have space, you can install an under-counter ice maker, but if the space or design of your outdoor kitchen does not allow for that, there are also plenty of counter-top options from which to choose.
Now, it should be noted that this one is on the list with the assumption that you already have a wine refrigerator or a kegerator. If that is not true, then you should install one or both of those first before you install an ice maker.
Other Luxury Outdoor Kitchen Upgrades to Consider
Smoker
Rotisserie
Warming Drawer
Side Burners
Coffee/Espresso Bar
Garbage Disposal
Dishwasher
Patio Bar
Built-in Blender