35 Hardscape Ideas for a Low-Maintenance Yard
What Is Hardscaping?
In landscape architecture, hardscaping is essentially everything that is not vegetation. Hardscapes consist of manmade features that may use natural or manmade elements. For example, a wall made from river rocks is hardscape using natural elements, while a walkway made from rubber mulch or bricks is hardscape using manmade materials. Patios, decks, gazebos, outdoor kitchens, artificial grass, driveways, fire pits, pergolas, and stepping stones are all examples of hardscaping.
Benefits of Hardscaping
Hardscaping offers an array of benefits that are dependent on the type of hardscapes you include in your overall landscape design. For example, a trellis may beautify your yard and add the element of height to your garden, but it probably will not increase your property value or conserve water. On the other hand, a paving stone patio is an example of hardscaping that can reduce your water usage and increase your property value while also improving the visual appeal of your outdoor living areas.
Here are 11 general benefits of hardscaping:
1. Hardscapes conserve water. When you replace natural grass or other living landscape features with hardscaping, you can significantly reduce the amount of water you use for irrigation each month.
2. Hardscaping is low maintenance. Most hardscapes require very little maintenance once they are installed.
3. Hardscapes define areas in your yard. One example of this would be a patio defining part of your yard as an outdoor living area.
4. Hardscaping guides traffic. Driveways let guests know where to park, pathways let guests know where to walk, and fences let guests, kids and pets know which areas are off limits.
5. Hardscapes expand your overall living space by creating outdoor areas for entertaining and everyday activities.
6. Hardscaping increases the functionality of your property. For example, adding an outdoor kitchen or grilling station makes your outdoor living area more functional by allowing you to prepare meals in your backyard.
7. Hardscapes enhance privacy. Not all hardscapes enhance privacy, but some examples, such as fences, walls and privacy screens, make your yard or outdoor living areas more private.
8. Some hardscapes create shade, such as pergolas or gazebos.
9. Hardscaping can increase curb appeal and property value. When properly designed and installed, many hardscape ideas can improve your home's curb appeal, increase your property value and enhance the perceived value or you home.
10. Hardscapes can reduce erosion. Retaining walls, artificial grass, gravel, paving stone patios, and many other hardscape options can improve erosion control by providing barriers or enhancing drainage.
11. Hardscaping limits weed growth. Many hardscape features are solid or semi-solid ground cover options that significantly reduce weed growth by creating a barrier.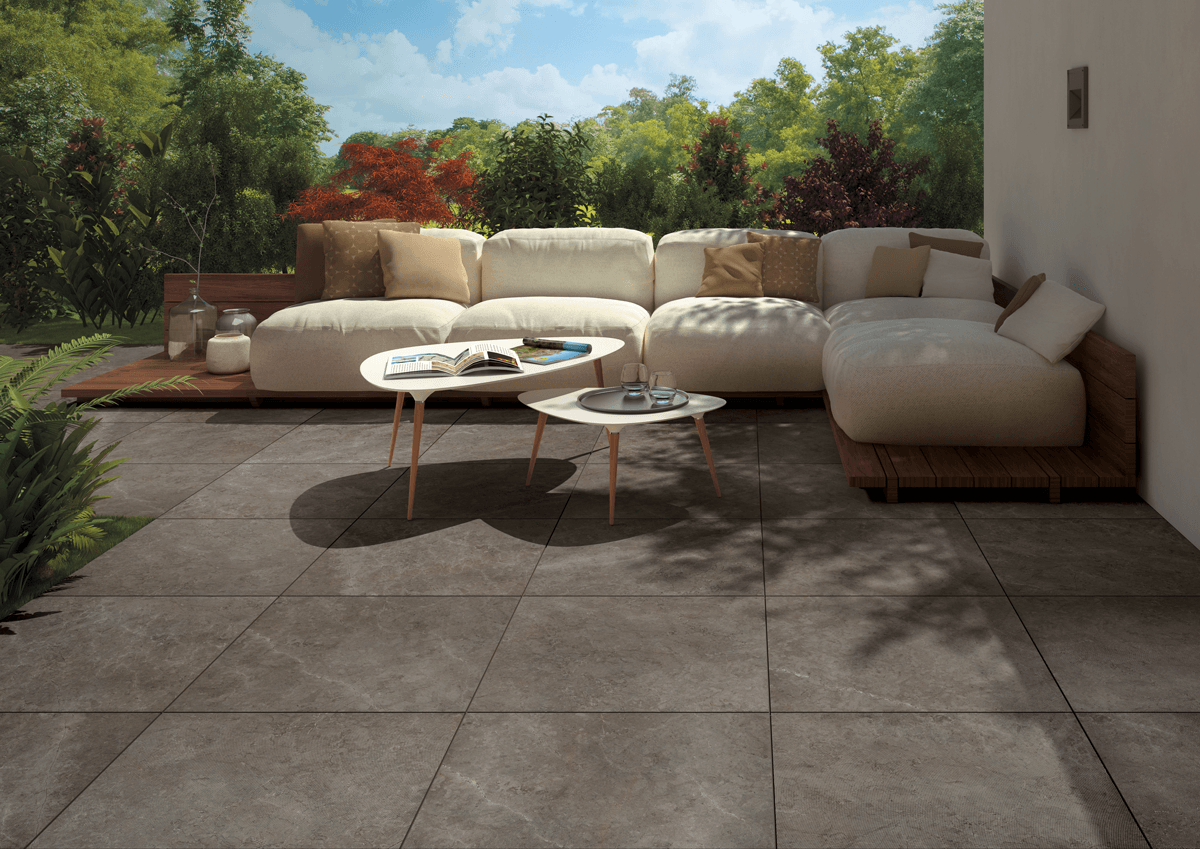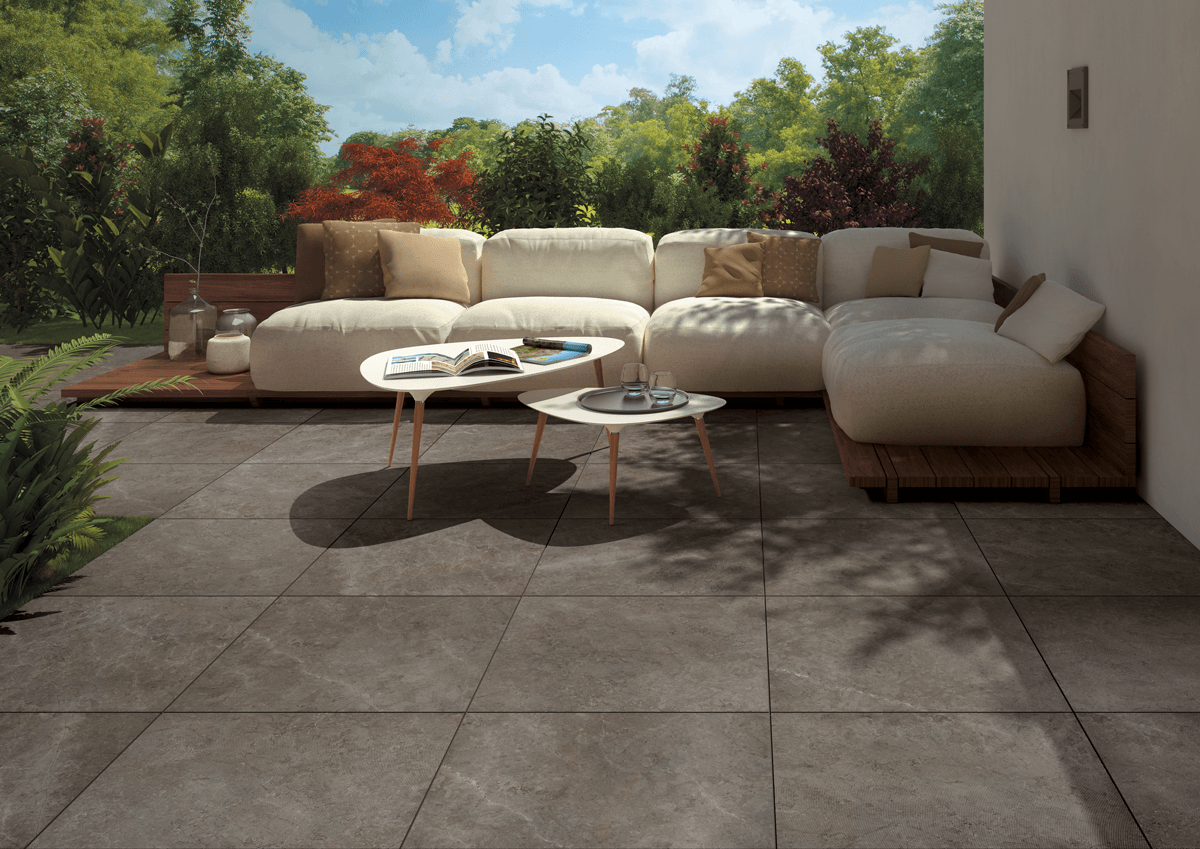 35 Hardscape Ideas for a Low-Maintenance Yard
Now that we have a better idea of what hardscaping is and the many benefits it offers, here are 35 hardscape ideas to help inspire you in your own landscape design. Some of the ideas consist of common hardscaping materials, while others are hardscape features you can include in your front yard or backyard.
1. Gravel
Gravel is a simple, inexpensive hardscape that limits weed growth and improves drainage and can be used for walkways, parking areas or to cover bare patches of dirt to beautify your yard.
2. Bark
Bark is a natural hardscape option that can be used to inexpensively cover large areas and requires no water.
3. Wood Chips
Wood chips are another natural option that can be used as a ground cover to limit weed growth, conserve water and enhance your yard's visual appeal.
4. Rubber Mulch
Rubber mulch is usually more expensive than other mulch options, such as bark or wood chips, but it is also a longer-lasting groundcover choice.
5. Rubber Mats
Rubber mats are not often thought of as hardscaping options, but they are a great choice for making play areas safer while limiting weeds and reducing irrigation needs.
6. Bricks
Bricks are a quintessential hardscape option that are often used for patios, walkways and driveways. They are most appropriate for use at homes with traditional architecture but can also be used in more contemporary landscape designs.

7. Flagstones
Flagstones are a more versatile hardscape element that can be used with a wider array of architectural styles. Flagstones are most often used for walkways, patios and pool decks.
8. Paving Stones
Paving stones, which can include flagstones, are the most versatile hardscaping option for driveways, walkways and patios. The wide variety of styles and colors allow homeowners to easily find options that will work with any architectural style and any overall landscape design. This low-maintenance, long-lasting hardscape also enhances your home's curb appeal and increases your property value.
9. River Rock
In Southern California, river rock can often be locally sourced for use in walls, driveways, patios, walkways, and outdoor kitchens. Choosing river rock allows for a natural look while still serving the purpose of manmade elements in landscape architecture, such as controlling erosion, conserving water, defining areas, and guiding traffic.
10. Tile
Tile continues to be a popular hardscape option for patios and walkways, particularly in yards surrounding Spanish- or Mediterranean-style homes.
11. Concrete
While there are some issues with concrete, such as cracking and not being able to match the color if repairs are needed, both slab and stamped concrete remain popular hardscape ideas often used for stepping stones, patios, driveways, and walkways.
12. Boulders
Boulders are another natural element that can be used to beautify your yard, define areas or guide traffic.
13. Stepping Stones
Almost any durable material can be used for stepping stones, including wood, flagstones, paving stones, concrete, and rubber. The most obvious hardscape benefit of using stepping stones is to guide traffic, but they can also limit weed growth and reduce water consumption while making your yard lower maintenance if used to replace natural grass or other living ground covers.

14. Artificial Grass
Synthetic turf is one of the few hardscape ideas that give you the look and feel of a natural landscaping element without the maintenance and water requirements that come with living options. With manufactured grass, you, your kids and your pets can enjoy the benefits of a natural grass lawn while also enjoying the benefits of hardscaping, including limiting weed growth, reducing water usage, beautifying your yard, and spending less time on yard work. Depending on the traffic it receives, your turf may need some maintenance to keep it looking great for years to come.
15. Mulch
Mulch is a general term that covers nearly any type of material placed on top of soil as a groundcover. The benefits of using mulch include limiting weed growth, maintaining soil moisture and temperature, reducing water usage, and improving the look of landscapes. If you choose organic materials to use as mulch, it will also add nutrients to the soil as it decomposes.
16. Patio
Patios are the all-stars of hardscape ideas and offer so many benefits that they really are a must in almost any landscape design. A patio defines a space for outdoor living and expands your entertaining options to include al fresco gatherings. If you build a patio where there was once a lawn or other vegetation, a patio can also mean conserving water, limiting weed growth and making your yard more functional.
17. Deck
Decks serve the same function as patios and are perfect additions to yards where homeowners frequently entertain or enjoy spending time outdoors. Decks are most often made from wood or composite decking. If your goal is to achieve a low-maintenance yard, composite is your best bet, since wood requires regular staining, painting or sealing.
18. Walkway
This hardscape option can define different parts of your yard and control traffic while helping you save water and spend less time pulling weeds.
19. Driveway
There is perhaps no hardscape that defines an area and directs traffic more so than a driveway. Essential to most Southern California homes, driveways are the ultimate hardscape and should be one of the first elements in your overall landscape architecture design. Whether it is made from gravel, concrete or paving stones, a driveway serves many purposes that go beyond leading guests to your house or providing parking; they also require no water, limit weed growth and enhance your home's curb appeal.

20. Guest Parking Area
If you have a large area of vegetation you would like to remove to save water and spend less time taking care of your yard, consider creating a guest parking area. Whether it has just enough room for one car or could easily fit several, a guest parking area is an attractive, functional addition to your landscape design.
21. RV Parking
Like a guest parking area, creating an RV parking area allows you to better use your outdoor space while limiting weed growth, reducing irrigation requirements and potentially increasing your property value. If you do not have the budget for paving stones, consider creating a simple, gravel parking area that can be used for a motorhome, boat or other recreational vehicle.
22. Raised Garden Beds
Raised garden beds may not help you conserve water, since you will likely plant them with some type of vegetation, but they can still provide some of the benefits of other hardscape ideas. The benefits of raised garden beds include defining your garden area, making your yard more functional and making gardening more convenient.
23. Fire Pit
A fire pit is a functional hardscape element that increases your ability to enjoy your outdoor living spaces and expands your outdoor entertaining options. Fire pits provide warmth for winter gatherings and create a festive ambiance after the sun goes down.
24. Patio Fireplace
Create a cozy hardscape with a patio fireplace that can increase the property value of your home while providing light and warmth for events that take place after dark.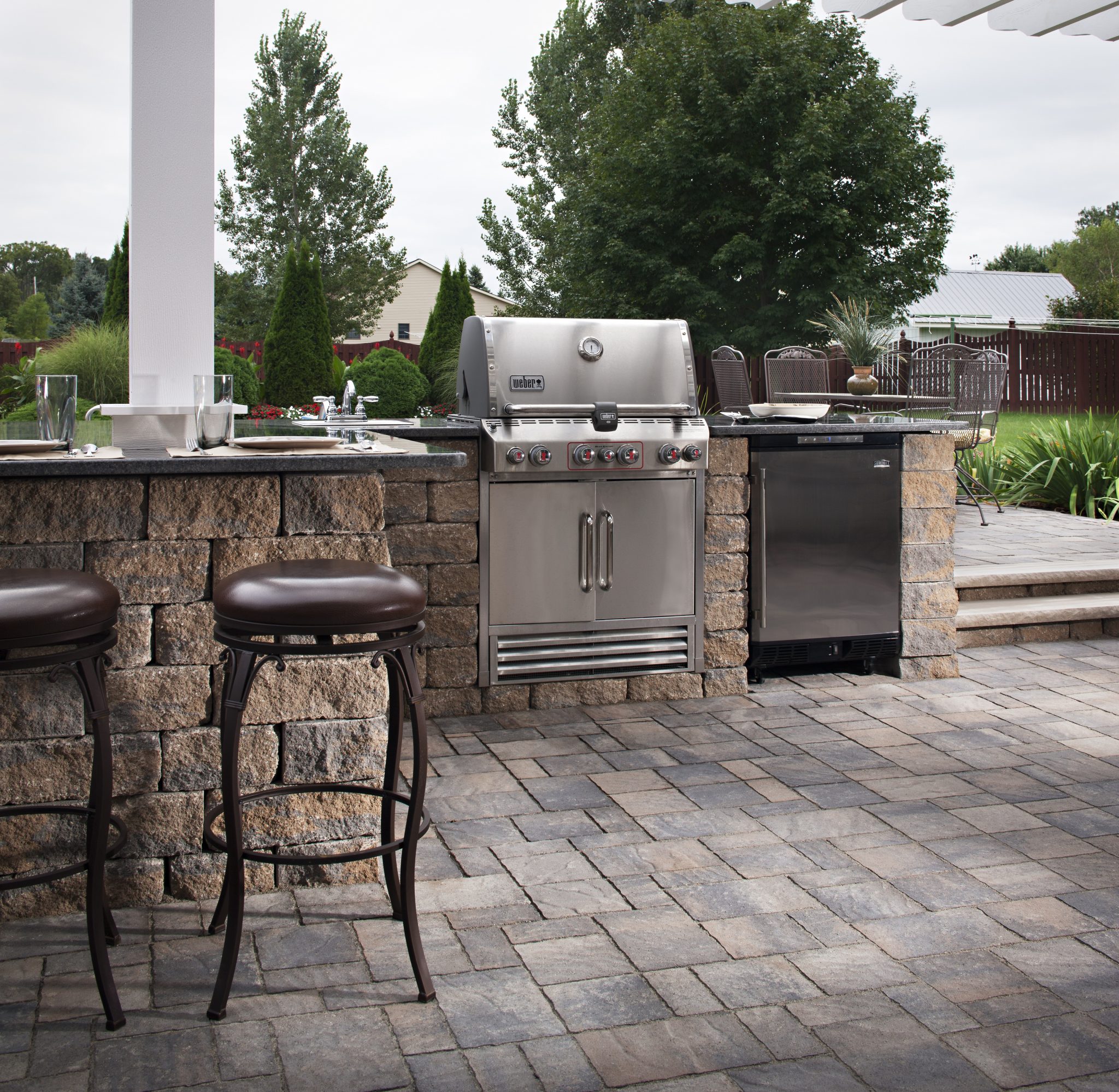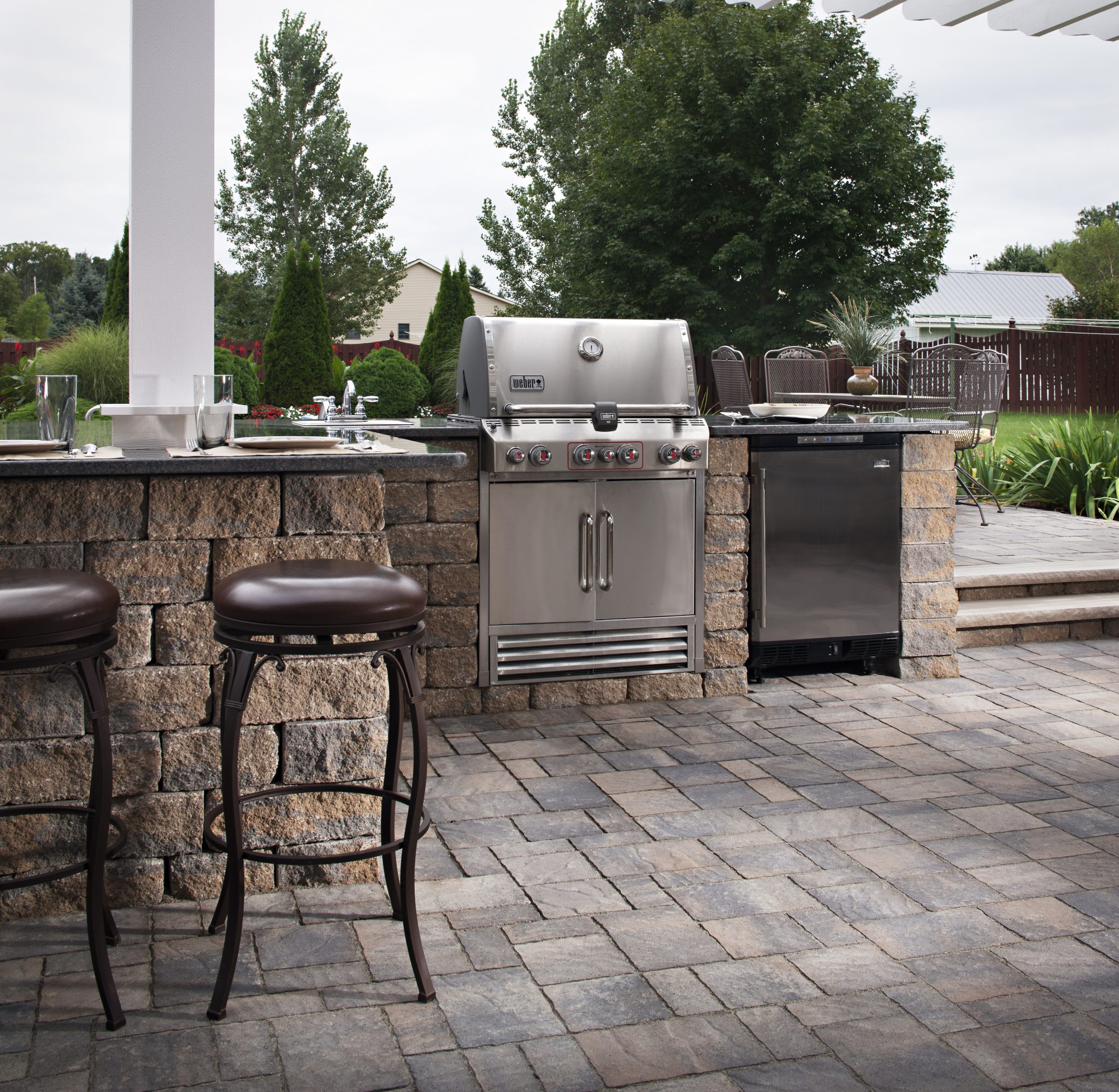 25. Outdoor Kitchen
If your budget allows for an outdoor kitchen, this is one hardscape idea that can significantly upgrade your lifestyle. Imagine preparing full meals on your patio, mixing drinks in a dedicated blender, or being able to grab beers for your friends without having to leave the party to trudge inside the house. All of this can become your new reality if you build an outdoor kitchen. A patio kitchen will also increase the value of your home and is sure to impress your guests at your next gathering.
26. Built-In Barbecue Grill
Not everyone has the budget or space for a complete outdoor kitchen. When that is the case, consider installing a built-in barbecue grill. This is another hardscape option that can change the way you use your outdoor living areas and enhance your ability to entertain guests.
27. Benches
Garden benches come in every style and every price range, so this hardscape is something that nearly anyone can add to their landscape design. Benches are an easy, inexpensive way to add seating to gardens and outdoor entertaining areas and are also perfect for setting up multiple, more intimate seating areas to encourage conversations among guests.
28. Statuary
Statues are primarily aesthetic hardscapes and are most often included in landscape designs to add an element of beauty and art to the property. When creating a low-maintenance backyard, statues can serve as a no-water, low-maintenance focal point, allowing you to reduce the amount of living elements that require regular care and irrigation.

29. Sitting/Retaining Wall
A sitting wall or retaining wall made from river rocks or paving stones can be both functional and fun. A short wall can reduce erosion, increase seating options, define the border of outdoor entertaining areas, make your yard more attractive, and corral your guests in designated areas in your yard.
30. Walls and Fences
Walls and fences provide solid boundaries for your property or for different sections within your property. They define areas, enhance privacy, add a layer of protection for your family and pets, and increase your home's curb appeal.
31. Pergola or Arbor
Pergolas and arbors are functional hardscape ideas that can provide shade, act as a trellis for vining vegetation, and beautifully define outdoor living areas.
32. Privacy Screens
Privacy screens, such as fences, walls, lattice, or shade sails, are functional hardscape features that allow you to more fully enjoy your outdoor entertaining areas. They can block the view of nosy neighbors, hide a less-than-appealing view and make your outdoor living spaces feel more intimate and defined.
33. Gazebo
This is a great hardscape option if you have the space and the budget. Because a gazebo has a roof, a floor and some sort of walls, building one is a bit like building an additional room onto your home. You can use it as an outdoor dining room, living area, meditation and yoga space, writer's retreat, or a place to simply steal away with a good book. The level of maintenance your gazebo requires will depend on the type of material with which it is constructed, but if it replaces an area of vegetation in your yard, you can be sure that you will save time and water by transforming that area into a functional outdoor living space in the form of a gazebo.
34. Rock Garden
Rock gardens use natural elements to create water-saving hardscapes that require very little maintenance.

35. Chessboard
If you have a large space you would like to improve with a unique, interesting focal point, you might need an over-sized, outdoor chessboard for your backyard. Wherever you decide to place it, it will limit weed growth and reduce irrigation needs, while also impressing your guests and encouraging social interaction and outdoor activity.
Paver Perfection
Our paver professionals will design and build the patio, pathway, or driveway you've always dreamed of.
View Services