San Diego Nurseries: The Ultimate Guide
Sure you can go to Home Depot or Lowes for your gardening needs and supplies (and there's nothing wrong with that), but there's something to be said for the extra special attention, professional advice, and vast expertise you can access at local nurseries and garden centers.
Owning and operating a nursery is largely an act of love and many owners are more than happy to offer you their knowledge and experience with growing all types of plants. Many nurseries in San Diego County also sell a complete range of plants, both local and imported. So no matter what you plan to do with your garden or landscaping, you'll most likely find everything you need at a nearby nursery.
What is a Nursery?
As you probably know, nurseries are where plants are grown to a size available for sale. Many nurseries will grow plants in a controlled greenhouse environment to protect fledgling plants from disease, pests, and the elements. Nurseries grow decorative plants for landscaping, garden vegetable plants, flowering plants, fruit trees, perennials, annuals, and agricultural plants. Bulbs, seeds, soil, and other supplies are also sold.
Nursery staff also provide the invaluable resources and knowledge required for successful home gardening, plant maintenance, and landscaping.
What Nurseries Sell
While some nurseries specialize in certain types of plants, many sell everything from flowering plants such as lilies, hibiscus, and marigolds; ornamental plants like roses and azaleas; native plants including drought-tolerant species; creepers like bignonias and bougainvilleas; climbers such as clematis and grape ivy; perennials, annuals, orchids (there are more than 25,000 species of orchids!); fruit trees; trees and shrubs; house plants and more. Most nurseries also provide a large selection of garden supplies.
Benefits of Buying From a Nursery
Most nurseries have expert staff on board who can answer all your questions and offer the pros and cons of growing each type of plant, as well as make suggestions for the best type of plant to buy for your specific landscape, maintenance requirements, and design preferences. Many also provide garden design services, classes, and value-added services such as garden clipper cleaning and sharpening.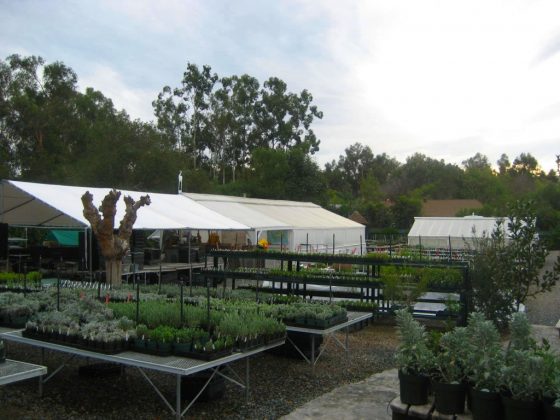 List of Nurseries in San Diego
Anderson's grows and sells more than 3,000 plants, including shrubs, drought-tolerant plants, trees, cactus and succulents, and orchids. In the same location for more than 50 years, Anderson's is a go-to place for locals looking for a large selection of plants, fertilizers, soils, and even garden fountains.
400 La Costa Ave.
Encinitas, CA 92024
(760) 753-4336
With seven locations in San Diego, Armstrong's offers a good selection of trees, shrubs, vines, perennials, houseplants, sod and more. The centers also boast an outdoor living pieces such as patio furniture, grills, pottery, fountains, and more.
Seven locations:
5702 Paseo Del Norte
Carlsbad, CA 92008
(760) 804-7330
2840 Via de la Valle
Del Mar, CA 92014
(858) 755-1574
10320 Friars Rd.
San Diego, CA 92120
(619) 563-1433
1755 E. Main St.
El Cajon, CA 92021
701 N. El Camino Real
Encinitas, CA 92024
(760) 634-2975
1350 W.Morena Blvd.
San Diego, CA 92110
9939 Carmel Mountain Rd.
San Diego, CA 92129
(858) 538-6062
Visits to this nursery are on an appointment-only basis ensuring personalized service. Botanical Partners sells bamboo (over 250 varieties), palms, exotics plants, trees, grasses, and drought-tolerant plants.
2498 Majella Rd.
Vista, CA 92084
(760) 758-6181
This charming four-acre nursery and display garden specializes in drought-tolerant plants and grows Southern California's largest selection of "unique" and "uncommon" flowering perennials, shrubs, and vines. With over 5,000 varieties of flowering plants, Buena Creek also welcomes visitors who just want to wander its gardens. Buena Creek also offers landscape design services.
418 Buena Creek Rd.
San Marcos, CA 92069
(760) 744-2810
This nursery has been family owned since 1972 and specializes in hard-to-find items and plants from trees, shrubs, ground cover, annuals and perennials, cactus and succulents, bonsai and native plants, to vines. Known for its founder's exceptional passion for gardening, City Farmers gives plenty of free advice on the type of soil you need for optimum growth to how often to water. The nursery also provides free classes on gardening. If you're not in the market for plants, just stop by and visit the farm animals and organic produce stand.
4882 Home Ave.
San Diego, CA 92105
(619) 284-6358
Called San Diego's largest garden center, Evergreen is a wholesale nursery that's open to the public and offers 80 acres of shrubs, palms, cactus and succulents. trees, vines. fruit trees, drought-tolerant plants, ground cover, and topsoil and mulches. The nurseries are so big that Evergreen encourages drive-through shopping and service where plants are loaded into your car and you pay at the nursery's checkout booth.
Three locations:
13650 Carmel Valley Rd.
San Diego, CA 92130
(858) 481-6622
3231 Oceanside Blvd.
Oceanside, CA 92056
(760) 754-0340
9708 Flinn Springs Rd.
El Cajon, CA 92021
(619) 443-0873
For more than 30 years, Exotic Gardens has specialized in cacti, succulents, and other drought-tolerant plants. Stocking locally grown bromeliads, terms, and aloe plants, Exotic is also known for selling unusual plants not typically seen in other nurseries.
2212 El Cajon Blvd.
San Diego, CA 92104
(619) 497-0860
Family owned and operated for more than 30 years, Green Gardens has a diverse plant selection and garden decor such as imported pottery, fountains, and other accessories.
4910 Cass St.
San Diego, CA 92109
(858) 483-7846
This nursery carries over 1,000 species of palms and cycads and also sells hard-to-find tropical plants. Many describe this nursery as offering one of the best selections of rare palms and cycads in the country.
450 Ocean View Ave.
Encinitas, CA 92024
(619) 291-4605
Las Pilitas specializes in native plants, as in sells them exclusively. The extensive website allows visitors to browse and buy from its plant catalog online. The nursery will ship the plants or you can visit its site to learn from its staff and purchase in person.
8331 Nelson Way
Escondido, CA 92026
(760) 749-5930
In business for over 100 years and founded by Kate Sessions, Mission Hills Nursery sells roses, shrubs, annuals and perennials, as well as garden tools , decor, and supplies.
1525 Fort Stockton Dr.
San Diego, CA 92103
(619) 295-2808
The focus here is on drought-tolerant plants for landscaping and it sells cacti and succulents as well as water-efficient perennials.
10816 Reidy Canyon Trail
Escondido, CA 92026
Pearson's sells the largest selection of herbs, spices, and ethnobotanicals in the entire state. Growing almost 1,000 unique varieties of "utilitarian and edible plants," Pearson's also provides vegetables from Asia and Central America, as well as geraniums, tomato plants, and heirloom seeds.
1150 Beverly Dr.
Vista, CA 92084
(760) 726-0717
Operating in Rancho Santa Fe since 1954, Rancho Soledad specializes in rare palms, cycads, and drought-tolerant plants. Also available on its 25 acres are bamboo, ficus, and yuccas.
18539 Aliso Canyon Rd.
Rancho Santa Fe, CA 92091
(858) 756-3717
Terra Bella sells trees, shrubs, cacti, succulents, cycads and palms as well as California native plants, citrus and fruit trees, ground cover, and a big variety of soils, sods, and more.
302 Hollister St.
San Diego, CA 92154
(619) 585-1118
Family owned and operated and in business since 1928, Walter Andersen offers annuals and perennials, a large herb and vegetable section, bedded plants, roses and fruit trees. Both locations below also provide gardening classes.
Two locations:
3642 Enterprise St.
San Diego, CA 92110
(619) 224-8271
12755 Danielson Ct.
Poway. CA 92064
(858) 513-4900
This 20-acre nursery grows roses, succulents and cacti, perennials, ornamental grasses, and trees and shrubs. Check out its website to browse its extensive collection.
32183 Old Highway 395
Escondido, CA 92026
Counting more than 40 years in business, Weidner's is a nursery and show garden full of begonias, bedding plants, fuchsias, and fruit trees. Weidner's sells 90% of what they sell, meaning the majority of its plants are locally grown.
695 Normandy Rd
Encinitas, CA 92024
(760) 436-2194