13 Front Yard Landscaping Ideas
Your front yard is the first thing your guests see when they approach your house. It is the basis of their first impression and lets people know what to expect when they step into your home. Front yard landscaping also dictates your home's curb appeal and can affect the value of your property.
To make sure you create the first impression you want people to have and increase your home's curb appeal as much as possible, consider these 13 landscaping ideas for front yards.
1. Leverage landscape lighting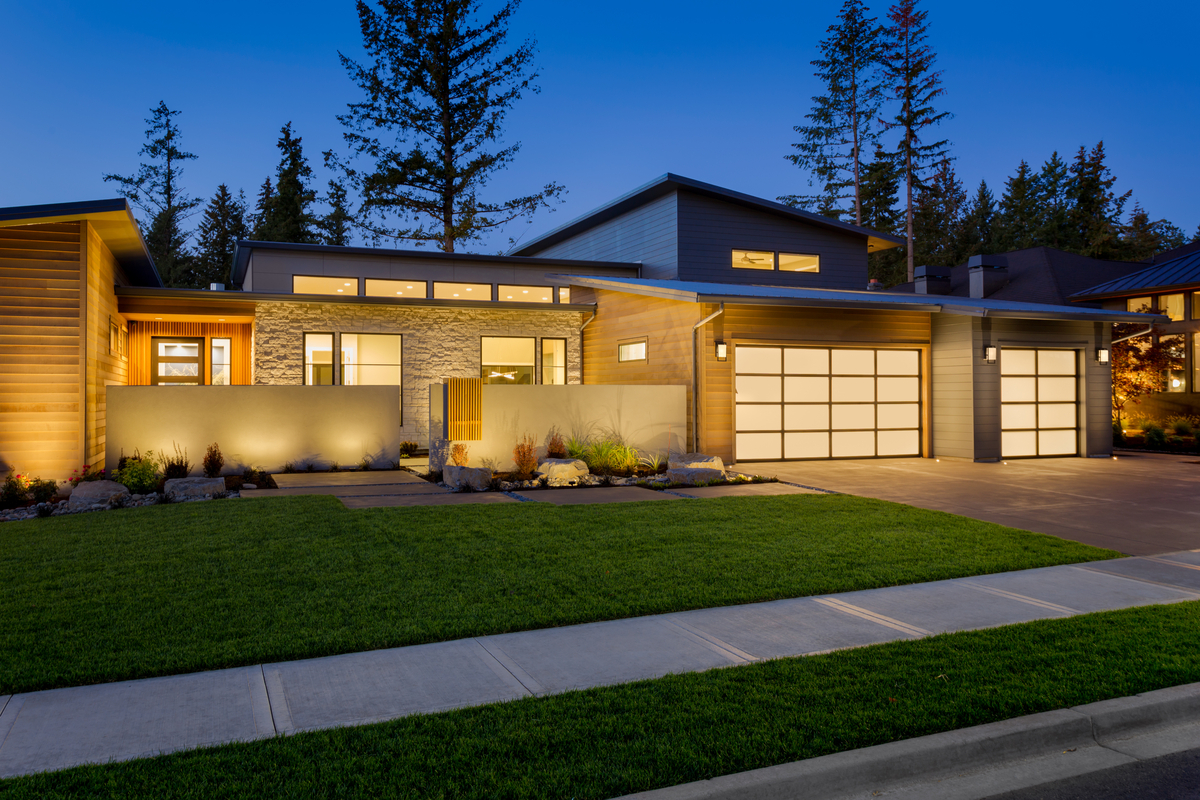 We are going to put this one right at the top, because it is incredible how often homeowners overlook landscape lighting when designing front yard landscape. Outdoor lighting is an essential part of landscape design and can significantly change the look of your yard and of your home. Illuminating entries and dark corners increases home security, while lighting driveways, stairs, and walkways increases the safety of your family and guests. Landscape lighting is also one of the easiest ways to accentuate architectural features or interesting landscaping features.
2. Add a paving stone driveway or walkway

If you want to make an immediate, significant improvement to your front yard, upgrade to a paver driveway or paver walkways. Paving stones are available in a variety of colors and styles, which means you can find an attractive option to complement any architectural style. Pavers allow you to express your personal style as well and provide unparalleled durability and longevity. Learn more about paver driveway design here or get an estimate for your project here.
3. Grow a food garden

Vegetable gardens are usually found tucked away in a corner of the backyard, but if your outdoor living areas are taking up all the room in your backyard or you are running out of room in your current food garden, consider incorporating more growing space in your front yard landscaping. If you are concerned about keeping a front yard garden looking tidy, choose plants that look more like ornamentals, such as lettuces or herbs.
4. Plant fruit trees

You can grow food without a garden by planting fruit trees in your front yard. Fruit trees are a great way to add shade, color, and visual interest while also growing fruits for your family and friends to enjoy.
5. Hide your trash cans

It is great progress that most areas now have a three-bin system for refuse, recycling, and yard waste. While this is much better for the environment and helps us easily to our part, it does mean that we must figure out where to store three waste bins. The location needs to be convenient for us to take recycling and trash outside but inconspicuous enough to not take away from our home's curb appeal. If you must keep them in the front yard, plant a living screen, invest in an enclosure, or design your landscape to hide your trash cans from view.
6. Plant an island flower bed

Island flower beds serve a variety of purposes. First and foremost, they are perfect for adding a pop of color. This is particularly true if your yard is mostly one color, like a green lawn or a gravel driveway. If you have a no- or low-water landscape for water conservation but would like to give your yard a bit of life and a softer texture among hardscapes, an island flower bed is a great way to create just a small area that requires regular watering. You may also want to read 30 Flower Bed Ideas for more ways to incorporate flower beds into your landscaping.
7. Employ colorful borders

Another way to easily add color to your yard is to plant colorful borders. For example, this might be annuals planted in a border against your house or lavender planted along the fence. Plants with colorful blooms bring great texture and vibrance to a front yard landscape, which also makes this an easy, quick way to enhance curb appeal.
8. Try gravel

Gravel is an affordable ground cover that requires no water and helps inhibit weed growth while allowing rainwater to filter through to the soil. This easy-care hardscape comes in a variety of sizes and colors, so it is easy to find an option that will fit your landscaping needs. This is a great way to cover bare earth, create an inexpensive guest parking area, or increase home security by placing it so that you can hear people or wildlife walking on it as they approach your home.
9. Utilize mulch 

Like gravel, mulch is an affordable ground cover that inhibits weed growth, quickly and easily covers bare earth, and does not require water. One of the main reasons you might choose mulch over gravel is that mulch offers a softer, warmer look. It just depends on how you plan to use the area and what your overall goals are for your front of house landscaping.
10. Install artificial turf

Landscape design for Southern California front yards is moving away from conventional lawns and towards water-saving options that offer plenty of color and texture without the maintenance of a natural grass lawn. If you like the look of a lawn but want a low-water, low-maintenance option, artificial grass offers the same look, feel, and function as natural grass but requires no mowing, edging, irrigation, fertilizing, or aerating.
11. Add a rose garden

There is nothing quite like a rose garden to welcome your guests. Monochromatic, dichromatic, or as colorful as a rainbow, a rose garden is a great way to add height, texture, and color to your landscape design.
12. Add a seating area

Your backyard is not the only spot where you can create an outdoor living area where you can entertain friends or have breakfast with your family. If you have the space, you can create a seating area in your front yard where you can wave to neighbors while enjoying your morning coffee or greet your guests when they come over for a gathering.
13. Plant native plants on or near your curb

The sidewalk in front of your house is most likely a right of way easement, and the narrow strip of land between the sidewalk and street is probably a utility easement. This means that you cannot block them, you need to keep them clean, and utility companies may need to access them to repair buried lines. This does not mean that you should neglect to consider these areas when you are landscaping your front yard. Curbside easements are a great spot to plant native plants, a cutting garden, or even a vegetable garden. For a low-maintenance option, consider gravel, mulch, or synthetic grass.